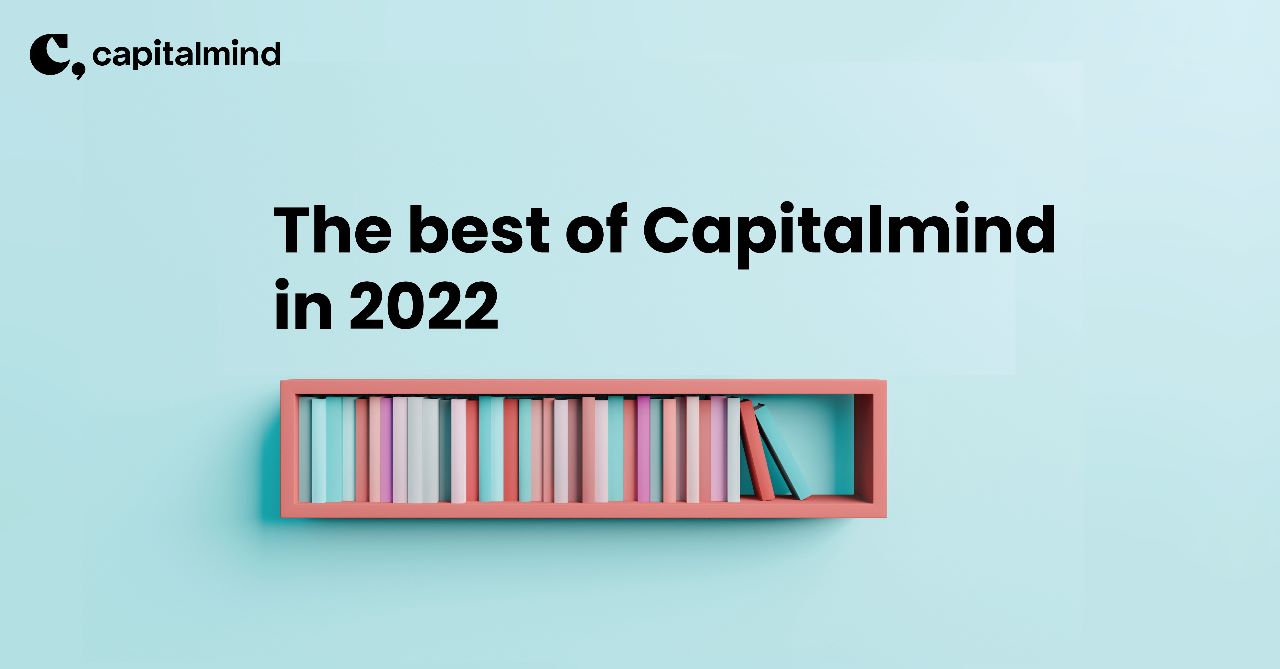 Reading Time: 7 minutes
Going into 2023, if we were to list key things that could crash the markets, it would look like this:
A strong Covid wave
FED increasing interest rates and crushing liquidity
Big geopolitical conflict (war)
Substantial selling by FIIs of Indian stocks
A big enough financial scam
You would be terrified about your portfolio if even ONE of the above things happened.
But actually, FOUR of these things happened.
Jan – Feb 2022 saw sustained days of lacs of covid cases per day (thankfully milder)
Russia attacked Ukraine
FED is raising interest rates like there's no tomorrow. RBI also followed.
FII sold 1.2 lac crore INR. 3X of what they sold in 2008.
FOUR major market-crash-worthy events happened. Let that sink in.
And this is how Nifty 50 reacted to all the drama at the end of 2022👇
---
What's up at Capitalmind?
There's a lot happening at Capitalmind every day. A quick capture of things we do at Capitalmind to get you up to speed.
🔆 Portfolio Management Service (PMS): Our flagship asset management service where we manage more than 1100 crores across 800+ clients. Our diverse portfolio solutions enable you to pick and chose the investing frameworks that work best for you [Read More]
🔆 Capitalmind Premium: A complete Do-It-Yourself service that provides you necessary research for retail investors to make better investing decisions. Trusted by more than 5000+ investors over 7 years now, this service provides access to proprietary portfolios, exclusive research, short-term trend-following strategy, and access to your member-only slack community [Read More]
🔆 Capitalmind Smallcase: We host 3 portfolios on the smallcase platform and offer these as a part of a single subscription. Smallcase platform provides the execution facility while we bring in the expertise of managing portfolios. Trusted by 15000+ investors over 4 years, this service is ideal for investors who would want to spend a few minutes each week managing their investments [Read More]
🔆 Saturday Coffee Weekly Newsletter: Every Saturday, at 7 AM, we drop our weekly newsletter in the inbox of 40,000+ readers. This crisp newsletter is curated to provide a market overview of the week gone by, exclusive coverage from the Capitalmind team on a stock/sector, 5 good reads on investing, and anything else that adds value to your investing process [ Join here ]
🔆 Capitalmind Podcast: Catch Deepak Shenoy and Shray Chandra, as they discuss the nuances of Capitalmind markets. This podcast focuses on depth more than breadth and the topics are quite unique. If you're remotely interested in markets, you'll certainly enjoy these conversations [Listen In]
🔆 Weekly YouTube LIVE: Catch Deepak Shenoy at his candid best while he LIVE streams his thoughts on Markets. Join in LIVE to ask questions on the YouTube chat window and get your weekly fix on Indian markets. [Subscribe Here]
🔆 Social Media: If you are reading this, you most probably first found out about us from social media. Get a part of our action too: Deepak Shenoy on Twitter, Capitalmind on Twitter & Instagram.
---
Research & Opinion
We cover a wide range of topics that specifically help you to make better investing decisions. Our publishing philosophy is to write about stuff that helps you improve your investing. We don't write for ads or views or sponsorships. We write only when we feel it's worth your time.
We published 188 posts in 2022 including 54 newsletters. To that effect, many posts will get shortlisted for the year-end review. But you may not have the time to read so much today 🙂
So here's one handpicked post from various categories that we feel you'll enjoy and find useful.
⭐ Investing Psychology: Putting into context the role of luck and skill in investing. And figuring out if you are Skillful or just plain Lucky.
⭐ Gold: Gold is perceived as a hedge against Inflation. Let's dig deeper to figure out if gold should be in your long-term portfolio.
⭐ Mutual Funds: Mutual Funds are hands-down the biggest equity instrument Indians invest in. Each year, we cover the best ELSS Mutual Fund and this year we also covered 4 of the other categories too.
⭐ Deepak's Memos: Deepak Shenoy, CEO & Fund Manager, regularly writes memo's to our PMS clients penning down his thought process and reflecting on the performance of our portfolios. Read these memos here.
⭐ Data Crunching: Investing at market highs sounds stupid, seems stupid, and feels stupid. No one is excited to buy anything when it is priced at an all-time high. We run the numbers to find out how bad it is to invest at market highs.
⭐ Strategy: We don't predict stuff. Because it's impossible to know what the markets will do next. We react to market developments and make the most of the changes. Yet, we do have frameworks, looking into the future, that help us take investing decisions. Here's what we wrote while going into 2022: Where to invest in 2022: Challenges and Opportunities.
⭐ On Market Experts: Our biggest expectation of a market analyst is to tell us which stocks are going to outperform. So we analyzed over 2,000 analyst recommendations (upgrades and downgrades) to eventually realize the futility of analyst recommendations
⭐ Beyond "stupid" predictions: We seldom cover newsy stuff because it's mostly noise. But we just couldn't hold back on this one. Cathie wood said Bitcoin would touch $1 million and the whole world went into outrage. She's not stupid and here is exactly What Cathie Wood gets right
⭐ Geo-politics: Russia Ukraine war didn't just change the borders of these two regions but it also changed the global economic and political balance. With this backdrop, we wrote about The opportunity for India in the changing world order
⭐ Sector Analysis: Logistics costs in India are 14% as a share of GDP, significantly higher than economies like the US, Germany, and Singapore. This significant cost is poised to come down with changing ways in which India transports goods
⭐ Best REIT: REITs are fast gaining traction in India since they give you exposure to Real Estate at the click of a button. We cover the nuances of this investment class and tell you which is the best REIT in India
---
Model Portfolios
Model portfolios are the result of Capitalmind's research and analysis. They are designed to help investors achieve their financial goals while considering risk tolerance. These portfolios include four equity portfolios, one mutual fund, one fixed-income portfolio, and a nifty + futures trading strategy. As for performance, it's been a bit of a mixed bag this year.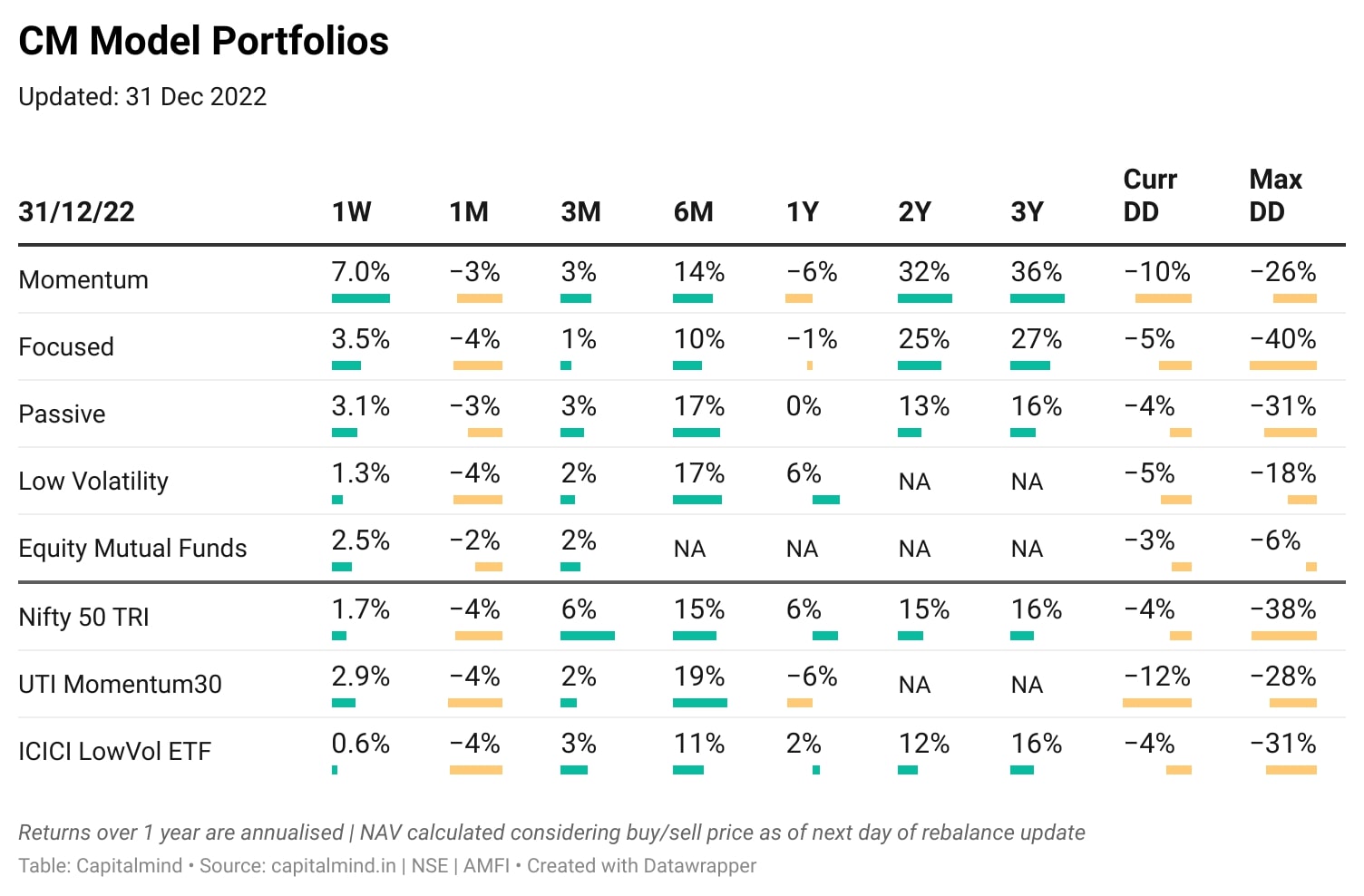 🚀 Momentum portfolio experienced some bumps in 2022, but that's expected once in a while. We remain confident in the long term nature of the strategy and our approach, and historically, there will be pockets of rough performance looked at yearly. We continue to focus on our investment process and stay disciplined in it.
⭐️ Focused portfolio had a challenging year. At the start of the year, we were in 30% cash and gradually redeployed it back into the markets over the next 10 months. Our final deployment was in October. Currently, we are overweight in the consumption sector and have increased our allocation towards telecom, financials, and construction. We exited the healthcare and new-age technology sectors. Our focus is on finding growth at a reasonable price and we are open to considering special situation themes from time to time.
♠️ Fixed Income portfolio is designed to generate better returns than FDs net of tax. This year, we reduced our allocation to Nippon Gilt Funds from 50% to 20% and added Kotak Floating Rate Fund. Floating rate funds are a good choice because they tend to hold up better in an increasing interest rate scenario like we are in currently. This portfolio returned 9.14% in 2022.
🛡Low Volatility portfolio has had a great year, completing its first full year as a factor investing strategy that invests in a portfolio of 15 stocks with relatively lower volatility compared to the broader market.
🆕 Equity Mutual Fund portfolio is a new entrant to our portfolio mix. This strategy invests in a combination of active equity mutual funds that have the potential to outperform the index. The portfolio consists of three funds that provide diversification across strategies, categories, and risk-return profiles.
🏖 Passive portfolio, which is our only passive offering. It's a low-cost, low-touch, large-cap portfolio that's meant for the long term. This strategy invests equally in the Nifty 50, Nifty Next 50, and Midcap 150.
💡 Capitalmind Chase has dominated this year delivering 19.3% in 2022 against 4.3% returns of Nifty 50. It's a long-short trend-following strategy based on trend-following principles. This year was full of whipsaws, yet the strategy has beaten the market by a wide margin.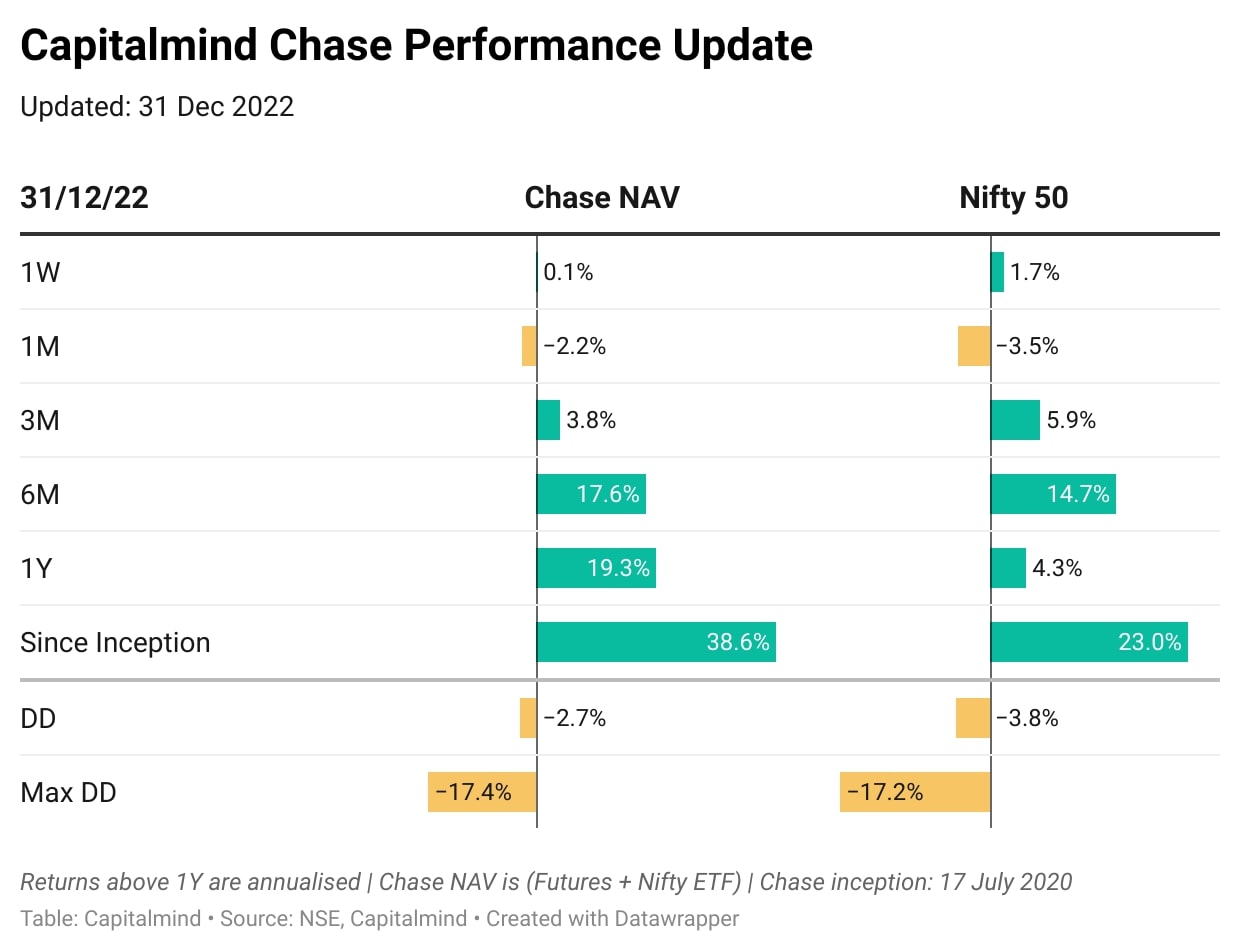 ---
What's in 2023?
We hope to have better things for you coming up, from the Premium, Smallcase, and PMS offerings we have. Stay tuned!
At Capitalmind we write about things in the market as we see them happen, and when more interesting things happen, we'll have the rich content you are used to. More about our outlook in a separate post.
Wish you all a very Happy and Memorable 2023!