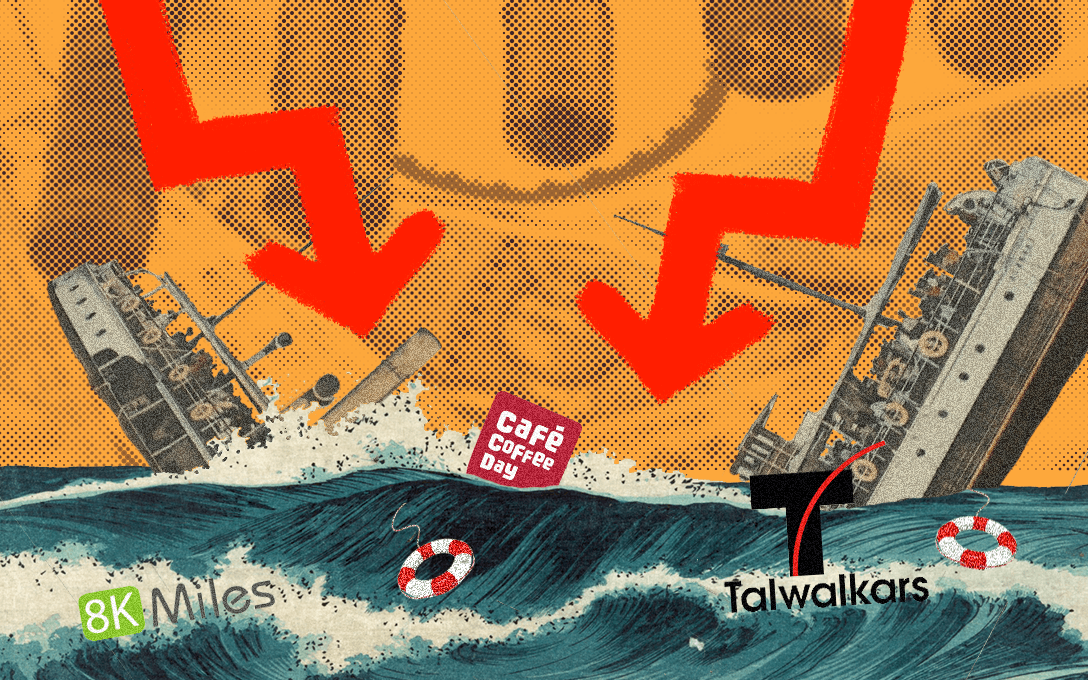 Reading Time: 3 minutes
Corporate governance matters. And the following 3 companies are living proof of that. A lot of factors make up the downfall of a company, but unfortunately governance is one that isn't scrutinised enough. The following 3 instances of promising microcaps that ultimately crashed due to corporate governance issues should highlight its importance when analysing equity investments, especially for smaller companies.
Have you heard of 8K Miles?
This stock had delivered 70x returns from January 2011 till December 2017. Only to lose 95% of it by November 2019. This was a darling that had investments from DSP Blackrock, HDFC etc. 8K Miles reported 99.49% year-on-year (YoY) rise in net profit at ₹973.23 lakh for the year ended March 2019, against ₹487.84 lakh reported for the previous year.
The first red flags came when its auditor red flagged transactions as suspicious for the year ending March 2019. Its auditor noted several instances of various inconsistencies were noted during our audit of the books of account of certain foreign subsidiaries in association with our audit of the consolidated financial statements of the company
The stock was suspended from trading as recently as 4th November 2019 for non compliance of listing norms.
Steep fall from grace for a Chennai registered company that operates in Silicon Valley and ticked all the fads like rural, e-governance, cloud computing, global, marquee investors etc.
Another spectacular fall from grace was for Talwalkars!
Talwalkars Lifestyles, which has now been split into two companies, was once a successful icon of the entrepreneurship spirit of Mumbai. They had investments from likes of Malaika Arora & even Jennifer Lopez, if news articles are to go by. In 2017, the promoters even invested ₹41.38 crore at a high ₹313 per share, through a preferential offer to reassure the markets. So what went wrong?
Everything.
The promoters had borrowed by pledging almost 75% of their holdings. Lakdawala and Associates had audited Talwalkars Better Value Fitness Ltd (TBVFL) in 2017-18 but resigned in February 2018 (Interestingly, they were also a statutory auditor for the failed PMC Bank).  Independent directors who resigned include the high-profile advocate Mrunalini Deshmukh, MG Bhide (former chairman of Bank of India), Dinesh Afzalpurkar (former chief secretary of Maharashtra) and Raman Maroo.
This was the very clear signal that people with reputation were trying to remove association away from Talwalkars.
In fact, based on complaints the promoters (who are brothers) were even arrested for misguiding customers with deceptive adds and defaulting on refunds. The ghost auditor resigned as of October 2019 citing insufficient information from management – and even the rating agencies didn't act in time. And as such, 97% wealth of investors was destroyed in the process.
Is the sentiment a good indicator of investments?
Think about Coffee Day. I have fond memories of this place as I lavished time & money on this joint in the very early days of my career – to meet up friends & generally feel hip. So what went wrong?
To begin with they had a wood processing unit called DAFFCO. However, in June it had floated the news that there is potential interest from Coca Cola to acquire this company – it seemed a logical step for Coca Cola to find new growth in hot beverage as a diversifier for cold beverages.
What eventually grabbed headlines was the disappearance & eventual demise of its founder VG Siddhartha from an apparent suicide. In his suicide note, he had cited financial pressures. But eventually, lots of people suspect the pressure stemmed from their accounting books. Coffee Day Enterprises said it has decided to engage the services of the Central Bureau of Investigation former DIG – Ashok Kumar Malhotra – to scrutinize the books of accounts of the company & its subsidiaries. While this is still ongoing, this still marks a sad ending for a savvy businessman from Coorg who transformed his ancestral 18k acre coffee holding to CCD after starting it with a 5 lakh loan from his father.
Conclusion
Across all these 3 microcaps, the steep crash in stock prices could've been avoided to a great extent had the management and/or Board of Directors focused on the underlying corporate governance issues at the firm. For investors who prefer smallcaps & microcaps, this becomes even more important when considering investments in smallcaps & microcaps – the small size of such companies generally means that they are tracked less by analysts & information is difficult to find. Instead, events like board members quitting/joining or auditors resigning serve as strong signals that indicate how things truly are at such firms.