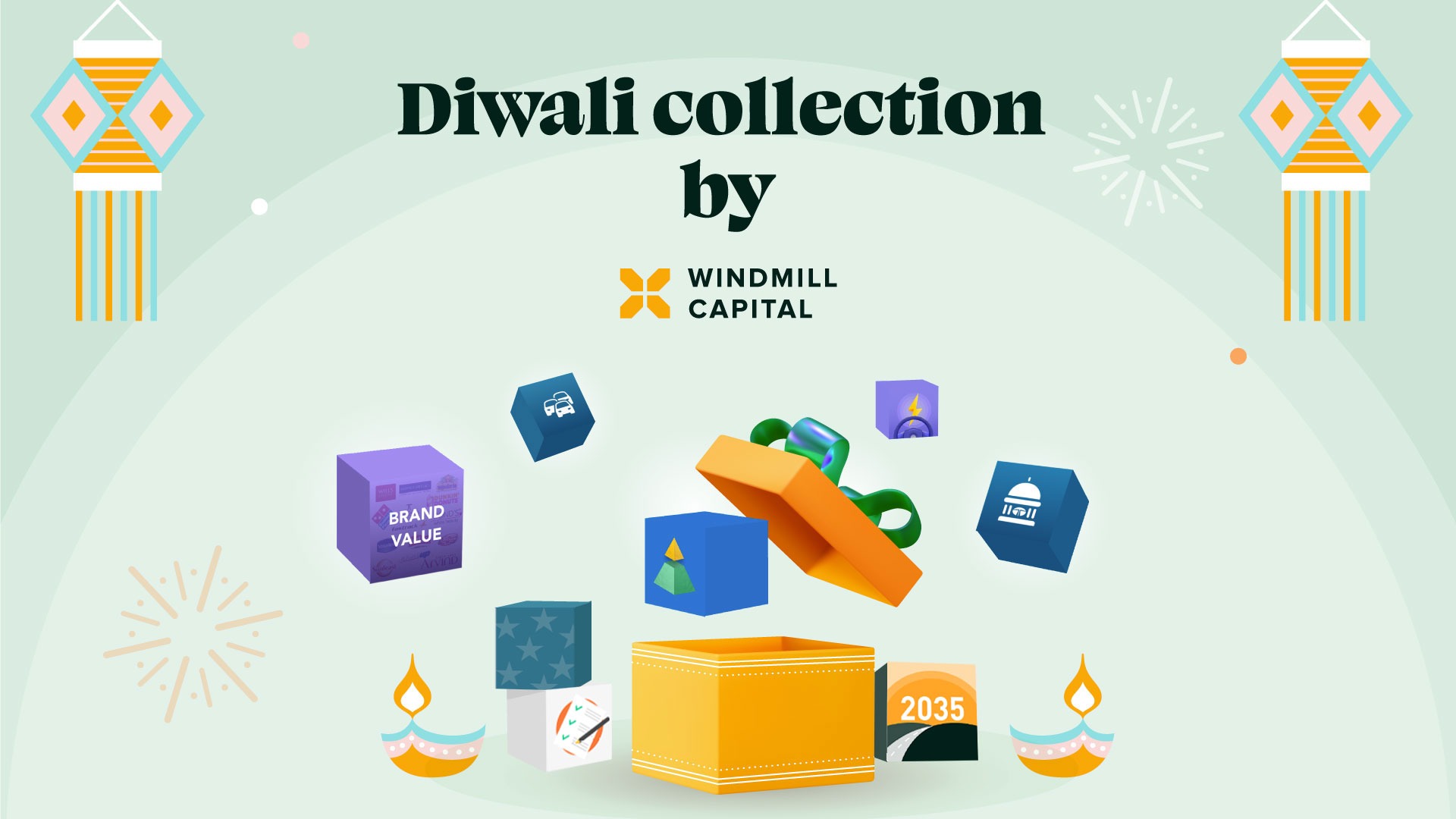 Reading Time: 2 minutes
Well, it's that time of the year again folks. Yet another festival knocks on our door – Diwali! The festival of lights, just doesn't bring in glam and glimmer, but also a new energy. One of the most auspicious occasions in the calendar for Dalal Street. At Windmill Capital, we have been toiling hard in order to make your Diwali, an investable one. And therefore, we have handpicked a few select smallcases that are synonymous with the theme of Diwali. As a further encouragement, there's a coupon code waiting for you at the end, to avail discount on our subscription.

Here's to you having A-sorted Diwali!
Brand Value
Diwali means all things new! And electronics top this chart. During the festive season, demand for white goods such as washing machines, refrigerators, household and kitchen appliances shoot up significantly. To add to that, jewellery, painting houses, buying vehicles all are by-products of this exuberant festive season. The Brand Value smallcase invests in all such companies starting from white goods to automobile manufacturers.
Bringing The Bling
Given the buoyant consumption sentiment during this time of the year, luxury products usually witness strong demand. Against that backdrop, Bringing the Bling smallcase houses the luxury brands in India. La Opala, high-end crockery item maker and real estate players like Phoenix Mills, Oberoi, and Brigade Enterprises as part of the smallcase.
House of Tata
The House of Tata consists of a mixture of companies right from retail stores to precious metals that stand to benefit from the occasion of Diwali. Famous household names like Titan, Voltas, Trent are a part of the smallcase.
Auto Tracker & Electric Mobility
Diwali is considered an auspicious occasion to buy two-wheelers or four-wheelers. We have 2 smallcases related to it, which takes exposure to the best automobile brands in India.
Horizon smallcases
This Diwali you can look to start goal-based investing for that dream car, house, vacation, or early retirement. We have a set of 6 horizon smallcases with different target years that aims to fulfil your desired outcome. Check them out here.
Equity & Gold
I'm pretty sure you were waiting for this one! The classic 2-in-1 combination of equity and gold packaged in one smallcase. It would be anyone's guess that every Indian household looks to invest in gold during Diwali.
Dividend Stars
High dividend yields are a smart way to earn additional returns over and above the capital appreciation you get on your stock investments. Dividend stars is one such smallcase that looks to have companies with a track record of consistent high dividend yield.
CANSLIM-esque
'Trend is your friend', you must have heard this right? Based on 7 pre-set criteria, the smallcase strategy is to pick momentum stocks with superior earnings quality. There are further nuances to this, which you can explore on the profile page of the smallcase.
Lastly, on this occasion of Diwali, more than anything else we hope you get to spend quality time with your loved ones. The best time to start your investing journey is now. As a further encouragement for you to invest, Windmill Capital offers you a flat 30% discount on our subscription plan that gets you access to 15 exclusive smallcases spread across different themes! You can use the code DIWALI30 to avail the offer. Feel free to reach out to us at support@windmill.capital in case of any clarifications.
A very happy Diwali to you and yours from the entire team at Windmill Capital!