Reading Time: 2 minutes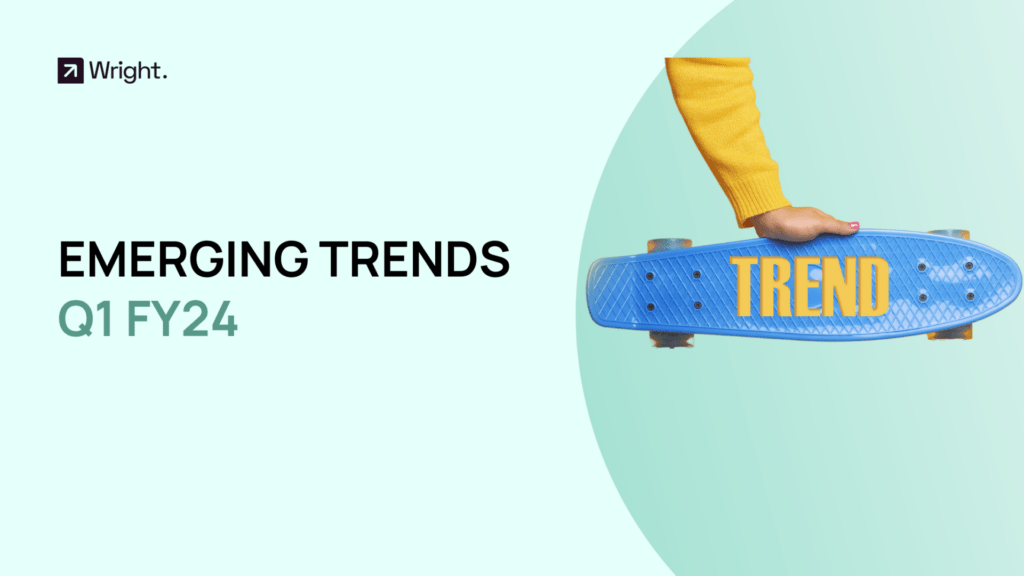 The first quarter of Fiscal Year 2024 (FY24) marked a fascinating and unpredictable start in the Indian financial markets, teeming with a mix of both old favorites and fresh entrants. Let's unpack the trends, earnings, and performances that shaped Q1 FY24.
Read the full story on Wright Research's blog.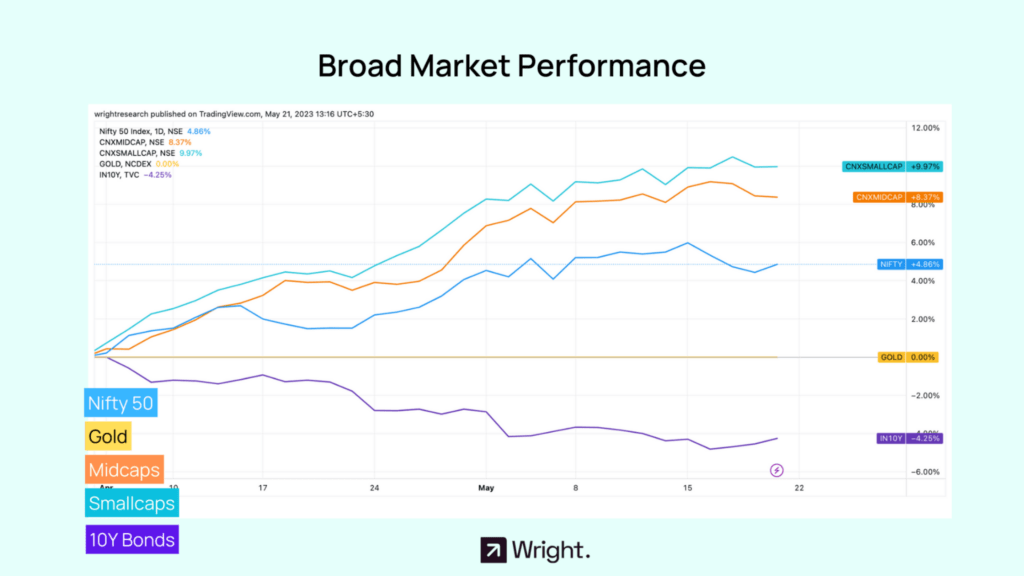 Broad market indices in India showed a varied trend in Q1 FY24. The Nifty 50, an index of India's 50 most traded stocks, reflected modest growth of around 4.86%. However, a pronounced uptrend was observed in the Nifty Midcap 100 and Smallcap 100 indices, rising approximately 8.37% and 9.97% respectively, signaling investor confidence in smaller stocks. Conversely, the traditional safe haven of gold underperformed, showing a marginal increase of about 0.90%. The 10-year government bond yield also exhibited an upward trend, increasing by 2.94%.
Sectoral Performance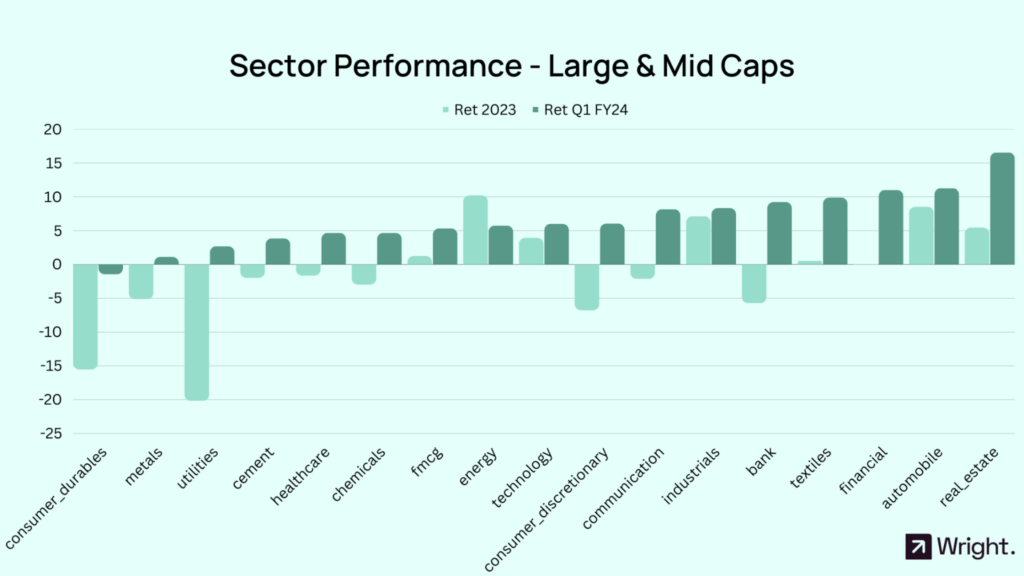 Within the large to mid-cap arena, the first quarter was defined by a pronounced recovery in some sectors. The real estate sector led the pack with a significant Q1 return of 16.53%. The automobile and financial sectors too showed promising performance with returns of 11.23% and 10.93% respectively, hinting at an economic recovery. Despite some negative annual returns in 2023, these sectors managed to turn the tide in Q1 FY24.
On the flip side, consumer durables experienced a downward trend, with a Q1 return of -1.44%, following a tough year in 2023.
Industrial Performance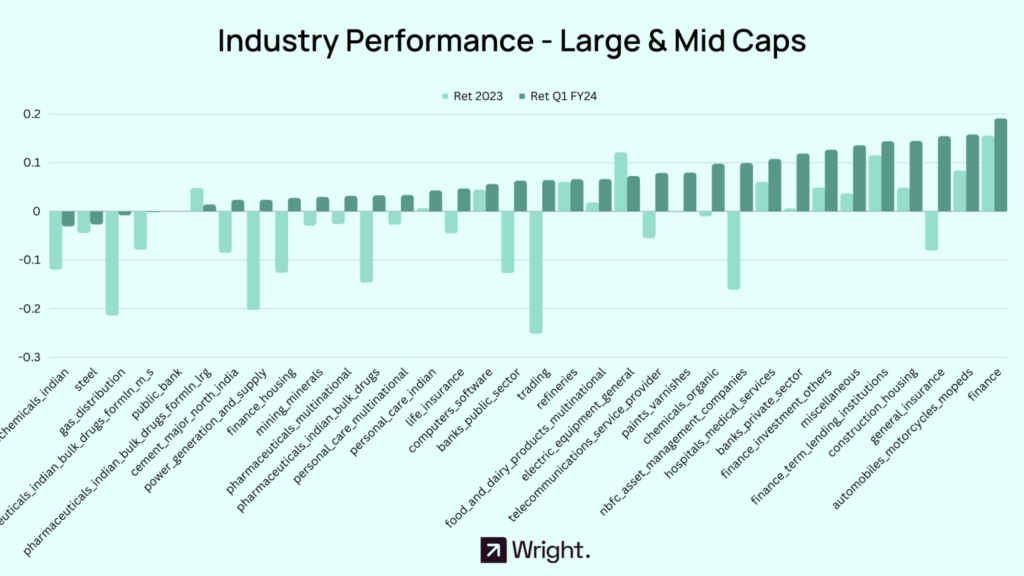 The industrial landscape saw notable winners and laggards. The finance industry led the way, showing a robust return of 19.08% in Q1 FY24, backed by strong performance in the finance term lending institutions and finance investment sub-sectors. Automobiles (motorcycles & mopeds) and general insurance too performed commendably, delivering returns of 15.77% and 15.41%, respectively.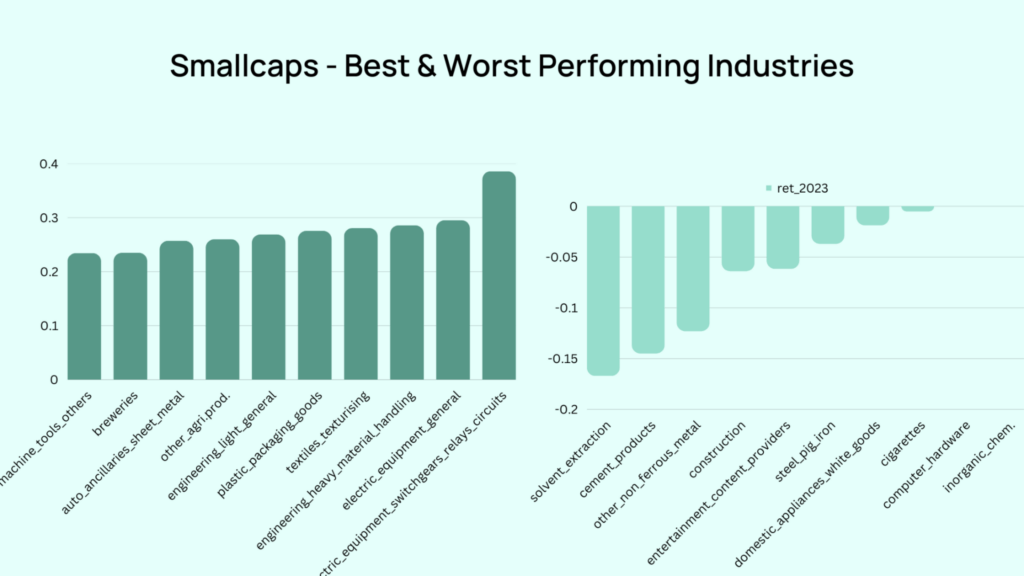 Meanwhile, the agrochemical and steel industries saw a slight downturn, registering negative returns. However, their resilience and inherent potential for rebound cannot be discounted.
Earnings Trends
Net Profit Change Year-over-Year (YOY) indicated significant earnings growth in certain sectors. The aviation and hospitality industries, impacted severely by the pandemic, made a strong comeback, marking an increase of 198.40% and 345% respectively. This drastic jump can be attributed to the pent-up demand and easing travel restrictions.
On the other end, the ship-building and media & entertainment sectors witnessed a significant contraction in profits, dropping by 83.4% and 81.4% respectively.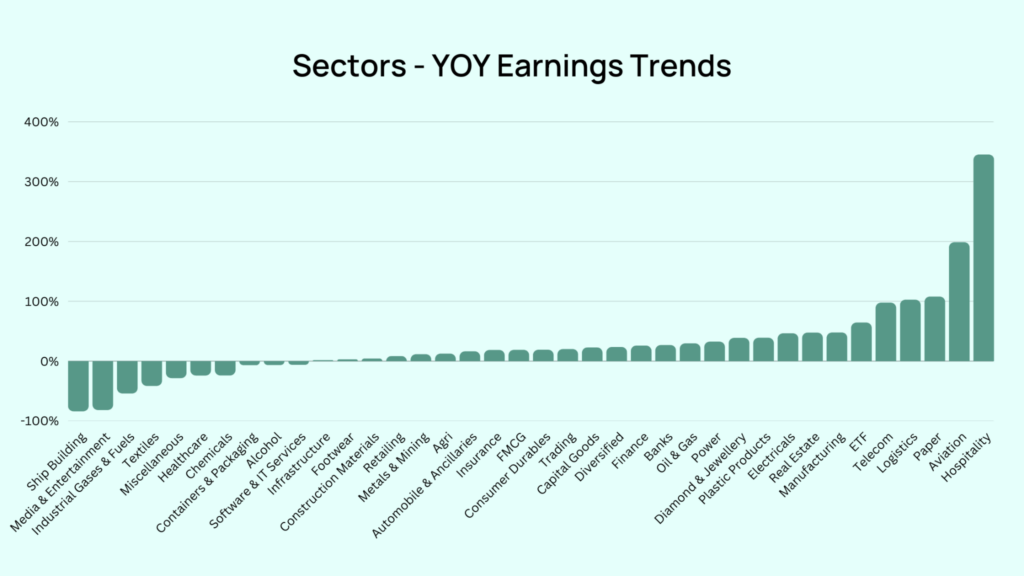 Factor Performance
In Q1 FY24, the Alpha factor outperformed all other factors with a return of 8.17%, followed by Momentum at 7.78%. Interestingly, despite a negative return in 2023, the ESG factor showed a solid recovery, posting a return of 5.64%. Quality and Low Volatility factors also remained steady with returns of 6.08% and 4.83% respectively.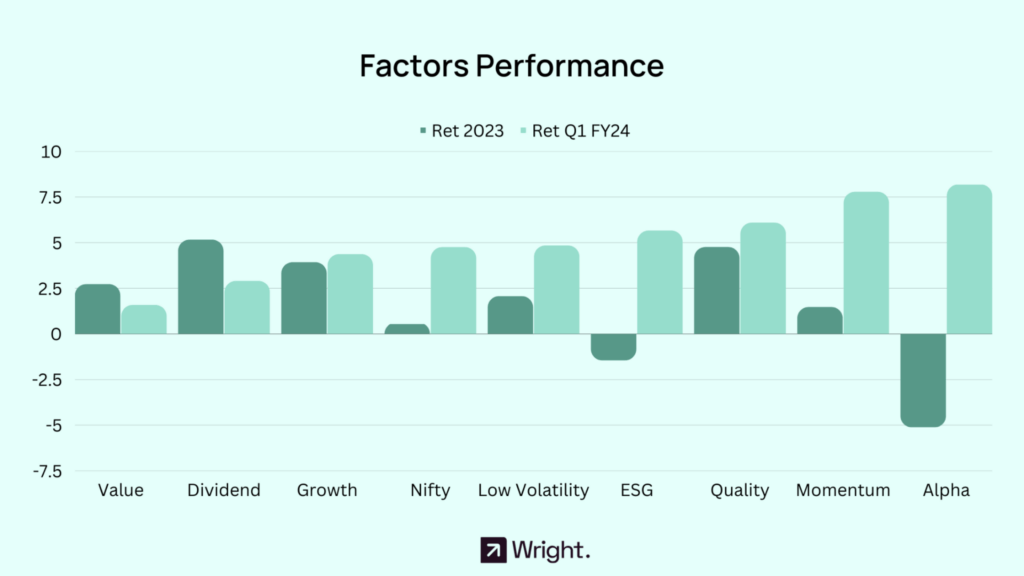 Conclusion
Q1 FY24 brought forth a dynamic performance across various sectors, industries, and market factors, weaving a complex tapestry of trends. From a broad market perspective, the impressive performance of Midcap and Smallcap stocks and the resilience of the financial sector are notable. On the earnings front, the resurgence of the hospitality and aviation industries are heartening signs of recovery.
Looking ahead, the remainder of FY24 promises to be a period of significant evolution and potential opportunity, with the hope that the markets continue to recover and advance in the wake of pandemic-induced disruptions. As always, investors are advised to maintain a balanced and diversified portfolio to navigate these unpredictable yet exciting times in the Indian markets.
SEBI Registration Details: Corporate Registered Investment Advisor | Company Name: Wryght Research & Capital Pvt Ltd Reg No: INA100015717 | CIN: U67100UP2019PTC123244. For more information and disclosures, visit our disclosures page here.