Monthly Newsletter
Expert Analysis of the Global Macro Events & News affecting the Indian Markets
Reading Time: 6 minutes
Global Recession- Is India really in safe space??
If there is any word which I've heard more than inflation in the past year, it's Recession. I know you must have come across various articles on the expected recession in the West, its negligible impact in India etc etc. But is India really in the safe space that everyone thinks it to be in? If not direct, could Global Recession impact indirectly? If yes, how bad will it be? Let's discuss it with real examples.
For starters, Recession is when the GDP of a country grows negatively for two consecutive quarters. Basically, it is the cause of the falling economy.
1. Bursting Bubbles
Covid-19, Russia-Ukraine war, supply chain disruptions led to skyrocketing inflation. Covid relief packages escalated demand. The whole saga of combating inflation led to a cycle of rising interest rates. When such rate hikes start to happen frequently, bubbles burst. I'll give you an example of one of our portfolio companies that experienced this backlash first hand. It is Asahi Songwon Colors Limited which used to be part of our portfolio. It manufactures colour pigment and its derivatives and shares 55% exports. The overall economic activity slowdown in Europe and the US economy is muted leading to low real estate demand, low construction activity, hence, lower demand of paint and dyes too.
US Building Permits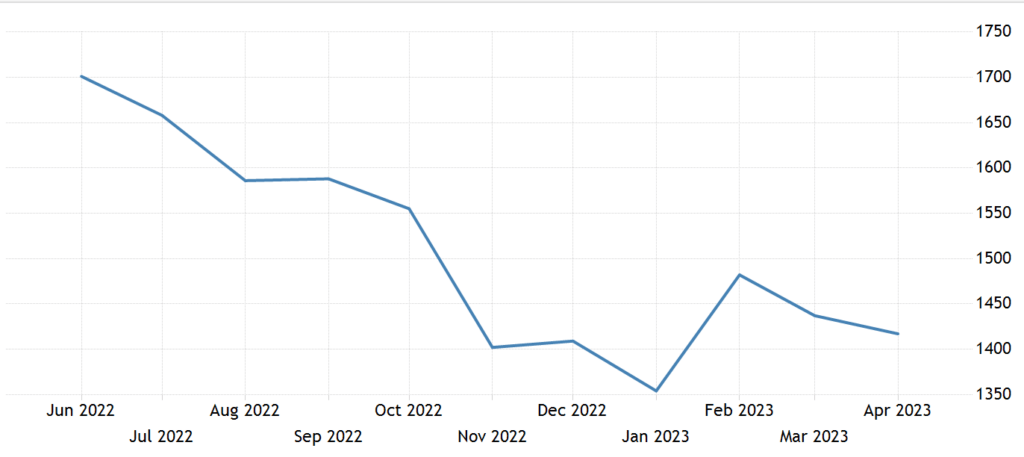 2. Indian IT Sector
I know the IT sector has been gloomy lately. Shares of Infosys plunged after it announced its Q4 FY23 results. What came out as a surprise for us was its guidance i.e., growth of 4-7% for FY24 which was lower than expected. It cited as low demand in the US as its clients are focusing on budget constraints and expenditure cuts. An interesting look at stats- only 3.75% of TCS and Infosys revenues combined came from India, rest were majorly from America (56%). This is the direct impact but it doesn't end at this. Layoffs in this sector have been massive leaving people with no option, than to settle for low paying low skilled jobs. Apart from it, there has been hiring pause too due to the expected recession.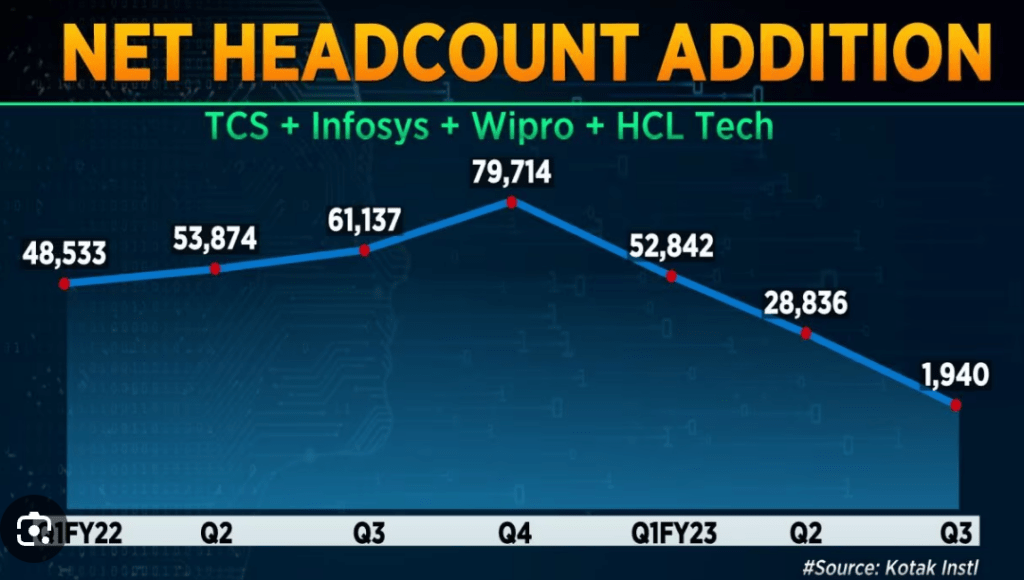 3. Lost Output
If the pandemic had not occurred, the global output would have increased by 23% since 2016. However, it will expectedly advance by only 17%. If we were to believe the data stated below India will lose 7.8% of output in 2023. Exports are going to be impacted due to thin demand trends. Domestic consumption in India is not very dependent on foreign trends, this is good news at least.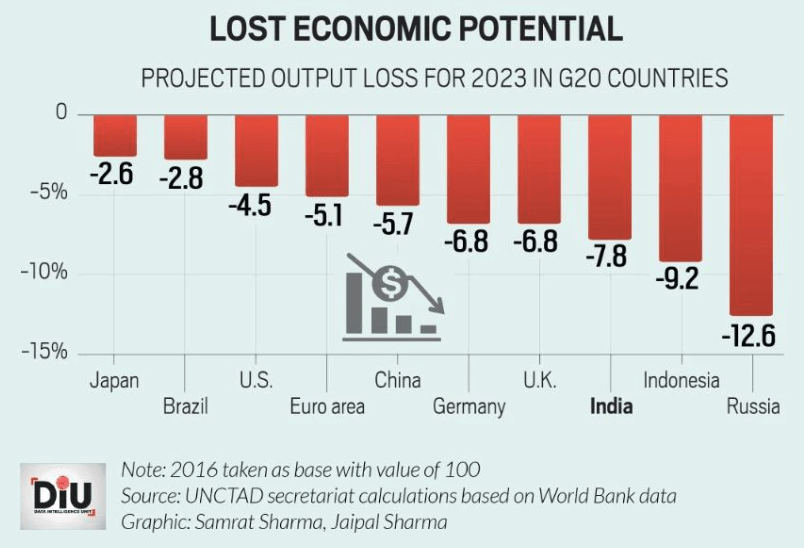 Other Supporting Arguments
The other day I was watching an interview of Pradeep Kheruka, Chairman of Borosil Renewables limited, a 7000 crores market cap company. The US had introduced the US Inflation Reduction Act in 2022. Briefly, the act incentivizes domestic production in the green energy sector. Amongst other things, it aims to expand the solar energy sector as well.
But it is facing tough competition from China. Borosil is the largest non-Chinese producer of solar glass in the world. But China is able to produce and sell it at subsidised rates to both the US and China. Whereas for Borosil input prices have increased by 60-70%, China is able to sell it at reduced rates of 20-30%, creating a wider gap.
Safe space that can work in favour of India
India's economy is highly resilient and comparatively immune to global headwinds.
According to the report, while a one percentage point decrease in growth in the US is associated with a 0.4 percentage point drop in growth in India, the impact is approximately 1.5 times greater in other developing nations.
One thing we cannot ignore here is that India is the net importer. You like it or not. But this is also the reason India won't be impacted much. Domestic consumption, High investments, Government incentives to boost growth, capital investments are going to save India, this is for sure.
Important Economic Events
| | | |
| --- | --- | --- |
| Event | Date | Significance |
| EIA Short term energy outlook | June 06 | Provides forecasts through the end of the next calendar year for consumption, supply, trade, and prices across major fuel types. In addition, the STEO provides in-depth market analysis for crude oil, petroleum products, and natural gas markets. |
| Interest rate decision | June 08 | Decision on what to set the benchmark interest rate. An increase is contractionary in nature. |
Company In Focus: S P Apparels
S.P Apparels (SPAL) is the name. We have been invested since May 2021 in the PMS and this is part of the Smallcap Compounders smallcase. Despite having invested at 1/4th today's price, we continue to be bullish on the stock and the growing business.
Here are some quick pointers:
Company is mainly into exports of infant and children's garments to the US, retailing business in India, and exports to UK retailers. They have a full integrated facility from production of Yarn to final garments all in house.

When most of the textiles players faced a degrowth in sales and profits on a year-on-year basis, S.P Apparels grew their business marginally during the latest quarter. Management has been swift in withdrawing from underperforming units, whether it's a retail store or a factory, and streamlining it.
Exports of infant wear comes under a lot scrutiny in the US, and there are several regulations and safety standards they must adhere by. Basically, its not a market every garment exporter can enter into easily.
The cyclicality in infant and children's garments are far lesser severe than compared to men's clothing. The purchase of children clothing is considered as an essential rather than discretionary, and practically speaking, the duration and wastage of children clothing is larger compared to garments catering to elder age groups.
The company is expanding capacity by 20%, reducing the inventory days, and have guided to increase their existing capacity utilization from the current 70% to 80-85% in FY24. Much of the demand that use to go to China and Bangladesh before are coming to SPAL. The management expects to post 14-15% revenue growth in FY24 while maintaining margins at 18-20%. Any further reduction in raw material prices will provide additional cushion for better negotiation with the customers.
Compared to peers, SPAL is undervalued on several metrics, we continue to like the story, and remain invested.

Liked this story and want to continue receiving interesting content? Watchlist Green Portfolio's smallcases to receive exclusive and curated stories!
Green Portfolio is a SEBI Registered (SEBI Registration No. INH100008513) Research Analyst Firm. The research and reports express our opinions which we have based upon generally available public information, field research, inferences and deductions through are due diligence and analytical process. To the best our ability and belief, all information contained here is accurate and reliable, and has been obtained from public sources we believe to be accurate and reliable. We make no representation, express or implied, as to the accuracy, timeliness, or completeness of any such information or with regard to the results obtained from its use. This report does not represent an investment advice or a recommendation or a solicitation to buy any securities.