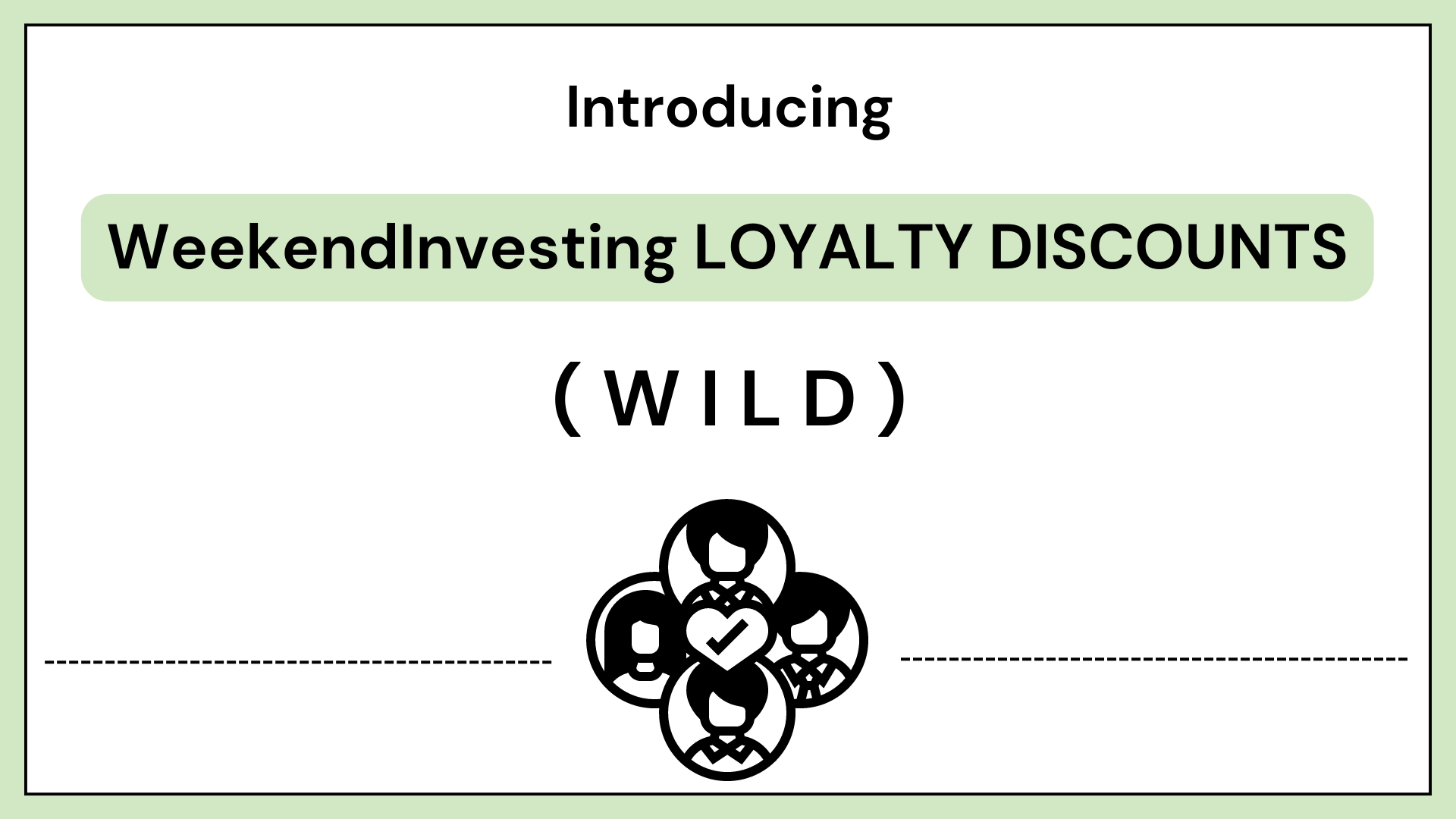 Reading Time: 3 minutes
We have been very vocal about stressing on the importance of staying invested for long periods as your chances of doing well with our strategies increases with time. The ideal perspective for a WeekendInvestor would be to
(a) Treat this as a long term investment vehicle and spend 4+ years (longer the better)
(b) Carry out your rebalances punctually without fail so that you portfolio always remains closer to the model strategy.
(c) Bring in money gradually & carry out your SIPs consistently throughout the journey so that it eliminates "timing the market" equation and enables averaging at all stages of the market.
We also made a video talking about this – Do have a look.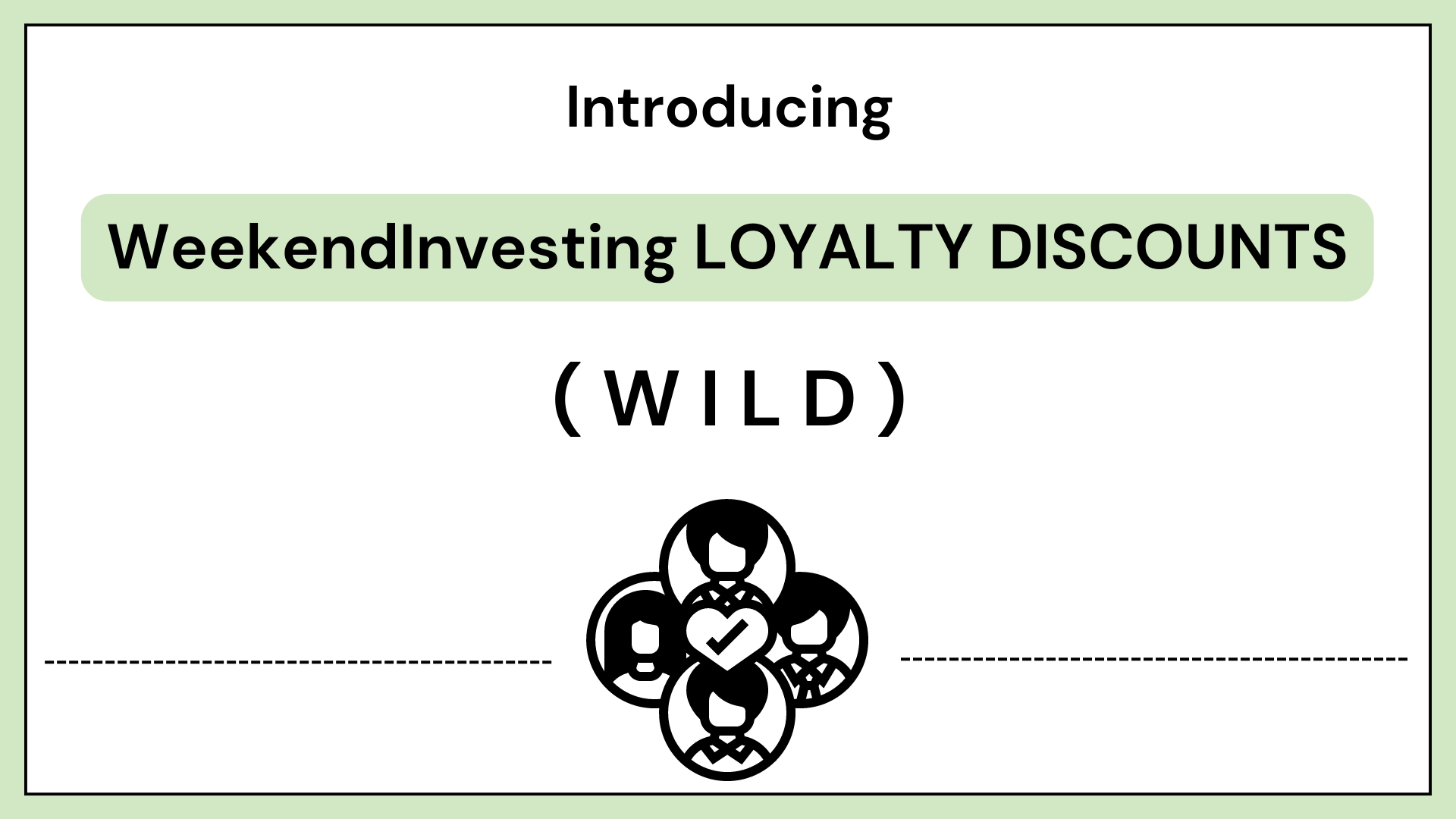 We also adopted – Customer Bhagwan Che along with the famous Bhav Bhagwan Che philosophy right since the day we started offering services for retail & we are pumped to launch WeekendInvesting Loyalty Discounts < W I L D > primarily aimed at rewarding WeekendInvestors who have reposed faith in our strategies by staying subscribed for long periods.
The WILD initiative is in the same line of thought as many of our other customer centric initiatives like the Daily Bytes, Daily Insights, User Manual, FAQ Booklet, WeekendInvesting HUB, #askweekendinvesting series, Weekend Chat with WeekendInvestors and also not to forget our lightening quick email responses.
Who is eligible for W I L D ?
WeekendInvestors who have spent 1 year/ 2 years / 3 plus years of continuous time in annual subscriptions.
What are the features of W I L D ?
If you have completed 1 year of annual subscription in any strategy, you shall be eligible to use a special code that gets you a 20% discount , 2 years will unlock a 25% discount and folks who have spent 3 plus continuous years shall get a 30% discount.

You will receive a whatsapp message from Team WeekendInvesting with details of the code at the time of your renewal.

This discount code can be used to
(a) renew your current subscription and
(b) enable you to subscribe to any other strategy(s) of WeekendInvesting at the same discount using the same code which will be valid for a maximum period of 30 days.
Important Note : WILD program will remain valid only if you continue renewing your subscriptions within the 7 day grace period without any breaks. If you are on a auto renew plan then WILD will not get applicable and we will not be able to apply it retrospectively . To remove the auto plan users can go to the app and under subscriptions untick the auto plan.
How to Apply the Codes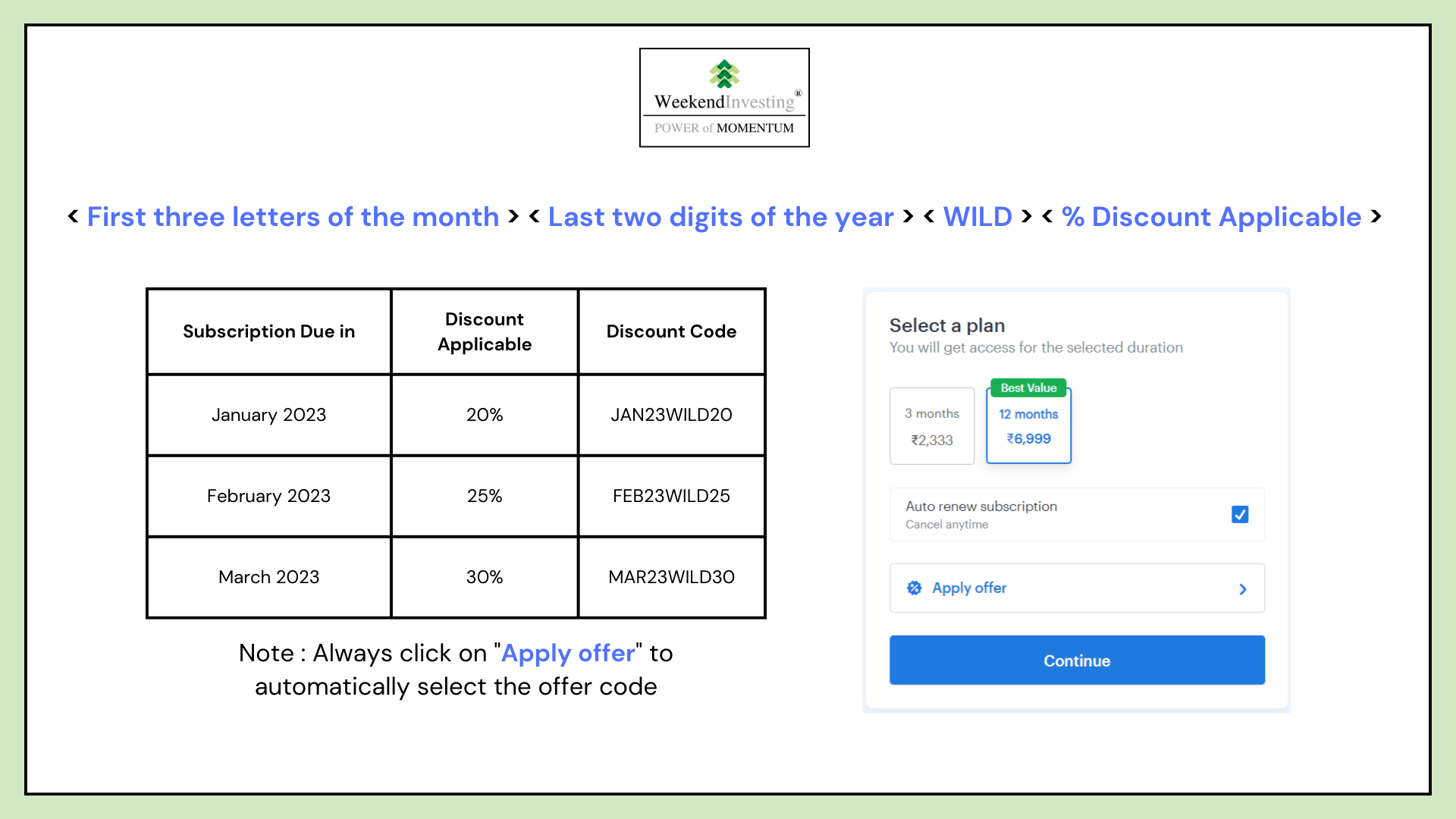 If you are eligible for the program, you shall automatically receive a whatsapp communication from us with details of the code that gets unlocked for you. If you do not get any message, you may try applying the WILD discount code at the time of your renewal. The format of the discount code is pretty simple.
< First three Letters of the month > < Last two digits of the year > < WILD > < Discount Applicable >
For example – If your renewal is due in September 2024 and you have completed 2 years of annual plan with one of WeekendInvesting strategies, then you become eligible to avail a 25% discount on renewals and you may also subscribe to any other strategy of ours within a period of 30 days.
Your discount code in this scenario shall be SEP24WILD25
If you think you still need clarity on this, please send us an email to support@weekendinvesting.com and we'll get back asap.
We hope all WeekendInvestors shall make best use of the WILD program and we wish you a long and happy investing journey with WeekendInvesting !