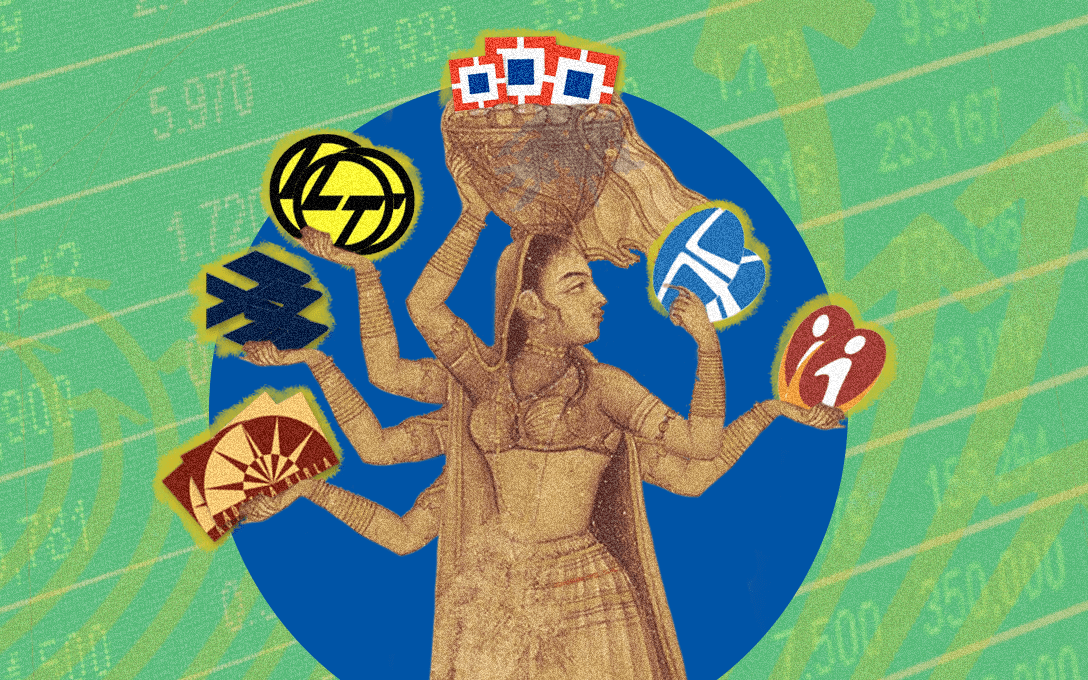 Reading Time: 5 minutes
Which Indian conglomerate, according to you, is the biggest in terms of revenues, profits and market value?
Ask your friends
The majority of smallcase users make their investments on a Wednesday. And we think you might want to consider investing in India's business conglomerates after reading our newsletter. So, we wanted to be just in time for your investment shubh muhurat!
Most Indian business houses are family-owned conglomerates and contribute to nearly 70% (2019) of the economy. Not only have Indian business groups established trust and credibility for themselves, but they have also enabled a multitude of resources for all Indians. But which of the giants is the largest in India?
The Tata Group is the biggest conglomerate by revenues, profits, and market value, followed by Mukesh Ambani's Reliance Industries.
tweet this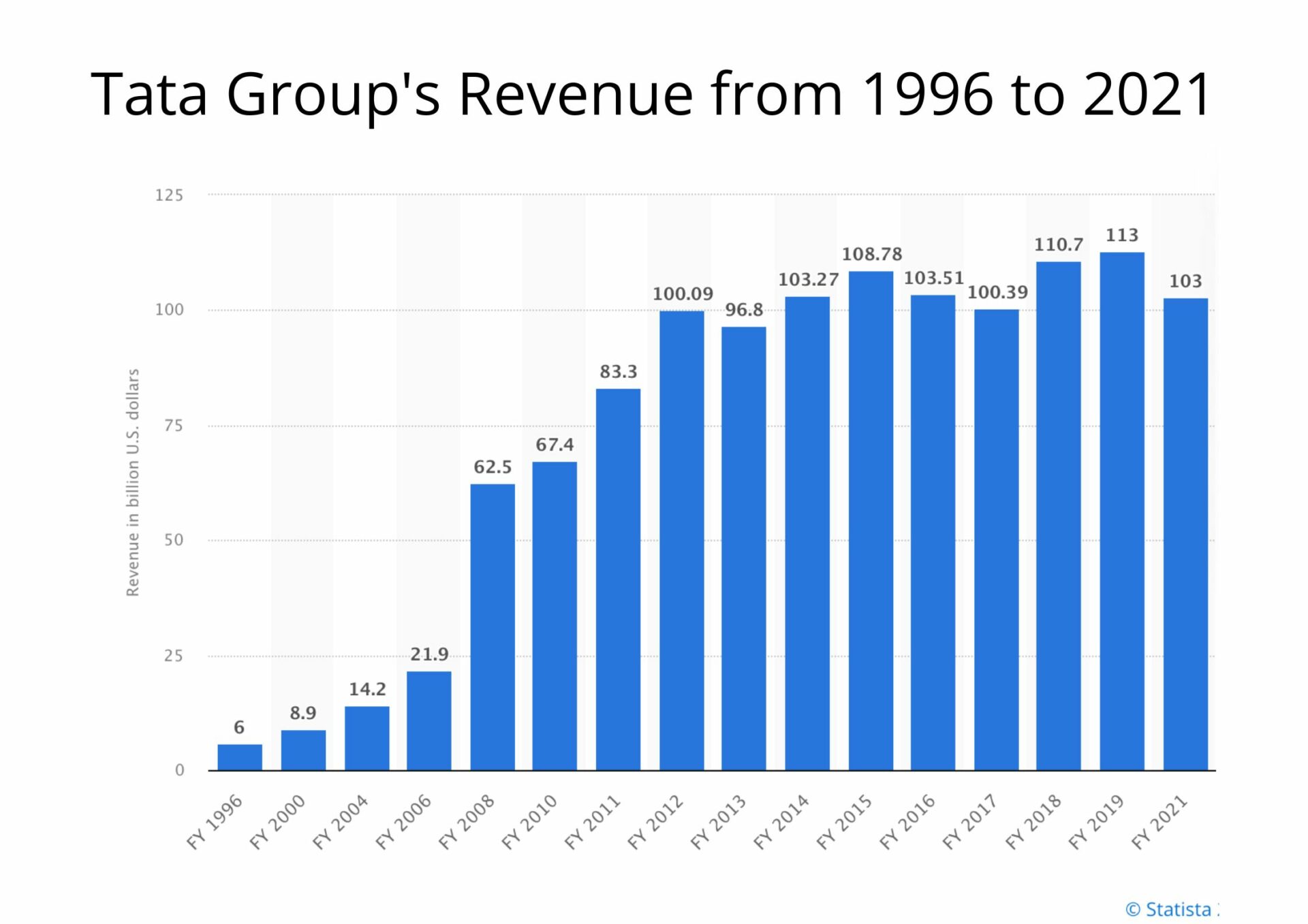 A close third, the Adani Group's market value has gotten closer to that of Reliance, thanks to the manifold rise in the share prices of its companies over the last two years.
Here's a list of India's top 5 business conglomerates –
Tata Group
Reliance Industries
Adani Group
Aditya Birla
Mahindra
Also included in the top 10 are conglomerates like Bajaj, Murugappa, and more.
So, how did these companies define their legacy and stand the test of time? Well, giant Indian conglomerates are mostly family-owned businesses that were started during the pre-liberalisation era. In fact, all the top 5 conglomerates mentioned above started then, with Adanis being the youngest addition in 1988.
These conglomerates have significantly benefited from the early 2000s investment boom, as well as India's economic reforms, which started with the liberalisation of markets in 1991. They increased their market share across industries largely at the expense of public sector companies and multinationals, which were hesitant about committing large sums towards capital expenditure and diversification.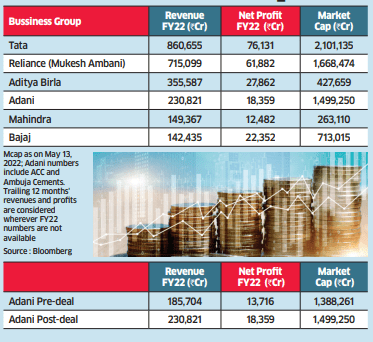 How are these businesses faring now?
In terms of margins and profits, the last three years have been among the best for India's top business groups. The biggest gainers were groups with a significant market share in industrial metals such as steel and non-ferrous metals.
6/10 business groups reported a 35% plus CAGR in combined profits (~₹2.57 trillion) in the last three years
Click To Tweet
Maintaining quality and service at par across all its companies sets the Indian business groups apart from standalone companies. These groups have been immense wealth creators for shareholders in the Indian markets, and one can foresee them continuing to be that.
Bullish on India's Business Houses?
Business houses in India have also been successful because of their penetration of the markets. They've become household names and an indispensable part of our lives.
Given that these business houses look like a lucrative investment opportunity, Windmill Capital has curated 5 smallcases for you to invest in India's top business groups. Currently, you can track the
Explore India's most powerful business houses
Explore now
While these smallcases include most of the companies from a particular group, a few proprietary checks are still applied before the final decision is taken. For instance, any loss-making company, irrespective of its group and pedigree, isn't included in the smallcase. This makes the smallcase different from market-made indices and other such products.
Diversification is another key element in these smallcases. The constituents and their weightages in a business house smallcase are played around with to provide optimum exposure according to current market conditions.
Given their large market capitalisation and strong fundamentals, these businesses are less volatile and give stability in building long-term wealth.
Which business house are you bullish on?
ask on twitter
Markets Last Week
Brought to you by Windmill Capital
Against the backdrop of mixed news, Indian equities finally witnessed a relief rally. The benchmark index – Nifty50 was up more than 4%. Much of the activity was on the side of earnings releases, with the IT players coming out with their Q1 numbers.
1) INR hits fresh all-time low- The Indian Rupee kept depreciating against the USD, hitting a fresh high of 80.06. The two main reasons behind the rupee's weakness are – high energy prices and heavy capital outflow from Indian markets.
2) Race for 5G begins in India – All telecom players have submitted the auction deposit to show their commitment to this development! Reliance Jio has deposited the highest amount, while the Adani Group has also submitted a modest bid. Let's see how things take shape going forward!
The Ideas Project
Today we're joined by Govindraj Ethiraj, veteran journalist, and entrepreneur!
In this day and age of fast-growing businesses, how can legacy and family businesses compete on a big scale with their competitors? What aspects are crucial when thinking of strategies for your family business? What are some successful examples of succession planning, as well as some instances where it did not work out? What even is a succession plan?
Find out all the answers and how business avoid their Kendall Logans, as Anupam Gupta goes in conversation with Ethiraj to opine on Succession Planning in Indian businesses.
Who doesn't like extra?
When we invest in the markets, there are two kinds of returns that we expect – return on capital and dividend return. Dividend payouts from a company can be a great source of a passive income! The business houses above also have many dividend-paying companies that you can capitalise on. Watch this video to know more about dividend investing and how you can get started!
This week, we've been…
Reading about Meta suing Meta: News is such that an immersive and experiential art company Meta has sued the Mark Zuckerberg's Meta. Founder of the lesser known Meta, Justin Bolognino, has spoken about how the more famous Meta's infamous acts have been hampering his own company's image and reputation. After 8 months of legal negotiations, the companies reached a deadend, leading Meta to sue Meta. Yes, we truly are living within a Nolan movie.
Watching Only Murders in the Building: If you're a true crime fan, you've got to watch Steve Martin, Martin Short, and Selena Gomez rave about their favourite true crime podcast. And of course, the show is about how they go ahead and investigate the crime. A truly bingeworthy watch.
That's all from us this week. With salary day around the corner, what investments are you bullish on? Reply to this email and tell us!
Until next week, stay hydrated and invested!
Share:
Subscribe