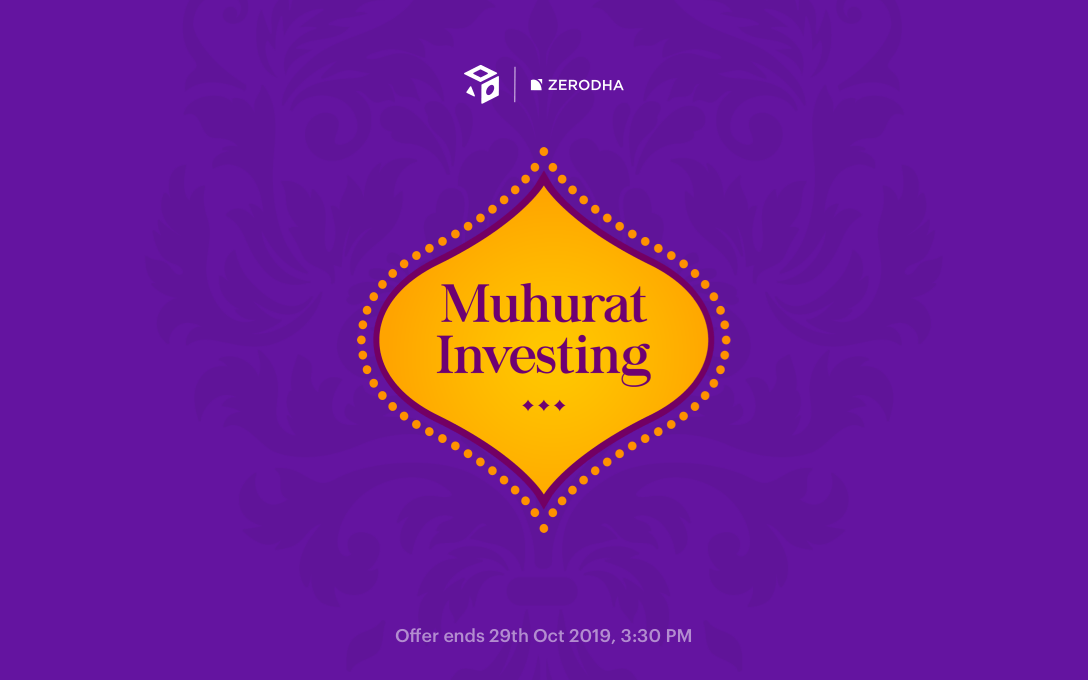 Reading Time: 3 minutes
Amongst all the festivals celebrated in India, Diwali has a special place within the entire investor community. Diwali marks the start of the traditional financial year (samvat) & the ancient Hindu calendar. This calendar system originated in 57 BC and Diwali 2019 will mark the start of "Samvat 2076".
Since the start of the new year is considered to be very auspicious, many investors & traders participate in "Muhurat" trading/investing on Diwali day. Investments or trades made this day are supposed to bring in wealth & prosperity throughout the year.
Muhurat Day is big on Dalal Street. Not just in terms of celebrations & the festive atmosphere, but even the trading activity. Each Diwali, the market opens for an hour – the exact time depends on the most auspicious "muhurat", which varies each year.
But those 60 minutes see a large part of the investor community participate, and trading volumes are often higher than that seen on most other days. While some investors place token orders to kickstart the new year, many others buy stocks for their children/relatives – some are held for the long term, some even passed across generations.
Shubh Muhurat to start investing
While Diwali and the beginning of any new year are exciting & full of promises, starting your investing journey can be challenging. Since Muhurat Day is considered to be a great day to start a new investment, many new investors tend to kickstart their investing habit this day.
We've been new investors once, and we understand the difficulty new investors often face in taking this step. Which is why since we launched in 2016, we've always rolled out an offer for new investors. This year, we're taking it two steps further for Zerodha users who haven't yet invested in a smallcase:
Your first investment is free, for lifetime. We're waiving off all recurring fees applicable on any smallcase for the first smallcase investment made by any Zerodha user.
Rather than just Muhurat Day, we're extending this offer for two weeks – any Zerodha user investing in their first smallcase until market close on 5th November will automatically receive this offer.
What to expect
Zerodha users can avail the offer through either our web platform or the latest smallcase app. In case you are still on the older version, you won't see the offer even though you might be eligible. So please upgrade the app either via the Apple App Store or the Google Play Store. These aside, expect:
Smooth experience: Simply log in with your Zerodha account & view the offers on your Dashboard.
Special attention: We've created a collection that has been specially designed for New Investors – while each smallcase has a different objective, they all ensure that new investors start with a steady footing in the market. Only high-quality stocks of established business & less volatility are selected here so that your hard-earned money doesn't suffer.
Discover: In case you are looking for other ideas, head to the Discover section & choose from 50+ smallcases that follow different themes or investing strategies.
Invest in 1-click: even though each smallcase has multiple stocks/ETFs, you don't have to place multiple orders – just 1-click, and you've invested in all the stocks/ETFs in that smallcase.
No fees, forever: For your first smallcase investment, we won't charge any fees including any recurring fees. Statutory taxes (like GST, STT, etc) will still be charged by the broker.
Extra care: The smallcase support team is here, no matter what your query or doubt. So expect fast responses, honest answers, and empathy – we treat all potential/existing investors like we'd like to be treated ourselves 🙂
We hope you & your family have a splendid Diwali this year, and that the festival brings even more goodness & light in your lives. And we hope that with this offer, we're able to sweeten up your Diwali a little bit & help you start an investment habit that'll remain with you forever.
Happy Diwali, and happy investing!
[cta color="blue" title="Your first smallcase is free!" url="https://smallcase.zerodha.com/discover/explore?utm_source=smalltalk&utm_medium=banner&utm_campaign=DiwaliOffers&utm_content=Announcement" button_text="See smallcases"]Valid for Zerodha users till 5 Nov, 2019 3:30 PM[/cta]