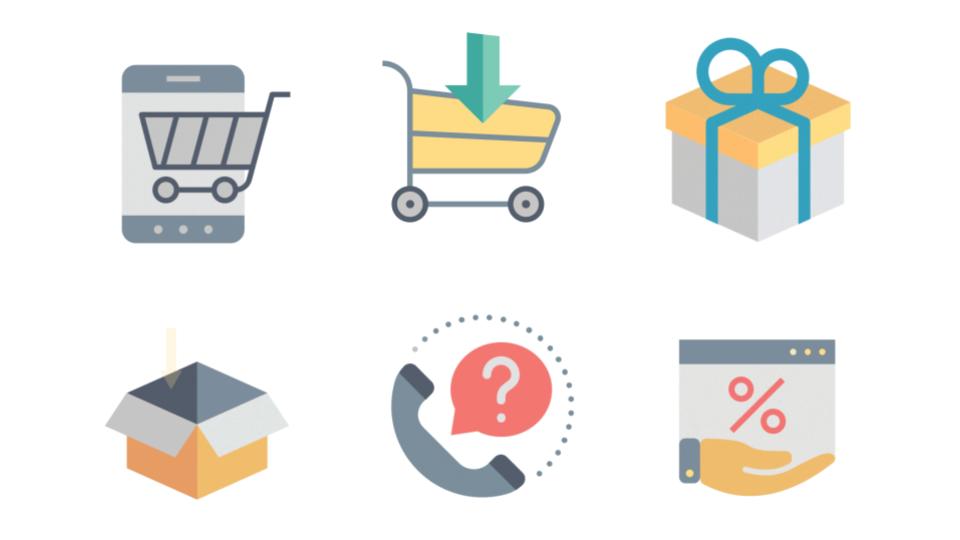 Reading Time: 4 minutes
Convenience at the blink of an eye – do you think that's where we're headed as an economy?
Well, guess it was probably one of the first thoughts that Albinder Dhindra and his team had before closing in on the Groffers rebrand to BlinkIt.
The rise of e-commerce was facilitated by two key factors – the rising pace of lifestyle, and the consequential need for convenience; and secondly, the coronavirus pandemic. Why step out when your favourite brands were at your fingertips on Amazon or Flipkart? Why spend hours in the supermarket billing queues when your groceries could reach your doorstep in a day or two?
However, e-commerce has seen expedited growth in a lot of manners. What was earlier a 7-10 days window for delivery has now been hauled down to a boggling 7-10 minutes, especially for groceries and essentials. Why, you ask? It's simple. You wouldn't order on a BigBasket or Amazon what you need immediately. You'd just step out and walk to your local kirana or market to get it. And that's the gap services like Dunzo, Zepto and BlinkIt are trying to bridge.
The Indian retail industry is currently valued at a colossal $800 billion and it is majorly powered by the 11 million kirana shops that exist today.
Click To Tweet
E-commerce players like BlinkIt, Dunzo, and the likes are looking to leverage this data to scale their businesses and cater to the onset of the future of retail. It started with JioMart tying up with hundreds of kirana stores in various parts of India to bring their services to customers' phones.
Most of us wonder about how it is remotely possible for 10-minute delivery strategies to be implemented. People questioned the ethical aspect of this considering delivery partners would have to ride at break-neck speeds to achieve the same, However, the solution to this was mini-warehouses.
When erstwhile Groffers was called for the same on social media, Albinder Dhindra clarified the process for us –
"Our partner stores are located within 2 kms of our customers. We have 60+ stores in Delhi and 30+ in Gurgaon already. Our stores are so densely located that we can deliver 90% of our orders within 15 minutes even if our riders drove at 10kmph. Our instore planning and tech is now so good that we pack most orders under 2.5 minutes."
So, do you feel like God yet that your midnight Maggi packet is not just at your fingertips, but also just a Taylor Swift song away?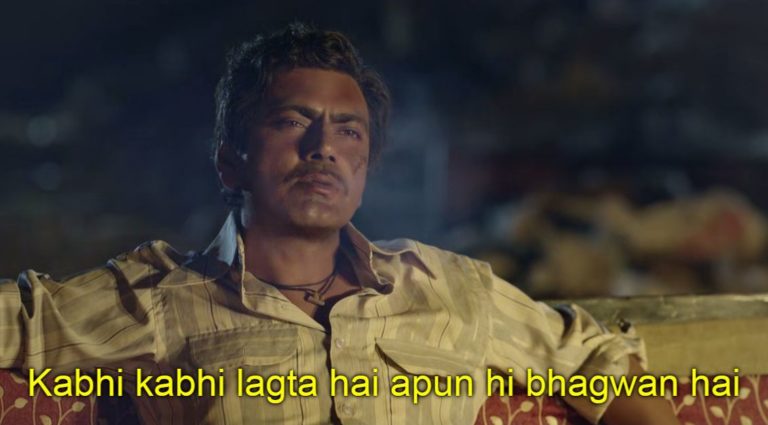 Markets this week
India's equity markets faced one of the worst weeks of the year as benchmark indices ended the week deep in the red. Investors across the board – especially Foreign Institutional Investors (FIIs) who have been selling Indian stocks rampantly.
The looming threat of the Omicron variant has made investors jittery as it threatens to derail the economic recovery post-covid-19. That apart, inflation seems to be a bigger concern than not, as the US inflation hit a 30-year high last month. Inflation is a rise in prices and it occurs when too much money chases too few goods and services. To curb inflation, the US central bank plans to raise interest rates – as that would make it difficult for consumers and businesses to borrow and spend money.
However, this might not bode well for Indian stocks as foreign investors would pull their money out of countries like India and put it back in the US – where due to rising interest rates, returns would rise.
Here's what we've been doing this weekend…
Reading Zero to One – If you've ever worked at a start-up or had a friend who does, there's no way you've not heard of this phrase. In his book Zero to One: Notes on Start-Ups, or How to Build the Future, Peter Thiel, with Blake Masters, talks to us about how businesses of the future can't copy the Steve Jobs and Larry Pages of tech. They need to be visionary and do something new – create something from scratch and take it to the next level. How to get there? Well, we're reading about it in this one.
Watching Succession – Allegedly based on Rupert Murdoch and his family's business empire, the series has reached Season 3 and we're screaming! All the personal and professional politics is sending us gasping as we binge on the latest episodes.
Listening to Where's My Money by Tickertape – Our friends at Tickertape have started this podcast and we're glued to it! It's basically for the ones who want to understand the Indian investing landscape in simplified and lucid terms. So, if you are looking to venture into stock investing, sort your personal finances, or make sense of how economic developments can impact your money, this podcast is the ideal company for your evening chai or morning commute.
Tweet of the week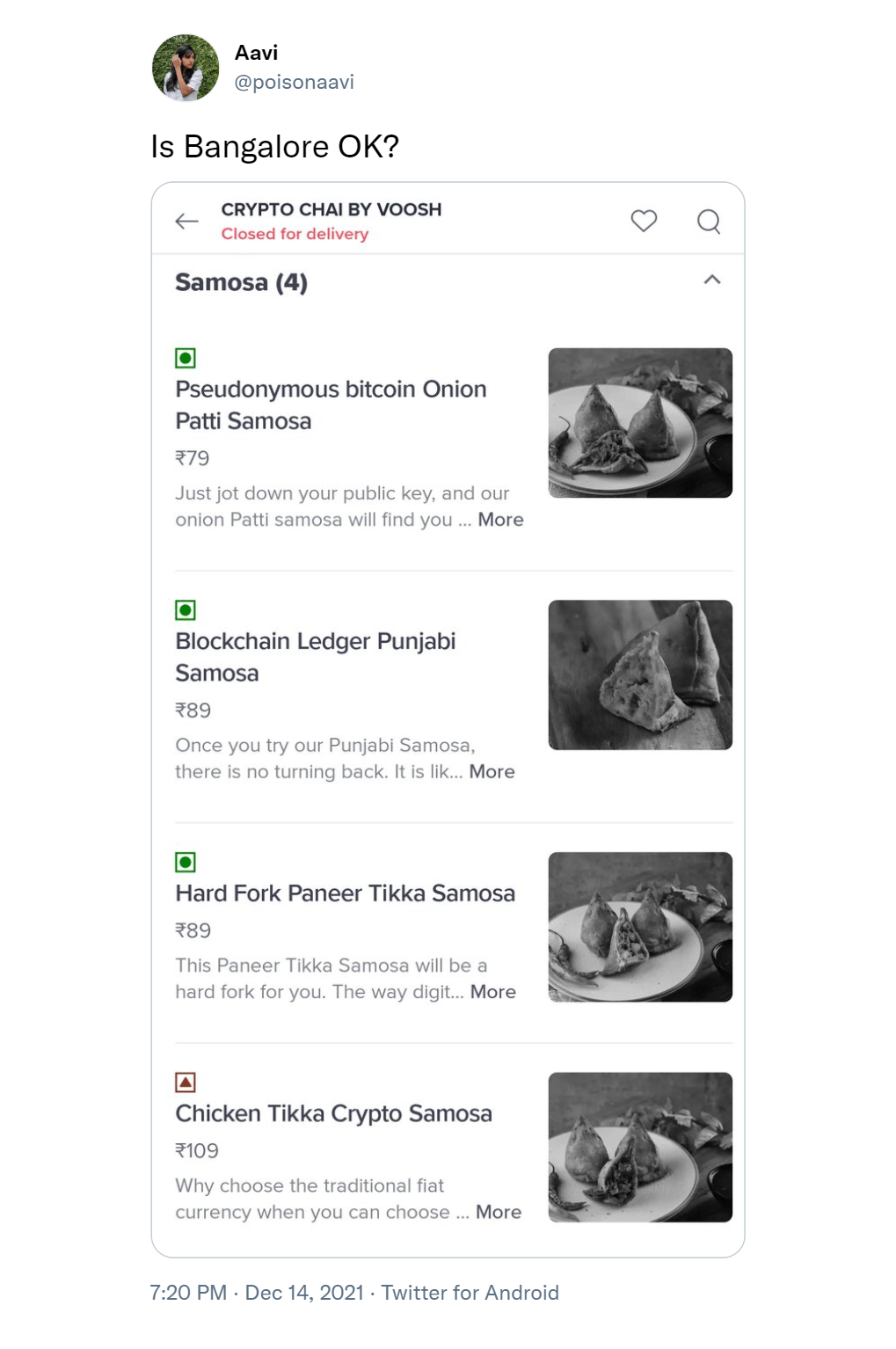 PS – According to sources at Economic Times, RBI wants a blanket ban on cryptocurrencies. You can read more here.
And that's a wrap on this week's newsletter! Are you hooked to 10-minute deliveries yet? What's the most bizarre thing you've spent money on through these deliveries? Do you reckon it is the next big thing in e-commerce? Tell us on Twitter!
Until next week, take care and stay invested!