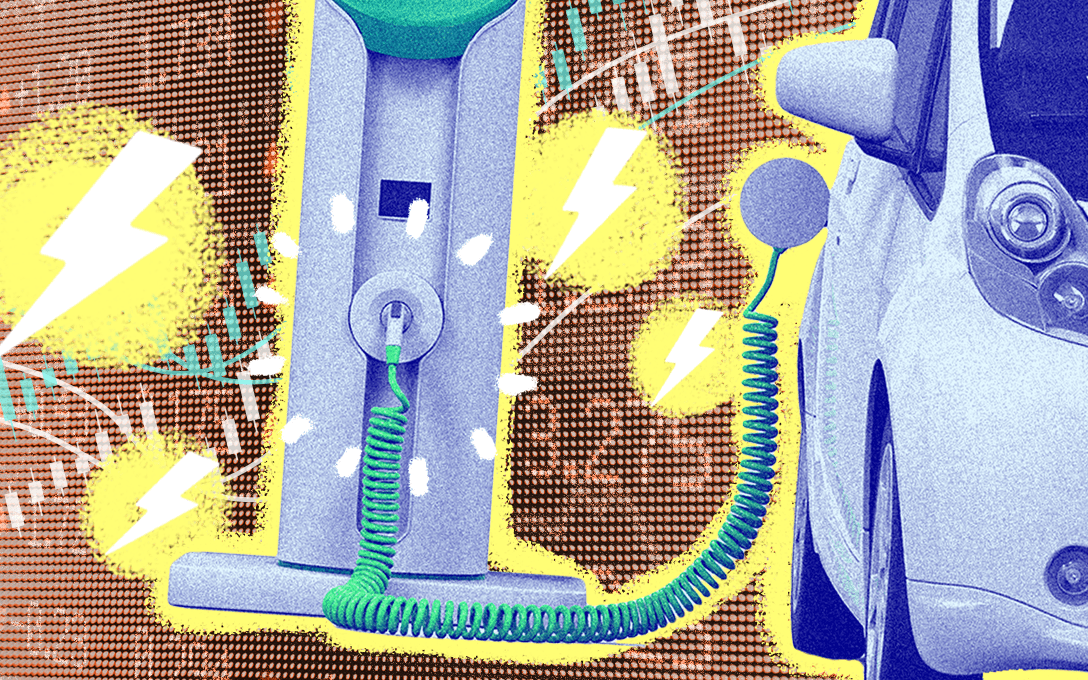 Reading Time: 9 minutes
The promise of Electric Vehicles (EVs) has been realistically around since 2008, when Tesla, Inc. launched the first fully electric car, the Tesla Roadster. Their subsequent cars Model S and Model X were launched in 2013, and since then have captured the imagination of consumers & the automobile industry all over the world. Tesla's technology, design, and the brilliance (and online shenanigans) of Tesla's first investor & now CEO Elon Musk have also been much talked about on Wall Street.
Today, Tesla is valued at approximately double the value of Ford & General Motors combined – despite manufacturing less than 20% of the cars than either Ford or GM. Such is the promise of Tesla and the electric vehicle space in general.
This electric vehicle revolution has been in-the-making in India since 2013. But it's only been in the last 1-2 years that it's gained a lot of popularity from the one section that ultimately matters – the consumers themselves.
A combination of improved product choices, higher marketing spends, and increased consumer awareness has led to a significant increase in the demand and interest in electric vehicles of all kinds – from scooters & cars to even e-autos and electric heavy-duty trucks!
Buoyed by the commercial/consumer success of EVs in Western markets and reduced manufacturing costs due to improved technology, companies large & small alike are now investing in this space. The reduction in GST on EVs to 5% in 2019 was also a welcome move.
This increased competition will not only benefit the end consumer, but also drive the growth & development of the overall space.
Today the EV industry is at an inflection point. On one hand, it has managed to weather the initial risks around policy, support, etc. that are usually associated with the creation of an entirely new industry. Now comes the consumer test – will EVs be accepted, adopted, and become mainstream? Or will this remain an expensive dream for most?
If initial signs are anything to go by, it looks quite promising. There's a lot happening in this space now, so let's take a quick look at the current state of the EV market in India.
5-star Drivers of the Indian EV revolution
Tata Nexon EV is perhaps the one electric vehicle that's currently capturing the imagination of Indian consumers. Launched earlier this year in 2020, it's not only attractively priced but also has the backing of the Tata Group. While Tata Motors is manufacturing it, Tata Power is helping build the charging infrastructure & plans to have 700 charging stations by 2021. Tata Motors is also aggressively marketing the Nexon EV via partnerships & setting up experience centres to highlight the product directly to the consumers.
Ather Energy has come a long way from being an IIT-Madras incubated startup in 2014, to securing $51 million in funding led by Flipkart co-founder Sachin Bansal in 2019. Ather is another company that's seeing increasing interest from customers. Ather's premium fully-electric two-wheelers are already selling in Bangalore & Chennai, with plans to launch in Bombay, New Delhi, Pune, and Hyderabad. It plans to sell 30,000 units in 2020, and estimates it could hit sales of 10 lakh units by 2023!
I live behind one of Ather's flagship showrooms on Indiranagar's 100-feet Road – and on quiet weekends, I can often here the distinct noise made by Ather's scooters as potential customers come to test-drive it. I can confidently say this – much to my chagrin – has certainly increased by a lot in the last 6 months.
Such is the growing popularity of electric scooters, that even Bajaj Auto decided to reincarnate its iconic Chetak model & launch it earlier in Jan 2020.
TVS Motors, Honda, and Hero MotoCorp have also either already launched an e-scooter, or will within the coming year.
And then there is Ola Electric. Ola Electric's journey started in May 2017, when they partnered with auto manufacturer Mahindra & Mahindra to launch a pilot project in Nagpur. The project aimed to build a charging infrastructure & bring 200 EVs, including cars and e-autos, on the Ola app.
I'm not sure how great a potential Ola saw in this space, but they decided to spin-off the EV division & create a new entity. Thus, Ola Electric Mobility (OEM) was born in March 2019. Its initial backers included Ratan Tata & NY based investment firm Tiger Global, which was also one of Flipkart's earliest investors. Automakers Hyundai & Kia Motors also invested $300 million. Later in July 2019, OEM raised another $250 million funding from SoftBank, valuing the firm at approx. $1 billion, also perhaps making it the quickest startup to reach unicorn status.
One key insight from their pilot in Nagpur was that electric 3-wheelers – and not 4-wheelers – was the key to cracking the current EV market. As such, they are focused on launching 1 million electric autos by 2022. But interestingly, OEM isn't just looking to run a cab-service on electric autos & vehicles – it's also looking to be an integral part of the ecosystem by manufacturing its own batteries in partnership with Bosch.
Clearly, there's now a lot happening in the EV space, and the next few years will be critical in terms of consumer acceptance that will ultimately determine the future of this industry.
But as many would remember, electric cars & scooters weren't exactly this popular or even discussed in the mainstream until a few years ago.
So how did the industry manage to reach this stage? The single largest influencer here has been friendly policies & initiatives from the (various) Indian Governments. Let's quickly understand why & how.
History of Electric Vehicles in India
The EV revolution in India was kickstarted in 2013, when the then Government introduced the National Electric Mobility Mission Plan (NEMMP-2020) that incentivised the use and production of electric vehicles. The NEMMP-2020 was conceived to create an ecosystem for electric vehicles in India, with an ambitious aim to start selling 60+ lakh hybrid & electric vehicles from 2020 onwards.
But not really much happened for the next 2 years. Then in 2015, the Government directed the Department of Heavy Industries to facilitate the faster adoption and manufacturing of hybrid and electric vehicles. Thus, the FAME scheme was born, with an objective to develop the EV ecosystem in a way that moves the industry towards self-sustenance over the next 5-10 years. Spread over two phases, this scheme focused on encouraging tech R&D, trying pilot projects (like the one Ola did in Nagpur), incentivisation of manufacturers and consumers alike, etc.
Official reports from the Government estimate that Phase-I of FAME India scheme supported the sale of "2.78 lakh electric, hybrid vehicles at a fund utilisation"
In Budget 2019, the Government announced the FAME II scheme, an ambitious extension of the initial scheme with a total allocation of ₹10,000 crores over a period of 3 years. While ₹500 crore was allocated for 2019-20 period, ₹693 crore has been allocated for the 2020-21 period. Through this scheme, the Govt. expects to support the sale of 10 lakh electric 2-wheelers, 5 lakh electric 3-wheelers, 55,000 electric 4-wheelers, and 7,000 buses over 3 years until 2022. It also plans to use the funds to promote the development of the required charging infrastructure, aiming 2,700 such stations across the country by 2022.
The funds will also used to directly subsidise the cost of EVs to the ultimate consumer. For example, EVs sold for commercial purposes receive a 20% reduction in price up to ₹3 lakh – so if a Tata Nexon EV costs ₹15 lakh in the market, the buyer receives a ₹3 lakh rebate if the EV is purchased for commercial purposes.
The other significant push from the Govt. in Budget 2019 was the reduction of applicable GST rates to 5%, from an earlier 18%. In mid 2019, the Government also ordered cab-booking companies like Ola and Uber to convert at least 40% of their fleet to EVs by 2026. Given how ingrained such services have become in our daily lives, especially in cities, this is also bound to increase demand for EVs in the coming years.
An Electric Investment Opportunity
Since the launch of the first commercial automobiles in early 1900s, this is perhaps the next big revolution happening in the auto industry across the globe. It would be fair to say that we're witnessing the creation & early-stage growth of an entirely new industry.
Thanks to continued efforts of the Government to develop EV friendly policies, there is now a bustling EV ecosystem that's being developed across the entire country. It may have taken 6-7 years to develop, but it's finally reached a critical point where the EV industry is not only producing competitive & attractive products, it's also seeing consumer demand pick up.
In fact, this change is one that many people are witnessing first-hand in their cities and towns – similar to when smartphones had first started becoming mainstream 4-5 years back.
Every time such large changes are happening around us, it also presents an investment opportunity that can reap large gains in the future.
After all, that's why folks like Ratan Tata, Sachin Bansal, hedge funds like Tiger Global, and even Private Equity (PE) & Venture Capital (VC) firms are investing in this space.
Note that when I say "this space", I'm not talking merely of automobile manufacturers like Tata Motors, Mahindra & Mahindra, Hero MoroCorp, etc. which are making the ultimate EV used by consumers like you and me. Since an entire ecosystem is being created, the investment opportunity lies across the entire spectrum. This certainly includes EV automakers, but also mining companies that are importing/mining lithium, battery manufacturers that are using the lithium to produce batteries for the EVs, power companies like Tata Power that are building the charging infrastructure, etc.
While some of these investment opportunities may not be available to us retail investors – like those in private companies like Ather Energy or Ola Electric – there are still many public listed companies that are today investing heavily in the promise & potential of the EV space. If you'd like a detailed understanding of the state of the EV ecosystem in India, this comprehensive report from Ernst & Young will give you great insights.
The smallcase team has created the Electric Mobility smallcase with exactly this in mind. It consists of such companies that stand to benefit as the EV ecosystem expands & there is increased adoption from consumers for all kinds of EVs. If you also believe that electric vehicles are the future, take a look at this smallcase & see how you can benefit from this change happening around us.
Happy investing!
******
Do you think EVs are the future of the automobile industry? Why are you interested in purchasing an EV? Do you find them cost-efficient, or is it because it's better for the environment? Or do you find them just cool? Tweet your thoughts to me at @vikasbardia 🙂