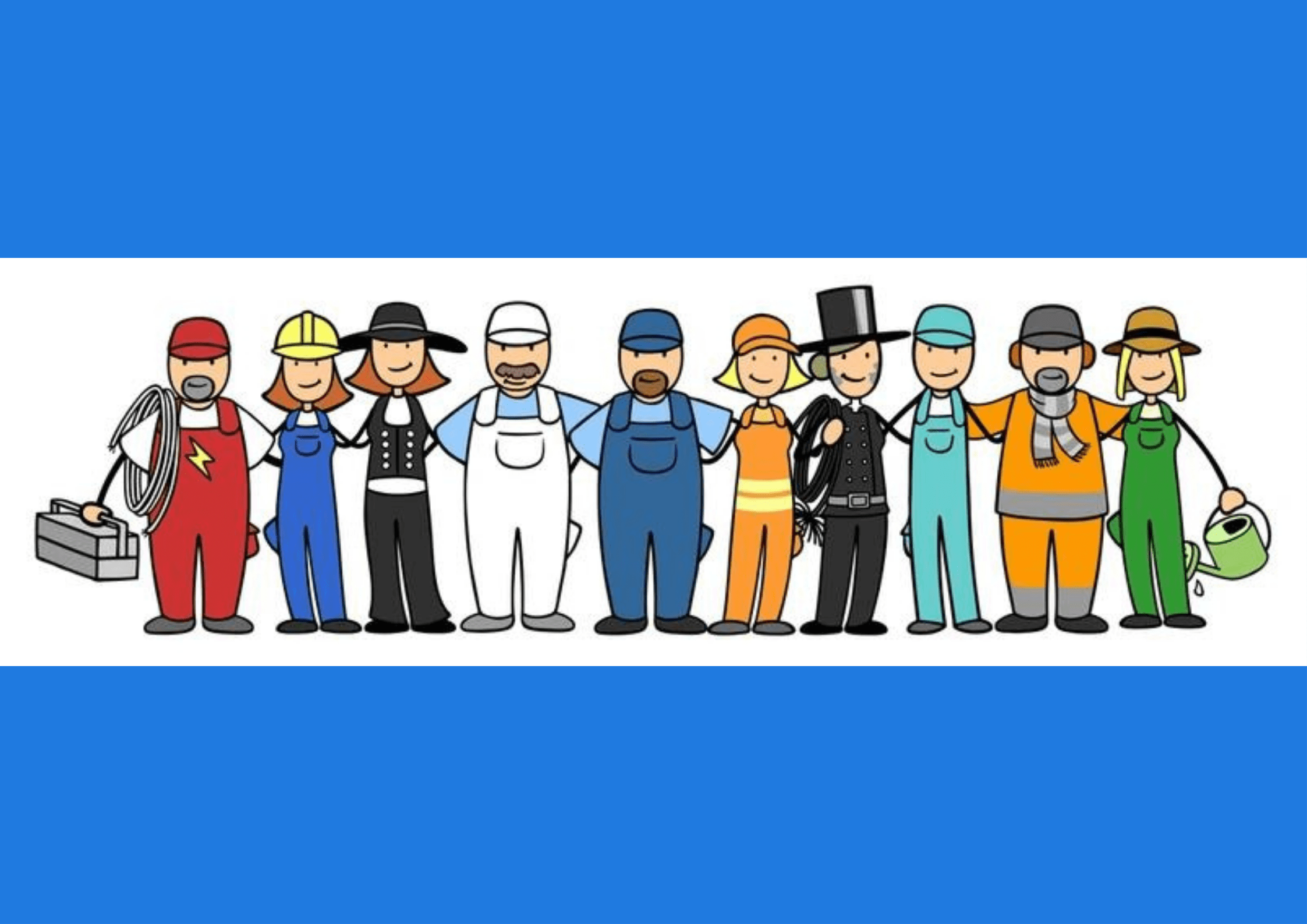 Reading Time: 5 minutes
It's May Day! Today we salute all those people working long hours in blue-collar jobs, just to make our lives easier.
However, May Day also has a special connotation for Wall Street. A seismic shift in operations happened on this day that still defines a significant part of how trades are carried out even today. Can you guess what it is? Read on to find out!
Curious about the history of this day? Read here.
The origins of this day lie in pagan European rituals that were associated with the working classes residing in rural areas. However, in 1889, the socialists and communists of the Second International (a labour organisation), as well as anarchists, labor activists, and leftists in general around the world decided to associate 1st of May as International Workers' Day. This was done to commemorate the Haymarket Affair in Chicago. The Haymarket Affair was a result of bombing at a labour rally in Haymarket Square in Chicago, Illinois in May, 1886. It began as a peaceful march in favour of workers striking for an eight-hour work day.
It was celebrated in India for the first time in Chennai, on the May 1st, 1923 by the Labour Kisan Party of Hindustan.
How is the working class evolving?
India's blue and grey-collar job markets grew at their fastest rate in over a year in February, 2022, thanks to a decrease in Covid infections, eased restrictions, and an increase in economic activity.
However, there's a shift in how the labour class is operating today and that change is being brought about by the emerging gig economy.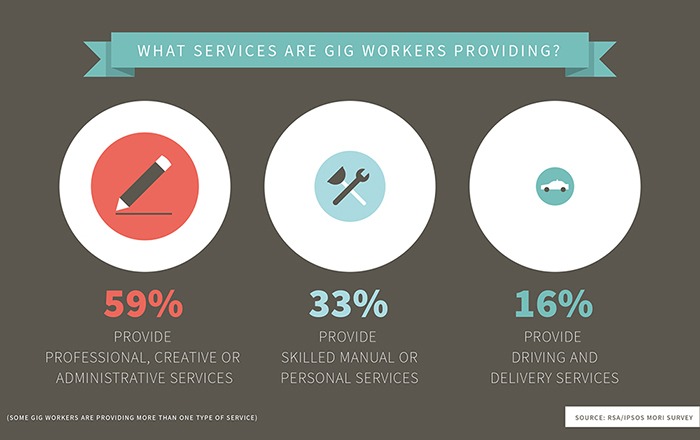 What's a gig economy?
The gig economy is centred on jobs that are flexible, transitory, or freelance, and frequently include communicating with clients or customers via an internet platform.
Temporary, flexible positions are popular in the gig economy, and organisations prefer to hire independent contractors and freelancers over full-time employees. The traditional economy of full-time workers, who are generally focused on their career advancement, is undercut by the gig economy.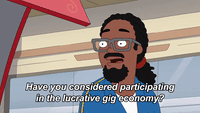 By making labour more responsive to the requirements of the moment and the demand for flexible lifestyles, the gig economy can benefit workers, firms, and consumers.
What's it like in India?
"As India moves towards its stated goal of becoming a $5 trillion economy by 2025, the gig economy will be a major building block in inclusively achieving the above goalpost, bridging the income and unemployment gap."

Dhanendra Kumar, former Chairman, Competition Commission of India
According to an ASSOCHAM study, the gig economy has the potential to grow to $455 billion by 2024 at a CAGR of 17%.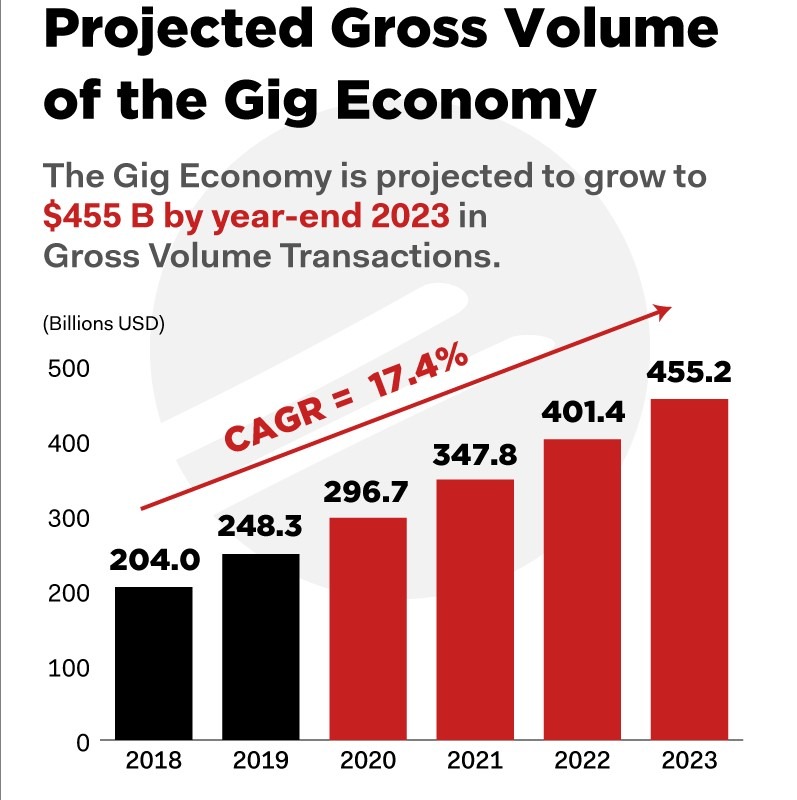 In India's non-farm industries, the gig economy has the potential to create up to 90 million job opportunities, and take our country's GDP up by 1.25%. Startups such as Ola, Uber, Zomato, and Swiggy have carved out a giant niche in India's gig economy.
What are the top industries driving the gig economy?
Delivery, driving, data entry/back office, BPO/customer service, field sales, business development, and retail/counter sales are the top categories with the most demand. Security guard and administrative jobs saw a 350% increase in demand in January-February, 2022, compared to the previous three months. Meanwhile, housekeeping and HR jobs saw a 250% increase.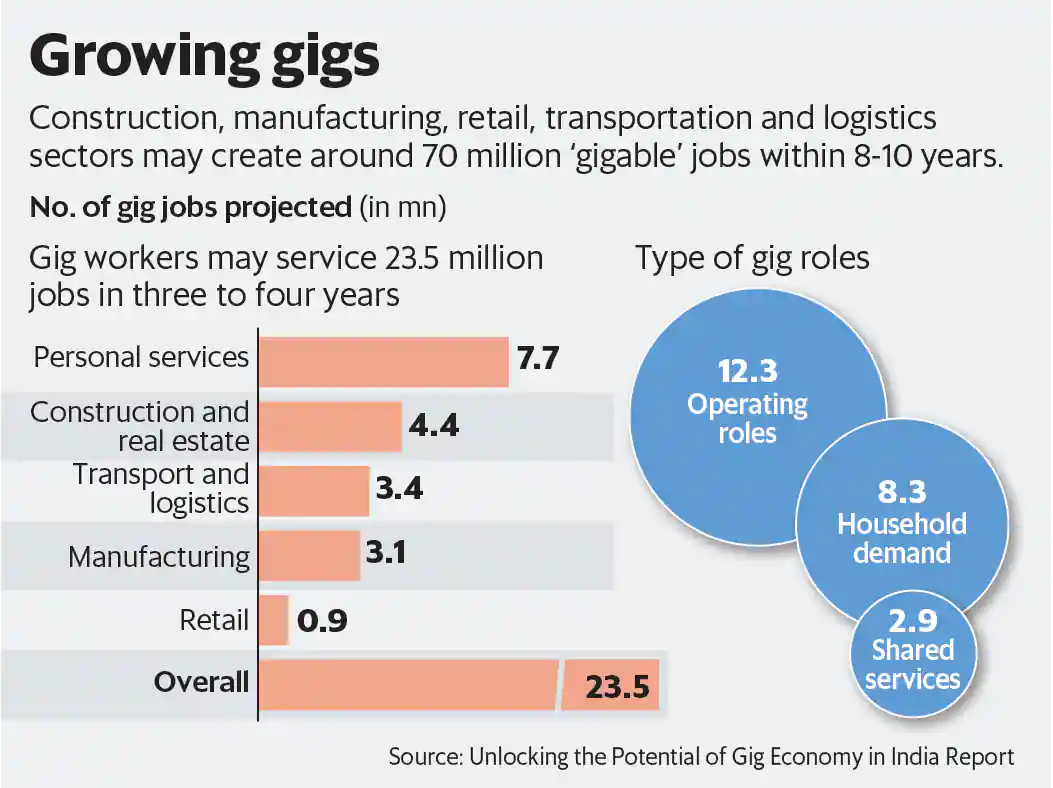 According to BCG, over 200 million people are part of the global gig workforce. Participation in the gig economy is higher in developing economies (between 5-12%) than in developed economies (1-4%).
Are there any benefits?
India is considered the main runner in the gig economy market as well as the workforce.
Flexibility in the workplace, increased efficiency, additional income for the poor (particularly the unemployed, women, and students), increased productivity by "reducing idle and unproductive time," a "new business model" for "the growing demand for on-demand staffing," and so on are some of the key benefits this form of the economy brings with it.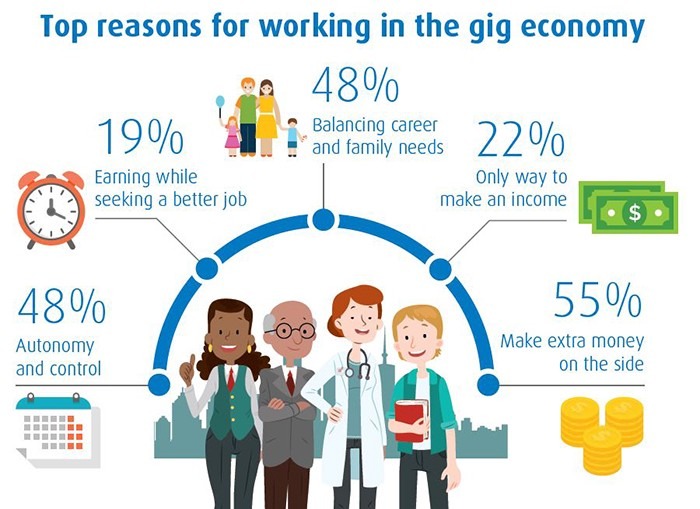 According to The Economic Survey, females (15-59 years) joining the labour workforce went up to 26.5% in 2018-19 from 25.3% in 2017-18. This is because the gig economy offers flexible hours, making the 9-5 work hours redundant.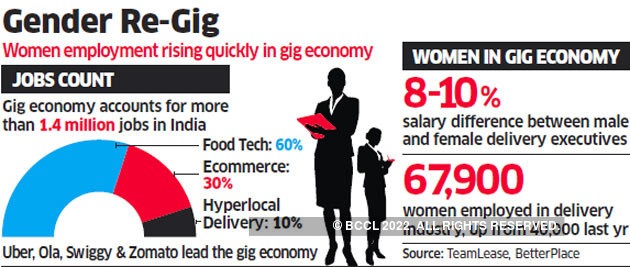 While there are some glaring loopholes in this model, it's a way forward that's more inclusive. The Government could attract FDI to reserve a good amount of foreign exchange, creating a wide range of job opportunities. The rise of the gig economy could be immensely helpful to diminish the level of unemployment.
Markets this Week
Why does Wall Street celebrate May Day?
On May 1, 1975, the stock market changed forever – known on Wall Street as May Day. For the first time, brokerages were free to determine their own commission rates for stock trading rather than being bound by commonly defined pricing.
Click To Tweet
Trading fees were decided by marketplace competition rather than a fixed price for the first time in 180 years.
Small and individual investors benefited greatly from the shift. The policy aided the popularity of discount brokers, as well as the introduction of commission-free stock trading at online discount brokers more recently.
Inside smallcase
Gain more control and clarity over your smallcase investments with our latest transparency update. Read here.
Since the inception of smallcase, we have continuously strived to empower you to invest with complete transparency.
So, here's introducing the much-awaited XIRR! You can now view the XIRR for all smallcases that you've invested in for over a year. More updates include rebalance timelines, cost calculator and so on. Read all details here.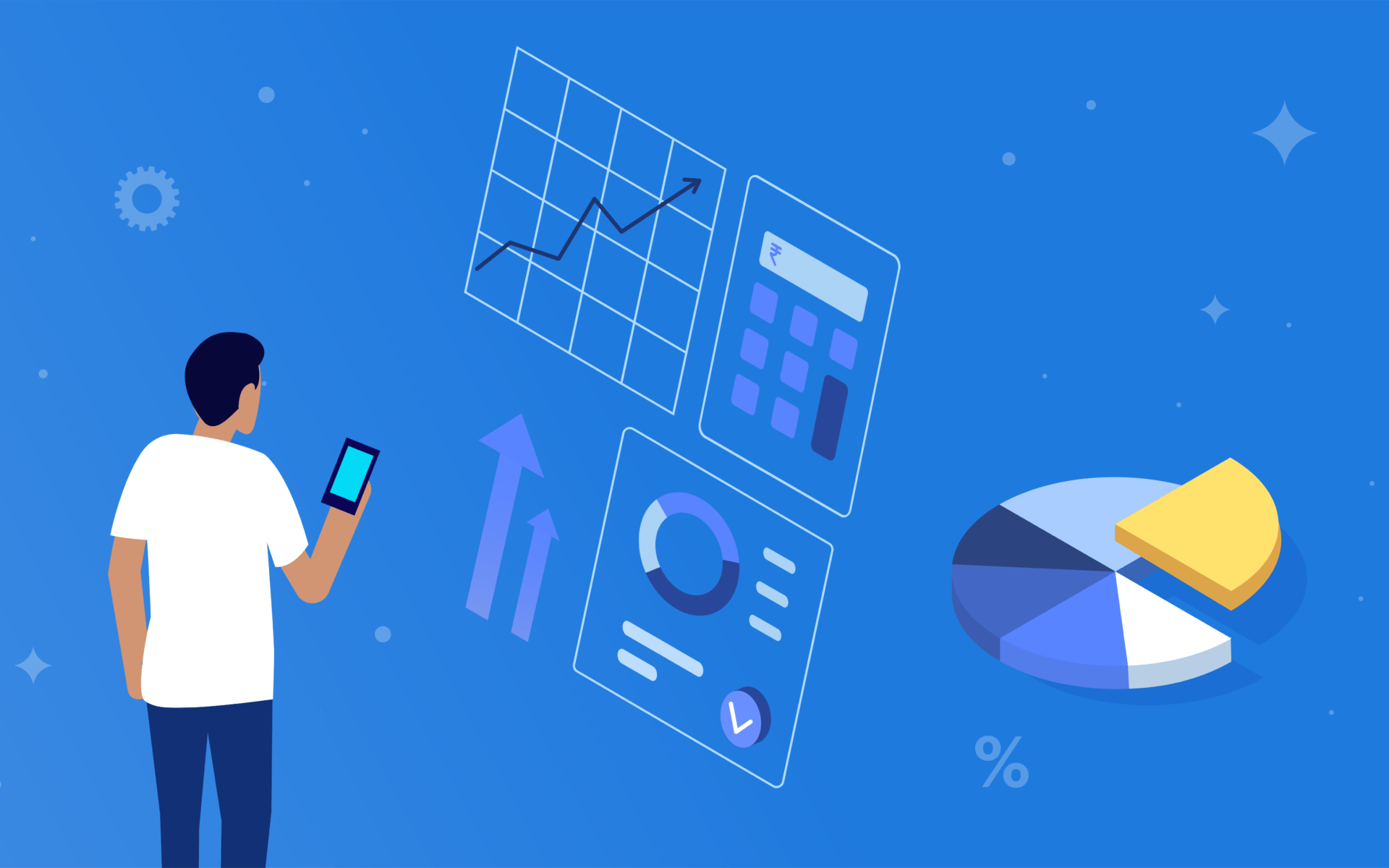 With this set of updates, we aim to improve clarity in smallcase returns and increase control while making investment decisions.
Here's what's been up this week…
Reading The End of Jobs by Taylor Pearson – This book discusses at length about the evolution of our economy. He says that the "safe job" model is getting more unreliable by the day, which is downright dangerous. He makes a case that self-employment could offer young people greater security and control over their opportunities than a conventional career path. A wonderful take on gig economy and the future of work, this is a must read for anyone looking to understand the evolution of the job economy.
Listening to a TED Talk by Keeanga-Yamahtta Taylor – Working as an Assistant Professor at the Center for African American Studies, Princeton University, Taylor became one of the leading activists for the Black Lives Matter movement. This talk is about her book From #BlackLivesMatter to Black Liberation which is a brilliant read for those interested in the various ways Marx's ideals are being rebooted for the 21st century. It connects the origins of racism to the structures of economic inequality.
Watching La Loi Du Marché by Stephanie Brizé – While making no great and pompous speeches about communism and socialism, this movie captures a devastating essence of a middle-age worker who, after losing his job, struggles to retain his dignity. This French drama film captures the good man's soul while showing you the hard realities of life.
Share:
Subscribe