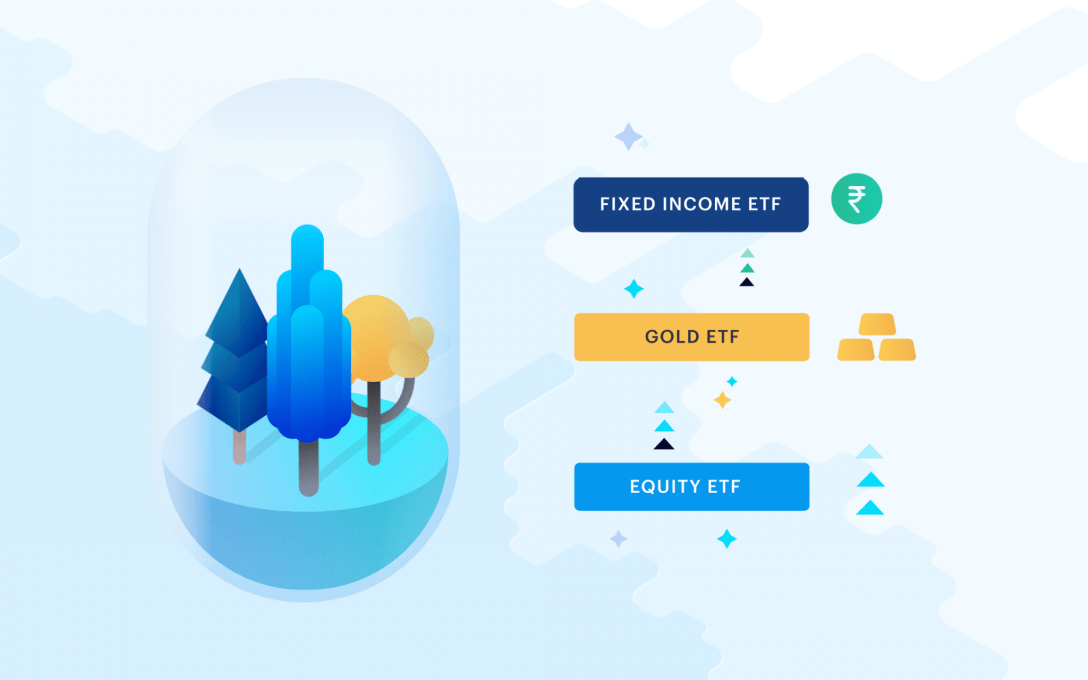 Reading Time: 3 minutes
As the name suggests, All Weather Investing is a smallcase of ETFs that helps you ride through the market volatility and build wealth steadily over the long-term. The smallcase is diversified across asset classes like equities (stock market returns), fixed income (bank fixed deposit type returns) and gold.
But that question that might come to your mind now is—Why do I need the All Weather Investing smallcase? Can't I do that with other investment instruments as well? Well, you can't.
Here are five reasons why the All Weather Investing smallcase is the perfect instrument for stable long-term wealth creation.
Low returns from traditional instruments
India's most-preferred investment instrument has traditionally been the bank fixed deposit (FD). But this trend is changing because FDs, and other bank instruments like recurring deposits, offer low returns. FD rates have been consistently going down and are now around 5-6%. Because interest income from FDs is added to your annual taxable income, the effective rate of return goes further south. On top of it, there are penalties for breaking the FDs when you need them the most. By investing in FDs, you can't even aim to beat inflation, let alone create wealth.
High risks with equities
Equity exposure in your portfolio is important because equities can help you earn higher, inflation-beating returns. But equities are risky. The markets are volatile and an all-equity portfolio can leave you in dire straits during a bear phase. All the gains made during a bull run can get wiped out in a matter of days, which is something that no investor wants.
Difficult to choose mutual funds
Mutual funds are pitched as the investment product that is the answer to both of the problems mentioned above. Mutual funds are diversified and can help you mitigate risks. But how do you choose a mutual fund to invest in? There are literally thousands of options to pick from. Mutual funds come in three broad categories—equity, debt and hybrid—but there are multiple sub-categories within each of these categories. This might lead to the problem of choice.
Cumbersome stock investment research
Even if you are able to look beyond the short-term market volatility, you need a lot of time, knowledge and expertise to carry out stock research. Finding the right company to invest in is difficult for a layman investor. Finding more than one company to build a portfolio of stocks is even more so. You can't even rely on the tips and advice given by your broker. Plus, poor or inadequate research only adds to the risks that come with equities.
Biased and expensive investment services
A Portfolio Management Service (PMS) will not even look at you if you don't have crores to invest. Your neighbourhood fund distributor or insurance agent will help you out, but he's likely to pitch a product that gives him high commissions. Even he has a family to feed, after all. Meanwhile, you are left in a lurch with no advice to rely on.
The genuine solution to all of these problems is the All Weather Investing smallcase. The smallcase is diversified across asset classes like equities, bonds and gold, and the mix is determined by market data, not by a human's preferences or beliefs.
This exposure is taken through exchange-traded funds (ETF), which makes the smallcase cost-effective and liquid.
And the most important point is the returns earned by the smallcase. Over the past decade, the All Weather Investing smallcase has earned inflation-beating returns at extremely low risks.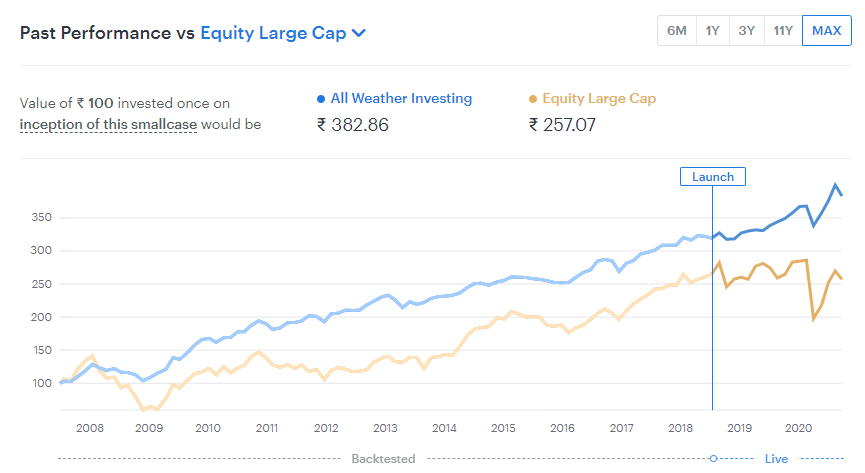 A single-step solution to major investment issues justifies the need for the All Weather Investing smallcase. It's the time-tested way to see your money grow steadily, without getting affected by market volatility and economic conditions.
[cta color="blue" title="Invest in All Weather Investing" url="https://smallcase.zerodha.com/smallcase/SCAW_0001?utm_source=smalltalk&utm_medium=banner&utm_campaign=smalltalk&utm_content=awi-need" button_text="Get Started"]Start investing for free[/cta]