Reading Time: 2 minutes
Company Business Model
Zen Technologies Limited is a company founded in 1993 and is engaged in the indigenous design, development, and manufacture of defence training systems, drones, and anti-drone solutions based on sensor and simulator technology. This defence stock provides defence training solutions and seamless services to the Ministry of Defence (Armed Forces), Security Forces Police, and Para-military forces.
Overview of Stock Performance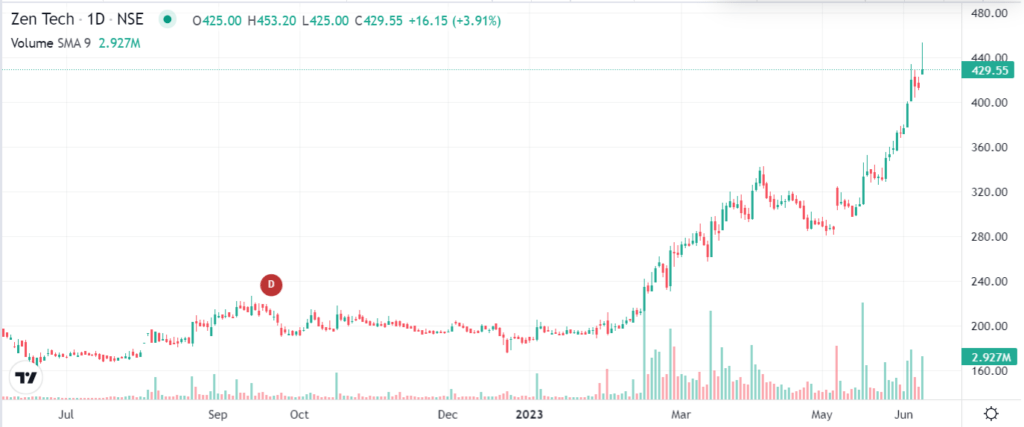 As can be seen from the 1 yr chart of Zen Technologies the stock is on a strong up-trend and has given 125% returns in 1yr.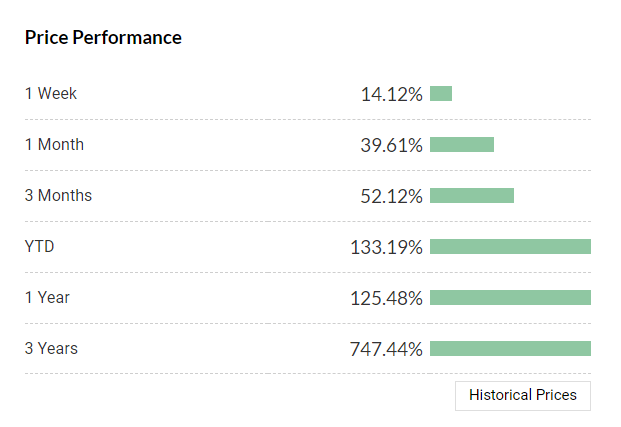 Over the last three years, the stock has gained 747% and has gain 44% since the company published their Q4'23 numbers on 8th May'23.
Financial Performance
The company during the Q3'23 achieved a standalone net profit of ₹17 crore, registering a robust YoY growth of 1600%. For the full fiscal year 2023, the company recorded a net profit of ₹37.64 crore, an increase of 1782% over FY22's net profit of ₹2 crore.
The company's total revenues experienced YoY growth of nearly 364%, reaching ₹74.14 crore in Q4FY23. The company has won multiple orders worth ₹141.67 crore in Q4, increasing its orders in hand to ₹473 crore as of March 31st, 2023.
The Way Forward and the Management Outlook
Besides the Company's mainstay, antidrone systems, drones and training simulations, going forward it will also focus on products that use Artificial Intelligence(AI) to amp up its product portfolio. Further, the Indian government's push towards the adoption of more simulations across the armed forces augurs impressively for Zen Technologies. It opens up avenues to support the nation's security as well as heighten the company's own business and profitability. In the past, the Company has submitted multiple Suo Moto proposals to the Ministry of Defence, and in fact, a few of them have been accepted for procurement as well. Zen Technologies will continue to remain on track with this, while also focusing on upgrading and innovating. The Company is also diversifying its business to explore areas other than training simulators, and as such, it is participating in the design and developmental projects of the Ministry of Defence under the MAKE categorization.
Explore Mid & Smallcap Focused Portfolio here to discover more stocks like Zen Technologies
Subscribe Now
FAQs
1. Why Zen Technologies share is rising?
Zen Technologies share prices are rising due to recent contract wins ( including ₹160 crore contract from the Indian government and ₹340 crore contract from an export customer), strong financial performance, and a positive outlook for the defence sector.
2. What is the future of Zen Technologies share?
The future of Zen Technologies share is bright. The company has a strong track record of execution, a growing customer base, and a positive outlook for the defence sector. Zen Technologies is well-positioned to grow its revenue and profit in the coming years.
3. How do I buy Zen Technologies share?
You can buy the share through a stockbroker. To do this, you will need to open a trading account with a stockbroker and deposit funds into your account. Once you have done this, you can place a buy order. You can also invest in a portfolio of top defence stocks in India via smallcase.