Reading Time: 6 minutes
A renowned name in the private equity investment domain is Ashish Dhawan. He has established himself as one of India's richest investors and notable philanthropists. With his influential private equity firm, Chrysalis Capital, Ashish Dhawan portfolio boasts top-tier stocks that have contributed significantly to his net worth exceeding ₹3,187.3 crore.
So, whether it's crunching numbers in the investment world or making positive changes in society, Ashish Dhawan is definitely a name to know. Let us delve into the journey of Ashish Dhawan and see the financial lessons that he can teach potential investors.
Who is Ashish Dhawan?
Ashish Dhawan is a well-known figure in the world of finance and education in India. You can think of him as someone who wears multiple hats – he's an investor, philanthropist, and entrepreneur all rolled into one. He co-founded a private equity firm called ChrysCapital which is one of the biggest funds in India.
In 2012, Ashish Dhawan started something pretty cool called the Central Square Foundation (CSF). It's like a group that gives money to help make education better in India. They also do a lot of thinking and planning to make education policies smarter.
And wait, there's more! In 2014, Ashish Dhawan teamed up with 40 other do-gooders to create Ashoka University. This university is special because it's the first of its kind in India – all about liberal arts, which means it covers a wide range of subjects to give students a well-rounded education. Isn't it amazing?
A Little Sneak Peek Into Ashish Dhawan Portfolio
As we have discovered, he's a big name in the financial world. Known for his smart investment moves and his passion for giving back, Ashish Dhawan portfolio has a solid diversification of stocks that contribute to his net worth.
Here is a list of 13 stocks on exchanges that are valued at around ₹1,978.4 crores so far in June 2023.
| Company Name | Holding Value (in ₹) | Shares Held |
| --- | --- | --- |
| Religare Enterprises Ltd | ₹111.6 | 53,86,564 |
| Dish TV India Ltd | ₹48.4 | 28,957,491 |
| Glenmark Pharmaceuticals Ltd | ₹587.5 | 72,00,000 |
| AGI Greenpac Ltd | ₹201.6 | 31,00,000 |
| IDFC Ltd | ₹668.9 | 5,60,00,000 |
| Mahindra and Mahindra Financial Services Ltd | ₹431.5 | 1,46,00,000 |
| Greenlam Industries Ltd | ₹219.3 | 48,14,210 |
| Palred Technologies Ltd | ₹11.6 | 6,78,189 |
| Quess Corp Ltd | ₹248.5 | 58,61,223 |
| RPSG Ventures Ltd | ₹66.0 | 12,34,286 |
| Arvind Fashions Ltd | ₹221.4 | 65,64,065 |
| Equitas Small Finance Bank Ltd | ₹348.8 | 4,03,70,000 |
Top 4 Holdings of Ashish Dhawan Portfolio 2023
Let's take a peek into the notable holdings that make up Ashish Dhawan portfolio for the year June 2023. These are the companies that have caught his eye and clocked double-digit returns in 2023. From established giants to emerging stars, these top holdings provide a snapshot of where Dhawan sees potential and opportunity.
| Company Name | Holding Value (in Cr) | Shares Held |
| --- | --- | --- |
| IDFC Ltd | ₹668.9 | 5,60,00,000 |
| Glenmark Pharmaceuticals Ltd | ₹587.5 | 72,00,000 |
| Mahindra & Mahindra Financial Services Ltd | ₹431.5 | 1,46,00,000 |
| Equitas Small Finance Bank Ltd | ₹348.8 | 4,03,70,000 |
IDFC Ltd: Significant player in Ashish Dhawan portfolio. As a notable player in the financial sector, IDFC Ltd inclusion underscores Dhawan's interest in banking and financial services. With a focus on fostering economic growth and financial inclusion, the company's performance aligns with Dhawan's investment philosophy.
Glenmark Pharmaceuticals Ltd: A leading player in the pharma industry, features prominently in Ashish Dhawan holdings. This choice likely reflects his confidence in the company's research and innovation capabilities. The company gave 27% returns in 2023.
Mahindra & Mahindra Financial Services Ltd: A subsidiary of the well-known Mahindra Group, holds a significant position in Ashish Dhawan portfolio. If reports are to be believed, then the company has given 16% returns so far.
Equitas Small Finance Bank Ltd: Holds a noteworthy place in Ashish Dhawan portfolio, showcasing his attention to the financial sector's evolution. The bank's dedication to serving unbanked and underbanked segments resonates with Dhawan's emphasis on fostering financial accessibility and growth.
Ashish Dhawan Portfolio List-Sector Split Overview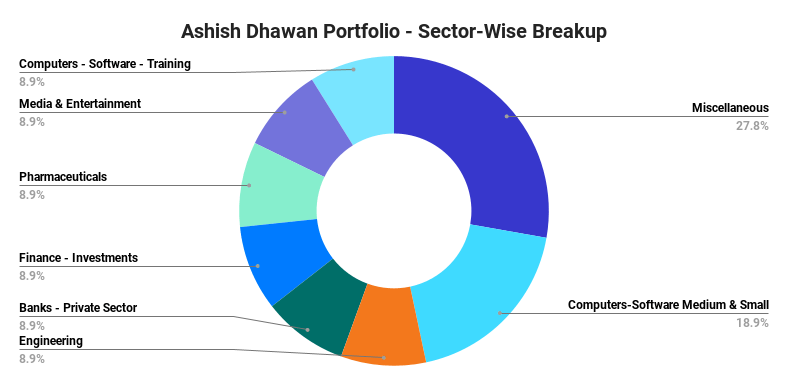 The ace investor Ashish Dhawan is one of the most successful investors in India. He has a knack for picking stocks that outperform the market. The portfolio of Ashish Dhawan includes a range of sectors including computers, hardware, software, and more. He also started investing in a wider range of sectors, including FMCG, banking, healthcare, and IT.
Stocks Traded by Ashish Dhawan in 2023
Ashish Dhawan went on a shopping spree in the March quarter. So, now let's check out a mix of different stocks in Ashish Dhawan portfolio. The idea is to make the most of new chances and get the best possible returns. After that, we'll take a look at which stocks Ashish Dhawan decided to reduce in his portfolio.
Which Stock Was Added to Ashish Dhawan Portfolio List in FY23?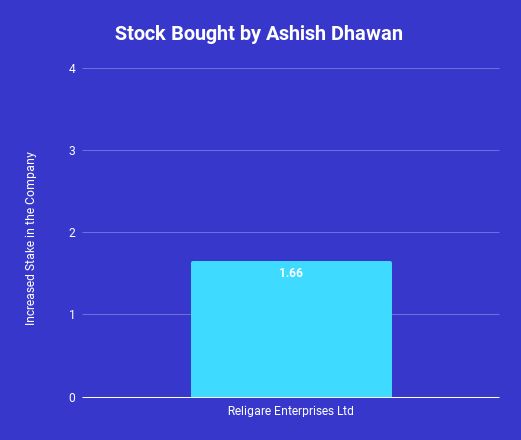 Religare Enterprises Ltd: REL is a diversified financial services group that provides a range of services, including asset management, broking, and wealth management. Dhawan is a value investor who looks for companies that are undervalued and have the potential to turn around. He now holds a 1.66% stake in the company, valued at around ₹94.3 crore.
Which Stock Was Downsized From Ashish Dhawan Portfolio List in FY23?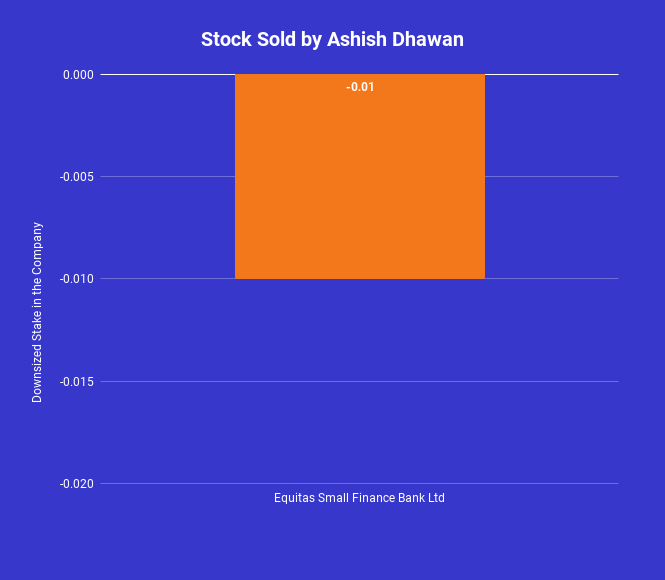 Equitas Small Finance Bank Ltd: Previously, Equitas Small Finance Bank Ltd has been increasing revenue every quarter for the past 3 quarters and profits in the last 2 quarters. However, Ashish Dhawan has decided to hold a 3.64% stake in the company as of March 31, 2023, down from 3.65% as of December 31, 2022. This represents a decrease of -0.01%.
Ashish Dhawan Net Worth Trend
Ashish Dhawan net worth history is one interesting part that investor must learn from it.
In December 2015, Ashish Dhawan portfolio was heavily concentrated in large-cap stocks, with a focus on financial services and energy sectors. Over the next few years, Dhawan's portfolio underwent a significant transformation. He gradually reduced his exposure to large-cap stocks and started investing in mid-cap and small-cap stocks.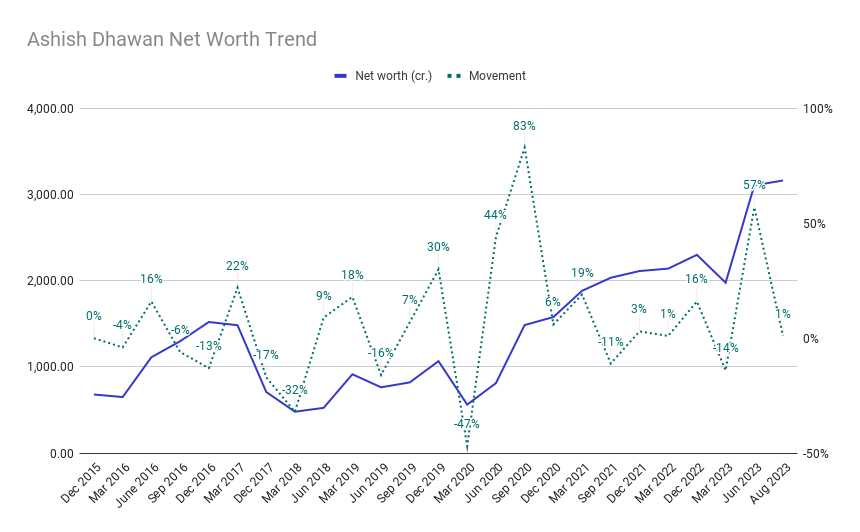 Investment Learnings From Ashish Dhawan Portfolio
With an experience of 20 years, Ashish Dhawan portfolio shines brightly even in times of market volatility. Here are some important lessons that you can learn from Ashish Dhawan portfolio:
Think Long-Term: Ashish Dhawan likes to play the long game. He's patient and willing to stick with his stocks for many years, even if they go up and down a bit along the way. He knows that the stock market can be a bit wild in the short run, but over the long haul, it usually goes up.
Look for Deals: Ashish Dhawan has a knack for finding bargains. He searches for stocks that are kind of like hidden gems – they're cheaper than they should be based on how good the companies are. Buying these stocks is like getting a great deal on something you really want.
Risk Smartly: Isn't scared of a little adventure as is reflected in Ashish Dhawan portfolio. He's okay with investing in smaller companies, which can be a bit bumpy compared to big ones. But here's the cool part – he's not reckless. He checks things out before investing and picks companies he thinks will do well in the long run.
Spread It Out: He doesn't put all his eggs in one basket. Ashish Dhawan portfolio is a mix of different types of companies added to the collection. This way, if one group isn't doing so hot, the others can help balance things out. It's like having different tools in your toolbox for different jobs.
To Wrap It Up…
Ashish Dhawan portfolio shines brightly in the investment world, having built his name through hard work and learning from challenges. Beyond his savvy investing, he's a smart entrepreneur and a kind-hearted giver. Remember, Ashish Dhawan investment moves hold priceless lessons on stock selection and wise decisions. If you're ready to start your own investment journey, why not kick it off with smallcase? Open a Demat account today and set your course for financial success!
Know More About Star Investors on smallcase –
Learn More about few of the other star investors, their investment strategies, stocks investments, net worth and much more –