Top Electric Vehicle (EV) Stocks in India (2023): Electric Mobility Portfolio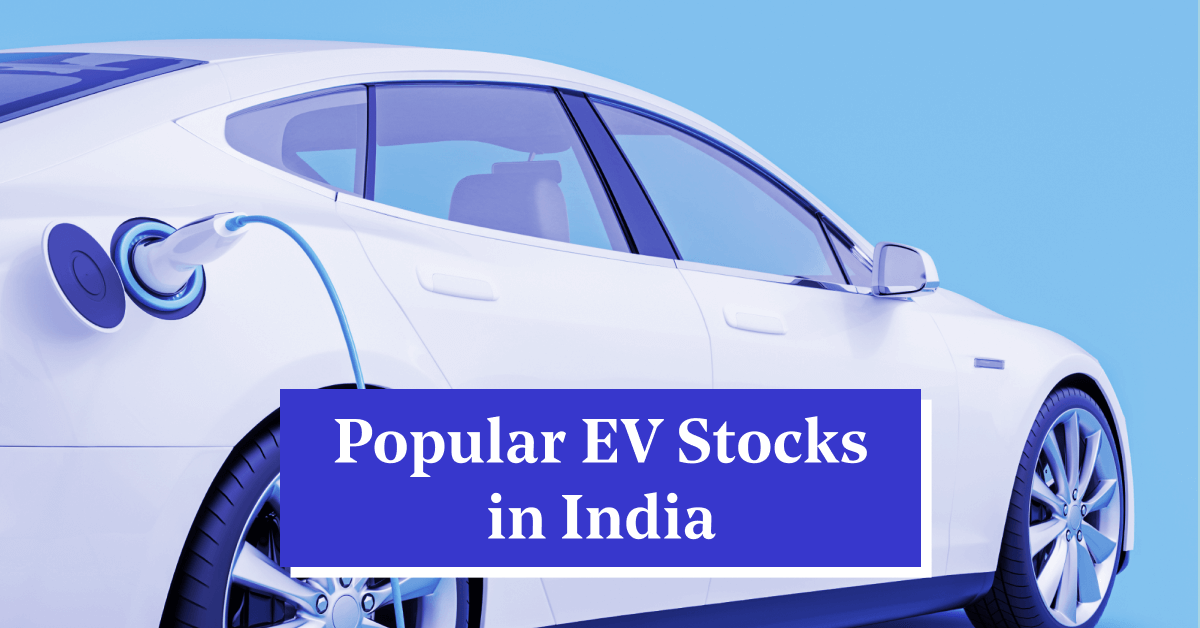 Reading Time: 12 minutes
Since flying cars weren't viable in 2022, the paradigm shift from investing in traditional fuel guzzlers to investing in electric vehicle stocks in India is the new hot bait.
Therefore, the Indian government views electric mobility as a key tool to reduce emissions and improve air quality with its ambitious 30% EV penetration target by 2030.
Investors looking to get into an industry that is expected to grow exponentially in the upcoming years might consider investing in India's electric vehicle stocks. So, no matter what level of experience you have, you can consider investing in electric vehicle stocks in India, on smallcase!
Let's understand more about electric vehicle stocks in India through this blog. We will also highlight some of the best EV stocks to buy in 2023 and popular electric vehicle smallcases.
What are Electric Vehicle Stocks India?
The full form of EV stock is electric vehicle stocks in India. This refers to the shares of companies that are involved in the production, manufacturing, and distribution of electric vehicles, batteries, motors, EV software and other charging stations.
In addition to having lower fuel costs (or none at all), electric vehicles emit significantly fewer emissions, and they also benefit the environment. With the Indian government's focus on electric mobility, EV stocks in India are slowly becoming the mainstream choice for consumers. Hence, if you are interested then this may be the right time for you to begin looking into in EV stocks India and other related stocks like battery stocks in India.
Some of the popular electric vehicles are:
Tata Nexon EV Prime
Tata EV Max
Tata EV Prime
On the other hand, some of the popular non-electric vehicles are:
TVS XL 100 heavy duty/ TVS XL 100 Comfort
TVS RA (Radeon)
What are the Top Electric Vehicle Stocks in India? – Top EV Stocks in India
The best electric vehicle stocks in India are poised to benefit from the country's push towards clean energy solutions. Hence, we have listed some of the top EV sector stocks in India below.
| Top EV Companies | Market Cap (in Cr) | Stock Price |
| --- | --- | --- |
| Reliance Industries Ltd | ₹16,50,330 | ₹2,428.05 |
| Maruti Suzuki India Ltd | ₹2,75,405 | ₹9,732 |
| NTPC Ltd | ₹1,70,661 | ₹221.05 |
| Mahindra and Mahindra Ltd | ₹1,51,132 | ₹1,578.8 |
| Tata Motors Ltd | ₹1,84,641 | ₹610.7 |
| Indian Oil Corporation Ltd | ₹1,23,631 | ₹90.9 |
| TVS Motor Company Ltd | ₹59,480 | ₹1,417 |
| Ashok Leyland Ltd | ₹44,893 | ₹189.75 |
| Exide Industries Ltd | ₹17,463 | ₹261.7 |
| Amara Raja Batteries Ltd | ₹11,085 | ₹627.35 |
| Himadri Speciality Chemical Ltd | ₹5,173 | ₹228.2 |
| High Energy Batteries (India) Ltd | ₹351 | ₹515 |
| Megha Engineering and Infrastructures Ltd. | – | – |
| Utkal Alumina International Limited | – | – |
| Ultraviolette Automotive | – | – |
| Mahindra Electric Ltd | ₹1,85,458 Cr | ₹1,578.8 |
Please note that the above list is for educational purposes only, and is not recommendatory. Please do your own research or consult your financial advisor before investing.
Top 3 Electric Vehicles Companies in India
Here is the overview of the top 3 EV companies in India:
Reliance Industries Ltd (RIL): RIL is a prominent Indian multinational conglomerate headquartered in Mumbai, Maharashtra. It holds the top position in India both in terms of market capitalization and revenue. RIL has a significant presence in various sectors, including energy, telecommunications, retail, and manufacturing.
Maruti Suzuki India Ltd (MSIL): MSIL is a leading Indian automobile manufacturer based in Gurgaon, Haryana. It ranks as the largest automobile manufacturer in India and stands as the fourth largest in Asia. MSIL specializes in the production of a wide variety of passenger cars, encompassing hatchbacks, sedans, SUVs, and MPVs.
NTPC Ltd (NTPC): NTPC is a major Indian state-owned power utility company headquartered in New Delhi. It holds the distinction of being India's largest power-generating company and ranks as the fourth largest globally. NTPC generates electricity from a diverse array of sources, including coal, gas, nuclear, and renewable energy.
How to Invest in Electric Vehicle (EV) Stocks in India?
Are you ready to steer your investments towards an electrifying future? If yes, then you can consider Electric Vehicle stocks in India. With the world rapidly transitioning towards sustainable transportation, investing in EV stocks India has the potential to become a game-changer. And the best way to get in on the action is through a trusted broker account.
Explore Readymade Stock Baskets for Electric Vehicle Stocks India
Electric Vehicles (EVs) are revolutionizing the automotive industry, and there's never been a better time to consider investing in this cutting-edge sector. But with so many EV companies and related stocks out there, finding the right investments can be a daunting task. That's where smallcase comes in.
Introducing smallcase's ready-made stock baskets for EVs – your ticket to jump-start your portfolio and tap into the enormous potential of the electric vehicle stocks India portfolio.
With smallcase, you can invest in multiple stocks with just one click. Further, smallcase portfolios are highly customizable, allowing you to add or remove stocks to suit your investment objectives.
Steps to Follow
Here's how you can invest in EV stocks smallcases in India:
Sign up to create an account on a smallcase website or app and complete the KYC process.
Browse the available smallcases on the platform and look for those focused on EVs or renewable energy. Some popular options include the Electric Mobility smallcase or the Green Energy smallcase.
After finding an interesting smallcase, click on it to view the stocks in the portfolio and their historical performance.'
If you're satisfied with the smallcase, click on the "Invest" button with the preferred broker and enter the amount.
You'll need to link your bank account to complete the transaction. Once the investment is made, the smallcase will be added to your portfolio on the smallcase platform.
Monitor the performance of the electrical vehicle smallcase over time and consider rebalancing your portfolio if necessary.
However, if you're confused about which stocks to pick, you can explore smallcases:
smallcases are readymade portfolios of stocks/ETFs, that are based on a theme idea or strategy
They're created and managed by SEBI-registered experts
smallcase.com offers over 200+ stock portfolios, created by 180+ managers
Some of the popular smallcases among new investors are as follows:
Disclosures for aforementioned smallcases
Disclosures for Green Energy smallcase
Union Budget 2023-24
Transition of the Auto Industry to Clean Mobility
"India is moving forward firmly for the 'panchamrit' and net-zero carbon emission by 2070 to usher in a green industrial and economic transition. This budget builds on our focus on green growth."
The union budget for 2023-24 has been promising for the EV sector. On Wednesday, finance minister Nirmala Sitharaman spoke about green energy and electric vehicles in her Budget speech.
Sitharaman extended a slew of positive policy developments around India's G-20's presidency by announcing custom duty exemption for manufacturing lithium-ion batteries. As a result, setting up a manufacturing unit of EVs in India becomes more affordable due to this celebration move.
Further, the investment of 35,000 crores demonstrates India's commitment to the energy transition and aligns it with major countries like China. Additionally, with the push for the scrappage policy, the Central and state government will provide a 25% rebate road tax where "states will also be supported to scrap old vehicles and ambulances".
At last, the Union Ministry's budget proposal for 2023-24 calls for increased EV adoption, which will increase the demand for EV chargers. As a result, investing in electric vehicle stocks in India can be a smart move for you if you're interested in buying EV stocks India portfolio on a smallcase platform.
A Comprehensive Roundup of Indian EV Policies
India has been making significant efforts towards promoting the electric vehicles sector (EVs) as a sustainable mode of transportation. Here is a comprehensive roundup of Indian EV policies:
1. National Electric Mobility Mission Plan (NEMMP)
The NEMMP was launched in 2013 to promote EV development and adoption in India. The plan aims to achieve national fuel security and reduce vehicular pollution by encouraging hybrid and electric vehicles. The NEMMP cages to invest around 14000 crores to foster R&D efforts and is projected to save 9,500 litres of crude oil.
2. Faster Adoption and Manufacturing of Electric Vehicles (FAME) Scheme
As part of NEMMP, the government even launched the FAME India scheme. This was to promote hybrid and electric vehicle manufacturing so India becomes completely electrified by 2030. It's a governmental incentive scheme that focuses on four major areas. These include Technology development, Demand Creation, Pilot Projects, and Creation, Pilot Projects, and Charging Infrastructure.
3. State EV Policies
State EV policies refer to government policies and regulations implemented at the state level. This is to promote the adoption and usage of electric vehicles (EVs). These policies can vary depending on the state. It may include a range of measures such as financial incentives, regulations, and infrastructure development. Some notable ones include the Maharashtra EV Policy, Delhi EV Policy, Andhra Pradesh EV Policy, Tamil Nadu EV Policy, and Gujarat EV Policy.
4. Public Charging Infrastructure
Public Charging Infrastructure refers to the network of charging stations. It is related equipment that is publicly accessible and used for charging the electric vehicle sector (EVs). The government has set a target of establishing 69,000 public charging stations for EVs by 2025. To achieve this target, the government is providing financial incentives to companies to set up public charging infrastructure.
5. Green Urban Transport Scheme (GUTS)
The GUTS was launched in 2018 to promote the adoption of sustainable transport systems in cities. Therefore, the scheme provides financial assistance to state governments to develop urban transport infrastructure, including EV charging infrastructure..
What Factors One Should Consider Before Investing in Electric Vehicle Stocks in India?
Here are some of the essential factors to consider before investing in electric vehicle stocks in India:
Government policies: The Indian government has been promoting the adoption of EVs through various policies, including subsidies and tax exemptions. Investors should monitor the government's policies and regulations related to EVs, as they can significantly impact the industry's growth.
Market potential: The electric vehicle market size is huge in India, with a growing middle class and increasing awareness of environmental issues. Investors should assess the stock market potential for EVs in India, as well as the competitive landscape for potential growth.
Check M&A's (Mergers & Acquisitions): Mergers and acquisitions, or M&A, refer to combining two or more companies into one. Thus, an investor must search and pay extensive attention to these companies before making an investment decision.
Remove losing stocks from your portfolio: Recovery from steep declines cannot be predicted. Therefore, recognize the patterns and sell the underperforming stocks. Additionally, avoid further losses as soon as you realize they are not churning out any profits.
What are the Benefits of Electric Vehicle (EV) Stock Portfolios?
EV stock portfolios in India offer several benefits, including:
Exposure to a growing market: EV stocks India provide investors with an opportunity to invest in a growing market. According to a report by BloombergNEF, EVs are expected to represent 31% of global passenger vehicle sales by 2030.
Diversification: Electric vehicle stock portfolios in India offer diversification benefits for you. Thus, diversify risk across different industries like renewable energy, EV battery stocks, manufacturing, and charging infrastructure. You can also invest in electric vehicle battery stocks and EV charging station stocks in India.
Potential for high returns: The electric vehicles growth in India could potentially translate into high returns for investors. As demand for EVs increases, companies with electric vehicle stocks in India could see their stock prices rise. 
Environmental benefits: Investing in electric mobility stocks can also have ecological benefits. By supporting companies involved in the development and production of EVs, you can accelerate the transition to a low-carbon transportation system.
Favourable Government Policies: Governments worldwide are offering incentives and subsidies to promote the adoption of electric vehicles, which can support the growth of the electric mobility industry.
Innovation and technology: Electric vehicle stocks in India are still relatively new, and there is significant room for innovation and technological advancements, providing potential for future growth
To Wrap It Up…
To conclude, electric vehicle stocks in India present an exciting possibility for an investment opportunity. Thus, investing in EV stock portfolios may allow investors to gain exposure and potentially reap high returns. 
If you don't want to miss out on the opportunity to be a part of the electric vehicle (EV) revolution, smallcase is here to help you take the first step toward a more sustainable and profitable future. Happy Investing!
FAQs
1. What are the best 3 electric vehicle stocks should I buy?
The 3 best EV stocks are Reliance Industries Ltd, Maruti Suzuki India Ltd, and NTPC Ltd. 
Note: This list is for educational purposes only, and is not meant to be recommendatory.
2. How can I invest in electric vehicle stocks?
By investing in select automakers like Toyota and General Motors, investors can gain exposure to the EV market. Additionally, one can invest in an electric vehicle stocks portfolio via smallcase.
2. Will electric vehicle stocks be successful in India?
Yes, electric vehicle stocks (EV stocks India) are likely to be successful in India. The country has a large population and a growing middle class, both of which are factors that could drive demand for EVs. However, investors must evaluate this risk appetite and investment goals before investing in EV stocks.
3. Is it a good time to invest in EV stocks?
The timing to invest in EV (Electric Vehicle) stocks depends on your financial goals, risk appetite and market conditions. Evaluate the EV sector's growth prospects, and company performance, and consider seeking advice from financial experts for personalized guidance.
4. Who Should Invest in EV sector Stocks?
EV sector stocks are suitable for investors interested in sustainable technology, and potential long-term growth, and who understand the associated risks. Ensure it aligns with your investment goals and risk tolerance before investing. However, one must evaluate their risk appetite and investment goals before investing.