Paper Stocks: Top Paper Industry Stock to Invest in India (2023)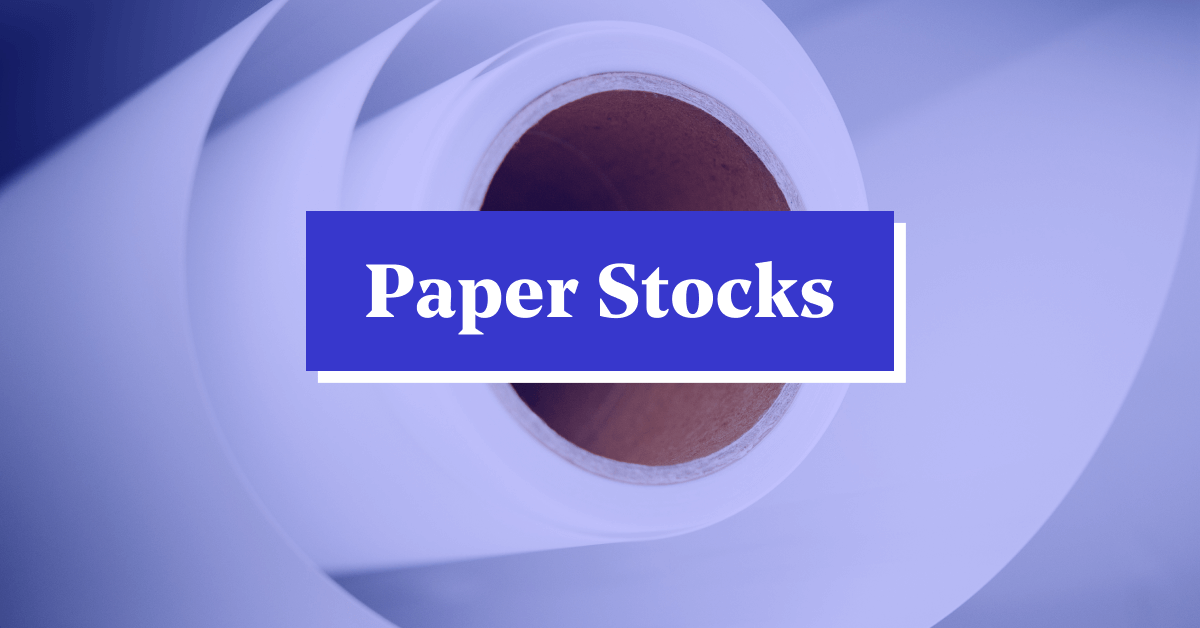 Reading Time: 8 minutes
In today's digital age, where screens dominate our daily lives, it's easy to overlook the essential role of the paper industry in India. These unsung heroes play a crucial role in our daily lives. From the pages of a beloved novel to the packaging that entices us to explore a new product, paper plays an important role. Therefore, understanding the world of the paper industry in India, with its vast array of options and considerations, is crucial for anyone involved in printing, publishing, packaging, or stationery.
In this blog, we will uncover the wonders of paper stocks, delving into their definition, uses, advantages, and even their potential disadvantages. So let's begin.
What are Paper Stocks?
Paper stocks refer to stocks or shares of companies that are primarily engaged in the paper industry in India. These companies are involved in the production, manufacturing, and distribution of various paper-based products such as printing paper, packaging materials, writing instruments, and more.
However, the paper industry in India is much more than a white sheet of paper. It includes –
Tissue paper
Filter paper
Light-weight online coated paper
Medical-grade coated paper
Cardboard boxes used for packaging
Packaging and paperboards
List of Best Paper Companies Stocks to Buy in India
Now, we have understood what paper stocks are and how the paper industry in India works. It's time to look at some of the top paper companies in India. Therefore, you can also check the paper share prices of these stocks and market capitalization in real-time. Here is a paper share list consisting the most popular Paper Stocks in India.
The data is from 3rd September 2023. However, for real-time updates on stock prices and market trends, visit the smallcase stocks collection today!
An Overview of the Paper Industry in India.
India is the fastest-growing paper market in the globe.
The Indian paper and pulp sector contributes nearly Rs 5,000 crore to the government's revenue.
In India, the paper sector has a rich history, dating back to the 1950s. However, it was in 1991 that a true revolution took place. In July of that year, the Indian government made a pivotal decision to de-license the paper sector, leading to a remarkable turnaround.
The paper market in India has made remarkable strides over the years. Between 1950-51 and 1960-61, it witnessed an impressive growth rate of 12% while the paper products share prices also increased. Subsequently, the industry has maintained a steady growth of approximately 7%-8%. However, certain segments faced considerable challenges.
The newsprint segment, in particular, experienced a significant setback as consumers shifted to online news apps, resulting in a complete shutdown. Similarly, the paperboard segment encountered a growth decline of 4-7% in FY 2020-21.
Top Paper Manufacturing Companies in India- An Overview
Here is a brief overview of the Top Paper Stocks in India. After considering what paper stocks to buy, consider checking these paper company stocks prices to make a sound decision. For now, let's read about these Indian paper stocks:
1. Century Textile and Industries Ltd
A flagship company of the B.K. Birla Group is a diversified conglomerate. The company's Paper & Pulp vertical accounts for 69% of its revenues, followed by the textile industry (25%) and the real estate sector (4%). It began its operations in 1897 and has grown to become one of India's leading paper manufacturers.
2. JK Paper Ltd
This paper stock company, part of the JK Organization, has a rich history that dates back to 1960. The company has a minor advantage in terms of pricing power thanks to its 24% leading market share in India's branded copier market and paper stocks in NSE.
3. West Coast Paper Mills Ltd
Established in 1955, is an integrated pulp and paper company. Its product categories are writing, printing, speciality, industrial, packing board, and corporate stationery. The company has 6 zonal offices in India and a base of 67 dealers.
How to invest in Paper Stocks?
Paper trading offers a valuable method to learn trading across diverse assets like stocks and bonds. It provides a platform for investors to experiment and grasp real-world paper stock market dynamics. Here are steps to start paper trading:
Allocate a fixed sum of money, like Rs. 10,000, as your initial investment margin.
List the stocks you plan to invest in; it's advisable to select multiple options.
Note the current stock prices beside each selected stock.
Distribute your total investment across your chosen stocks.
Deduct nominal fees charged by brokerage accounts for both purchases and sales.
Adjust the per-investment amount to match actual share prices.
Monitor your investments daily by checking closing stock prices to evaluate their performance.
However, if you're confused about which stocks to pick, you can explore smallcases:
smallcases are readymade portfolio of stocks/ETFs, that are based on a theme idea or strategy.
They're created and managed by SEBI-registered experts,
smallcase.com offers over 200+ stock portfolios, created by 180+ managers.
Some of the popular smallcases among new investors are as follows:
Disclosures for aforementioned smallcases
What Factors Affect the Selection of Paper Stocks in India?
There are a number of factors that can influence the selection of paper stocks in India. Some of the most important factors include:
Industry Outlook: The overall outlook for the paper industry in India is important to consider when selecting paper stocks. A strong industry outlook can lead to higher demand for paper products, which can boost the share prices of paper companies.
Company Fundamentals: The financial strength and performance of individual paper companies are also important to consider. Companies with strong balance sheets and consistent earnings growth are typically more attractive investments than companies with weaker financials.
Valuation: The valuation of paper stocks relative to other investments is also a key factor to consider. Paper stocks that are trading at attractive valuations relative to other stocks may offer good value for investors.
Risk Factors: It is also important to consider the risks associated with investing in paper stocks. The paper industry in India is cyclical, meaning that its performance can fluctuate with the overall economy. Paper companies are also exposed to risks such as changes in technology and competition from other materials.
What are the Disadvantages of Investing in the Paper Industry in India?
Paper companies in India are also exposed to various risks. Let's have a look at them.
Cyclical Industry: The paper industry is cyclical, meaning that its performance can fluctuate with the overall economy.
Raw Material Prices: The paper industry is dependent on raw materials such as wood pulp and energy, which can be volatile in price. This can reduce their profits and make their stock prices less attractive to investors.
Technological Changes: The development of e-books and other digital media could reduce the demand for paper in the future. This could make paper companies less profitable and their stock prices less attractive to investors.
Environmental Concerns: The paper mills in India are major polluter, and it is facing increasing environmental regulations. These regulations could increase the costs of doing business for paper companies stocks and make their stock prices less attractive to investors.
To Wrap It Up…
The long-term outlook for the Indian paper industry points towards a promising future. Factors such as the packaging industry's growth, increasing literacy rates, and the expanding print media sector are expected to drive the demand for paper products. Furthermore, the paper industry in India and associated paper stocks are likely to benefit from government investments in the education sector and evolving urban lifestyles. However, it's important to acknowledge the cyclical nature of the industry, which may lead to occasional periods of fluctuation.
FAQs
1. What are the best Paper Industry Stocks in India?
The best Paper Stocks in India are:
1. Century Textile and Industries Ltd
2. JK Paper Ltd
3. West Coast Paper Mills Ltd
2. How can I invest in Paper sector stocks?
To engage in paper trading for stocks, simply use a pencil and paper, along with the stock details you intend to trade. After simulating your trade on paper, monitor the stock's price fluctuations to assess potential gains or losses if the trade were executed in real-time.
3. Is it a good time to invest in Paper stocks?
As schools and offices have resumed full capacity operations, there's an anticipated increase in paper demand. The paper sector is projected to experience an 11-15% growth in the financial year 2022-23.
4. Who Should Invest in Paper Sector Stocks?
Paper trading greatly benefits beginners by enabling them to learn and practice trading strategies in a risk-free environment. This fosters confidence and builds experience before venturing into the live market.
5. Can Paper stocks be profitable for investors?
Trading paper stocks, like any other stock, entails market risks. Investors should comprehend both the growth potential and challenges confronted by paper companies