Mid Cap Stocks: Benefits, Risks, and Investment Strategies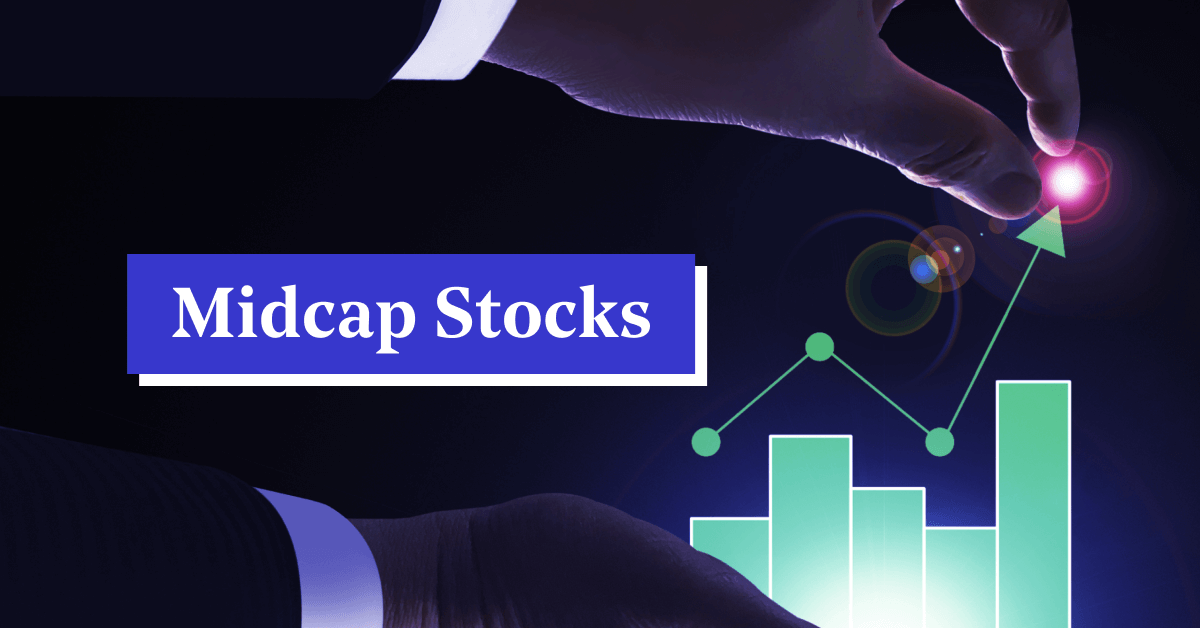 Reading Time: 4 minutes
Stocks in the stock market are often classified based on their market capitalisation. This categorisation helps investors to make informed investment decisions.
If you're looking to invest in equities, you've probably heard of large cap and small cap stocks, but what about mid cap stocks? In this comprehensive guide, we'll explain what midcap stocks are, about the NIFTY midcap index and how to invest in them.
What are Mid cap stocks?
Mid cap stocks in India have a market capitalisation of more than ₹5,000 crores but less than ₹20,000 crores and fall in between small cap stocks and large cap stocks.
Mid cap companies tend to show an upward trend in their market capitalisation, valuation and profits.
What are the various features of Mid cap stocks?
Volatility: These are less volatile than small-cap stocks but more volatile than largecap stocks. Mid cap companies have just entered the growth stage, so their position in the market is considered volatile.
Low liquidity: Mid cap companies are more liquid than smallcap companies since these companies are well-known and can be trusted, so it's easier to find a buyer for these stocks at a fair price.
Growth: Mid cap companies have an abundance of opportunities to grow and turn into largecap companies with time. They are in their growth stage, so the rate of growth is rapid and is comparable to largecap stocks.
Here is trending midcap stocks list of 2023
Max Financial Services Ltd.
AU Small Finance Bank
Federal Bank
IDFC First Bank Limited
Bharat Forge
LIC Housing Finance
Canara Bank
Page Industries
Jindal Steel and Power
Why should you invest in midcap stocks?
Mid cap stocks offer the best of largecap and smallcap stocks as they provide returns with moderated risk. Mid cap companies have a higher chance of expansion & growth than small cap companies; thus, a higher potential for growth exists.
There is also a higher return potential as they allow substantial dividends and will allow value appreciation since they are in their growth phase.

There is more information available to read and analyse about midcap shares than smallcap shares, so an investor can do a details analysis of the information before making a decision.
However, there are also risks associated with investing in mid cap stocks. They can be more volatile than largecap stocks and are more likely to be impacted by market downturns. Additionally, midcap share price may have less liquidity, making it harder to sell them quickly.
How to invest in Mid cap stocks?
Any investment portfolio should have an ideal mix of smallcap, midcap, and largecap stocks which helps in diversification and minimising risk in the long run.
One can buy top midcap shares in India individually or by buying mutual funds or exchange-traded funds (ETFs) that invest in mid cap companies. Growth and value investing strategies are often used when investing in NSE midcap stocks.
Funds and ETFs may occasionally own a range of equities and asset types, including mid cap stocks. Other times, the funds or ETFs may only invest in mid cap companies.
You can track the best performing mid cap companies in India with the help of the Nifty Midcap index which captures the movements and forms a benchmark of the midcap segment of the market. You can then invest in individual stocks from the Nifty Midcap 100 index with your Demat account.
Investing in midcap stocks with smallcase
You can also invest in a basket of mid cap stocks via smallcase. Simply go to smallcase.com or the smallcase app, and login via your phone number. Then, go to 'Discover' and enter 'midcap' in the search bar and hit enter. You'll find an array of stock portfolios that have mid cap companies. You can filter the choices based on minimum investment amount, volatility, or the theme of the smallcase. Just pick the one that fits your investment criterion.
Make sure that you do your diligent research before picking the right stock, keeping in mind your long-term investment goals and risk appetite.
---
Investing in midcap stocks can be a great way to build a diversified investment portfolio and achieve long-term growth. However, it's important to understand the risks associated with midcap stocks and conduct thorough research and analysis before investing.
---
Keep yourself informed and up-to-date on a variety of thematic sectors by reading the articles below.