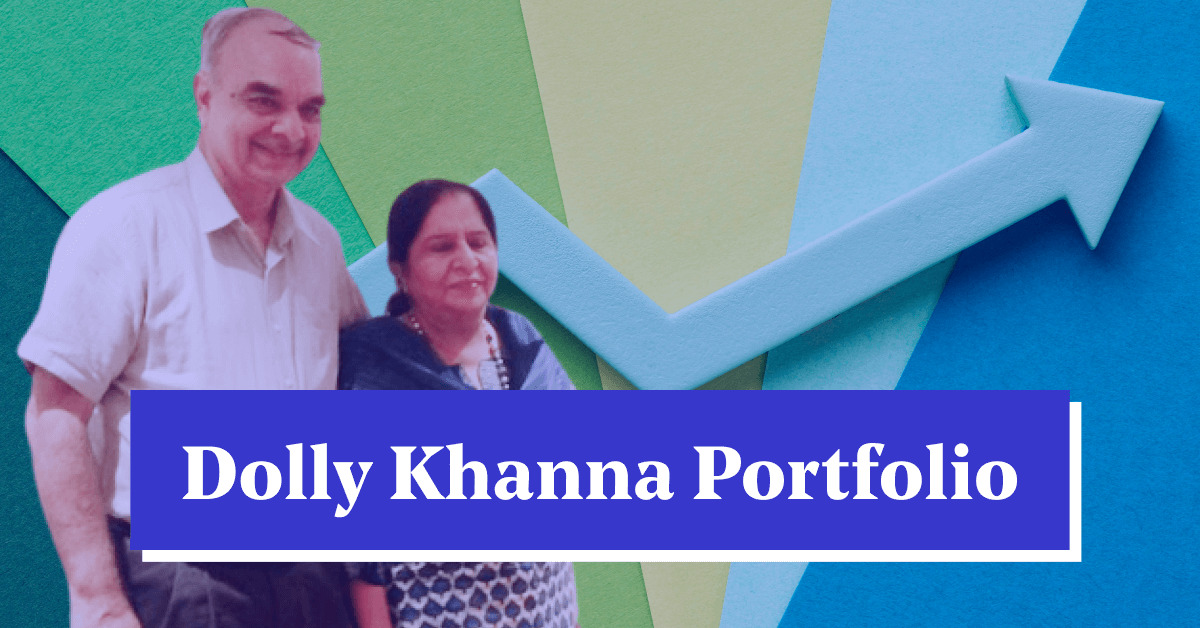 Reading Time: 10 minutes
In the male-dominated world of finance and investing, there are trailblazers who break barriers and redefine success. One such remarkable figure is Dolly Khanna, a name that has garnered immense recognition and respect in the share market. With her astute investment decisions and unwavering determination, Dolly Khanna portfolio has carved a niche for herself. She is a popular female personality in the realm of finance. Her remarkable journey and ability to identify lucrative investment opportunities have not only earned her substantial wealth. Additionally, it has also inspired countless individuals to believe in their own potential in the world of investing.
Let's discover the secrets behind Dolly Khanna portfolio 2022 success in the share market and delve into her captivating story.
Who is Dolly Khanna?
Dolly Khanna is a Chennai-based investor. Often referred to as the "Quiet Investor," she prefers to stay away from the limelight and let her investment speak for itself. However, Dolly Khanna portfolio is managed by her husband, Rajiv Khanna. Rajiv Khanna is a former IIT-Madras graduate. Further, he established Kwality Milk Foods, a frozen yogurt company, in 1986 and sold it to Hindustan Unilever Ltd.
Despite her preference for maintaining a low profile, Dolly Khanna portfolio speaks volumes about her astute investment acumen. What sets the stock portfolio of Dolly Khanna apart is her ability to spot promising small and mid-cap companies that often go unnoticed by mainstream investors.
Her investment strategy revolves around careful research, focusing on businesses with strong fundamentals, unique market positioning, and long-term growth potential. This is what is clearly reflected in Dolly Khanna portfolio. She has a keen eye for industries poised for growth and has successfully invested in sectors such as chemicals, textiles, and FMCG consumer goods.
List of Stocks in Dolly Khanna Latest Portfolio
From small-cap gems with untapped potential to well-established companies with a proven track record, Dolly Khanna's portfolio includes a fascinating mix of stocks spanning various sectors. Thus, you can check out Dolly Khanna share price by tapping into her latest investments. Here is a list of Dolly Khanna stock picks.
Top Holdings of Dolly Khanna Portfolio
One of the key aspects that make Dolly Khanna portfolio intriguing is her choice of top holdings. Additionally, Dolly Khanna portfolio list serves as a testament to her ability to uncover hidden gems in the Indian stock market.
Therefore, below is a list of the top 6 Dolly Khanna best picks present in the stocks list.
Overview of Stocks in Dolly Khanna Portfolio
Let's have a look at the top stocks present in Dolly Khanna Portfolio.
1. Chennai Petroleum Corporation Ltd
The Indian state-owned oil and gas company, (CPCL), engages in the refining and marketing of petroleum products. It operates two refineries in Chennai, with a combined refining capacity of around 11.5 million metric tonnes per annum. CPCL's product portfolio includes various fuels, lubricants, and speciality products catering to industrial and automotive sectors.
2. Monte Carlo Fashions Ltd
Monte Carlo Fashions Ltd. is an Indian fashion and apparel company known for its high-quality clothing and accessories. With a rich heritage spanning over three decades, Monte Carlo offers a wide range of products, including sweaters, jackets, trousers, t-shirts, and more. The brand's stylish designs, superior craftsmanship, and commitment to customer satisfaction have made it renowned.
3. KCP Ltd
This India-based business has interests in cement, heavy engineering, sugar, power, and healthcare. The company's cement division manufactures various types of cement, catering to the construction industry. KCP Ltd.'s other businesses include engineering products, sugar production, and renewable energy generation.
4. Som Distilleries & Breweries Ltd
An Indian company engaged in the production and distribution of alcoholic beverages. It offers a wide range of spirits, including whiskey, rum, vodka, brandy, and gin, catering to both domestic and international markets. The company operates multiple distilleries and breweries across India and has a presence in over 42 countries.
5. Nitin Spinners Ltd
A leading Indian textile company specializing in the production of cotton yarn and fabrics. The company has a vertically integrated manufacturing setup, encompassing spinning, knitting, processing, and garment units. Nitin Spinners is known for its focus on quality, sustainability, and innovation, catering to both domestic and global markets.
6. Pondy Oxides & Chemicals Ltd
An Indian company engaged in the manufacturing and sale of lead and lead alloys. The company's product portfolio includes lead oxide, litharge, red lead, and lead alloys. These are found applications in diverse industries such as batteries, ceramics, glass, and pigments. Pondy Oxides & Chemicals emphasizes quality control and environmental sustainability in its operations.
Dolly Khanna Multibagger Stocks
Dolly Khanna is often referred to as the "Queen of Multibaggers" due to her consistent success in picking such multibagger stocks. Thus, some of the multi-bagger stocks in Dolly Khanna Portfolio include:
Nitin Spinners: Nitin Spinners is a textile company that manufactures and exports yarn. The company's stock has given a return of over 100% in the last year.
Deepak Spinners: Deepak Spinners is another textile company that manufactures and exports yarn. The company's stock has given a return of over 50% in the last one year.
Monte Carlo Fashions: Monte Carlo Fashions is a clothing company that designs, manufactures, and markets apparel. The company's stock has given a return of over 30% in the last one year.
Prakash Pipes: Prakash Pipes is a manufacturer of pipes and other plastic products. The company's stock has given a return of over 20% in the last one year.
Dolly Khanna Portfolio – Sector-Wise Investment
Here's a sector-wise breakup of Dolly Khanna Portfolio with holdings: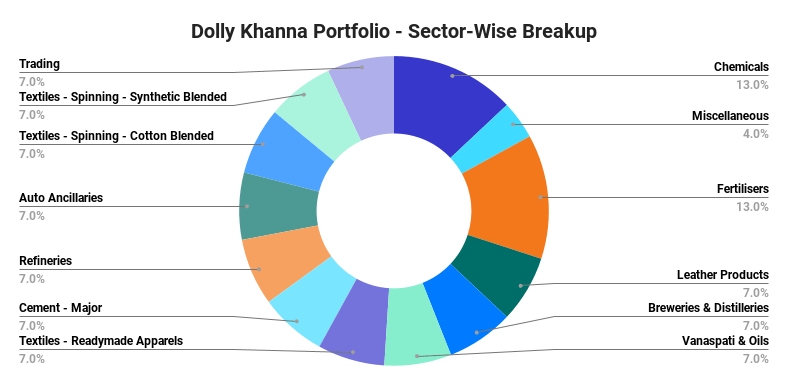 In Dolly Khanna portfolio, traditional stocks such as manufacturing, textiles, chemicals, and sugar typically make up the majority of her holdings.
Textiles: Dolly Khanna has shown interest in the textile sector, including companies involved in yarn production, fabric manufacturing, and clothing brands.
Chemicals: Dolly Khanna Portfolio includes chemical companies, including those manufacturing specialty chemicals, rubber chemicals, and carbon products.
Plastics and Packaging: Dolly Khanna best picks has been associated with companies operating in the plastics and packaging industry, including manufacturers of plastic products and packaging materials.
Aquaculture and Animal Feeds: Dolly Khanna has invested in companies in the aquaculture industry, specifically those engaged in the production of fish and shrimp feeds.
Paper and Packaging: Dolly Khanna Portfolio has shown interest in companies involved in the production of paper, packaging materials, and related products.
Auto Ancillaries: Dolly Khanna latest investments has been associated with auto ancillary companies, including those manufacturing components for automobiles.
Stocks Traded by Dolly Khanna in 2022
In 2022, Dolly Khanna actively traded a diversified portfolio of stocks, aiming to capitalize on emerging opportunities and maximize returns.
Therefore, let us have a look at Dolly Khanna stock portfolio where she increased her holdings in the Mar-22 quarter and then we'll move to which stocks were downsized in Dolly Khanna Portfolio.
Which Stocks Were Added to Dolly Khanna Portfolio List in FY22?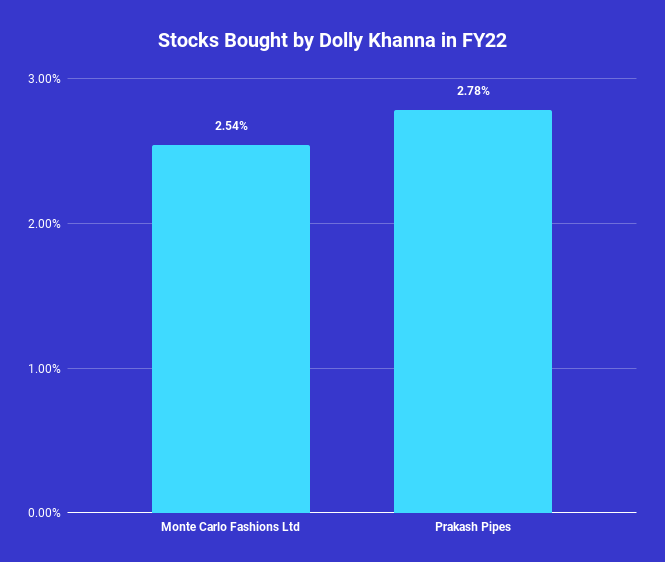 Monte Carlo Fashions Ltd: Dolly Khanna has acquired a 0.1% stake (11,000 equity shares) in Monte Carlo Fashions. The total value of her holdings increased to 2.54% (5,26,356 equity shares) in the December quarter. Meanwhile, the total holding for the September 2022 quarter was 2.49% (5,15,356).
Prakash Pipes: In accordance with BSE's quarterly shareholding pattern, Dolly Khanna has acquired a new stake of 0.1% (12,500 equity shares) in Prakash Pipes. A total of 6,77,823 equity shares were owned by her in the third quarter of 2018. Likewise, the total holding in September 2022 was 2.78% (6,65,323).
Which Stocks Were Downsized in Dolly Khanna Portfolio List in FY22?
Below is the list of 7 stocks that were downsized from Dolly Khanna Portfolio 2022.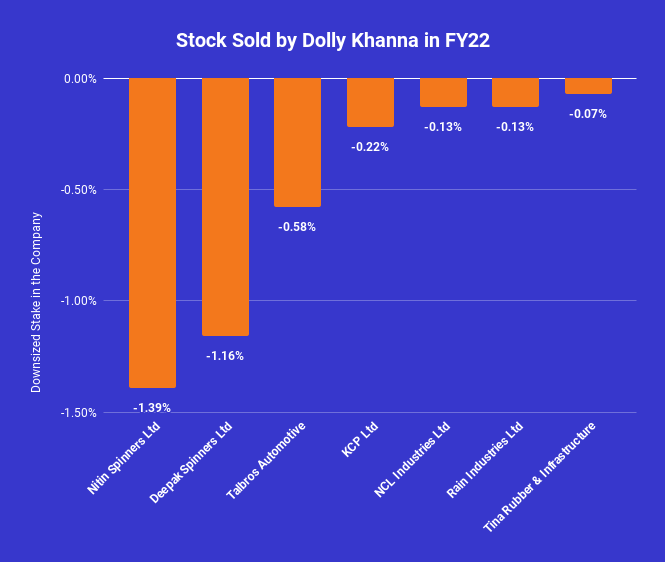 Talbros Automotive Components: It is a manufacturer of automotive components, such as brake drums, brake shoes, and wheel cylinders.
Nitin Spinners: A textile company that manufactures and exports yarn.
KCP: A chemicals company that manufactures and markets a variety of products, including caustic soda, chlorine, and hydrochloric acid.
Deepak Spinners: Another textile company that manufactures and exports yarn.
NCL Industries: Chemicals company that manufactures and markets a variety of products, including carbon black, phthalic anhydride, and maleic anhydride.
Rain Industries: Cement company that manufactures and markets cement, clinker, and other cement products.
Tinna Rubber: A rubber company that manufactures and markets a variety of rubber products, such as tires, tubes, and conveyor belts.
Dolly Khanna Net-Worth Trend
Investors widely believe that once Dolly Khanna includes stock in her portfolio, it has a high potential to become a multibagger, significantly multiplying in value over time.
Dolly Khanna, along with her husband Rajiv Khanna, embarked on their investment journey following the sale of their company, Kwality ice-creams, to Hindustan Unilever. Currently, their portfolio is valued at over ₹1000 crore. It's important to note that this net worth is subject to fluctuations based on price changes in the BSE and NSE. The valuation takes into account only those companies in which their shareholding exceeds 1%.
Investment Strategy of Dolly Khanna Portfolio
The investment philosophy of Rajiv Khanna, the key decision-maker behind the Khanna couple's portfolio, centers around capturing growth opportunities in the small and mid-cap sectors. Their approach involves holding stocks for an extended period, allowing businesses to thrive and transforming the stocks into multi-baggers.
They describe their investment style as Growth-Midcap, with some allocation towards small-cap stocks. They primarily seek out companies with significant growth potential, often identifying them in the early stages of their business life cycle.
While their portfolio exhibits a slight inclination towards manufacturing, agriculture, and chemical-based companies, the Khanna couple remains open to exploring opportunities across various sectors. The Khanna couple regularly reviews and adjusts their holdings, typically on a quarterly basis. Recent additions to their portfolio include Radico Khaitan and Som Distilleries, both of which are alcohol-based stocks.
Rajiv Khanna firmly believes in the merits of value investing and emphasizes a growth-oriented approach over a value-focused strategy. This preference guides their stock selection and underscores their commitment to identifying companies with strong growth prospects.
Overall, the Khanna couple's investment philosophy revolves around capturing growth potential, maintaining a long-term perspective, and adapting their portfolio to align with their convictions.
Learnings from Dolly Khanna Portfolio
Dolly Khanna's portfolio and investment approach offer several valuable learnings for investors:
Focus on Multibagger Opportunities: Dolly Khanna's success lies in her ability to identify multibagger stocks, which are investments that can multiply in value over time.
Early-stage Investments: Dolly Khanna often invests in companies during their early stages of growth. This strategy allows her to benefit from the potential upside as these companies expand and mature.
Diversification: While Dolly Khanna Portfolio has sector preferences, her portfolio is diversified across different industries. This diversification helps mitigate risks and captures opportunities in multiple sectors.
Long-term Perspective: Dolly Khanna Portfolio typically holds stocks for an extended period, allowing businesses to flourish and stocks to generate significant returns. This long-term perspective is crucial in riding out market fluctuations.
In-depth Research and Fundamental Analysis: Dolly Khanna holdings are based on thorough research and analysis of companies' fundamentals. You must learn to understand industry trends and analyze growth prospects.
Active Portfolio Management: Dolly Khanna regularly reviews and adjusts her portfolio holdings based on changing market conditions and new investment opportunities. This active management approach ensures that the portfolio remains aligned.
Patience and Conviction: Dolly Khanna stocks demonstrates patience and conviction in her investment decisions. She stays committed to her investment thesis even during periods of market volatility or short-term fluctuations.
To Wrap It Up…
To conclude, Dolly Khanna's ability to spot multibagger opportunities, focus on early-stage investments, and maintain a long-term perspective has contributed to her success in the stock market.
However, remembering that each investor's journey is unique, and tailoring strategies to individual risk tolerance and financial goals, is important. While Dolly Khanna's portfolio offers valuable insights, it's crucial to conduct personal research, seek professional advice, and make well-informed decisions aligned with one's own investment objectives.
Know More About Star Investors on smallcase –
Learn More about few of the other star investors, their investment strategies, stocks investments, net worth and much more –