Fertilizer Stocks in India: Why Should You Invest in Them?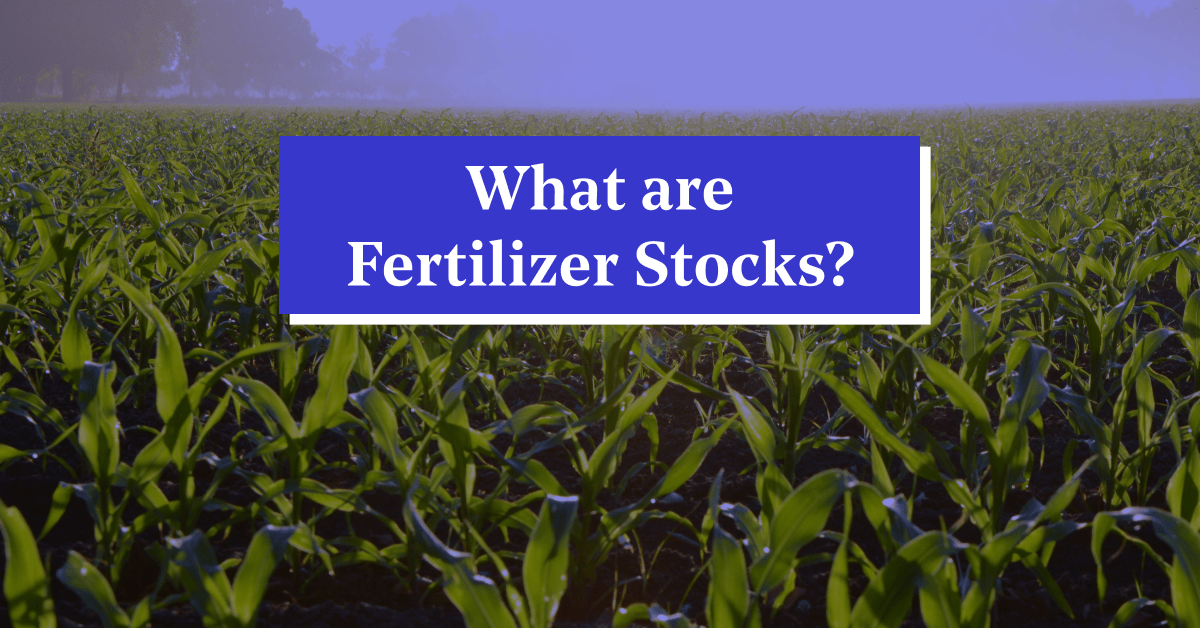 Reading Time: 5 minutes
Imagine a world without fertilizers.
No more juicy, ripe tomatoes, no more fresh, crispy lettuce, and no more fragrant flowers. Sounds bleak, doesn't it?
Not only this, but it could also lead to food shortages, higher prices, and potentially even famine in some areas. Additionally, without fertilizers, farmers may need to clear more land for farming, which could contribute to deforestation and other negative environmental impacts.
See, that's the role of fertilizers in our lives. Although we don't use them directly daily, their absence would drastically affects our daily lives. Now, we hope that the investor within you understands the unbeatable growth potential of the FMCG and fertilizer sector.
So, let's understand in-depth about the fertilizer sector stocks through this blog.
What are Fertilizer Stocks?
Fertilizer stocks refer to the shares of companies that produce, manufacture, or distribute fertilizers.
These companies are typically engaged in producing and selling various types of fertilizers, such as nitrogen-based, phosphate-based, and potash-based fertilizers, as well as other agricultural inputs and products.
The fertilizer sector is an important component of the agricultural industry, and fertilizer stocks can be a good investment option for those interested in the agriculture or commodities market.
Why Should You Invest in Fertilizer Stocks in India?
India is an agricultural country, with around 60% of its population engaged in agriculture-related activities. The fertilizer industry in India plays a crucial role in boosting agricultural productivity and improving food security.
As per the 'first budget of the Amrit Kaal' the Government of India is all set to empower farmers, economically weaker sections, and women. In the 2023 budget, it is clearly mentioned that the agriculture sector will receive direct capital and resource investment from the central government.
Moreover, to give a boost to Agriculture oriented start-ups, the Agriculture Accelerator Fund is going to be set up. Now you can assume the kind of growth that the fertilizer sector is going to witness in the upcoming years.
However, here are a few things that you should consider before investing in fertilizer shares.
Factors to Consider When Investing in Fertilizer Stocks
Market Condition: The performance of fertilizer sector stocks is directly linked to the overall market condition. Therefore, you should analyze the current market condition, economic indicators, and stock market trends before investing in fertilizer stocks.
Competitive Landscape: As an investor, you should evaluate the competitive landscape of the fertilizer industry, including the market share of each player, pricing strategies, and production capacity.
Agricultural Trends: The agricultural sector's growth and trends are vital indicators of fertilizer demand. Hence, you should track the crop production cycle, crop prices, and government policies related to agriculture.
Apart from this, It is essential to evaluate the future prospects of the fertilizer industry, including new product launches, mergers and acquisitions, and technological advancements.
List of Popular Fertilizer Stocks in India 2023
Here are the top fertilizer companies in India:
| Popular Fertilizer Shares in India | Market Cap |
| --- | --- |
| Coromandel International Limited  | ₹27,562 Cr |
| Chambal Fertilizers and Chemicals Limited | ₹11,926 Cr |
| Gujarat Narmada Valley Fertilizers & Chemicals Limited  | ₹9,226 Cr |
| Deepak Fertilizers & Petrochemicals Corporation Limited  | ₹6,891 Cr |
| Fertilizers & Chemicals Travancore Limited  | ₹19,302 Cr |
| Tata Chemicals Limited  | ₹24,717 Cr |
| National Fertilizers Limited (NFL) | ₹3,431 Cr |
| Rashtriya Chemicals & Fertilizers Limited | ₹5,627 Cr |
| Madras Fertilizers Limited  | ₹1,098 Cr |
| Pradeep Phosphates Limited | ₹4,263 Cr |
Want to Build Your Investment Portfolio? Invest in smallcases!
Picking stocks for your portfolio and investing in them is a time-consuming process. Wouldn't it be great if you get a ready-made portfolio for you to invest in?
Aren't you nodding your head?
Well, we have some good news for you as now you invest in ready-made portfolios via smallcase.
smallcases are portfolios of stocks or exchange-traded funds (ETFs) created around a particular investment theme or strategy. They are designed to offer you an easy and affordable way to invest in a diversified portfolio of stocks or ETFs that align with their investment goals and values.
Popular Fertilizer Sector smallcases
1. Rising Rural Demand
The Rising Rural Demand was created by Windmill Capital. This smallcase is a portfolio of stocks designed to capitalize on the growing demand for consumer goods and services in India's rural areas.
The smallcase includes a mix of companies in various sectors, including consumer goods, financial services, healthcare, and agriculture, that are well-positioned to benefit from the rising income and consumption levels in rural India.
2. House of Murugappa
The House of Murugappa was also created by the th Windmill Capital. This smallcase is a portfolio of stocks that invests in companies belonging to the Murugappa Group.
They are one of India's leading business conglomerates with interests in a wide range of sectors such as engineering, financial services, and agro-products.
To Sum It Up
India is the second-largest consumer of fertilizers in the world, and the demand for fertilizers is expected to continue to grow in the upcoming years.
Apart from this, the government of India is also encouraging the production and consumption of fertilizers by providing financial support to the producers and farmers. Hence, it wouldn't be wrong to say that the fertilizer industry is set to grow by leaps and bounds.
So, what are you waiting for? Start investing in fertilizer stock portfolios via smallcase.
---
Keep yourself informed and up-to-date on a variety of thematic sectors by reading the articles below.