Fertilizer Stocks: Top Fertilizer Industry Stocks for Long Term Investments in India 2023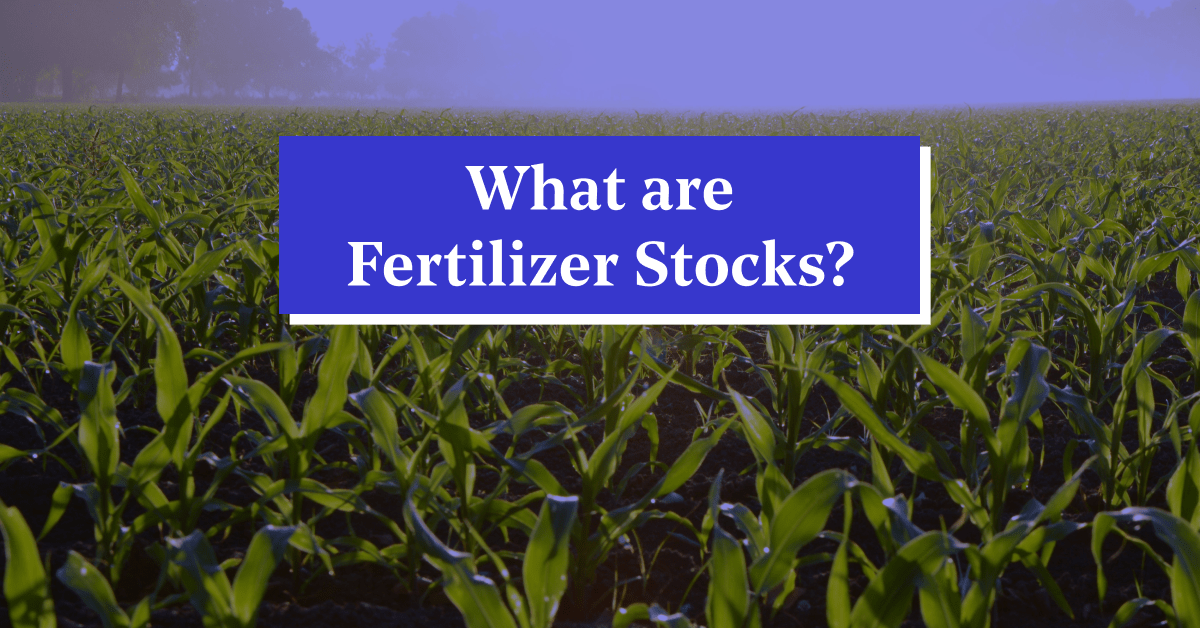 Reading Time: 10 minutes
Imagine a world without fertilizers.
No more juicy, ripe tomatoes, no more fresh, crispy lettuce, and no more fragrant flowers. Sounds bleak, doesn't it?
Not only this, but it could also lead to food shortages, higher prices, and potentially even famine in some areas. Additionally, without fertilizers, farmers may need to clear more land for farming, which could contribute to deforestation and other negative environmental impacts.
See, that's the role of fertilizers in our lives. Although we don't use them directly daily, their absence would drastically affect our daily lives. Now, we hope that the investor within you understands the unbeatable growth potential of the fertilizer and the FMCG sector. 
So, let's understand in-depth about the fertilizer sector stocks through this blog and our curated and educational fertilizer share list.
What are Fertilizer Stocks?
Fertilizer stocks refer to the shares of companies that produce, manufacture, or distribute fertilizers.
These companies are typically engaged in producing and selling various types of fertilizers, such as nitrogen-based, phosphate-based, and potash-based fertilizers, as well as other agricultural inputs and products.
The fertilizer sector is an important component of the agricultural industry, and fertilizer stocks can be a good investment option for those interested in the agriculture or commodities market. Let us now explore our curated fertilizer stock list.
List of Best Fertilizer Stocks in India 2023
These listed fertilizer companies in India have the best fertilizers stocks in India. Here are the top fertilizer companies in India, with the fertilizer company share prices:
| Popular Fertilizer Shares in India | Market Cap | Share Price |
| --- | --- | --- |
| Coromandel International Limited  | ₹34,242 Cr | ₹1,168.75 |
| Chambal Fertilizers and Chemicals Limited | ₹13,245 Cr | ₹326.15 |
| Gujarat Narmada Valley Fertilizers & Chemicals Limited  | ₹10,674 Cr | ₹722.65 |
| Deepak Fertilizers & Petrochemicals Corporation Limited  | ₹7,921 Cr | ₹641.45 |
| Fertilizers & Chemicals Travancore Limited  | ₹45,880 Cr | ₹746.55 |
| Tata Chemicals Limited  | ₹24,722 Cr | ₹976.35 |
| National Fertilizers Limited (NFL) | ₹3,505 Cr | ₹73.95 |
| Rashtriya Chemicals & Fertilizers Limited | ₹7,097 Cr | ₹135.4 |
| Madras Fertilizers Limited  | ₹1,276 Cr | ₹88.2 |
| Pradeep Phosphates Limited | ₹5,308 Cr | ₹67.2 |
Please note that the above list is for educational purposes only, and is not recommendatory. Please do your own research or consult your financial advisor before investing.
Note: The organic fertilizer stocks list data is from 4th December 2023. However, for real-time updates on Indian fertilizer share prices and market trends, visit the smallcase stocks collection today!
Why Should You Invest in Fertilizer Stocks in India?
India is an agricultural country, with around 60% of its population engaged in agriculture-related activities. The fertilizer industry in India plays a crucial role in boosting agricultural productivity and improving food security.
As per the 'first budget of the Amrit Kaal' the Government of India is all set to empower farmers, economically weaker sections, and women. In the 2023 budget, it is clearly mentioned that the agriculture sector will receive direct capital and resource investment from the central government.
Moreover, to give a boost to Agriculture oriented start-ups, the Agriculture Accelerator Fund is going to be set up. Now you can assume the kind of growth that the fertilizer stock in India is going to witness in the upcoming years.
Top 3 Fertilizer Stocks in India
Here is a brief overview of the top 3 stocks from the fertilizer shares list shared above. These are predicted to be the top 3 fertilizer stocks to buy today in India.
Chambal Fertilisers and Chemicals Limited
Chambal Fertilisers and Chemicals Limited is a manufacturer of Urea and di-ammonium phosphate (DAP). The Company's segments include Fertilisers and other Agri inputs, Own Manufactured Phosphoric Acid, Textile, Shipping, and Software & others. The Kota, Rajasthan-based firm is a member of the KK Birla group of companies. Established in 1985, it stands as one of the largest urea manufacturers in India. Presently, the company holds a market capitalization of Rs. 11,000 crore, although it has experienced a nearly 40% value decline in the past year.They are the top manufacturer of fertilizer in India and can be considered the best fertilizer company in India to invest in, potentially.
Coromandel International Limited
Coromandel International is engaged in the manufacture and trading of farm inputs consisting of fertilizers, crop protection, specialty nutrients and organic compost. Founded over six decades ago by US-based IMC and Chevron in collaboration with India's EID Parry, this Hyderabad-based company is one of India's oldest fertilizer firms, making it also the top fertilizer company in India. It currently holds a market capitalization exceeding Rs. 25,000 crore and specializes in manufacturing nutrients, pesticides, and its core product, fertilizers.
Gujarat Narmada Valley Fertilizers & Chemicals Ltd
Gujarat Narmada Valley Fertilizers & Chemicals Limited (GNFC) manufactures and sells various fertilizers, such as urea, ammonium nitro phosphate under the brand NARMADA. GNFC, established in 1976, is a collaborative effort between Gujarat State Investment Ltd and Gujarat State Fertilizers and Chemicals Ltd. With a market capitalization of Rs. 8,000 crore, it ranks among India's top fertilizer and chemical stocks in India.
How to invest in Fertilizer stocks via smallcase?
If your interest has been piqued by the best fertiliser stocks in India, look no further! We are here for you with exciting popular fertilizer sector smallcases!
1. Rising Rural Demand
The Rising Rural Demand was created by Windmill Capital. This smallcase is a portfolio of stocks designed to capitalize on the growing demand for consumer goods and services in India's rural areas.
The smallcase includes a mix of companies in various sectors, including consumer goods, financial services, healthcare, and agriculture, that are well-positioned to benefit from the rising income and consumption levels in rural India.
2. House of Murugappa
The House of Murugappa was also created by the th Windmill Capital. This smallcase is a portfolio of stocks that invests in companies belonging to the Murugappa Group.
They are one of India's leading business conglomerates with interests in a wide range of sectors such as engineering, financial services, and agro-products.
Want to Build Your Investment Portfolio? Invest in smallcases!
Picking stocks for your portfolio and investing in them is a time-consuming process. Wouldn't it be great if you get a ready-made portfolio for you to invest in?
Aren't you nodding your head?
Well, we have some good news for you as now you invest in ready-made portfolios via smallcase.
smallcases are portfolios of stocks or exchange-traded funds (ETFs) created around a particular investment theme or strategy. They are designed to offer you an easy and affordable way to invest in a diversified portfolio of stocks or ETFs that align with their investment goals and values.
However, if you're confused about which stocks to pick, you can explore smallcases:
smallcases are readymade portfolios of stocks/ETFs, that are based on a theme idea or strategy
They're created and managed by SEBI-registered experts
smallcase.com offers over 200+ stock portfolios, created by 180+ managers
Some of the popular smallcases among new investors are as follows:
Disclosures for aforementioned smallcases
Disclosures for aforementioned smallcases
Factors to Consider When Investing in Fertilizer Stocks
Market Condition: The overall market condition directly influences the performance of fertilizer sector stocks.Therefore, you should analyze the current market condition, economic indicators, and stock market trends before investing in fertiliser stocks.
Competitive Landscape: As an investor, you should evaluate the competitive landscape of the fertilizer industry, including the market share of each player, pricing strategies, and production capacity.
Agricultural Trends: The agricultural sector's growth and trends are vital indicators of fertilizer demand. Hence, you should track the crop production cycle, crop prices, and government policies related to agriculture.
Apart from this, It is essential to evaluate the future prospects of the fertilizer industry, including new product launches, mergers and acquisitions, and technological advancements.
Advantages of investing in Fertilizer Stocks.
Investing in the fertilizer sector stocks can offer investors several advantages, for example:
Diversification: This sector provides an excellent means to diversify investment portfolios by gaining exposure to some of the most promising companies within the industry. This diversification helps balance portfolios that may include bonds, stocks, and mutual funds.
High Growth Potential: The projected global population increase by over 33% by 2050 will significantly drive up the demand for food.Coupled with rising incomes in emerging markets leading to increased consumption of high-quality food, there's a growing need for all fertilizers in large-scale production. Consequently, investing in fertilizer sector stocks presents substantial growth opportunities.
Risk Management: Fertilizer sector stocks often follow trends distinct from other sectors, making them a valuable tool for managing investment risks. This divergence minimizes exposure to Indian fertilizer market risks and aids in portfolio diversification.
Export Restrictions Awareness: Fertilizer sector stocks are susceptible to occasional export restrictions, necessitating investors to stay informed about regulatory changes within the industry and adjust their portfolios accordingly.
Access to Promising Companies: Investing in this sector grants investors access to some of the industry's most promising companies. This is particularly advantageous for those seeking long-term growth prospects, enabling investments in well-managed firms poised to generate potentially higher returns.
To Wrap It Up…
India is the second-largest consumer of fertilizers in the world, and the demand for fertilizers is expected to continue to grow in the upcoming years.
Apart from this, the government of India is also encouraging the production and consumption of fertilizers by providing financial support to the producers and farmers. Hence, it wouldn't be wrong to say that the fertilizer industry is set to grow by leaps and bounds.
So, what are you waiting for? Start investing in fertilizer stock portfolios via smallcase.
FAQs
1. What are the best  Fertilizer Stocks?
The best fertilizer stocks India are:
1. Chambal Fertilisers and Chemicals Limited
2. Coromandel International Limited 
3. Gujarat Narmada Valley Fertilizers & Chemicals Ltd
Note: This list is for educational purposes only, and it is not meant to be recommendatory.
2. How can I invest in Fertilizer sector stocks?
You can invest in the  Fertilizer sector in India  through smallcase! The Rising Rural Demand smallcase and the House of Murugappa smallcase are both fertilizer sector invest opportunities brought to you by the Windmill Capital!
3. Is it a good time to invest in Fertilizer stocks?
The demand for fertilizers is anticipated to increase in the coming years. Additionally, the Indian government is actively promoting fertilizer production and usage by offering financial incentives to both producers and farmers. Investors must consider their investment goals and risk appetite before investing.
4. Who Should Invest in Fertilizer Stocks?
The fertilizers in India play a vital role in the agricultural industry, making fertilizer company stocks in India an attractive investment option for individuals keen on the agriculture or commodities market. However, one must evaluate their investment goals and risk appetite before investing.
5. Can Fertilizer stocks be profitable for investors?
India's fertilizer sector, while experiencing fluctuations in recent years, offers investors opportunities to profit by investing in Indian fertilizer stocks. Investors should comprehend both growth potential and challenges before investing in Fertilizer Stocks.
---