Rekha Jhunjhunwala Portfolio Analysis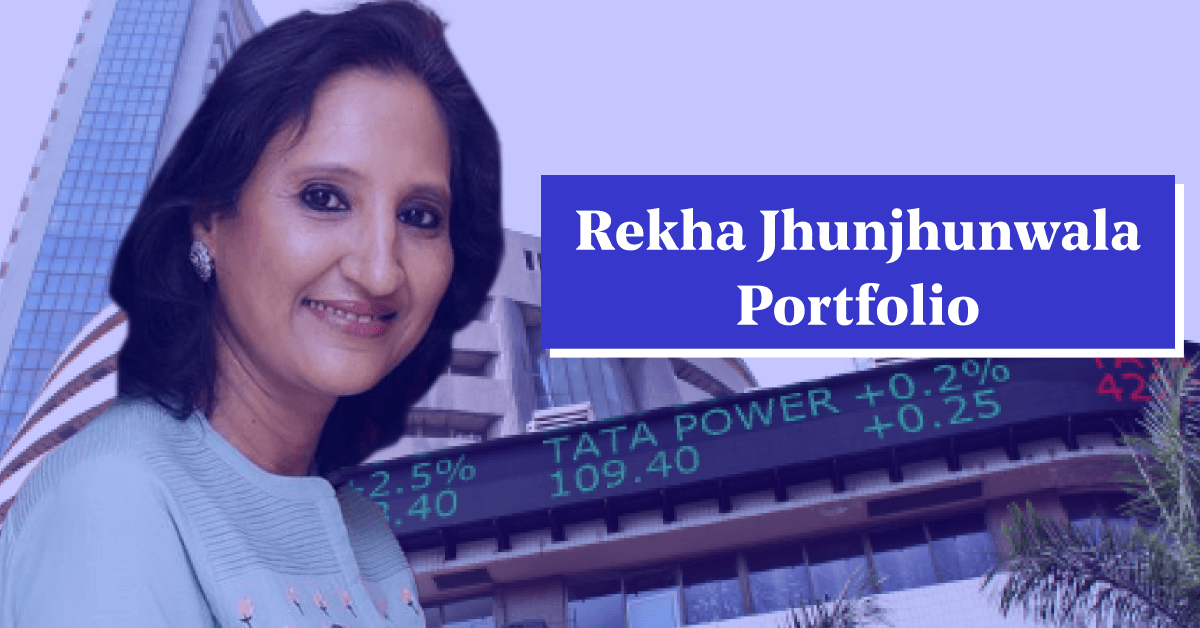 Reading Time: 7 minutes
Renowned for her astute investment acumen and financial prowess, the Rekha Jhunjhunwala portfolio has captured the attention and admiration of investors across the nation. In this blog, we delve into the depths of her remarkable investment journey, exploring the key elements that have contributed to her success. From diversification to long-term strategies, we unravel the secrets behind her flourishing net worth and provide valuable insights that can empower you to make informed investment decisions.
Who is Rekha Jhunjhunwala?
Rekha Jhunjhunwala, an esteemed Indian stock market investor, inherited a valuable stock portfolio from her late husband, the renowned businessman, trader, and investor, Rakesh Jhunjhunwala. Often referred to as India's Warren Buffett, Rakesh Jhunjhunwala left a remarkable legacy.
With an estimated net worth of $5.7 billion, Rekha Jhunjhunwala's financial prowess is evident. She has been acknowledged as a prominent figure on the 2023 M3M Hurun Global Rich List. Rekha completed her graduation from Mumbai University and tied the knot with Rakesh Jhunjhunwala in 1987, and the couple raised three children together.
List of Stocks in Rekha Jhunjhunwala Portfolio 2023
According to the corporate shareholdings reported for June 30, 2023, Rekha Jhunjhunwala stocks are:
Note: A lot of these stocks were also a part of the Rekha Jhunjhunwala Portfolio 2022. Also, these shares are from NSE and BSE.
Overview of Rekha Jhunjhunwala Holdings (Top)
Here is the overview of the Rekha Rakesh Jhunjhunwala Portfolio top holdings:
Titan Company: Titan Company is a well-known Indian consumer goods firm with a diverse product range, including watches, jewellery, and eyewear. Rekha Jhunjhunwala has increased her stake in the company by acquiring additional shares, indicating her confidence in its growth potential.
Tata Motors: Tata Motors is a leading Indian automobile manufacturer, producing a wide range of vehicles from passenger cars to commercial vehicles. Rekha Jhunjhunwala holds a significant stake in Tata Motors and other Tata Group entities. Her investment in Tata Shares includes Tata Communications and Indian Hotels Company, showing her belief in the conglomerate's long-term prospects.
Metro Brands: Metro Brands is a prominent footwear speciality retailer in India. Rekha Jhunjhunwala holds a substantial 14.4% stake in the company, estimated to be worth around Rs 3,328.8 crore, showcasing her interest in the retail sector and her confidence in the company's performance.
Indian Hotels Company: Indian Hotels Company Ltd., commonly known as Taj Hotels, is a leading hospitality chain in India. Rekha Jhunjhunwala has invested in the company, highlighting her interest in the hospitality sector and her belief in its growth and profitability potential.
Fortis Healthcare Ltd.: Fortis Healthcare Ltd. is a prominent healthcare provider in India, offering a wide range of medical services and facilities. Rekha Jhunjhunwala's investment in Fortis Healthcare reflects her confidence in the healthcare industry and the company's ability to address the evolving healthcare needs of the country.
Rekha Jhunjhunwala Portfolio – Sector-Wise Investment
Rekha Jhunjhunwala has the majority of her holdings in the following sectors:
As of the latest available data, Rekha Jhunjhunwala's portfolio includes investments in various sectors, including Pharmaceuticals, Construction, Banks, Finance, and Computers-Software-Training. Let's take a closer look at each of these sectors and the companies she has invested in within these sectors:
1. Pharmaceuticals
The pharmaceutical sector is a critical industry involved in the research, development, and manufacturing of drugs and medications. Rekha Jhunjhunwala's portfolio includes investments in pharma stocks that are expected to benefit from the growing demand for healthcare products and the rising focus on research and innovation in the medical field.
2. Construction
The construction sector comprises companies involved in infrastructure development, real estate, and construction projects. Rekha Jhunjhunwala has investments in companies within this sector. This simply indicates her belief in the growth potential of the real estate and construction industries.
3. Banks
The banking sector plays a vital role in the economy by providing financial services. Rekha Jhunjhunwala's investments in banking stocks may reflect her confidence in the financial stability of this sector.
4. Finance
The finance sector encompasses various financial services, including insurance, asset management, and investment banking. Rekha Jhunjhunwala's portfolio includes investments in companies within this sector. Which reflects her interest in financial services and her assessment of their potential growth.
5. Computers-Software-Training:
The computer-software-training sector involves companies that develop, distribute, and provide software solutions and training services. Rekha Jhunjhunwala's investments in this sector may suggest her belief in the growing significance of technology and software in various industries.
Here is a graphical representation of the Vijay Kedia stocks investments (sector-wise)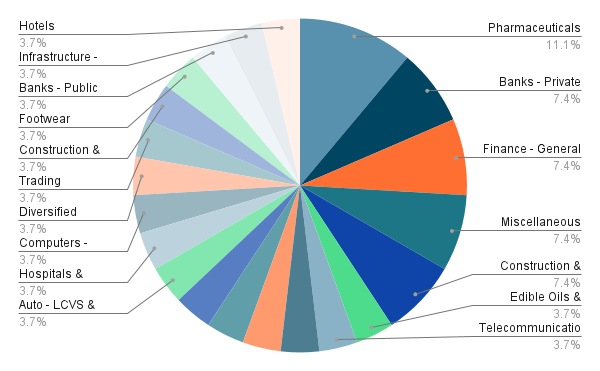 Shares Purchased by Rekha Jhunjhunwala in 2023
In 2023, Rekha Rakesh Jhunjhunwala purchased the following shares:
| | |
| --- | --- |
| Stock Name | Increase in Holding % |
| Escorts Kubota Ltd | 0.23% |
| Titan Company Ltd | 0.07% |
| Tata Communications Ltd | 0.05% |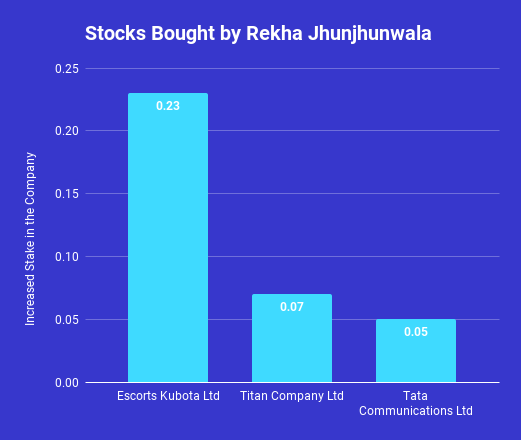 Shares Sold by Rekha Jhunjhunwala in 2023
In 2023, Rekha Jhunjhunwala sold the following shares:
| | |
| --- | --- |
| Stock Name | Decrease in Holding % |
| Metro Brands Ltd | -4.8% |
| Autoline Industries Ltd | -1.44% |
| Rallies India Ltd | -0.44% |
| Geojit Financial Services Ltd. | -0.17% |
| Raghav Productivity Enhancers Ltd. | -0.11% |
| Agro Tech Foods Ltd. | -0.08% |
Rekha Jhunjhunwala Net Worth Trend
Over the past few years, Rekha Jhunjhunwala's net worth has seen a steady rise. Showcasing the triumph of her investment approach. In 2023, she has a public portfolio comprising 26 stocks, with a combined net worth exceeding Rs. 33,016.9 Crore.
Let's take a closer look at the fascinating net worth trend of Rekha Jhunjhunwala:
2022: She made a grand entry into the prestigious Forbes India Rich List, securing the 30th position among India's wealthiest individuals. That too with a staggering net worth of Rs 47,650.76 crore ($5.9 billion).
2023: In June 2023, her financial prowess continued to impress as her net worth soared to approximately ₹39,000 crores. This is primarily attributed to her smartly managed publicly held stocks.
July 2023: Demonstrating her shrewd investment acumen, Rekha Jhunjhunwala further amplified her financial prowess by increasing her stake in Titan Company. She does this by acquiring an additional 6,50,000 shares. This move helped her earn ₹2400 crore over the last two months, which is equivalent to ₹40 crore per day.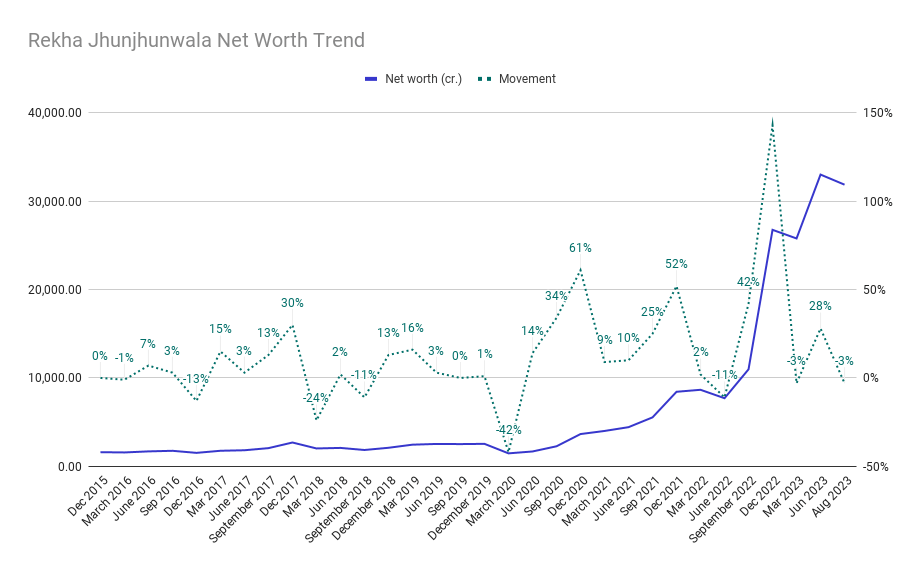 All in all, throughout her illustrious financial journey, Rekha Jhunjhunwala has maintained an enviable level of net worth. And consistently ranks among the top Indian billionaires in various esteemed lists and rankings.
Learnings from Rekha Rakesh Jhunjhunwala's Portfolio
Learning from Rekha Jhunjhunwala's portfolio, we can gather the following insights:
Diversification: Rekha Jhunjhunwala's portfolio consists of stocks from various sectors. This includes banking and finance, construction and real estate, FMCG stocks, healthcare, hospitality, and more. This diversification helps spread the risk and allows for potential gains from different sectors.
Long-term Investing: Rekha Jhunjhunwala inherited her stock portfolio from her late husband. And has held onto many of these stocks for a considerable period of time. This suggests a long-term investment approach, focusing on the potential growth and value of the companies she invests in.
Focus on Quality Stocks: Rekha Jhunjhunwala's portfolio includes well-known companies such as Titan Company, Tata Motors, and Indian Hotels Company. This indicates a focus on quality stocks with strong fundamentals and growth potential.
Active Portfolio Management: Rekha Jhunjhunwala has been actively managing her portfolio. This is evidenced by her increased stake in Titan Company by purchasing additional shares. This suggests a proactive approach to monitoring and adjusting her investments based on market conditions and opportunities.
Profiting from Market Trends: Rekha Jhunjhunwala has been able to capitalize on market trends and generate significant returns. For example, her stake in Titan Company has seen substantial growth, contributing to her overall net worth
To Sum It Up
Rekha Jhunjhunwala's portfolio serves as an exemplary model for aspiring investors. Her success story showcases the importance of diversification, long-term investing, and focusing on quality stocks. With a proactive approach to portfolio management, she has capitalized on market trends and achieved significant returns.
Rekha Jhunjhunwala's journey from inheriting her late husband's portfolio to becoming one of India's top billionaires exemplifies the power of strategic investment decisions. And highlights the potential for wealth creation in the stock market. As investors, we can draw valuable insights from her journey and apply them to our own investment strategies. This will help us in aiming for financial growth and success in the dynamic world of stock markets.
Know More About Star Investors on smallcase –
Learn More about few of the other star investors, their investment strategies, stocks investments, net worth and much more –