Azim Premji Portfolio Analysis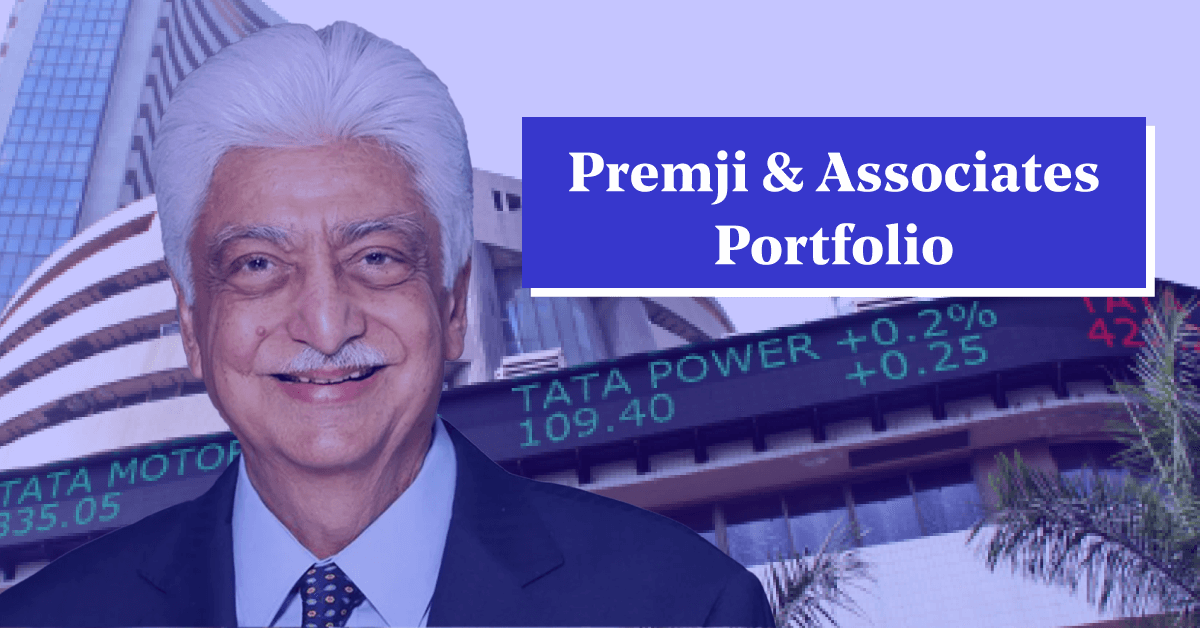 Reading Time: 7 minutes
In a world where wealth and influence often garner attention for the wrong reasons, Azim Premji's story is a beacon of hope and a reminder of the transformative power of leadership, vision, and the unwavering commitment to creating a better tomorrow for all.
His legacy extends beyond the boardroom and into the hearts of countless individuals who have benefited from his contributions to education and social development. His story serves as an inspiring example of how business success and social responsibility can go hand in hand.
In this blog, we will take a deep dive into the Azim Premji portfolio. We will discuss his investment strategy and holdings, unravelling the principles that have guided his remarkable success.
Who is Azim Premji?
Azim Premji is an Indian business tycoon and philanthropist who is best known for his role as the chairman and former CEO of Wipro Limited. Wipro is one of India's leading multinational information technology (IT) services companies.
Under Azim Premji's leadership, Wipro grew from a small family-run vegetable oil company into a global IT services giant. He transformed the company into a diversified conglomerate with interests in IT services, IT consulting, business process outsourcing (BPO), and other technology-related fields. Wipro's success made Azim Premji one of the wealthiest individuals in India and earned him recognition as one of the most influential business leaders in the world.
In addition to his business success, Azim Premji is known for his philanthropic efforts. In 2001, he established the Azim Premji Foundation, a non-profit organization dedicated to improving education in India. The foundation works on various initiatives aimed at enhancing the quality of education in government schools across India. Through his significant donations to the foundation, Premji has made a substantial impact on education and social development in India.
Highlights of His Noteworthy Accomplishments
Here are a few highlights of his notable achievements:
Led Wipro's evolution from a small cooking oil company to a global IT services giant.
Made Wipro a key player in the global IT services industry, boosting India's outsourcing reputation.
Established the Azim Premji Foundation, significantly improving education in India's government schools.
Actively involved in education reform, enhancing teacher training and teaching methods.
Honoured with numerous awards, including the Padma Bhushan, and recognized as one of Time's 100 most influential people.
Exemplary corporate governance and commitment to ethical business practices.
Pioneered sustainability initiatives at Wipro, reducing its environmental footprint.
List of Stocks in Azim Premji Portfolio 2023
Here is the list of Azim Premji stocks as of June 30, 2023:
Overview of Azim Premji and Associates Share Holdings
Here is the overview of the top holdings of Azim Premji Invest Portfolio:
1. Wipro Limited
Wipro Ltd is one of India's leading multinational corporations, primarily operating in the information technology (IT) services and consulting sector.
Its core business is IT services, including software development, IT consulting, application maintenance, and business process outsourcing. They serve a diverse range of industries, including technology, healthcare, financial services, and more.
Wipro has a significant global presence, with offices and development centres in multiple countries. It's known for providing IT solutions and services to clients worldwide.
2. Balarampur Chini Mills Ltd
Balrampur Chini Mills Limited is a prominent company in the sugar and allied industries in India. It is primarily engaged in the manufacturing of sugar, with a focus on producing white crystal sugar. It operates several sugar mills in different locations.
In addition to sugar, the company is involved in the production of ethanol. Which is used in the manufacture of alcoholic beverages, as a fuel additive, and in various industrial applications. Balrampur Chini Mills also generates power through the co-generation process. It uses by-products from sugar production to generate electricity.
Premji and Associates Portfolio – Sector Wise Investment
Azim Premji has the majority of his holdings in the following two sectors:
Computer Software Sector: The computer software sector is a dynamic and innovative industry specializing in software development and solutions. Azim Premji's portfolio features investments in a leading software company (Wipro) at the forefront of technological innovation. These investments aim to capitalize on the sector's continuous evolution and its pivotal role in shaping the digital landscape globally.
Sugar Sector: The sugar sector, deeply rooted in agriculture and food processing, is a part of Azim Premji's diversified portfolio. His investments in sugar stocks encompass companies involved in sugarcane cultivation and sugar production. Along with a keen eye on their ability to navigate challenges, diversify product lines, and adapt to changing consumer preferences in the sweetener market.
Azim Premji Investments in 2023: Shares Purchased by Azim Premji
The shares that were added to Azim Premji Investment Portfolio are:
| | |
| --- | --- |
| Stock Name | Increase in Holding % |
| Balarampur Chini Mills Ltd | 0.01 |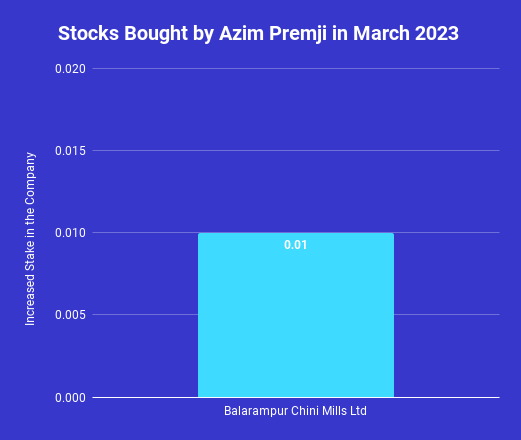 Shares Sold by Azim Premji
The shares that went out of the Azim Premji stock portfolio are:
| | |
| --- | --- |
| Stock Name | Decrease in Holding % |
| Wipro Ltd | 0.03 |
Azim Premji Net Worth Trend
Azim Premji's net worth has experienced fluctuations over time. It was influenced by various factors including changes in the share market, investments, and economic conditions. As per the recent corporate shareholdings reports, Premji and Associates publicly owns 2 stocks with a net worth of more than Rs. 166,848.9 Cr.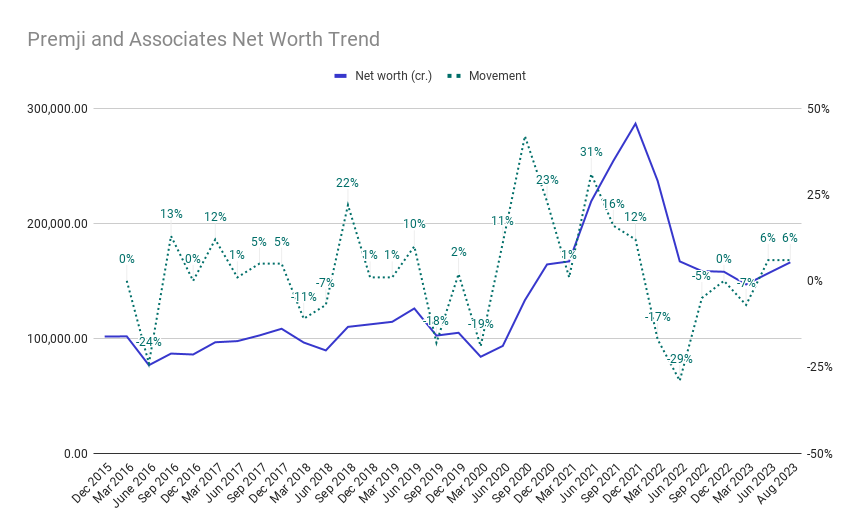 Here's an overview of his net worth trend:
Dec 2022: 157,894.74
Mar 2023: 146,836.13
Jun 2023: 156,564.65
Aug 2023: 165,848.53
It's important to note that these figures are approximations and may not accurately represent Azim Premji's actual net worth, which can fluctuate significantly over time. Net worth is a dynamic metric that depends on the valuation of assets, investments, and liabilities.
Investment Strategy of Azim Premji
Azim Premji, the prominent Indian business magnate and philanthropist, is popular for his pragmatic and diversified approach to investments. Although he typically keeps the finer details of his investment ventures private, there are several fundamental principles that underpin his investment philosophy:
Diversification: The Azim Premji portfolio demonstrates a commitment to diversification within his investment portfolio, spanning various sectors and asset classes. This strategic portfolio diversification mitigates risk by avoiding overexposure to the fluctuations of any industry or asset.
Long-Term Vision: Premji advocates for adopting a long-term perspective when it comes to investments. His patient and enduring approach involves holding assets over extended durations, enabling the potential for compounding and sustainable growth over time.
Value-Oriented Strategy: Like many successful investors, Azim Premji believes in adhering to a value-based investment strategy. This methodology involves identifying undervalued assets or companies with the expectation that their intrinsic value will eventually be recognized by the broader market.
Emphasis on Fundamentals: He is inclined to prioritize investments in companies with solid fundamentals, such as robust financials, competitive advantages, and a track record of success.
Active Management: Azim Premji, alongside his team, takes an active role in overseeing and managing their investments. They diligently conduct thorough research and due diligence before executing investment decisions.
Learnings from Azim Premji Portfolio
Here are some key takeaways from the Azim Premji Portfolio:
Philanthropy as Part of Wealth Allocation: Azim Premji's commitment to philanthropy demonstrates that wealth isn't just about making money; it's also about giving back to society. Investors can consider incorporating philanthropic goals into their overall wealth management strategies.
Adaptation to Market Conditions: His investment strategy adapts to changing market conditions and economic environments. Investors should be flexible and willing to adjust their portfolios in response to evolving market trends.
Risk-Reward Assessment: Balancing risk and reward is crucial. Azim Premji carefully evaluates the potential risks associated with an investment relative to the expected rewards. This risk-conscious approach can help protect investments in volatile markets.
Private Investments: While most of Azim Premji's investments are in publicly-traded companies, his approach to investing in private companies or startups can be inspiring for those looking to diversify their portfolios beyond traditional assets.
Apart from this, Azim Premji believes that diversification is the key. As his portfolio is diversified across various sectors and asset classes which has helped him spread risk and reduce vulnerability to the volatility of any single investment. So, always keep in mind to diversify your portfolio.
To Sum It Up
The life and career of Azim Premji are a testament to the power of innovation, dedication, and the profound impact of giving back to society. From leading Wipro's transformation into a global IT giant to his unwavering commitment to philanthropy through the Azim Premji Foundation, his journey has left an indelible mark on India and the world.
As we delve into the lessons from Azim Premji's remarkable life, we find that diversification, a long-term perspective, value investing, and a focus on fundamentals are fundamental principles that can guide investors to success. Moreover, his philanthropic endeavours remind us of the importance of not just accumulating wealth but using it to effect positive change in society.
Know More About Star Investors on smallcase –
Learn More about few of the other star investors, their investment strategies, stocks investments, net worth and much more –