Popular Pharma Stocks in India to Invest in 2023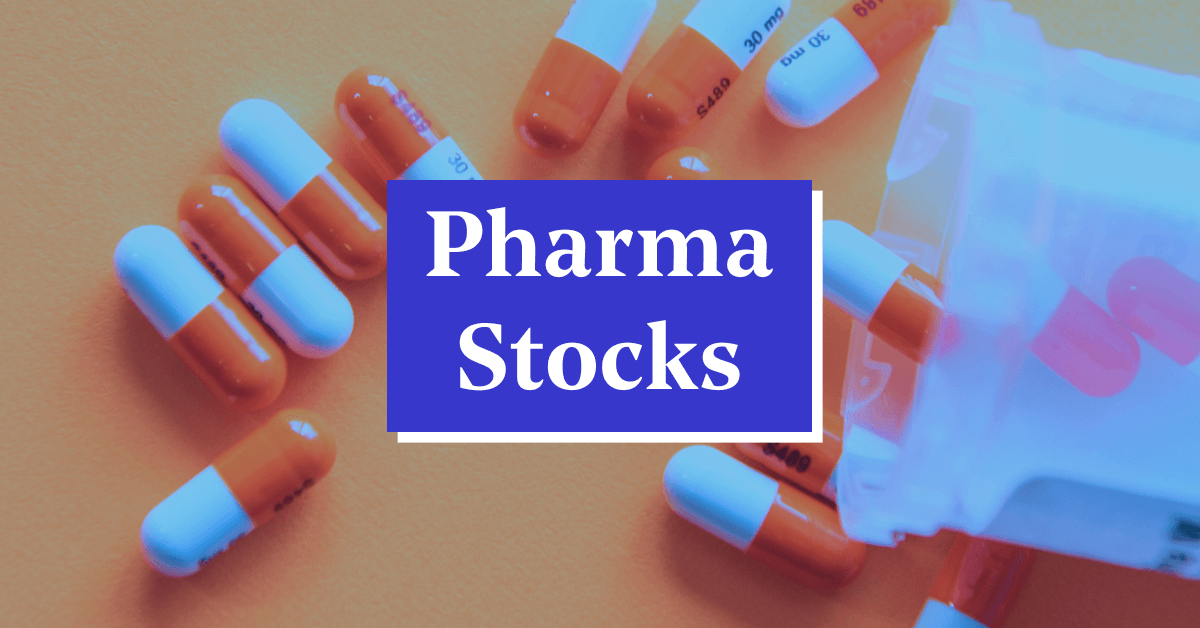 Reading Time: 8 minutes
Over the past five decades, Indian pharma stocks have experienced significant growth in domestic and global markets. From contributing just 5% of the medicine consumption in 1969 (95% share with the global pharma), the share of "Made in India" medicines in the Indian pharma market is now a robust 80% in 2020.
Thus, considered the third-largest in terms of volume and the thirteenth-largest in value, the Indian pharma companies are attracting a new set of investors heavily. Therefore, pharma sector stocks are suitable for top-down and bottom-down investing, which are also considered defensive stocks.
So, let's understand some of the popular Indian pharma companies or medicine companies to invest in 2023 and what factors are shaping the industry.
What are Pharma Stocks in India?
Pharma stocks in India are the stocks of companies that operate in the pharmaceutical industry, which includes the research, development, manufacturing, and distribution of drugs and medicines. These companies are involved in producing various types of medicines, such as prescription drugs, over-the-counter medicines, and generic drugs. Some common medications produced by the Indian pharma industry include antibiotics, cardiovascular drugs, painkillers, and anti-inflammatory drugs.
Thus, investing in pharma shares in India can be a lucrative option for you as the pharmaceutical industry significantly contributes to the Indian economy. The industry has been growing rapidly in recent years due to several factors such as increasing demand for generic drugs, favourable government policies, and growing healthcare infrastructure. Therefore, investors interested in investing in the Indian pharma industry can consider buying from pharma shares listed companies on the stock exchanges in India.
COVID 19 impact: Pharma Shares Evolving Healthcare
On March 11, 2020 the deadly COVID-19 was declared a pandemic and six weeks later, China reported a new respiratory virus. That said, we all know what we all faced. Thus, the Indian pharmaceutical industry has emerged as a winner in the post-pandemic world while handling the vulnerable population with care and sensitivity.
The Indian pharma manufacturers export nearly half of the pharma production, both in volume and value, to the US, UK, South Africa, Russia and other countries. As a result, the country established a leading position in the global generic pharma share price, which has earned it the title of 'Pharmacy of the world'.
Popularly called the 'archetype of affordable healthcare', India is the third-largest manufacturer of drugs worldwide in terms of production volume, accounting for 10% of the global total. Additionally, many Pharma companies in India have redesigned their drug development to make it a blockbuster to provide the nation with the best medicinal care.
What is the Pharma NIFTY Index?
The Pharma Nifty Index is an index of the National Stock Exchange of India (NSE) that comprises the top 10 pharmaceutical companies listed on the exchange. These pharma stocks are selected based on market capitalization, liquidity, and other factors. The index provides a benchmark for the overall performance of the pharmaceutical sector in India.
So, when the Pharma Nifty Index goes up, it means that the pharmaceutical sector is performing well, and when it goes down, it means that the sector is underperforming. Additionally, it is a commonly used indicator by investors and analysts to track the performance of the Indian pharmaceutical industry.
List of Popular Pharma Stocks in India to Invest in 2023
The pharma sector has contributed significantly to India's economic growth as one of the top 10 sectors in reducing the trade deficit and attracting Foreign Direct Investment (FDI). Let's have a look at the top pharma companies in India.
| S.No. | Company Name | Sub-Sector | Market Cap (in Cr) |
| --- | --- | --- | --- |
| 1. | Sun Pharmaceutical Industries Ltd | Pharmaceuticals | ₹2,34,822 |
| 2. | Divi's Laboratories Ltd. | Labs & Life Sciences Services | ₹85,970 |
| 3. | Dr Reddy's Laboratories Ltd | Pharmaceuticals | ₹81,725 |
| 4. | Cipla Ltd | Pharmaceuticals | ₹73,770 |
| 5. | Apollo Hospitals Enterprise Ltd | Hospitals & Diagnostic Centres | ₹63,516 |
| 6. | Torrent Pharmaceuticals Ltd | Pharmaceuticals | ₹55,141 |
| 7. | Zydus Lifesciences Ltd. | Pharmaceuticals | ₹52,093 |
| 8. | Abbott India Ltd | Pharmaceuticals | ₹47,061 |
| 9. | Max Healthcare Institute Ltd | Hospitals & Diagnostic Centres | ₹43,912 |
| 10. | Alkem Laboratories Ltd | Pharmaceuticals | ₹41,076 |
Factors to Consider Before Investing in Pharma Companies
Before investing in pharma stocks, there are several important factors to consider apart from pharma share prices. Here are five key factors:
Domestic and global demand: The demand for pharmaceuticals is driven by many factors. Some include an ageing population, increasing healthcare spending, and the prevalence of diseases. To determine if the industry is poised for growth, analyze the current and future demand for pharma stocks.
Research and development investments: The pharmaceutical industry relies heavily on research and development (R&D) to develop new drugs and treatments. It's important to evaluate a company's R&D investments and pipeline to determine if they are investing in the right areas and have a strong pipeline of potential new products.
Regulatory environment and government policies: The pharmaceutical industry is highly regulated, and government policies can impact a company's ability to bring new products to market. It's important to stay current on regulatory changes and procedures affecting the industry and specific companies.
Intellectual property rights and patent expirations: Patents provide companies with exclusive rights to manufacture and sell a drug for a set period of time. It's important to evaluate a company's patent portfolio and the timing of patent expirations to determine the potential impact on revenue.
Competition and mergers and acquisitions: Since the pharmaceutical industry is highly competitive, companies may engage in mergers and acquisitions. Therefore, evaluate a company's match, annual growth, and change in pharma stock prices if it is well-positioned in the market.
Types of Pharma Stocks in India
In India, the pharma sector stocks list is divided into three categories based on the market capitalization of the companies:
Large-cap pharma stocks: These are the largest pharma companies in India, with a market capitalization of more than INR 20,000 crores. These companies typically have a strong brand presence, diversified product portfolios, and significant R&D capabilities. Examples of large-cap pharma stocks in India include Sun Pharma, Dr. Reddy's Laboratories, and Cipla.
Mid-cap pharma stocks: These are medium-sized pharmaceutical companies in India, with a market capitalization between INR 5,000 to INR 20,000 crores. These companies may have a more focused product portfolio and less diversified revenue streams compared to large-cap companies. Examples of mid-cap pharma stocks in India include Torrent Pharma, Alkem Laboratories, and Biocon.
Small-cap pharma stocks: These are smaller pharmaceutical companies in India, with a market capitalization of less than INR 5,000 crores. These companies may have a more niche product portfolio and limited R&D capabilities than larger ones. Examples of small-cap pharma stocks in India include Aarti Drugs, Suven Life Sciences, and Granules India.
Benefits of Investing in Pharma Stocks in India
There are several benefits to investing in pharma stocks, particularly in India, which has a thriving and rapidly growing pharmaceutical industry. Here are some of the key benefits:
Steady demand: Pharma stocks are known for their steady demand, as people require medicines regardless of the economic climate. As a result, pharma stocks are considered relatively defensive and can provide investors a stable source of income.
Strong growth potential: The Indian pharma industry is growing rapidly, with the government actively promoting the sector through various initiatives. The industry is expected to grow at 12-14% CAGR providing significant growth potential for investors.
High profitability: The pharmaceutical industry tends to have high-profit margins due to the significant investment required for research and development. This high-profit margin can translate into higher returns for investors.
Dividends: Many pharmaceutical companies have a strong track record of paying dividends to shareholders. This can provide a source of passive income for investors.
Mitigate Challenges with smallcase
Like any other investment, investing in pharma shares in India comes with its own challenges.
However, with the help of financial advisors or investing in trustable platforms like smallcase, you can easily tackle these challenges by doing portfolio investing by creating a demat account online. Let's learn how.
Regulatory risks: The pharma industry is subject to stringent regulations. However, investing in smallcase portfolios (like Pharma Tracker) that have a proven track record of compliance can mitigate this risk.
Patent risks: The expiration of patents for major drugs can lead to increased competition. However, smallcase portfolios that invest in pharma companies with a strong pipeline of drugs and a focus on R&D can help mitigate this risk.
Currency fluctuations: The Indian pharma industry relies heavily on exports, which currency fluctuations can impact. However, pharma smallcase portfolios have a strong presence in domestic and international markets that can help mitigate risks.
Competition from generics: The pharma industry is highly competitive, with many established players having a strong brand reputation. However, if you invest in pharma companies with high-quality products, you can mitigate the risk of generic competition.
---
In conclusion, the Indian stock market has demonstrated resilience and growth potential in 2023. As we move further into the year, several pharma companies have garnered investor interest and shown promising performance.
Investing in popular stocks through smallcase could be an effective way for investors to capitalize on growth opportunities. With Pharma Tracker smallcase, you can efficiently track and invest in pharma companies.
So, what are you waiting for? Take a step towards empowering lives by investing in Pharma Tracker smallcase today!
---
Keep yourself informed and up-to-date on a variety of thematic sectors by reading the articles below.