Radhakishan Damani Portfolio Analysis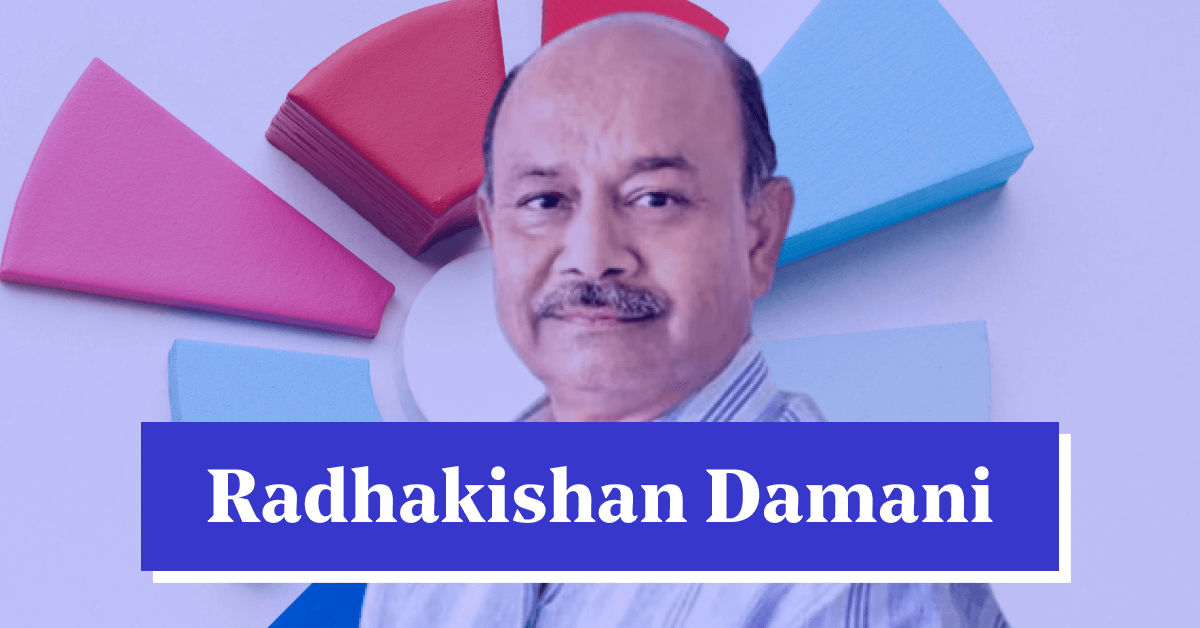 Reading Time: 8 minutes
Enter the intriguing world of investment brilliance combined with a touch of eccentricity as we introduce you to the remarkable Mr Radhakishan Damani. Known for his unconventional approach to the stock market, he has garnered admiration from both experienced investors and curious observers. The Radhakishan Damani Portfolio unveils a captivating collection of unique choices and hidden treasures, showcasing his unparalleled ability to spot opportunities that others may overlook.
Stick to this blog as we embark on an exhilarating journey through Radhakishan Damani's captivating world. Together, we will unravel the stories that define his remarkable investment journey, uncovering the strategies and philosophies that have led him to unparalleled success.
Who is Radhakishan Damani?
Radhakishan Damani, the founder of Avenue Supermarts Limited and a prominent Indian investor, is widely recognized for his success in the business world.
Born in Mumbai in 1955, Damani overcame humble beginnings and pursued a career in the stock market after his father's passing. He gained prominence by profiting from short-selling stocks in the 1990s and became a major shareholder of HDFC Bank. In 2002, he established D-Mart, a renowned supermarket chain with over 300 stores in India.
Here are some of the awards and recognitions that Radhakishan Damani has received:
Padma Bhushan, the third-highest civilian award in India (2018)
Ernst & Young Entrepreneur of the Year Award (2017)
Forbes India Business Leader of the Year Award (2016)
Economic Times Businessman of the Year Award (2015)
List of Stocks in Radhakishan Damani Portfolio 2023
Here is the Radhakihsan Damani latest portfolio:
Note: A lot of these stocks were also a part of the Radhakishan Damani Portfolio 2022. Apart from this, these shares are from NSE and BSE.
Overview of Stocks in Radhakishan Damani Portfolio
Here is the overview of the top Radhakishan Damani holdings:
Avenue Supermarts Ltd
Avenue Supermarts Ltd, the parent company of D-Mart, is a retail chain which is popular for its diverse product offerings. It has gained significant traction in the retail industry, making it a prominent player in India.
VST Industries Ltd
VST Industries Ltd holds a prominent position in the tobacco industry. With a focus on manufacturing and selling cigarettes and tobacco products, the company has established a strong market presence renowned for its quality offerings.
India Cements Ltd
India Cements Ltd is a leading cement manufacturer, recognized for its production and distribution of cement and related products. The company's extensive network of plants caters to the construction industry's demands and enjoys a significant market share.
Advani Hotels & Resorts India Ltd
Advani Hotels & Resorts India Ltd is a hospitality firm which is popular for operating hotels and resorts across the country. By providing excellent accommodation, dining, and event services, the company aims to deliver memorable experiences to its guests.
Aptech Ltd
Aptech Ltd is a global education and training company specializing in IT and computer education. It offers a wide array of courses and programs in software development, networking, and digital marketing. With a vast network of centres, Aptech has successfully trained numerous students in the IT field.
Radhakishan Damani Penny Stocks
As of March 31, 2023, the portfolio of Radhakishan Damani does not include any penny stocks. Penny stocks are the stocks which are trading for less than Rs. 100 per share.
Damani primarily focuses on large-cap and mid-cap stocks in his portfolio. He believes these stocks offer a favourable balance of growth potential and risk. Being a long-term investor, Damani avoids investing in penny stocks due to their higher risk profile.
However, it's worth noting that Damani has made investments in penny stocks in the past. For instance, in 2013, he invested in VST Industries Limited when the stock was trading around Rs. 50 per share. Over time, the stock has appreciated to Rs. 270 per share, resulting in a remarkable return of over 540%.
This example illustrates that Damani may consider investing in penny stocks if he finds them undervalued and with the potential for substantial returns. Nonetheless, he does not engage in penny stock investments indiscriminately and carefully assesses their prospects before making such decisions.
Radhakishan Damani Portfolio – Sector-Wise Investment
Radhakishan Damani has built a diversified portfolio across various sectors. Here is a graphical representation of the Radhakishan Damani stocks investments (sector-wise):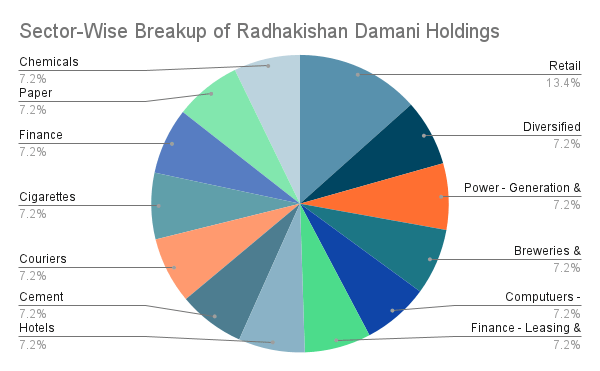 Retail: Damani is the largest shareholder of Avenue Supermarts Limited, the company behind D-Mart, one of India's prominent supermarket chains. With a positive outlook on the Indian retail market, Damani recognizes the substantial growth potential within this sector.
Paints and coatings: Holding a significant stake in VST Industries Limited, a leading paints and coatings manufacturer in India, Damani capitalizes on the rapid expansion of the Indian paints and coatings market. He believes that VST Industries is well-positioned to benefit from this growth.
Cement: Damani has a significant stake in India Cements Limited, a major cement manufacturer in India. With the Indian cement stocks witnessing significant growth, Damani identifies India Cements as a promising player in the industry.
Hotels: Damani holds a significant stake in Advani Hotels & Resorts India Limited, a prominent hotel chain in India. Recognizing the flourishing Indian hotel stocks, Damani believes that Advani Hotels is in a position where he can capitalize on this growth.
IT training: Damani has a significant stake in Aptech Limited, a leading provider of IT training in India. Given the rapid growth in the Indian IT stocks, Damani sees Aptech as well-placed to seize the opportunities within the industry.
Radhakishan Damani Investment & Disinvestment (2023) – RK Damani Portfolio
Shares Purchased by RK Damani
Based on the most recent shareholding pattern reported to the exchanges, there have been no recorded share purchases by Radhakishan Damani in 2023. His most recent purchase was made in December 2022 when he acquired a 1.19% stake in United Breweries for Rs. 3,136,536.
Moreover, it's important to note that Damani is known for his long-term investment approach, and as such, he may currently be prioritizing the retention of his existing shareholdings rather than actively buying new shares in 2023.
Shares Sold by Radhakishan Damani
In the fiscal year 2022-2023, Radhakishan Damani made the following share sales:
United Breweries
Avenue Supermarts Ltd
India Cements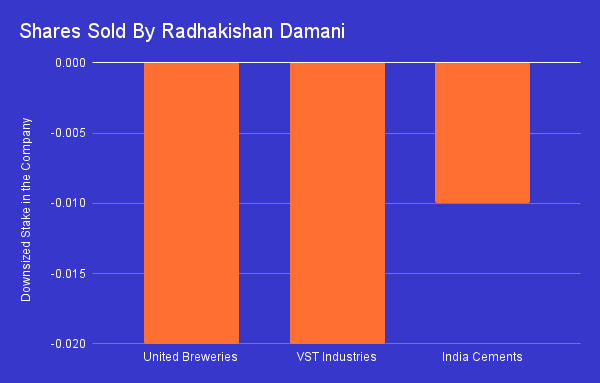 Radhakishan Damani Net Worth Trend – Radhakishan Damani Share Portfolio
Radhakishan Damani's wealth has experienced remarkable growth in recent times. As per the Bloomberg Billionaires Index, his net worth was approximately $11.2 billion in 2021. However, as of March 2023, Radha Kishan Damani net worth has surged to an estimated $19.8 billion.
This impressive surge indicates a remarkable 70% increase in just two years. The primary catalyst behind this surge has been the exceptional performance of the stocks in Damani's portfolio. His prominent holding, Avenue Supermarts Limited, the parent company of D-Mart, has witnessed a stock price surge of over 100% during this period.
Additionally, Damani's significant holdings in VST Industries Limited, India Cements Limited, and Advani Hotels & Resorts India Limited have also contributed to his rising net worth. These stocks have displayed robust performance in recent years, further bolstering Damani's wealth accumulation.
Investment Strategy of Radhakishan Damani
Radhakishan Damani follows an investment strategy grounded in several key principles, which include:
Value investing: Damani actively seeks out companies whose stock prices are lower than their intrinsic value. He recognizes that the market may have underestimated these companies' true potential, presenting an investment opportunity.
Long-term orientation: Damani's investment approach is characterized by a long-term perspective. He understands that companies require time to realize their full potential, and he is willing to patiently wait for the stock price to reflect their intrinsic value.
Concentrated portfolio: Damani maintains a concentrated portfolio, focusing his investments on a select number of stocks. This concentrated approach allows him to dedicate more attention to in-depth research and to effectively manage risk within his portfolio.
Contrarian investing: Embracing contrarian investing, Damani often invests in companies that are currently out of favour with the broader market. He believes these companies are undervalued and has confidence in their ability to outperform the market over the long term.
Learnings from Radhakishan Damani
Here are some key takeaways from Radhakishan Damani's investment approach:
Emphasize strong fundamentals: Damani prioritizes companies with a proven track record of profitability and growth. He believes that such companies are more likely to thrive over the long term, making them attractive investment opportunities.
Adopt a long-term mindset: Damani is known for his long-term investment horizon. He understands that significant value creation often takes time, and he is willing to hold onto investments patiently until their true potential is realized.
Conduct thorough research: Damani relies on his own research rather than solely relying on analysts or financial advisors. By conducting detailed research, he gains a comprehensive understanding of potential investment opportunities, enabling him to make well-informed decisions.
Exercise patience: Recognizing the inherent volatility of the share market, Damani remains patient during market downturns. Rather than succumbing to panic, he maintains a steady approach and waits for market conditions to improve.
Maintain discipline: Damani follows a disciplined investment strategy. He remains composed during market fluctuations and is unafraid to divest from underperforming stocks. This disciplined approach helps him navigate the investment landscape effectively.
To Wrap It Up
In conclusion, the Radhakishan Damani portfolio stands as a testament to his remarkable success and expertise in the investment world. His strategic investment decisions and adherence to key investment principles have enabled him to build a portfolio that has delivered substantial returns.
As an investor, you can draw valuable lessons from Damani's portfolio. By focusing on companies with strong fundamentals, adopting a long-term investment horizon, conducting thorough research, and exercising discipline, you can improve your chances of achieving investment success.
Know More About Star Investors on smallcase –
Learn More about few of the other star investors, their investment strategies, stocks investments, net worth and much more –