Best Smallcap Stocks listed on the Small Cap index in India 2023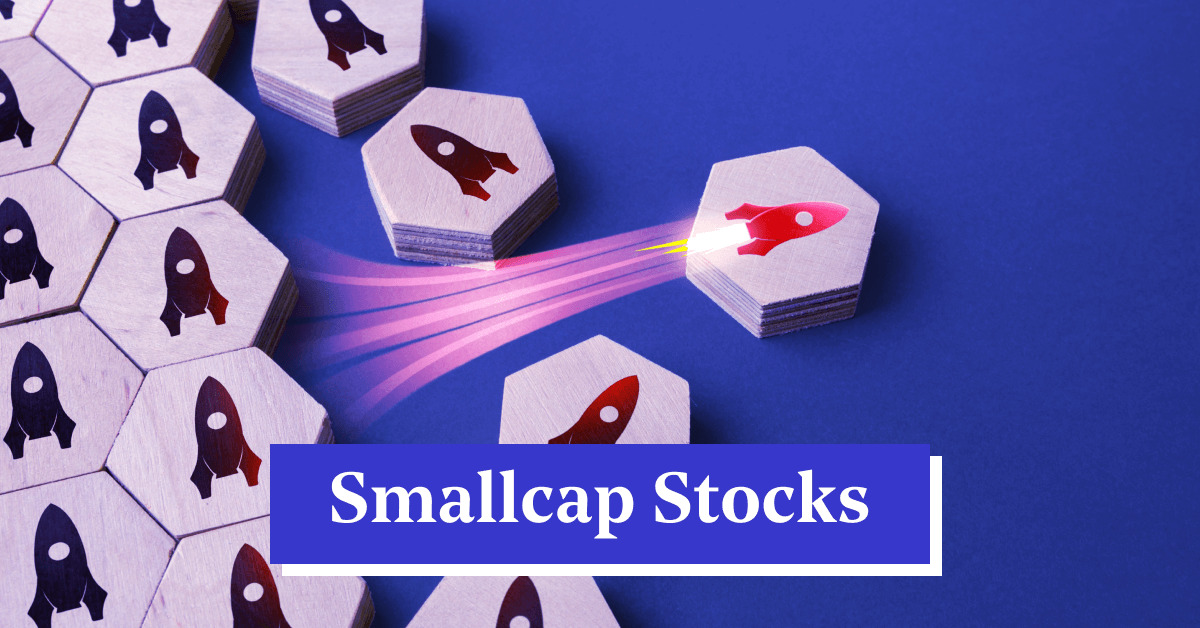 Reading Time: 7 minutes
Stocks in the stock market are often classified based on their market capitalisation as largecap, midcap, and smallcap stocks. This categorisation helps investors make informed investment decisions.
Smallcap stocks are often a popular investment choice for those seeking higher returns, as they are stocks of small companies with market capitalization generally ranging between ₹500 crores and ₹5,000 crores. Smallcap stocks are different from large-cap stocks as they have a higher potential for growth, which may offer better returns in the long run. In this blog, we will look at what smallcap stocks are, their advantages and risks, and how to invest in them.
What are Smallcap Stocks?
Smallcap stocks are stocks of smallcap companies. In India, smallcap companies have a lower cap of less than ₹5,000 crores.
Smallcap stocks comprise up-and-coming young companies that are growing fast and are traded both on the BSE and the NSE. These companies have high growth potential, making them attractive investments for many investors.
Smallcap stocks are tracked by the small caps index, which comprises companies listed on the National Stock Exchange (NSE) with a market capitalization between ₹500 crores and ₹5,000 crores. The index provides a good representation of the smallcap segment of the Indian stock market.
Best Smallcap Stocks of 2023
Discover promising investment opportunities with our carefully curated small cap stocks list for 2023 below.
Note: The data is from 30th August, 2023. However, for real-time updates on stock prices and market trends, visit smallcase stocks collection today!
What are the Features of the Best Small-Cap Stocks?
When evaluating the top small cap company, there are several key attributes one should keep in mind before investing in the best small cap stock. Some of them have been listed below:
Highly Volatile: The stocks of these companies are volatile since there is uncertainty about them becoming successful in the future.
High Returns: Smallcap stocks generally yield high returns for any investors, especially in the shorter run.
Low Liquidity: Top small-cap stocks have the least liquidity, making squaring off positions more difficult.
Small Cap Stocks in India – Overview
Let's have a look at the three top small-cap stocks in detail.
NESCO Ltd
Known as one of the best small cap stock, the NSECO Ltd's business segment, NESCO Foods is a prominent player in the food and beverage industry, known for its diverse range of culinary products and catering services.
Moderate Risk: Stock is 2.26x as volatile as Nifty
Smallcap: With a market cap of ₹5,063 cr, the stock is ranked 600
Marksans Pharma Ltd
This small cap company is recognized for its global presence in the healthcare sector. The company is specialized in the development, manufacturing, and distribution of generic pharmaceuticals.
High Risk: Stock is 3.43x as volatile as Nifty
Smallcap: With a market cap of ₹5,120 cr, the stock is ranked 597
Nazara Technologies Ltd
This smallcap stockis a dynamic player in the Indian gaming and sports media industry. Renowned for its diversified portfolio of mobile gaming offerings, it has carved a niche by capitalizing on the growing demand for interactive and immersive gaming experiences.
High Risk: Stock is 3.42x as volatile as Nifty
Smallcap: With a market cap of ₹5,141 cr, the stock is ranked 594
How to Invest in Small Cap Stocks for Long Term?
Investing in small cap stocks for long term requires thorough research and analysis. The following are steps to consider when investing in small cap stocks:
Research NSE small cap stocks and find potential investments. Investors can use tools like stock screeners to filter stocks by market capitalization. The CNX Smallcap Index comprises 100 tradable, exchange listed small cap companies.
BSE also introduced a new index called 'BSE Small-Cap' index to track the performance of small cap companies with relatively smaller market capitalization.
Analyzing financial statements and company performance. Investors should analyze financial statements (such as balance sheets) to determine the financial health of the company. This can include analyzing revenue growth, earnings growth, and debt levels.
One can buy smallcap stocks individually or buy mutual funds or exchange-traded funds (ETFs) that invest in the best small cap stocks. Funds and ETFs may occasionally own a range of equities and asset types, including small cap shares. Other times, the funds or ETFs may only invest in a list of small cap Indian companies.
However, if you're confused about which stocks to pick, you can explore smallcases:
smallcases are readymade portfolio of stocks/ETFs, that are based on a theme idea or strategy.
They're created and managed by SEBI-registered experts,
smallcase.com offers over 200+ stock portfolios, created by 180+ managers.
Some of the popular smallcases among new investors are as follows:
Disclosures for aforementioned smallcases
Is Smallcap Stock a Good Investment?
Investments in small-cap stocks may be profitable. If an investor buys them at a good price and they have a growth potential that is greater than that of large-cap stocks or blue-chip businesses, they may experience a strong return.
Advantages of Investing in the Best Small Cap Stocks for Long Term
Higher returns: Small cap stocks have the potential to provide higher returns than large cap stocks.
Growth potential: Small cap companies have the potential to grow at a faster rate than larger companies.
Diversification: Investing in top small cap stocks can provide diversification benefits for a portfolio.
Compared to the small cap best stocks of larger, more established firms, small-cap stocks are riskier and more volatile, therefore investors should be extra cautious while conducting their research before making any investment decisions.
Risks associated with Small Cap Stocks
Higher Risk: Small cap Indian companies are more likely to experience financial difficulties and may have less access to capital than larger companies.
Limited Liquidity: Small cap stocks may have limited trading volume, making it difficult to sell shares quickly.
Greater Volatility: Small cap stocks may experience greater price fluctuations than large cap stocks.
Who Should Invest in Small Cap Shares?
Investors with a high-risk appetite who want to invest in underpriced and under-recognised businesses and earn organically high returns (these returns are not influenced by larger financial institutions). Investors get quality stocks at a fair price when they invest in small cap shares.
To Wrap It Up…
Investing in smallcap stocks can be a good way to diversify your portfolio and potentially achieve higher returns. However, it is important to do your research and analysis before investing in any stock, including smallcap stocks.
In conclusion, smallcap stocks are a segment of the Indian stock market that comprises small-cap companies with high growth potential. Investing in smallcap stocks can diversify an investor's portfolio and potentially higher returns. However, smallcap stocks also carry higher risks, and it is important for investors to conduct thorough research and analysis before investing in them.
FAQs
1. What is small-cap index?
The NIFTY Smallcap 100 Index aims to mirror the performance and actions of the small-cap segment within the financial market. It consists of 100 publicly listed, tradable companies on the exchange.
2. Is there any index fund for small-cap?
The Nippon India Nifty Smallcap 250 Index Fund – Regular Plan is required to maintain a minimum of 65 percent of its assets in small-cap stocks consistently.
3. What are the best stocks to buy for long term in India?
Here are the best small-cap stocks to buy in 2023 – NESCO Foods, Marksans Pharma Ltd, and Nazara Technologies Ltd. However, it's important to do your own research or consult a financial advisor before investing
4. How can I invest in the top smallcap stocks in India?
You can invest in the top small-cap stocks in India through a stockbroker or by investing in a smallcap mutual fund.

Here are the steps involved:
1. Open a trading account with a stockbroker.
2. Do your research and select the smallcap stocks you want to invest in.
3. Place a buy order for the stocks you have selected.
4. Monitor your investments and make adjustments as needed.
5.  Is it a good time to invest in smallcap IT stocks in India?
If you're willing to invest in small cap stocks for long term for about 7 to 10 years, then investing in smallcap IT stocks is a good investment.