What are Demat Accounts? Use, Features & Benefits of Opening a Trading Account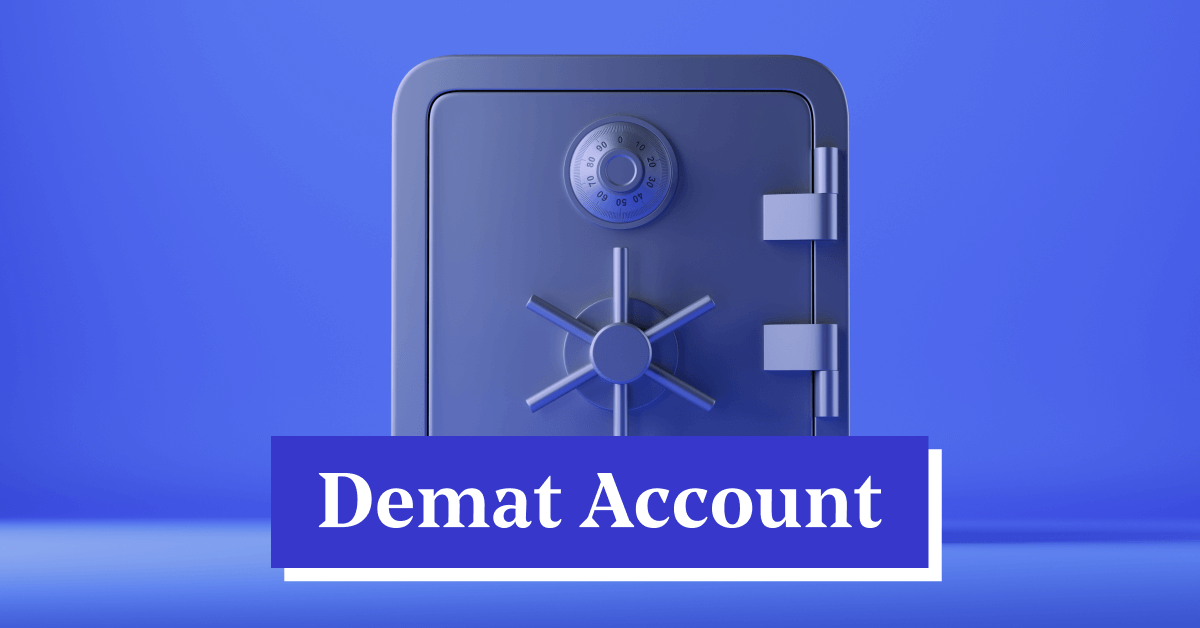 Reading Time: 9 minutes
Just like the bank account that allows you to deposit and withdraw your physical money into digital currencies for easy transactions, demat accounts allow you to deposit and transact in shares.
Demat accounts are electronic accounts that hold securities and is safe for the shares you've bought. Thus, opening an online demat account keeps your securities in a digital format and enables you to track price movements. Further, in this blog, we will discuss what is a demat account, its types, and certain other aspects.
What is a Demat Account?
A demat account, also known as a dematerialized account, is an electronic account that holds an individual's securities in a dematerialized form. These securities include shares, bonds, mutual funds, exchange-traded funds (ETFs), and government securities.
Additionally, the dematerialisation process converts physical share certificates into electronic format and stores them in a demat account. Thus, investing in securities like stocks, bonds, and mutual funds requires a demat account. Further, it also provides easy access to account statements, reduces paperwork, and offers cost-effective trading options, eliminating the risk of theft, loss, or damage.
Now that we have understood 'What is a demat account?', let's try to understand better with an example.
For example,
Let's say Rahul wants to buy 100 shares of Britannia Industries. With a demat account, he can receive shares in electronic format from the DP (Depository Participant) rather than receiving paper certificates. Thus, when Rahul wants to sell his shares, he can instruct his DP to debit from his account, and the DP will transfer the shares to his demat account.
Features of Demat Accounts
This type of account makes transactions easy and convenient. Thus, let's look at the other following features as to why you should open a demat account online:
Safe and secure storage of securities

: A demat account provides a safe and secure way to store securities in electronic form. This eliminates the risk of loss, theft, or damage that physical certificates may face.

Access to account statements

: A demat account holder can easily access their account statements, transaction history, and other relevant information online, anytime and anywhere.

Paperless transactions

: A demat account is a paperless mode of trading and investing in securities. Hence,

i

t eliminates the need for physical share certificates and makes transactions faster and more convenient.

Lower costs

: Compared to traditional physical certificates, holding securities in a demat account is more cost-effective. The fees for opening and maintaining a demat account are also relatively low.

Quick and easy transfer of securities

: Securities can be easily and quickly transferred from one demat account to another, simplifying the buying and selling process.

Tracking corporate actions

: A demat account holder can easily track corporate actions such as bonus shares, stock splits, and dividends. The account is updated automatically, and the securities are credited directly to the account.
Opening a Demat Account
You can open demat accounts at a central depository like the National Securities Depository Limited (NSDL) or Central Depository Services Limited (CDSL). Thus, you can easily open a demat account online in 4 easy steps:
1. Choosing a Depository Participant (DP)
You can freely choose which financial entity you may like to open account with. In India, NSDL and CDSL websites have a listed set of DPs to choose from. Thus, you can also check with independent entities if they are registered for a demat account opening.
2. Opening an account
Your registered DP will provide an account opening form. Thus, to complete that form, you need the following documents:
A PAN card,

An Aadhaar card,

A copy of a cancelled bank cheque or bank passbook

Last six months' salary slips or Income tax returns document

Passport-size photographs for in-person verification
However, if you want to sell or purchase stock market shares, you'll need a trading account or a broker account with a SEBI-registered broker. A trading account is an additional account provided by stockbrokers for buying and selling securities.
3. Activation of the Account
After activation, you'll receive the following information via notifications.
Your DP identification code: You'll receive an 8-digit code allotted by all the DPs.

Demat account number: This 16-digit code is a unique combination of all the DP IDs and client IDs.

A CMR copy: A Client Master Report is a digitally signed PDF certificate issued by stockbrokers to clients.

Login ID & password: A unique login ID and password are generated when opening an account.

Power of attorney document:

S

erves as an authorization letter without which a broker cannot do any trading for the client.
Thus, once your demat account is open, you can purchase and buy stocks, receive corporate benefits like dividends, etc. Additionally, you can also apply for IPOs of the listed companies and hold other government securities in your account.
Want to Open a Demat Account Today? smallcase Can Help!
smallcase has partnered with India's top brokers, like Zerodha, Angel One, 5Paisa, Groww, HDFC securities, Kotak Securities and other top 10 other brokers to give you the most seamless experience.
Therefore, to open a demat account with smallcase, you can follow these steps:
Visit the smallcase website or app, under More section, click on the "Open Account" button.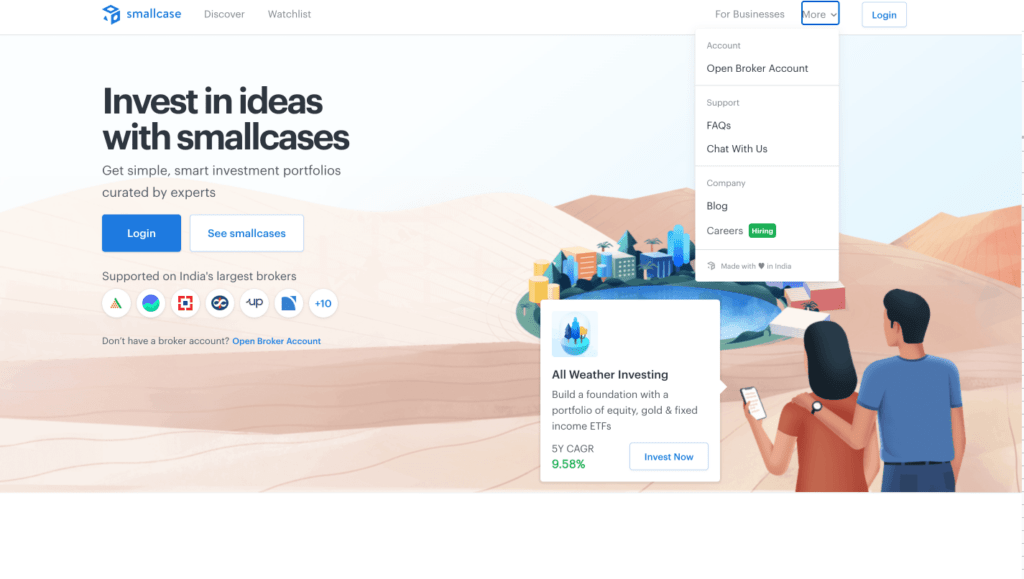 Fill in your mobile number and enter the OTP received.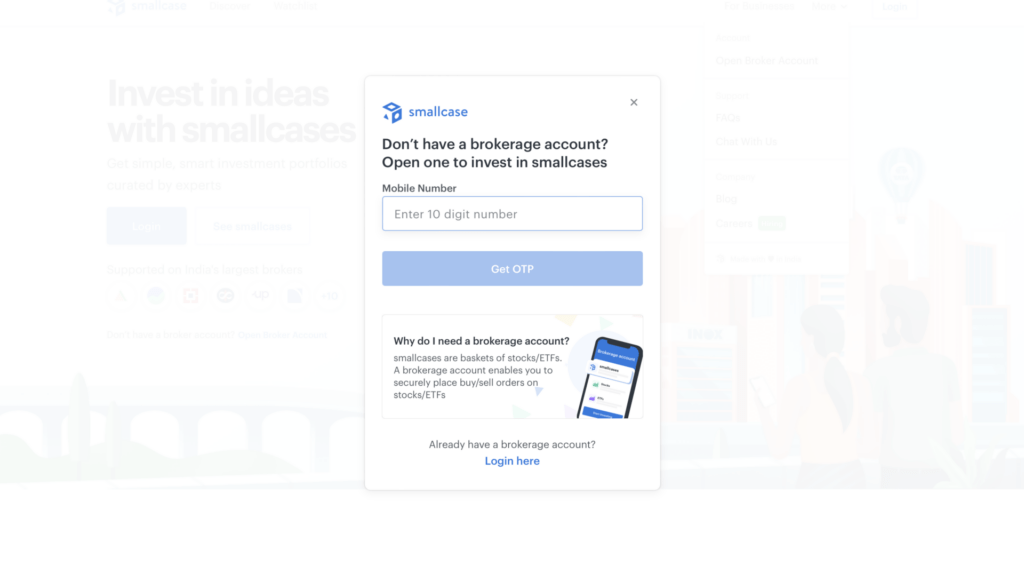 Next, register from the list of the top Indian brokers by adding your name and email ID.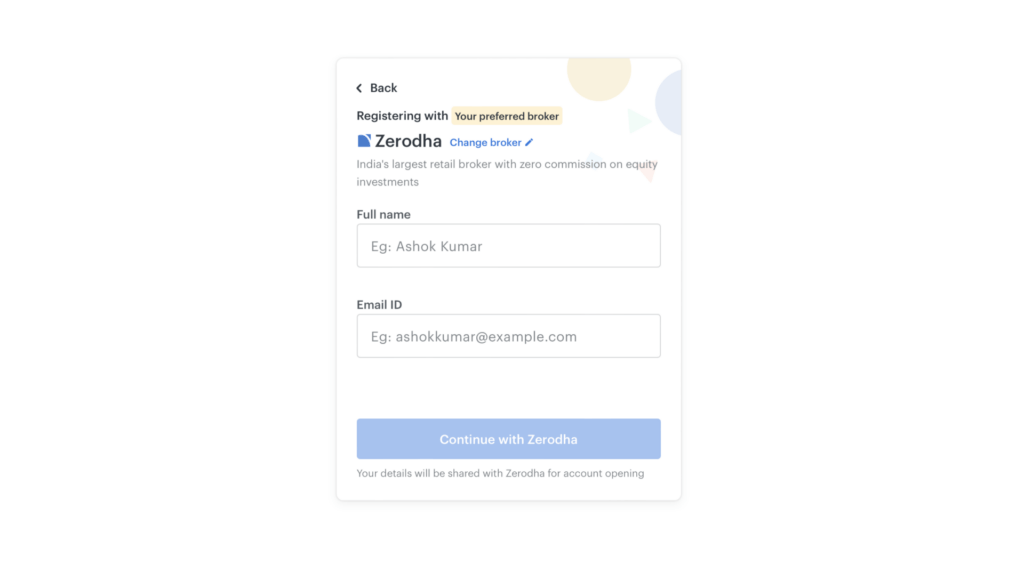 Once the details have been entered, complete your application process at the brokerage platform.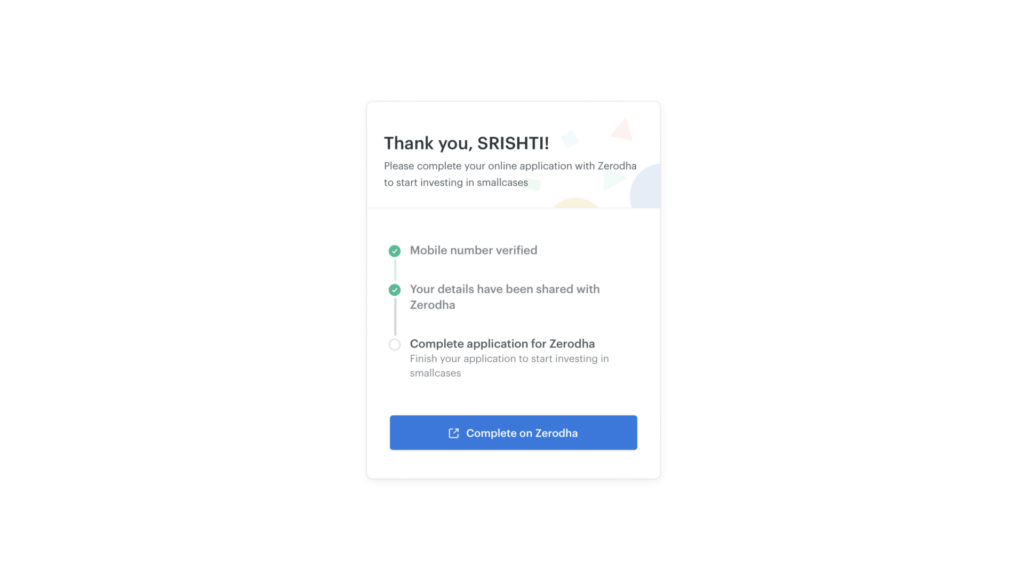 Invest in smallcases Using Your Demat Account
Investing in a smallcase, a basket of stocks not only gives favourable returns but also diversifies risks with an existing demat account is a straightforward process. Here are the steps to open a demat account online with smallcase:
Register on smallcase

:

Using the smallcase app or website, you register for a demat account once you have it.
Choose a smallcase

: Browse through the

available smallcases

on the platform and choose that aligns with your investment goals and risk profile.

Add funds

: You need to add funds to your smallcase account to invest in a smallcase. You can do this by linking your bank account with the smallcase account.

Invest in smallcase

: Once you have added funds, you can invest in the selected smallcase by clicking on the "Invest Now" button. You will be prompted to confirm the investment amount and provide your DP details.

Confirm and execute the order

: The order will be executed once you have confirmed the investment amount and provided your DP details.

Monitor your investment

: You can track the performance of your smallcases by logging in to your smallcase account. You can also receive regular updates and notifications about your investment performance.
Types of Demat Accounts
There are different types of demat accounts based on the specific needs of an individual or organization. The four main types of demat accounts are:
Basic demat account

:

It is a simplified version of a regular demat account, designed mainly for small investors.

This type of account usually has lower maintenance fees and account opening charges.

Regular demat account

:

Individuals, traders, and investors use this type of demat account to hold and trade securities.

This type of account has no restrictions on the number of securities that can be held.

Repatriable demat account

: It is designed for non-resident Indians (NRIs) who want to invest in securities in India and repatriate the funds back to their home country.

Non-repatriable demat account

: Also designed for NRIs who want to invest in securities in India but do not want to repatriate the funds. This type of account is also subject to certain regulations and requires approval from the RBI for opening and maintenance.
How Does Demat Accounts Work?
Account opening

:

Open an account with a Depository Participant (DP) by providing your personal and bank information, as well as proof of your address and ID.
Dematerialization

: Dematerialization can begin once your account is opened with the DP. Upon confirmation, the DP credits your demat account with electronic securities from the issuer or Registrar and Transfer Agent (RTA).

Trading

: The broker can settle the transaction automatically when the account holder places buy or sell orders online using an online demat account.

Holding

securities

: This electronic format eliminates the need for physical shares, and the account holder can view their securities holdings and transactions online.

Charges

: The DP will charge you for account opening, annual maintenance, transaction fees, and other charges. The demat account charges vary depending on the DP and the type of account.

Corporate actions

: As a demat account holder, you will receive dividends, bonus shares, and rights issues directly into the account, making the process more efficient and convenient.

Transfer

of

securities

: A demat account holder may transfer securities from one demat account to another through the off-market transfer process or the internal transfer process.
Benefits of Demat Accounts
A demat account offers several benefits to investors, including:
Safe and secure

: A demat account makes buying, selling, and holding securities easy and convenient.

Easy and convenient

: A demat account makes it easy and convenient to buy, sell, and hold securities. You can access your account online and make transactions from anywhere at any time.

Reduced transaction costs

: With demat accounts, you can avoid the high transaction costs such as courier charges, stamp duty, and handling fees.

Faster settlement

: This enables you to take advantage of market movements quickly and reduces the time to complete a trade.

Multiple investment options

: With a demat account online, you can access a wide range of investment options, including equity shares, bonds, mutual funds, and exchange-traded funds (ETFs).

Loan against securities

: Demat accounts also allows you to avail of loans against the securities, providing liquidity and flexibility to meet your financial needs.

Corporate benefits

:

Securities held in demat accounts are also eligible for dividends, bonus shares, and rights issues.
To Wrap It Up…
To conclude, demat accounts has become an essential requirement for anyone interested in trading or investing in the Indian stock market. Thus, by replacing physical share certificates with digital ones, it has revolutionized the way we trade and invest.
Additionally, demat accounts offer a range of benefits such as faster settlements, easier access to company information, and the ability to buy and sell securities online. Overall, it is a must-have for anyone looking to invest in the Indian stock market.
So, if you are looking to invest in smallcase, open a demat account today!
All About Demat Accounts on Smallcase –
Learn what are demat accounts, how to use them, process to open a new demat account with the multiple broker supported on smallcase platform. Below is the list of such articles to help you with the Demat process –