5 Popular Metal Stocks You Must Know About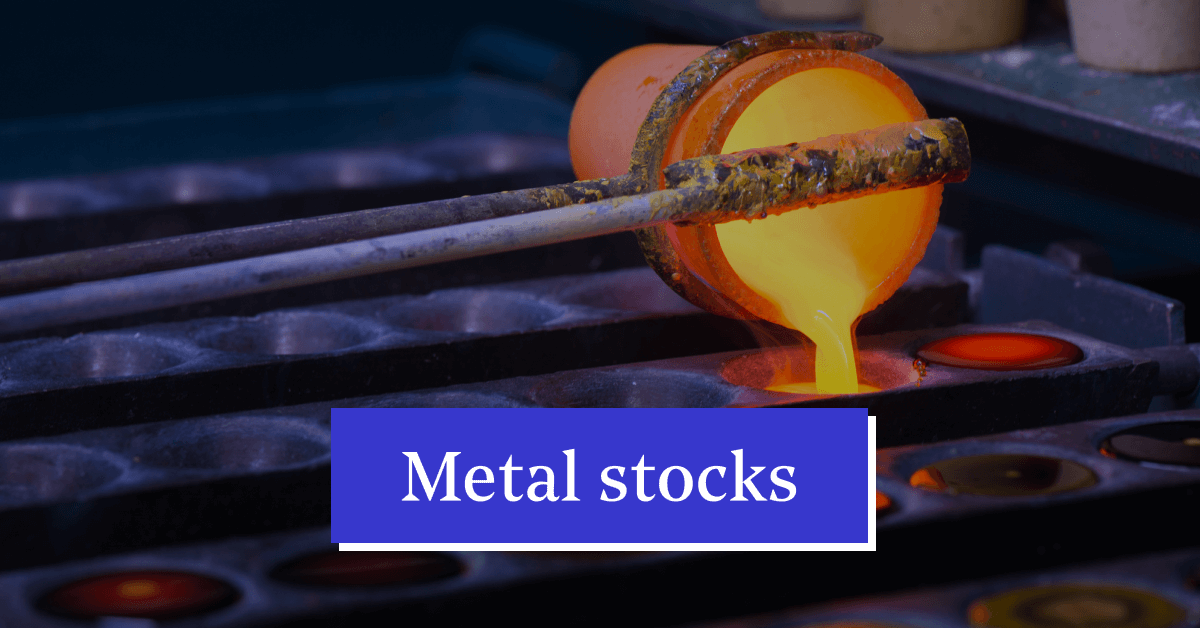 Reading Time: 8 minutes
India has a long-standing history of metal mining and production, as the industry plays a vital role in the country's economy. As a fast-developing country that aims to become a 5-trillion economy in the next few years, the Iron and Steel industry contributes 2% of GDP and its weight in the Index of Industrial Production (IIP) is 6.2%. Being one of the biggest contributors to India's GDP, the mining and metal industries are fundamental to the Prime Minister's goal of making India an Aatmanirbhar Bharat. Thus, the industry has seen significant growth over the years, making metal stocks an attractive investment opportunity for those interested in the Indian stock market.
In this blog, we'll look closer at the metal stocks in India and what makes them a worthy investment.
What are metal stocks in India?
Metal stocks refer to the stocks of companies involved in the exploration, production, processing or distribution of metals such as steel, aluminium, copper, zinc, and others. In India, several metal sector stocks are listed on major stock exchanges- the National Stock Exchange (NSE) and the Bombay Stock Exchange (BSE).
These companies may operate mines, smelters, refineries, or other facilities involved in the extraction and processing of metals. Metal stocks can provide exposure to the performance of the metal industries, and investors often use them to gain exposure to commodities without having to own and store the metal physically.
What is the Nifty Metal Index?
The Metal Nifty or Nifty Metal Index is a stock market index that represents the performance of metal and mining companies listed on the National Stock Exchange (NSE) in India. It is one of the sectoral indices created and maintained by the NSE, which tracks the performance of a particular sector of the economy.
Historically, this index has been volatile since its launch in 2004. Then the base value of the index was 1000. After several crests and troughs, in keeping with the market conditions, this index has seen recovery. From its pandemic-induced low of 1778 in March '20, it currently holds a value of 3500.
The Nifty Metal Index comprises 15 companies involved in producing and distributing metals such as steel, aluminium, copper, zinc, and others. The index is calculated using the free-float market capitalization method. This method considers the shares available for trading in the market are not held by promoters, governments, or other strategic investors.
Global commodity prices, demand and supply dynamics, government policies, and economic conditions all influence the performance of the Nifty Metal Index. By investing in nifty metal stocks, you can track the index's performance and invest in exchange-traded funds (ETFs).
Overview of the Metal Industry in India
India is home to a rich variety of minerals, making it one of the top producers of metals in the world. The country is the third-largest producer of steel, with a capacity of 142.3 million tonnes per annum (MTPA), and the fourth-largest producer of aluminium, with a capacity of 4.1 MTPA.
The metal industry in India is divided into two categories, namely ferrous and non-ferrous metals. Ferrous metals include iron and steel, while non-ferrous metals include copper, zinc, lead, and aluminium, among others. The industry has been a crucial contributor to the Indian economy, generating employment and revenue for the country. Thus, you can keep a keen eye on ferrous alloy share prices of the top metal industries to make your investment decision.
List of popular metal stocks in India
Here is the metal sector stocks list consisting of 5 popular metal companies based on the market capitalization in the share market.
| | | | |
| --- | --- | --- | --- |
| S.No. | Company Name | Sub-Sector | Market Cap |
| 1. | JSW Steel Ltd | Iron & Steel | 1,60,012.93 |
| 2. | Coal India Ltd | Mining – Coal | 1,33,762.02 |
| 3. | Hindustan Zinc Ltd | Mining – Diversified | 1,31,238.41 |
| 4. | Tata Steel Ltd | Iron & Steel | 1,27,097.18 |
| 5. | Vedanta Ltd | Metals – Diversified | 1,05,224.08 |
A brief overview of popular metal stocks
1. JSW Steel Ltd
JSW Steel Ltd is a holding company that is engaged in producing and distributing metals, especially steel. Incorporated in 1994, the multinational company enjoys a global presence in 100 countries with the help of state-of-the-art manufacturing facilities located in Karnataka, Tamil Nadu and Maharashtra.
2. Coal India Ltd
Incorporated in 1973, Coal India Ltd.(CIL) is the largest government-owned-coal-producer in the world. The company produces coal and related products and is one of the largest coal producers in the world. Thus, the company operates in over eight states of India and operates through 85 mining areas.
3. Hindustan Zinc Ltd
Hindustan Zinc Ltd (HZL) is an Indian mining company that was founded in 1966. The company produces zinc, lead, and silver and operates in India. Additionally, HZL is India's only and the world's largest integrated producer of Zinc-Lead. It is a subsidiary of Vedanta Limited.
4. Tata Steel Ltd
Tata Steel Ltd. is an Indian-based company engaged in the business of steel making, including raw material and finishing operations. Incorporated in 1907, the company offers a wide range of steel products, including flat and long products, tubes, and wires. Thus, the company operates in India, Europe, and Southeast Asia.
5. Vedanta Ltd
Vedanta Ltd is a natural resources Indian company founded in 1979. It operates in copper, aluminium, iron ore, power, zinc India (which comprises zinc and lead India), zinc international, oil and gas, and others. Additionally, the company operates primarily in India, with some international operations.
Factors to consider before investing in metal shares
Investing in metal stocks can be profitable, but checking metal share prices every time isn't enough. There are several other factors you should consider. Here are some key factors to consider before investing in metal shares:
Global Economic Conditions: Global economic conditions significantly impact metal prices. Economic growth can lead to increased demand for metals, while economic downturns can lead to a decrease in demand, affecting the prices of metal stocks.
Supply and Demand Dynamics: The supply and demand dynamics of the metal market play a critical role in determining the prices of metal stocks. Supply shortages or excess supply can significantly impact the prices of metals.
Government Policies and Regulations: Government policies and regulations can significantly impact the metal market. Changes in rules or policies related to trade, taxes, or environmental issues can affect the production and prices of metal stocks.
Industry-Specific Factors: Factors specific to the metal industry, such as technological advancements, production costs, and labour issues, can impact the profitability and prices of metal stocks. Investors should stay informed about these industry-specific factors to make informed investment decisions.
Benefits of investing in metal stocks in India
There are multiple benefits of investing in metal industries in India; thus, let's have a look at some of the prominent ones:
Diversification of Portfolio: Practicing portfolio investing in metal stocks can help in portfolio diversification. Thus, metal stocks in India can provide an opportunity to invest in different asset classes and help reduce the portfolio's overall risk.
Potential for Long-Term Growth: Metals are essential raw materials used in various industries such as construction, manufacturing, and transportation. Thus, the demand for metal stocks in India is expected to increase in the long term.
Hedge Against Inflation: Metal stocks in India can act as a hedge against inflation. When inflation rises, the prices of metals also tend to rise, as well, which can help protect the value of an your portfolio.
High Dividend Yields: Metal stocks often offer high dividend yields. This can provide you with a regular income stream and be particularly attractive for income-seeking investors.
Consider mitigating challenges with Metal Tracker smallcase.
Here, we have listed two primary challenges of investing in metal stocks in India.
Picking Out Individual Metal Companies: Investing in metal companies requires a careful selection of individual companies. Therefore, investors must conduct thorough research and analysis to identify companies with strong financials, sound management, and a competitive position in the market. It can be challenging for investors to pick out individual companies that are well-positioned to succeed in the highly competitive metal industry.
Volatility and Fluctuations in Metal Prices: One of the biggest challenges of investing in metal companies is the volatility and price fluctuations. The prices of metals can be highly volatile and fluctuate due to various factors such as changes in demand and supply, global economic conditions, geopolitical factors, and currency fluctuations. Thus, these price fluctuations can significantly impact the profitability of metal companies.
Metal Tracker Smallcase
We understand how daunting the task of selecting the best metal companies can be. Luckily, you don't need to select and track individual metal companies to understand how the metal industry market is working. Yes, it's possible with Metal Tracker smallcase.
The Metal Tracker smallcase by Windmill Capital is a smallcase that includes companies primarily engaged in aluminium, copper, manganese, iron & steel. These companies are pre-packaged and monitored by SEBI-registered professionals, who conduct detailed research, so you don't have to. Through smallcase, you can invest in companies with strong environmental, social, and governance (ESG) practices.
The list doesn't end here. At smallcase, you can diversify your portfolio by doing portfolio investing. This means you can invest in several companies at the same time to mitigate risks and enjoy favourable returns.
---
To conclude, investing in metal sector stocks or nifty metal index can offer significant potential for long-term growth, portfolio diversification, and protection against inflation. However, it is important to consider factors such as global economic conditions, supply and demand dynamics, government policies and regulations, and industry-specific factors before making investment decisions.
---
Keep yourself informed and up-to-date on a variety of thematic sectors by reading the articles below.