Top Ethanol (Sugar) Stocks in India (2023) for Your Investment Portfolio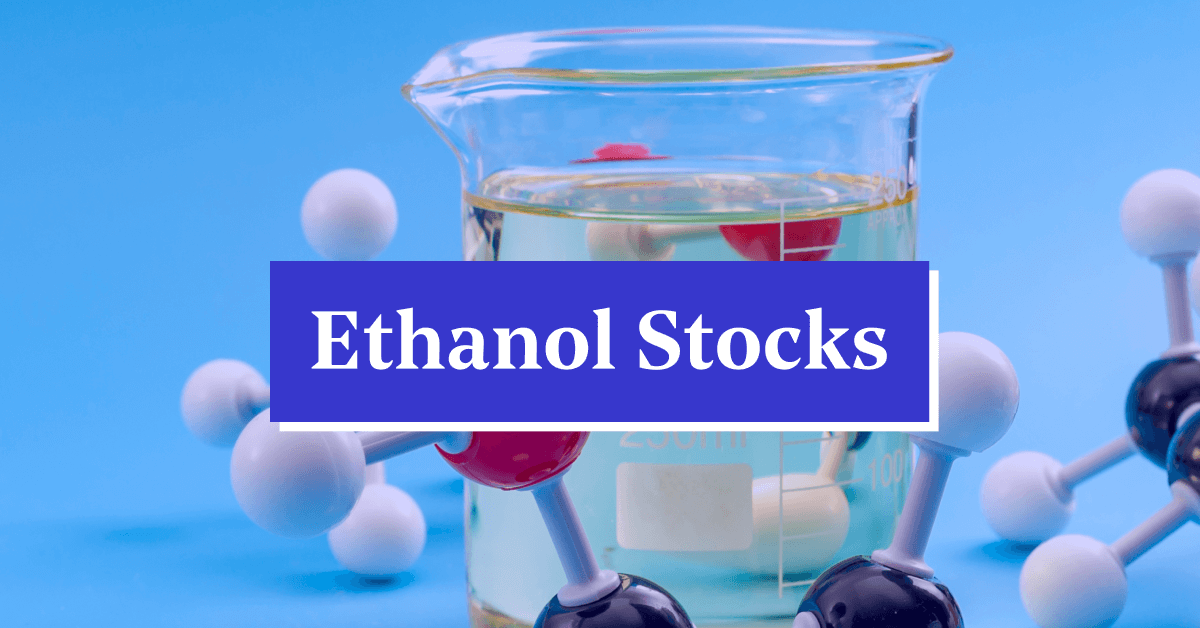 Reading Time: 11 minutes
Ethanol is a by-product of the sugar industry. A variety of plant sources, such as sugarcane, corn, and wheat produce this renewable fuel. A blend of gasoline and a clean-burning fuel is used to reduce harmful emissions from vehicles. People consider ethanol a biofuel, and it is one of the most widely used alternative fuels in the world. Additionally, Ethanol producers primarily produce ethanol from sugarcane molasses in India and use it as a fuel additive to gasoline. Thus, due to the rising demand for cleaner energy sources and the government's shift towards sustainable and green energy sources, the ethanol industry is slowly gaining momentum. As a result, the stock market has shown a keen interest in ethanol stocks, and the ethanol share prices of ethanol-producing companies in India have risen significantly over the years.
In this blog, we have explored the Indian ethanol stocks and how many ethanol-producing companies have increased substantially. Let's dive deep into the world of ethanol and how to invest in some of the best ethanol stocks in India.
What is the Ethanol Stock Market in India?
The use of ethanol as a fuel dates back to the early 20th century when it was first used in the United States as a fuel additive to increase octane ratings and reduce air pollution. In the 1970s, India started producing ethanol from sugarcane primarily for industrial purposes. However, the Indian government recognized the potential of ethanol as a renewable fuel in the early 2000s, and since then, the production and use of ethanol as a fuel have been steadily increasing.
The International Energy Agency states India is predicted to become the world's third-largest ethanol economy by 2026, surpassing the United States and Brazil. Considering that India is expected to increase its ethanol consumption to 3 billion litres by 2021, this is not surprising.
Currently, the ethanol stocks market in India is on the rise, with several ethanol manufacturing companies in India involved in the production and sale of ethanol. The Indian government has set a target of achieving 20% ethanol blending with petrol by 2025, which is expected to boost the demand for ethanol in the coming years. This has led to a surge in the share ethanol prices of ethanol producing companies in India, with investors showing keen interest in this sector.
List of Popular Ethanol Stocks in India
India is rapidly emerging as a global player in the ethanol industry, and as such, the demand for ethanol shares in India has seen significant growth among investors. Here is an ethanol stocks list of the top ethanol stocks with the largest ethanol producer in India for those looking to invest in this burgeoning industry.
Please note that the above list is for educational purposes only, and is not recommendatory. Please do your own research or consult your financial advisor before investing.
Note: The data in the ethanol share list in India is from 5th December 2023.  However, for real-time updates on stock prices and market trends, visit the smallcase stocks collection today!
Why invest in Ethanol Stocks?
Investing in ethanol stocks offers several compelling reasons. Firstly, it provides an opportunity to diversify your investment portfolio, mitigating the impact of market volatility and risk by adding a different asset class to your holdings. Additionally, ethanol, being a commodity, can serve as a hedge against inflation. As the prices of commodities like ethanol tend to increase with inflation, investing in ethanol stocks can help protect your capital's purchasing power during times of rising prices, providing a valuable asset for long-term financial stability.
Top Ethanol Stocks in India: An Overview
Let's review and understand why these ethanol company stocks in India are considered the top ethanol stocks NSE. Here are the top 3 ethanol companies stock in India.
Shree Renuka Sugars Ltd
Shree Renuka Sugars Ltd is an ethanol company in India that is primarily engaged in the manufacturing and sale of sugar, ethanol, and power. The ethanol producing company in India also produces and sells bio-fertilizers and bio-pesticides. They are the largest producer and manufacturer of ethanol in India and one of the top 10 ethanol producing companies in India:
E I D-Parry (India) Ltd
E I D-Parry (India) Ltd is a leading player in the Indian sugar export industry, involved in the manufacture and sale of sugar, bio-pesticides, and nutraceuticals. The ethanol production company in India is a part of the Murugappa Group, a conglomerate of companies in India and is one of the top ethanol companies in India.
Balrampur Chini Mills Ltd
Balrampur Chini Mills Ltd is one of the largest sugar manufacturing companies in India. It is engaged in the production and sale of sugar, ethanol, and power, and has several sugar mills located in various parts of India. It is one of the biggest ethanol producers in India.
Triveni Engineering and Industries Ltd
Triveni Engineering & Industries Limited, a sugar manufacturer, reported a 98% year-on-year decline in net profit for the financial year 2023-2024. The company's financial results, disclosed on October 30, reveal a net profit of ₹29.1 crore, sharply down from ₹1,388 crore in the corresponding period last year, making it one of the largest ethanol producers in India.
Bannari Amman Sugars Ltd
Bannari Amman Group, a major industrial conglomerate in South India, engages in diverse manufacturing, trading, and service activities. Its portfolio encompasses sugar, alcohol, liquor, granite, and wind power energy, among other sectors. It is one of the best ethanol stocks to buy in India.
How to Invest in Ethanol Stocks in India?
Investors like you who are interested in sustainable and alternative energy sources are choosing to invest in ethanol company shares, making it a popular choice. Thus, there are several ways to invest in ethanol stocks, including:
Online Brokerage: Many online brokerage platforms offer you access to a range of ethanol stocks India, including ethanol producers in India and ethanol manufacturers in India. You can research and compare different ethanol stock options before making investment decisions.
Direct Investment: You can also consider investing directly in ethanol companies in India through private equity or venture capital firms. This option is typically reserved for high-net-worth individuals and institutional investors.
However, if you're confused about which stocks to pick, you can explore smallcases:
smallcases are readymade portfolios of stocks/ETFs, that are based on a theme idea or strategy
They're created and managed by SEBI-registered experts
smallcase.com offers over 200+ stock portfolios, created by 180+ managers
Some of the popular smallcases among new investors are as follows:
Disclosures for aforementioned smallcases
Performance Parameters of Ethanol Shares
Apart from evaluating the ethanol share prices, various factors can affect its performance. Here are some of the main factors affecting ethanol stocks:
Government Policies: Governments can provide subsidies and tax incentives to ethanol-producing companies, which can increase ethanol share prices. In India, the government has introduced policies like the National Biofuel Policy and the Ethanol Blending Program. These aim to promote the use of biofuels and reduce dependence on crude oil.
Crude Oil Prices: Ethanol is often used as a substitute for gasoline. So when crude oil prices rise, ethanol becomes more popular, which increases its stock price. The inverse is also true. When crude oil prices fall, the decrease in demand leads to a decline in ethanol stocks share prices.
Weather Conditions: Ethanol is produced from crops like corn, sugarcane, and wheat. These crops are highly susceptible to weather conditions. Droughts, floods, and other extreme weather events can reduce crop yields, leading to a decrease in ethanol production and lower stock prices.
Ethanol Production Capacity: Ethanol production capacity is a critical factor affecting ethanol share prices. Thus, an ethanol-producing company has a higher production capacity and can meet the demand for ethanol, leading to an increase in ethanol share prices.
Exchange Rates: Many ethanol-producing companies export their products to other countries, and fluctuations in exchange rates can affect their revenue. Thus, a decrease in the local currency makes exports more competitive and boost revenue. Leading to an increase in ethanol share prices.
Advantages of Investing in Ethanol Stocks
Investing in ethanol stocks in India can offer you several benefits. Ethanol, a renewable fuel produced from plant matter, has gained popularity as an alternative to fossil fuels. Some of the advantages of investing in ethanol stocks include:
Environmentally Friendly: Ethanol is a clean-burning fuel that emits fewer greenhouse gases and pollutants than traditional gasoline. As a result, ethanol shares are popular among investors who are environmentally conscious. Also, who wants to support ethanol making companies in India that promote sustainable practices.
High Demand: Experts expect the demand for ethanol to increase significantly in the coming years due to the rising need for alternative fuels. Ethanol producers in India and other countries are in an ideal position to benefit from this trend. Thus, this which makes investing in ethanol stock a potentially lucrative opportunity.
Government Support: To promote the use of ethanol as a fuel source many governments around the world offer incentives and subsidies. Thus, government support can help reduce the risks associated with investing in ethanol stocks and make them a more attractive option for you.
Challenges Associated with Ethanol Stocks Investing
Investing in ethanol stocks can offer lucrative opportunities for you, but there are several challenges associated with it. Some of the significant challenges that you might face while investing in ethanol stocks in India include:
Fluctuating Prices: The commodity price of corn highly influences ethanol stocks since it is the primary source of ethanol production. The prices of corn and ethanol are volatile and can fluctuate significantly, thus, making it challenging for you to predict future returns.
Competition from Alternatives: Other alternative sources of fuel, such as electric vehicles and hydrogen fuel cells, intensely compete with ethanol producers and manufacturers in India. This competition can limit the demand for ethanol and impact the growth potential of ethanol stocks.
Political and Regulatory Risks: Ethanol penny stocks are also vulnerable to political and regulatory risks. As changes in government policies and regulations can have a significant impact on the industry. Ethanol stock list investors need to keep track of changing regulations, tax incentives, and subsidies that may impact the industry.
To Wrap It Up…
To conclude, the highest ethanol producing company in India has played a crucial role, in the Indian economy as ell as lifestyle. Thus, these companies have expanded their production capacities and increased their market presence. Well, thanks to the government's shift towards renewable energy sources. 
So, what are you waiting for? Start investing in a renewable energy stock portfolio with ethanol stocks via smallcase.
FAQs
1. Is it good to invest in ethanol stocks?
Compared to crude oil and other fuels, Ethanol stands as a more environmentally friendly energy source, leading to higher demand, particularly in nations like China with a growing preference for biofuels.
2. What is the future of ethanol sector in India?
The future of ethanol sector in India is bright. Government policies, demand for eco-friendly fuel, and increasing use of excess grains and sugarcane are driving the growth of ethanol sector in India.
3. What are the 3 best Ethanol Stocks in India?
The 3 best Ethanol Stocks in India are:
1. Shree Renuka Sugars Ltd
2. E I D-Parry (India) Ltd
3. Balrampur Chini Mills Ltd
Note: This is for educational purposes only and it is not meant to be a recommendation.
4.  Is it a good time to invest in Ethanol stocks?
Ethanol stocks present a promising investment opportunity for several compelling reasons. These include strong demand for ethanol, government backing for the ethanol sector, a roadmap to achieve ethanol blending targets by 2025, portfolio diversification benefits, and its role as an inflation hedge. Investors must consider their investment goals and risk appetite before investing.
5. Who Should Invest in Ethanol Stocks?
If you have the financial resources to support yourself, Ethanol stocks can be a great investment. However one must evaluate their investment goals and risk appetite before investing.

6. Can Ethanol stocks be profitable for investors?
Ethanol, as a more environmentally friendly energy source compared to crude oil and other fuels, experiences increased demand. However, investors must evaluate both growth potential and challenges before investing.

---