Best Automotive (Car) Stocks on NSE for Long Term Investing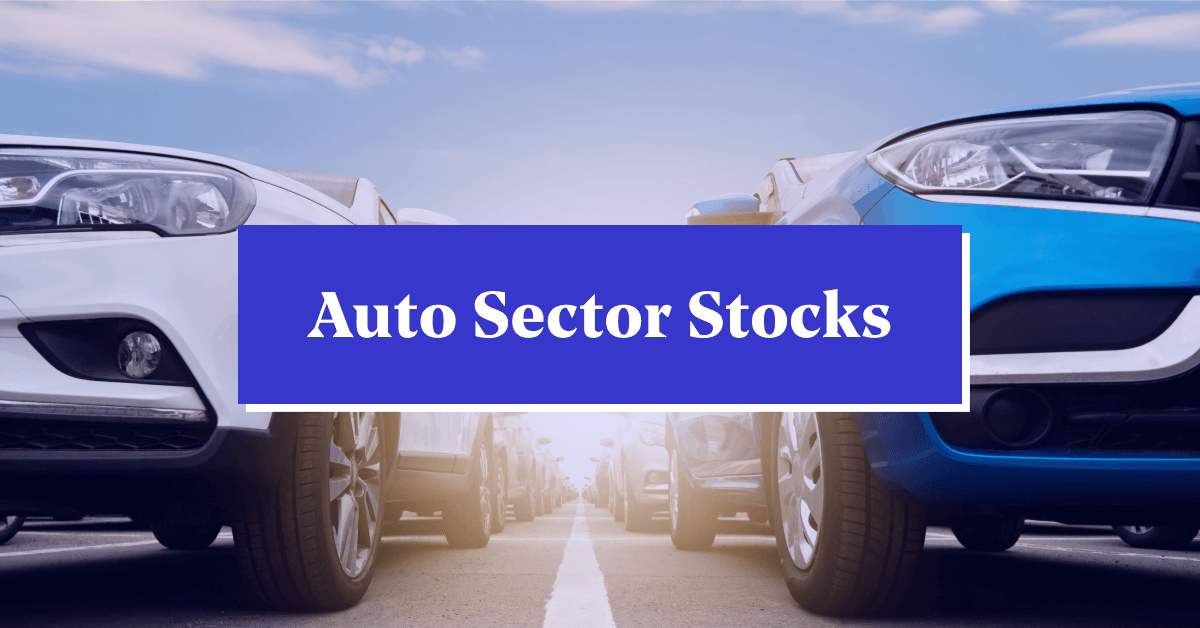 Reading Time: 10 minutes
Auto sector stocks are on a roll. The Nifty Auto index has gained over 20% in the last year, and some stocks have even doubled in value. This is due to a number of factors, including strong demand for cars and motorcycles, rising disposable incomes, and government incentives for electric vehicles. With a prediction to grow at a CAGR of 10% in the next five years, the auto sector stocks are destined to deliver strong stock returns.
So, whether you're a car enthusiast or just looking to grow your investments, this blog has got you covered. Let's begin.
What are Auto Sector Stocks?
Whether you're a car enthusiast or just looking to grow your investments, you must have heard about the auto sector stocks that people can't stop talking about. Auto sector stocks are shares of companies that are part of the automotive industry – you know, the folks who manufacture or sell cars, motorcycles, and other vehicles.
Being a cyclical industry, the global auto industry is expected to grow at a compound annual growth rate (CAGR) of 3.6% from 2022 to 2027.
A total of 3.2 crore people, both directly and indirectly, are employed in the automotive sector, which contributes 15 percent to the country's total tax collections. Thus, when you invest in auto sector stocks, you're essentially buying a piece of these companies, hoping they'll do well and make your investment grow. Just like how you might invest in your favourite tech gadget, investing in auto sector stocks is like putting your money on the road to potential profits.
Little Sneak Peak into the 8 Best Auto Stocks in India
Listed below are the top auto stocks in India right now. These auto sector stocks NSE are always listed higher than other auto stocks in the country. Thus, top 8 automobile companies listed in NSE are here below in an auto stocks list:
| Company Name | Sub-sector | Market Cap (in ₹) | Share Price |
| --- | --- | --- | --- |
| Maruti Suzuki India Ltd | Four Wheelers | 2,83,882.76 | ₹10,521 |
| Tata Motors Ltd | Four Wheelers | 2,25,960.84 | ₹633.4 |
| Mahindra and Mahindra Ltd | Four Wheelers | 1,84,997.35 | ₹1,584.9 |
| Eicher Motors Ltd | Two Wheelers | 93,141 Cr | ₹3,392.65 |
| Bajaj Auto Ltd | Two Wheelers | 1,31,196.01 | ₹4,793.55 |
| Samvardhana Motherson International Ltd | Auto Parts | 64,918.12 | ₹100.9 |
| TVS Motor Company Ltd | Two Wheelers | 64,117.76 | ₹1,491.15 |
| Hero MotoCorp Ltd | Two Wheelers | 60,678.22 | ₹3,038.6 |
| Tube Investments of India Ltd | Cycles | 56,946.78 | ₹3,532.5 |
Note: The data in the auto sector stocks list is from 10th September 2023. However, for real-time updates on stock prices and market trends, visit the smallcase stocks collection today!
Why Should I Invest in Auto Sector Shares?
Investing in auto sector stocks can be a smart move for a few reasons. First off, think about how many cars you see on the road every day – lots, right? That means there's a constant demand for cars, trucks, and other vehicles. This demand can lead to steady sales and profits for auto companies.
Additionally, one big trend right now is the shift towards green energy and renewable energy. With concerns about the environment and rising fuel costs, more and more people are looking for electric and hybrid cars. This shift presents a great opportunity for auto companies to innovate and create fuel-efficient vehicles that are better for the planet.
Overview of the top 3 Auto Sector Stocks in India.
Here is a brief overview of the best auto stocks to buy in India. These are the top automobiles in India currently!
Maruti Suzuki India Ltd:
This car stock is the largest car manufacturer in India. The company's profitability is being driven by strong sales of its cars, as well as by cost-cutting measures.This is one of the top automobile stocks in India.
Tata Motors Ltd:
This automotive stock is the second-largest car manufacturer in India. The company's profitability is being driven by strong sales of its cars, as well as by its commercial vehicle business. This is one of the top automobile companies in India right now.
Mahindra and Mahindra Ltd:
This auto sector stock is a diversified conglomerate with interests in the automotive, farm equipment, and aerospace sectors. The company's profitability is being driven by strong sales of its tractors and SUVs. This is one of the best automobile stocks in India.
Track and Invest Smart Via Auto Tracker smallcase
Explore a smart and hassle-free way to track and invest in auto sector stocks. Introducing 'Auto Tracker' smallcase – your all-in-one solution. It is a portfolio of the best auto sector share lists. It includes a diverse range of companies, from automobiles and auto parts to batteries and tyre manufacturers, making it a smart choice for anyone looking to dive into this thriving industry.
With the Auto Tracker smallcase, you can seamlessly monitor the performance of the key players and strategically invest in the automotive sector, all in one place.
However, if you're confused about which stocks to pick, you can explore smallcases:
smallcases are readymade portfolio of stocks/ETFs, that are based on a theme idea or strategy.
They're created and managed by SEBI-registered experts,
smallcase.com offers over 200+ stock portfolios, created by 180+ managers.
Some of the popular smallcases among new investors are as follows:
Disclosures for aforementioned smallcases
What are the Factors to Consider Before Investing in Automobile Stocks?
Investing in auto sector stocks can be pretty exciting, but there are a few things you should think about before diving in. Let's break it down:
Market Trends: Keep an eye on what's happening in the auto sector stock world. Are electric vehicles (EVs) becoming more popular? Is there a shift towards eco-friendly options? Understanding trends can help you make smarter investment decisions.
Company Performance: Take a look at how the company you're interested in is doing. Are their sales going up? Is their market share growing? A company with a solid track record is usually a safer bet.
Competition: Check out who the company's competitors are. Are they ahead in innovation? Strong competition can affect a company's growth and market share.
Economic Factors: Consider the overall economy. If people have less money to spend, they might hold off on buying new cars, affecting the company's performance.
Regulations & Policies: Automobile companies are often affected by government regulations. Keep an eye on policies related to emissions, safety standards, and more.
Technology & Innovation: See if the company is investing in new technologies like autonomous driving or connectivity. Being at the forefront of innovation can give them an edge in the stock market.
Global Factors: Consider how the global economy is doing. Auto sector stocks can be influenced by factors like economic growth, consumer spending, and interest rates.
Risks associated with investing in Automobile Stocks
Investing in automobile stocks can be rewarding, but it's essential to be aware of the risks. Here are some potential pitfalls to consider:
Market Cyclicity: The automotive industry is cyclical, with sales often influenced by economic conditions. During economic downturns, demand for vehicles can plummet, affecting stock prices.
Regulatory Changes: Stringent environmental regulations can significantly impact automobile manufacturers. Changes in emission standards or fuel-efficiency requirements can lead to increased production costs and affect profitability.
Competition: The automobile industry is highly competitive, with numerous players vying for market share. Established companies and new entrants constantly innovate and compete, which can pressure profit margins.
Supply Chain Disruptions: Disruptions in the supply chain, like shortages of key components or disruptions due to natural disasters, can impact production and stock prices.
It's essential for investors to conduct thorough research, diversify their portfolios, and stay informed about industry trends and developments to mitigate these risks when investing in automobile stocks.
Does the Future of Auto Sector Stocks Look Promising?
The future of the auto sector stocks does seem promising! And guess what, it's not just a hunch – there are some major policies in place that are adding an extra edge.
First up, we've got the PLI scheme, which stands for the Production Linked Incentive scheme. This nifty policy is designed to give a boost to the auto sector by offering incentives to manufacturers. These incentives can really amp up their production and make their stocks look more appealing. So, with the PLI scheme in play, auto sector stocks might have a bright future ahead.
Then there's the National Electric Mobility Plan (NEMP) – sounds techy, right? This plan is all about promoting electric vehicles (EVs), which are becoming the new cool kids on the block. With the world shifting towards greener alternatives, companies investing in EVs might see a surge in demand, and that could translate to promising stock performance.
Lastly, we've got the National Auto Policy. This policy is like a roadmap for the auto industry, guiding it towards growth and innovation. When companies align with this policy, it can lead to better strategies, better products, and you guessed it, better stock performance.
Advantages of Investing in Automobile Stocks
Investing in automobile stocks offers several advantages for investors looking to diversify their portfolios and potentially profit from this dynamic industry. Here are four key advantages:
Potential for Long-Term Growth: The automobile industry has historically shown resilience and adaptability to changing market conditions. Investing in established automobile companies can provide exposure to long-term growth, driven by global demand for vehicles.
Dividend Income: Many automobile companies offer dividends to their shareholders, making them attractive for income investors. These dividends can provide a steady stream of passive income, especially from well-established companies.
Innovation and Technological Advances: The automotive sector is at the forefront of innovation, with advancements in electric vehicles, autonomous driving technology, and connectivity. Investing in companies leading these innovations can be rewarding as the industry evolves.
Global Reach: Leading automobile manufacturers have a global presence, with operations and sales in various countries. This global reach can help diversify your investment portfolio and reduce risk associated with regional economic fluctuations.
By carefully selecting automobile stocks, conducting thorough research, and staying informed about industry trends, investors can harness these advantages to build a well-rounded investment strategy.
To Wrap It Up…
In a nutshell, auto stocks India offer a mix of thrilling prospects and potential pitfalls. Staying aware of the risks and seeking expert advice can help you make an informed and confident investment decision. And guess what? You can easily invest in a readymade bundle of car stocks or automobile stocks via smallcase. So, don't miss out and start investing today!
FAQs
1. How do I choose the right auto sector stocks to invest in?
When choosing auto sector stocks to invest in, it is important to consider the following factors: the company's financials, thriving products, management, and industry outlook. 
2. When is the best time to buy auto sector penny stocks?
The best time to buy auto sector penny stocks is when the market is undervalued. This can be difficult to time, but it is important to be patient and wait for the right opportunity.
3. How much tax is implied on auto sector stock?
Auto sector shares are currently subject to a 28% GST with an additional cess that ranges from 1-22% depending on the type of vehicle.
4. Is it good to invest in auto sector stocks?
The auto sector is cyclical; invest long-term. India's auto sector shows promise with rising demand for electric vehicles and sustainability. Diversify and research before investing.
5. Who Should Invest in Automobile Sector Stocks?
Investing in auto companies can enhance diversification for investors with concentrated portfolios in other sectors, providing exposure to emerging markets and innovative technologies such as autonomous and electric vehicles.
6. How can I invest in Automobile sector stocks?
Discover 'Auto Tracker' smallcase, your one-stop solution to track and invest in the auto sector. It's a diverse portfolio of top auto sector stocks, covering everything from automobiles and parts to batteries and tire manufacturers, ideal for those interested in this booming industry.
---