Solar Industries Shares in India: An Overview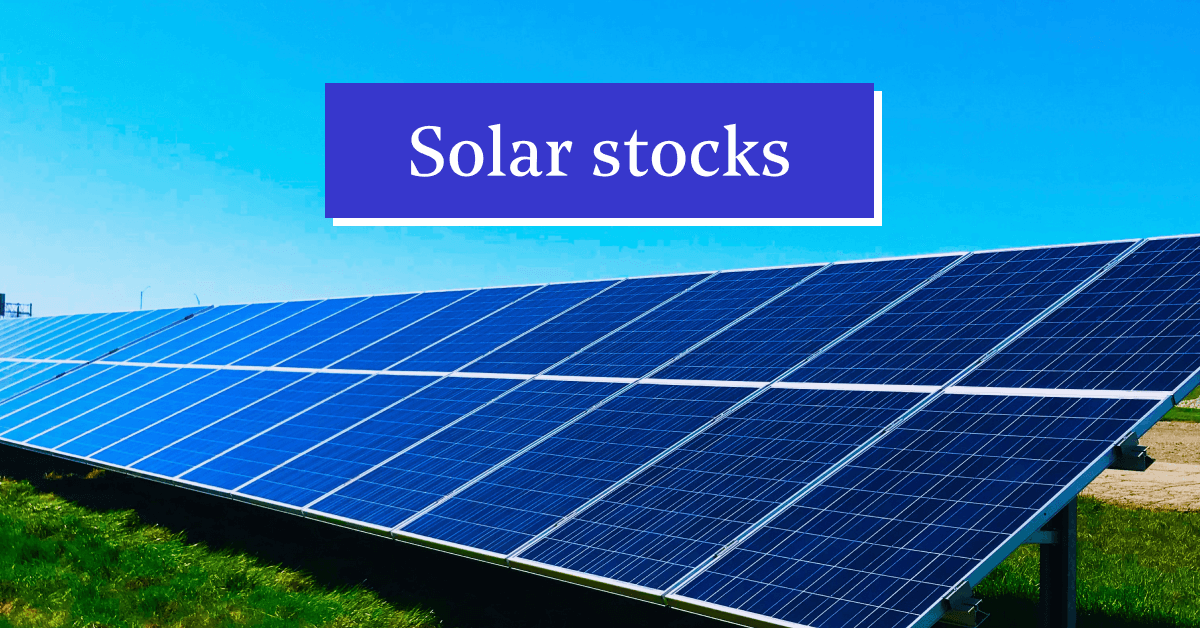 Reading Time: 6 minutes
Initially, India's industrial growth and economic progress were being hampered by acute energy scarcity. As a result, setting up new power plants came with the import of highly volatile fossil fuels. Given the current state of the climate crisis and our government's mission to be net carbon zero, it is imperative to make judicious use of renewable energy resources, such as biomass, solar, wind, and geothermal energy.
With over 5000 trillion kWh per year of energy generated by the sun, solar energy in India is steadily picking up its pace. Since most developed countries are switching to solar energy, investors are keen to invest in solar industry shares to encourage clean energy solutions in the country.
In this blog, we will explore the current state of solar stocks in India, the reasons for the sudden investor interest, popular solar industry shares, and what readers can expect in the future.
What are Solar Energy Stocks in India?
Solar energy is a clean and renewable resource with zero emissions. Various devices can harness the tremendous energy potential of solar power. In recent years, solar energy systems have become readily available for industrial and domestic use by also being maintenance-free.
The rapid development in solar energy has positively impacted investors' views on investing in solar energy stocks in India. Solar energy stocks are stocks or shares of companies that are involved in producing, installing, or distributing solar energy products or services. These companies primarily manufacture solar panels, inverters, and other components of solar energy systems. They also provide services such as installation, maintenance, and monitoring of solar energy systems.
Thus, investing in solar energy stocks in India can expose investors to the rapidly growing renewable energy sector. Therefore, as the world moves towards more sustainable energy sources, India's solar industries are expected to become increasingly essential, and solar power share prices are set to rise.
5 Popular Solar Industries to Invest in 2023
The Government of India has begun to realize the importance of solar energy, which has boosted the momentum of solar industry share prices. Therefore, let's look at the best solar energy stocks in India.
Overview of the Solar Industries Shares
Let's quickly look at the top solar companies in India listed in the stock market.
Adani Green Energy Ltd: Adani Green Energy Limited is a part of the Adani Group and is one of India's largest renewable energy companies. The company is engaged in developing, constructing, operating, and maintaining renewable power projects, including solar and wind energy.
NHPC Ltd: NHPC Limited is a hydroelectric power generation company in India. The company's primary business is constructing and operating hydroelectric power plants, including run-of-the-river and storage-based projects.
SJVN Ltd: SJVN Limited is another hydroelectric power generation company in India. The company is a joint venture between the Government of India and the Government of Himachal Pradesh. SJVN's primary business is the construction and operation of hydroelectric power plants.
Jaiprakash Power Ventures Ltd: The Jaypee Group includes Jaiprakash Power Ventures Limited, which develops, operates, and maintains power projects in India. The company's portfolio includes both hydroelectric and thermal power projects.
Virescent Renewable Energy Trust: Virescent Renewable Energy Trust is an Australian infrastructure fund that invests in renewable energy assets. The trust mainly focuses on wind and solar energy projects and owns a portfolio of renewable energy assets across Australia.
The Future of the Solar market in India
The Rural Electrification Program of 2006 was the first step by the Indian Government towards rural consumption and solar power. To date, the initial growth of the solar industry has been dramatic.
The National Action Plan on Climate Change states,
"India is a tropical country, where sunshine is available for longer hours per day and in great intensity. Solar energy, therefore, has great potential as a future energy source. It also has the advantage of permitting decentralized energy distribution, thereby empowering people at the grassroots level".
Solar Parks, Solar Rooftop Programs, Net Metering, International Solar Alliance, and many others are the Ministry's exciting initiatives to encourage clean and renewable energy. Additionally, as part of the Union Budget 2023, the Indian government has increased the budgetary allocation for 'off-grid' solar projects. Additionally, the government is expected to spend 61 crores in the current fiscal year but has budgeted 360 crores for the next fiscal year.
At last, the country anticipates totalling 15,820 TWh by 2040, hoping for an exciting set of investors to invest in solar industry shares.
Factors to Consider Before Investing in Solar Stocks
If you're considering investing in solar stocks in India, there are several factors to take into account to ensure a well-informed investment decision, including the performance of the solar industries share and the current state of the solar stocks market in India.
Here are some factors to consider before investing in solar stocks:
Government Policies and Incentives: Government policies and incentives can significantly impact the growth and profitability of solar companies. These policies have created a favourable environment for solar companies and helped boost solar energy stocks.
Portfolio Diversification: Portfolio diversification is crucial when investing in the stock market, including the solar industry's share. Investing in solar stocks in India can help diversify a portfolio, and you can assess the potential impact of adding solar stocks.
Competition from Traditional Energy Sources: Solar companies face competition from traditional energy sources such as coal, oil, and gas. These energy sources are still widely used in India, so fluctuations in solar share prices may impact solar energy stocks.
Global Economic Conditions: Global economic conditions can affect solar companies. For example, the COVID-19 pandemic has disrupted global supply chains and impacted the solar industry's supply of raw materials and components, leading to a temporary decline in solar energy stocks.
Benefits of Investing in Solar Industries Shares
The rising solar energy share prices and the government's push for renewable energy are expected to drive significant growth in the solar industries in India. Some of the benefits are listed below:
Potential for long-term growth: Over the past decade, the solar industry has steadily grown and is expected to continue growing in the coming years. The increasing demand for renewable energy and the declining cost of solar technology will boost the growth for many years.
Diversification of portfolio: Investing in solar stocks can help diversify a portfolio and reduce risk. Solar energy stocks can offer a different risk and return profile than traditional energy stocks. Thus, it provides investors with exposure to a different sector of the economy.
Positive environmental impact: Solar energy is a clean and renewable energy source. Investing in solar industry shares can help support the transition to a more sustainable energy system. Investing in solar stocks can help reduce greenhouse gas emissions and mitigate climate change.
Potential for high returns on investment: As the solar share prices continue to grow, there is the potential for high returns on investment. Thus, solar companies that can compete effectively in the market continue to innovate and offer growth and profitability.
---
To conclude, India has great potential to generate electricity from solar energy and emerge as a solar energy hub. The solar share prices are expected to rise as the Indian government continues to promote solar stocks. Luckily, you don't have to monitor every share in the solar industry. How?
Now, you can simply get exposure to portfolio investing via smallcase by choosing a portfolio of the top solar companies in India listed in the stock market within a click.
So, put your money where the sun shines and invest in solar stocks in India with smallcase!
---
Keep yourself informed and up-to-date on a variety of thematic sectors by reading the articles below.