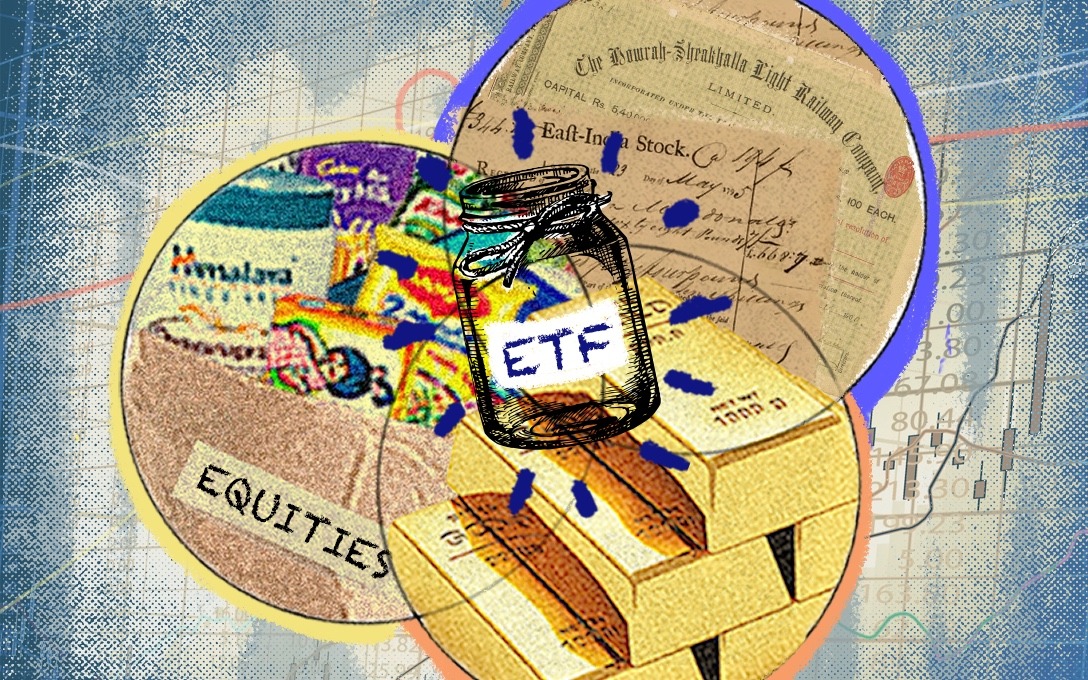 Reading Time: 2 minutes
The new way to buy gold
Dhanteras is the first day of the Diwali festival. People celebrate the festival by lighting lamps to drive away the shadows of evil spirits and purchase gold, new clothes & electronics as a way of welcoming Goddess Lakshmi.
While traditionally people have been buying gold coins or jewellery, one can explore non-traditional ways to buy gold these days. One effective way to invest in gold is by buying the Equity & Gold smallcase. This smallcase invests in a combination of equity and gold exchange-traded funds (ETFs). 
An ETF is a tradable instrument that tracks an index, a commodity, bonds, or a basket of assets like an index fund. ETFs are very similar to mutual funds, the main difference being they are listed on exchanges and trade just like stocks. Learn more about ETFs here.
The Equity & Gold smallcase invests in large-cap companies using Nippon India ETF Nifty BeES. This ETF provides exposure to a diversified basket of large-cap stocks. Large-cap companies are usually well-established and are best suited for long-term wealth creation. Nippon India ETF Gold BeEs provides exposure to gold. Gold is the best form of hedge against inflation and geopolitical uncertainties. Since the price of gold is negatively correlated with the price of the stock, the former is a very effective portfolio diversifier. 
The smallcase been gaining momentum over the previous 6 months and has returned 6.35%. 
$60B investment coming in gas infra
Last week, Oil Minister Dharmendra Pradhan said that India is investing over $60 billion in developing natural gas supply and distribution infrastructure; the target is of more than doubling the share of natural gas in its energy base to 15% by 2030. City gas distribution network is soon expected to cover 70% of India's population.
He said that the Government has laid emphasis on developing a gas-based economy; it is giving special impetus to develop gas infrastructure across the length and breadth of the country connecting north to south and east to west parts of India.
The Energy Tracker smallcase comprises gas exploration & distribution, coal, power generation & transmission and oil & gas companies to allow investors to efficiently track and invest in the energy sector.
Markets update
After gaining ground for 5 straight sessions, benchmark indices closed firmly in the green this week. Nifty closed up 3.16% at 11,661.9 and Sensex closed up 3.07% at 39,298.4.
Amongst sectoral indices, Insurance tracker has gained 11.0% during the week.
Wholesale prices in India rose by 0.33% year-on-year in September 2019 compared with market expectations of a 0.90% gain. It is the lowest wholesale inflation rate since a 0.09% fall in June 2016. The retail price inflation rate rose to 3.99% year-on-year in September 2019 above market expectations of 3.7%. It was the highest inflation rate since July last year.
India's trade deficit narrowed to USD 10.86 billion in September 2019 from USD 14.95 billion in the corresponding month of 2018 and below market consensus of USD 12.85 billion.