Reading Time: 9 minutes
The global economy was already undergoing turbulence in 2019, and now, in the wake of the pandemic, the world saw a shutdown of economic activity for the first time in more than 100 years resulting in sharp fall in GDP growth rates
The higher the debt levels, the more costly and economically damaging social distancing would be for an economy.
In this blog, we have tried to put forth our perspective about the economic situation under this volatile environment. Impact of COVID 19 on Indian Industry
A. Impact of COVID 19 on Indian Industry
India's real GDP growth decelerated to its lowest in 2019, and the outbreak of the COVID-19 posed fresh challenges. Steps taken to contain its spread, such as the nationwide lockdown have brought economic activity to a near-standstill, with impacts on both consumption and investment.
While Indian businesses, barring a few sectors, can possibly insulate themselves from the global supply chain disruptions caused by the outbreak due to relatively lower reliance on intermediate imports, their exports to COVID-19 infected nations could take a hit.
In sum, the three major contributors to GDP i.e. private consumption, investment, and external trade will also get affected by the COVID.
Remember, GDP=C+I+G+ (X-M)
Let us understand the impact on a few sectors:
Agriculture Related – Agricultural activities were least affected by the lockdown. As a result, the impact was minimal on companies related to this sector. Markets have also recognized this and shares relating to Seeds, Agrichem, fertilizers, etc. have seen a massive rally.
Our Portfolio pick Astec Lifesciences Ltd has given multi-bagger returns in this period. We believe that there is still room for the jump in share prices given the opportunities to be created due to anti-china sentiments and actions in India and around the world.
Service Sector – The service sector is mostly IT/ BPO and BFSI in the listed space in exchanges. As the results have shown, IT has not been much affected by the pandemic. Companies have adopted work from home very effectively. Fresh contracts being secured.
We believe that the actions proposed/ taken by the US administration under Mr. Donald Trump may see enhanced activities due to the coming election.
So there could be volatility in this space for the short term. Investors in this sector should have a long term horizon.
Further in Banking/ NBFC, this space seems risky to us. Due to moratorium, the quality of books is impossible to ascertain. But we are with the general view that we will see rise NPAs as the true picture will appear gradually over time. So we suggest avoiding this sector for now.
Manufacturing – The COVID-19 pandemic hit manufacturers in an unprecedented and unexpected way. Workforce (mostly migrants) in many factories went back to their homes due to not having any employment as factories had to close in this pandemic. The demand had fallen to the bottom globally, while supply-chains had been disrupted worldwide.
Many reports suggest that the country is coming closer to pre-COVID levels of demand and production. We are of the opinion that investors should start selective buying in manufacturing companies. There are many good companies available at very attractive valuations. The one question that you should be asking yourself should be 'which company will lead the supply side, whenever the demand revives? '
We like the Pharma and API space, Chemicals, Electronics, and Power equipment.
B. Atmanirbhar Bharat – following up on the 20 lakh crore package
If you read between the lines from actions taken by the Government, every day there is some announcement and action with regards to AatmaNirbhar Bharat.
Let's say for example – Coal block mining Bidding for commercial mines has already started with the first batch of 41 mines. This is a game-changer step as we import over 20 billion dollar coal every year whereas our abundant coal reserves remain idle. Initial reports suggest that response has been good. Expression of interest from JSPL, Adani, JSW, Vedanta
Defense – Taking action after the announcement, the Government has issued a of list 26 items which will be procured only from domestic manufacturers. This list, as per our information, is being enhanced. Further as per the policy draft issued by Defense Ministry a target to achieve a turnover of Rs 1,75,000 Crores (US$ 25Bn) including export of Rs 35,000 Crore (US$ 5 Bn) in Aerospace and Defense goods and services by 2025, has been set. Several reforms have been planned to expedite the clearance of Make in India for defense products. This space is to watch out for.
PSU Policy – The revolutionary policy of selling all the PSUs except for a few strategic ones – is a game-changer announcement. Even though any material development is not there because of lockdown, but the government seems fully determined. Air India, BPCL, Container Corporation are some big names that could be the first companies to go on sale. Once the travel restrictions are lifted, it would be interesting to see how the government will evince the interest of buyers in this economic situation. Once privatized, these companies hold immense potential. So keep an eye on them.
Discom Privatization in UT – We have not heard much about it. But this is the future. Recently Tata Power has bagged Discom operations in 5 circles in Orissa. Up Government is also planning to privatize some Discoms in the state. We think Tata Power could lead the bidding. We also like Tata Power at current valuations.
C. Performance Linked Incentive Scheme (PLI)
The scheme extends an incentive of 4% to 6% on incremental sales (over a base year) of goods under target segments that are manufactured in India to eligible companies, for a period of five years subsequent to the base year (FY2019-20).
A total of 22 companies have filed their applications under the PLI Scheme. Over the next 5 years, the Scheme is expected to lead to the total production of about INR 11.5 lakh crores. Out of the total production, companies under Mobile Phone (Domestic Companies) segment have proposed production of about INR 2,00,000 crore and those under Specified Electronic Components segment have proposed a production of over INR 45,000 crore.
It seems the PLI will be a blockbuster success and hence the government has decided to launch such schemes for other sectors too. (Keep an eye on these sectors. There are many hidden gems.) The PLI scheme for API (53 raw materials and active pharmaceutical ingredients (APIs)) and medical devices is underway and soon its numbers will be out as the last date is achieved. We understand that it will be an even bigger success. We are not only going to substitute the local imports but we will also play a vital role in API exports in the years ahead.
D. Anti-China sentiments
With the COVID, global sentiments have accelerated against China. Galwan Issue further strained the relationship.
India led the ban of 59 Chinese Apps and then we saw a follow up from countries like USA, UK, Australia, Indonesia
G7 nations have openly criticized China and its role with the pandemic and recent geopolitical tensions due to land disputes it raised
We have seen many countries wanting to diversify their exposure to China and shift manufacturing to other countries
India has made a drastic move to attract such global FDI.
Stricter FDI restrictions are being planned for FDI from neighboring countries especially from China and HK
Anti-Dumping on Chinese goods (application clearances in as soon as one week)
The government is working on steps to reduce import dependence on China and boost domestic manufacturing. The government is taking action as if there is no tomorrow. This creates immense opportunity, somewhere around 60 billion dollars ANNUAL opportunity, for various Indian companies. (As our trade deficit with China is roughly 60 billion dollars). Rather the opportunity is much bigger, as the world is also moving out from China – so export substitution of China is another opportunity.
Just to put in perspective China maintains a trade surplus of about 351 billion U.S. dollars ANNUALLY. Just to put in perspective, look at below data: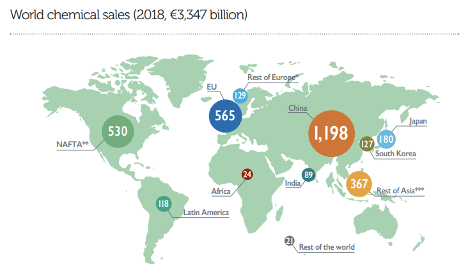 Total chemical, the world produces – 3347 Billion USD and India just ~2.5% of this. There is a huge opportunity for us to increase our market share.
Key opportunities that we see in anti-china actions in the world:
Almost everything as China is the factory of the world.
China is right now the center of the Global Supply chain and most of the countries are dependent on China, either directly or indirectly, to fulfill its demand.
But Currently, COVID-19 has given a significant impact on global trade dynamics which will force the world to give a thought that this is the right time to reshape the current supply chain. India is the best fit player in this race.
Following are some of the sectors where this opportunity can be tapped:
API/ Chemicals
Electronics
Automobile
Power distribution/ generation equipment's
Textiles
E. Threats
An increasing number of COVID cases in India cause for concern. India is now at the top in terms of daily cases reported. While many countries could successfully flatten their curve, we are yet to see a meaningful reduction in daily addition. As a result of growing cases, regional lockdown/ containment areas are there. This disrupts the supply chain and manpower movement.
Protectionist sentiments worldwide – Leading market economies are erecting new walls against foreign investment and suspicious trade practices, spurred by coronavirus-triggered economic upheaval and China's increasing assertiveness.
A possible rise in bad loans – Various reports and experts suggest that NPA levels will increase post-COVID-19. Moratorium and restructuring will only defer the inevitable.
Geo-Political Tensions- There is an increasing conflict of China with many neighboring countries. India has also recently faced border issues with China, Pakistan, and Nepal. Any war can trigger an immediate impact on the economy and markets.
F. Crisis to opportunity- Some Recent announcements
Following are the areas where we are seeing regular action and intent from the Government:
-Privatization
-Import Substitution
-Incentivizing local production
-Attracting FDI
-RBI measures to ensure monetary support (moratorium, restructuring, changes in provisioning, liquidity, changes in LTV)
-Global diplomatic relations (USA, Israel, Russia, Japan, etc)
-Ordinances to approve land, labor, and industrial reforms
-Ease of doing business -Structural changes including pooling land for FDI investments
Following are some of the recent news items which will provide a further perspective to our stance on these developments:
PLI scheme to bring Production to India, Jim Cathey, President, Qualcomm
Micromax to invest Rs. 500 crores in R&D, manufacturing, backed by India's PLI scheme
iPhone maker in India, Foxconn says "China's days as Worlds Factory are over"
22 companies apply for India's new PLI scheme, Government
Government notifies PLI scheme for API, medical devices, manufacturing
Samsung, LG, iPhone maker Pegatron may pump in $1 billion each to make in India under PLI scheme
India attracts $22 billion FDI during Covid-19, Amitabh Kant
BPCL Privatisation expected to be completed by March
India levies Anti-Dumping Duty on black toner, PET Raisins, Digital Printing Plates, and various other products from China
Government looking at non-tariff barriers to curb China imports