smallcase in focus
Usha Martin stock has delivered over 1280% return in last 3 years; is further upside left?
Reading Time: 3 minutes
Usha Martin (UML) is primarily engaged in the manufacture and sale of steel wires, strands, wire ropes, cords, and related accessories. The smallcap company, Usha Martin is a market leader in the Indian metal sector. UML manufactures for wire and wire rope space and is among the top five leading manufacturers globally.
Stock Performance: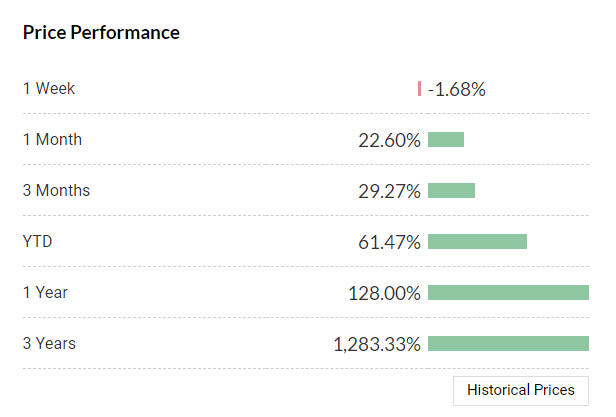 Financial Performance:
The top line of the company has grown by 21% from FY22 to FY23.
The Operating profit margin of the company has improved by 14% over the past year.
The company registered a healthy Net Profit of Rs.351 crores in FY23.
The Way Forward and Management Focus:
Usha Matin Ltd is now focusing on higher-value specialty grade wire to increase its margin in the near term. The wire rope segment's contribution to overall revenues has increased to 67% in FY23 from 61% in FY22. Thus, within wire rope, the share of value-added segments such as crane, oil & offshore, elevator, mining, and fishing has risen to 65% in FY23 from 59% in FY22.
The company has just a 3% market share in the international market, which is extremely fragmented. Therefore, the top 5 players account for just 19% of the market share. With more focus on international business through strategic tie-ups, hiring of key personnel, and focusing on cost advantages from India, the company plans to expand its market share.
The company is likely to benefit from export opportunities in this fragmented market, improving its overall business outlook. It is projected that the company will achieve a topline growth with a CAGR of 15% (FY23–26). Thus, EBITDA margins of approximately 18%.
Big News to share with You
Sonam Srivastava, Founder & CEO of Wright Research has been recognized by LinkedIn as one of LinkedIn's Top Voices on Finance! Here's what Sonam has to say:
To all my fellow finance professionals in India, here's a piece of advice to commemorate this awesome milestone – Embrace and nurture your uniqueness and never underestimate the power of your genuine voice. Even when crunching numbers and predicting trends, the financial markets give you an opportunity to use your own unique perspective to cut the signal from the noice.

The world of finance is vast and intricate. It's crucial to cultivate a growth mindset, stay curious, and keep learning. It's not about how loud you can be, but how well you can tune into the market's whispers, understand its signals, and act wisely.

Onwards and upwards, let's continue learning, sharing, and making a difference in the finance industry. 🚀
To mark this achievement, we are offering 25% off on subscription to Wright Research smallcases only for today! Here's to creating wealth with industry recognized experts on smallcase!
Use Code TOPVOICE for 25% off on Subscription to Wright Momentum smallcase
Explore smallcases
FAQs
1. Is Usha Martin a Tata company?
No, Usha Martin is not a Tata company. It is an Indian multinational conglomerate that is involved in the manufacturing of wire ropes, steel products, and other industrial products. Tata Steel acquired Usha Martin's steel business in 2019, but Usha Martin remains an independent company.
2. What is the dividend of Usha Martin in 2023?
Usha Martin declared an equity dividend of 250% amounting to Rs 2.5 per share for the financial year ending March 2023. This means that for every 1 share of Usha Martin that you own, you will receive a dividend of Rs 2.5.
3. Is Usha Martin a good stock to buy?
Usha Martin is a steel and wire ropes company with a good track record of profitability. However, the stock is currently trading at a premium to its book value, and the company's future growth prospects are uncertain.