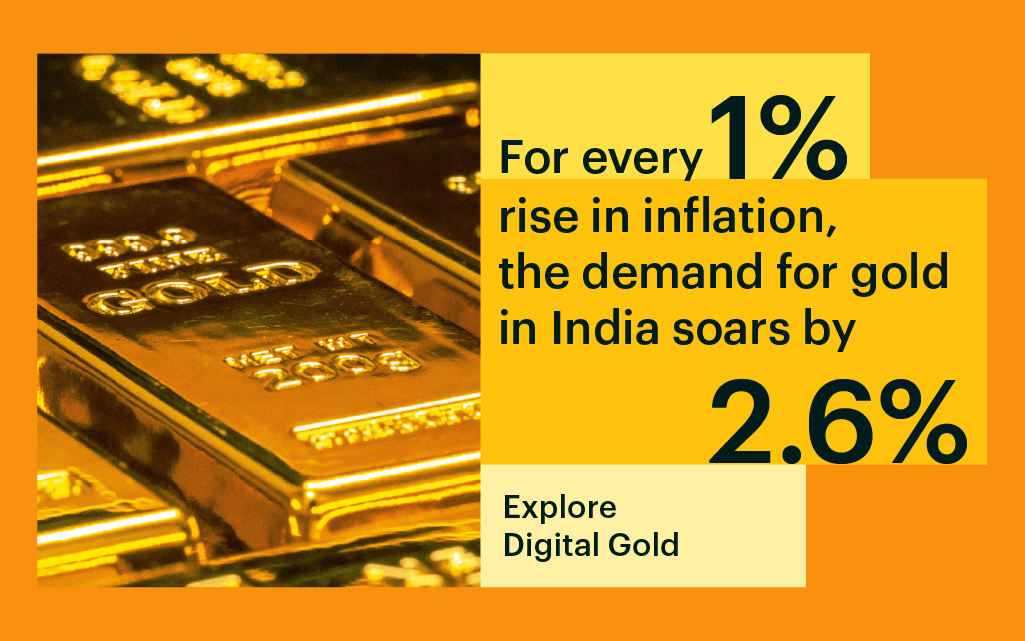 Reading Time: 3 minutes
Indians love spending money on shiny trinkets, can Gold play a role in growing wealth? 
Click To Tweet
For centuries, gold has captivated the hearts and wallets of people all around the world, and India is no exception. But why is it that Indians seem to have an extra special love affair with this precious metal? And what kind of economic impact does it have on the country?
For starters, gold has been an integral part of Indian culture for as long as anyone can remember. From weddings to festivals to religious ceremonies, it's hard to imagine any occasion where gold doesn't play a starring role. Apart from its cultural integration, gold is also considered a wise investment in India.
While tradition may explain some of the appeals of gold, the scale of modern gold purchases is truly remarkable. To illustrate this point, consider that in 1982, India consumed a mere 65 tonnes of gold, highlighting the significant growth in demand in recent times.
Why is Gold in the news?
The price of gold has surged to a historic high of over Rs. 60,000 for 10 grams in India, while globally, the rate of gold has recently dropped by approximately 2% following a peak of $2,010 per ounce over a 52-week period. Analysts attribute the decline to profit-taking by short-term traders and a sense of caution in anticipation of the US Federal Reserve's upcoming statement regarding a potential interest rate increase and its stance on the ongoing banking crisis.
Did you know? It is rarer to find a one-ounce nugget of gold than a five-carat diamond.
Click To Tweet
How can you invest in gold?
Gold investments can be made in many forms like buying jewellery, bars, coins, gold ETFs, gold funds, bonds etc. There are modern and conventional ways of investing in gold. Conventionally, gold investment can look like buying physical gold, whereas investors nowadays are flocking towards options like gold ETF and gold funds.
| | | | |
| --- | --- | --- | --- |
| Investment Type | Physical Gold | Gold ETFs | Gold Funds |
| Definition | Physical bullion or coins owned by an investor | Shares in a gold-tracking exchange-traded fund | Shares in a gold-tracking mutual fund |
| Liquidity | Can be sold quickly, but may be subject to market conditions | Can be sold quickly during market hours | Can be sold quickly during market hours |
| Storage | Requires secure storage, may incur additional costs | No storage necessary | No storage necessary |
| Potential Returns | Potential for price appreciation and possible collectable value | Tracks gold price, the potential for price appreciation | Tracks gold price, the potential for price appreciation |
| Expense Ratio | None, except for storage costs | Varies by ETF, generally lower than mutual funds | Varies by the fund, generally higher than ETFs |
| Minimum Investment | Varies by the dealer, and may be higher than ETF or mutual fund | Shares can be purchased in small amounts | Shares can be purchased in small amounts |
| Counterparty Risk | None, since the investor owns physical gold | Minimal, but exists due to the need for custodian and management fees | Minimal, but exists due to management fees and underlying derivatives |
| Accessibility | Easy to purchase, no investment account necessary | Requires a brokerage account | Requires a brokerage account or investment account |
New opportunities for investing in gold
Investing in gold is made easy by gold ETFs, bonds and funds. What are the different ways you could invest in gold?
The Indian government has even introduced gold bonds as a way for individuals to invest in gold without actually owning physical gold. These bonds are issued by the Reserve Bank of India and can be purchased by individuals or institutions. The bonds offer a fixed interest rate and are redeemable in cash upon maturity, making them a convenient and low-risk way to invest in gold.
In conclusion, it's clear that gold has a special place in the hearts of Indians, and for a good reason. Considered a safe and stable investment option, it has weathered economic storms and market fluctuations for centuries. And with the introduction of new investment options like gold ETFs, funds, and bonds, investing in gold has never been easier.
Explore the Equity and Gold smallcase and you can tap into the growth potential of the stock market while also enjoying the stability and security of gold.