Reading Time: 2 minutes
Introduction:
The government is drawing up a policy to incentivize local manufacturing of electric cars, a move aimed at laying a level playing field for the industry. This move is aimed at boosting local manufacturing which will also boost employment generation while bringing down overall car prices.
Latest Update from Government:
The Department for Promotion of Industry and Internal Trade (DPIIT), which operates under the aegis of the ministry of commerce & industry, has commenced discussions to put in place a scheme for subsidizing electric four-wheeler makers linked to investments made by these companies for producing vehicles in the country, senior officials in the know told ET.
"Unlike FAME II (Faster Adoption & Manufacturing of Electric Vehicle), which is an upfront subsidy paid to consumers, this will be a manufacturing incentive," a senior government official said. "The government is looking at extending incentives to vehicle manufacturers linked to the investments made by them to manufacture electric cars locally."
Consultations are being held to determine the threshold of investment required to be made by carmakers to avail of benefits under the scheme as the Centre considers the outlay for the scheme.
Last month, commerce & industry minister Piyush Goyal had said while some automobile industry participants (apart from Tesla) have also expressed interest in coming to India, "everything will be done equally" to ensure a level-playing field in the industry. "I had a conversation with some of the other auto industry participants and they also indicated that they had the interest in coming to India and, therefore, I am convinced that this (EV) is the future."
"It is something which we must try to attract, but government also has a track record of nine years plus now where everything we have done has been done equally—without any differentiation, without any preferences," he had said.
Competitors in the EV Space:
Major Foreign carmakers such as Tesla and VinFast are soon to enter India's EV market as well as automakers closer to home such as Maruti Suzuki, Hyundai Motor India, Kia, Tata Motors and Mahindra & Mahindra (M&M) are looking at driving in a slew of electric vehicles in the Indian market.
What are the EV Sales numbers telling us?
In H1 FY2024 alone, the EV market experienced a 51% YoY sales increase, attaining almost 740,000 units.
With the festive season in the H2 FY2024, EV sales may expect a further demand uptick.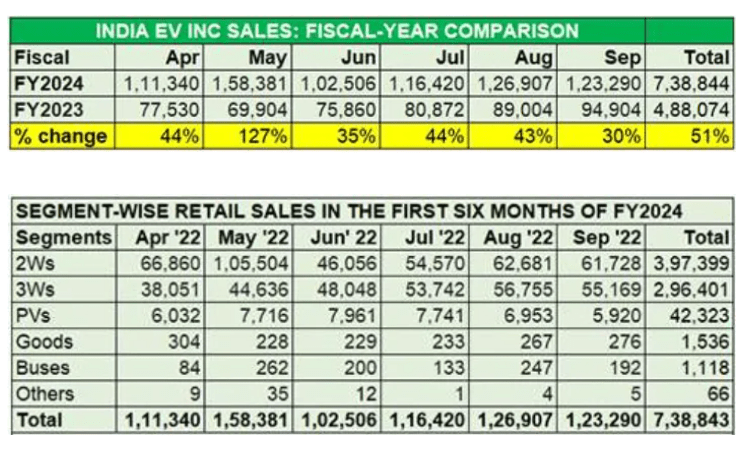 Explore smallcases to benefit from the EV Theme
Explore Now