Reading Time: 9 minutes
Wealth and prosperity are synonymous with Diwali. Several people start or add to their wealth creation journeys during this festival. Looking to invest this Diwali? Here are some ideas that our smallcase Managers have.
Prudent Equity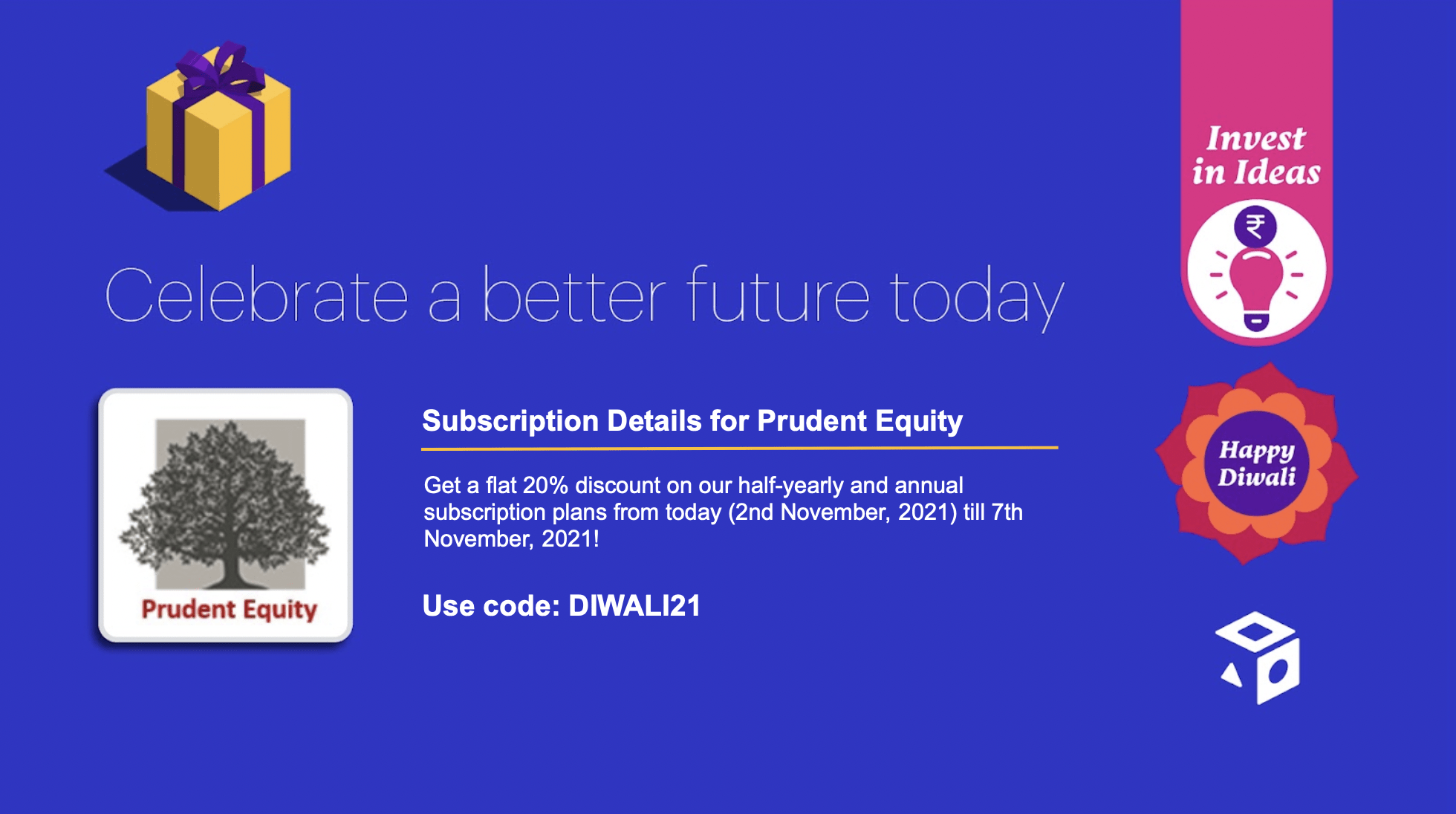 "We at Prudent Equity have been strictly following one core principle which focuses on capital protection."

– Prudent Equity
"If you're looking to invest in companies that could have a huge upside potential with minimum downside risk, have a look at our smallcase. We follow the traditional value investing approach and believe that if applied correctly, it is very difficult to lose money in the stock market."
Find value and growth based smallcases by Prudent Equity here.
Phillip Capital
"If you are someone who wants to invest across multiple market caps and stay in for the long haul then perhaps Phillip Capital could help. After all, who does not want to invest in Champions of tomorrow? Using our global expertise and in-depth local knowledge we bring to a smallcase that has especially been curated for you: Champion Portfolio."

– Phillip Capital
The objective of this portfolio is to generate superior returns over the long-term by investing in 10-15 cherry-picked securities across the market cap and that fall under the below themes:
Technology: It's evolving at a much higher pace today than ever before. This change could deliver outsized returns as the way the world works and industries transform.
China+1: We expect that with the global movement of reducing dependence on one single country along with India's strategy to boost local manufacturing will create multiple winners across the value chain.
Special Situations: We believe Management change, M&A activity, Mergers/Demergers, Open Offers, Buy Backs, Turnaround, etc. could create a unique investment proposition that could deliver really special returns.
You can find smallcases by Phillip Capital here.
Lamron Analysts
"We do long term trends. This smallcase comprises about ten Nifty50 stocks. Invest in this smallcase for the possibility benefitting from long term trends in Nifty 50 stocks."

– Soumitra Sengupta, Founder, Lamaron Analysts
If you're interested in investing in the best of the best from the Nifty 50 index, then perhaps smartvalues smallcases could be the way to go. You can find all smartvalues smallcases here.
InvestorAi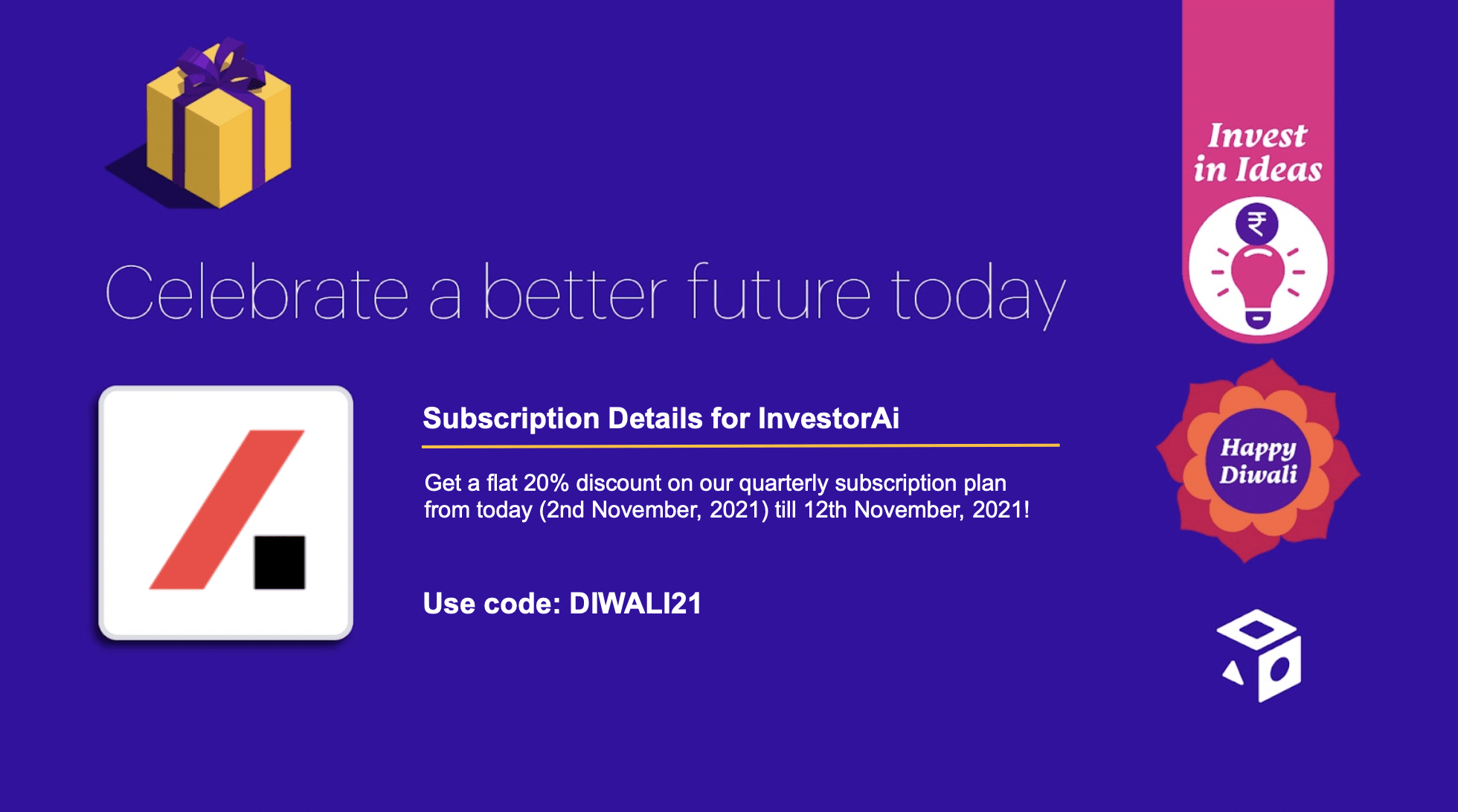 "InvestorAi's mission is to make sophisticated quant research accessible to everyone."

– InvestorAI
Maybe as an investor of your taste in strategy or methods are different. Are you a fan of Quant Investing? Well, if you are InvestorAi explains why you should consider investing through Quant Investing. Producing investment research as you've never seen before, InvestorAi is a powerful AI platform that delivers ideas on global equities and ETFs with stunning levels of accuracy. The algorithms make over 800 million computations every day and have been specifically trained for investment predictions.
InvestorAi generates predictive investment insights for individual stocks for self-directed investors. It has consistently outperformed the market in the 3 years that the algorithms have been running and its predictions have been right 73% of the time.
"Our portfolio construction module takes the best InvestorAi insights for Indian stocks and combines them into balanced portfolios with low historical risk and high expected returns."
You can check out more smallcases by InvestorAi here.
Niveshaay
"This Diwali Go Green with Niveshaay's Green Energy Smallcase – This is a portfolio of stocks, which could benefit from the Green Energy and Electric Vehicle industry development."

– Arvind Kothari, Founder, Niveshaay
How about supporting your environment while generating wealth by investing in ideas like green energy, the future of renewable energy resources, or China+1?
The Green Energy smallcase could perhaps be your next investment idea because –
Things like solar panel installations, electric vehicle sales are at record highs.
ESG factors in investing has boosted the transition to cleaner energy
Climate change is set to be one of the top priorities for the world
Or maybe the China+1 Strategy?
China, known as the 'World's factory' has been the centre of global supply chains in the last few decades. In the last two years, changing geopolitics started this trend of diversifying the supply chain. COVID-19 escalated the adoption of this strategy. Now, this trend looks structural and persistent. Around 30% of global manufacturing ($4 Trillion) happens in China. A survey by UBS suggests that 20-30% of manufacturing will be leaving from China.
India is the most likely candidate to benefit from this situation owing to its competitive advantage in various industries. This shift is visible in results and discussions with various managements.
Mid and Small Cap Focused Portfolio
In this portfolio, we have covered stocks, which are available at reasonable valuations and have huge earning potential upside. This portfolio is comprised of a basket of 15-20 small and mid-cap-focused stocks with great business potential.
You can check out all smallcases by Niveshaay here.
Ace Equity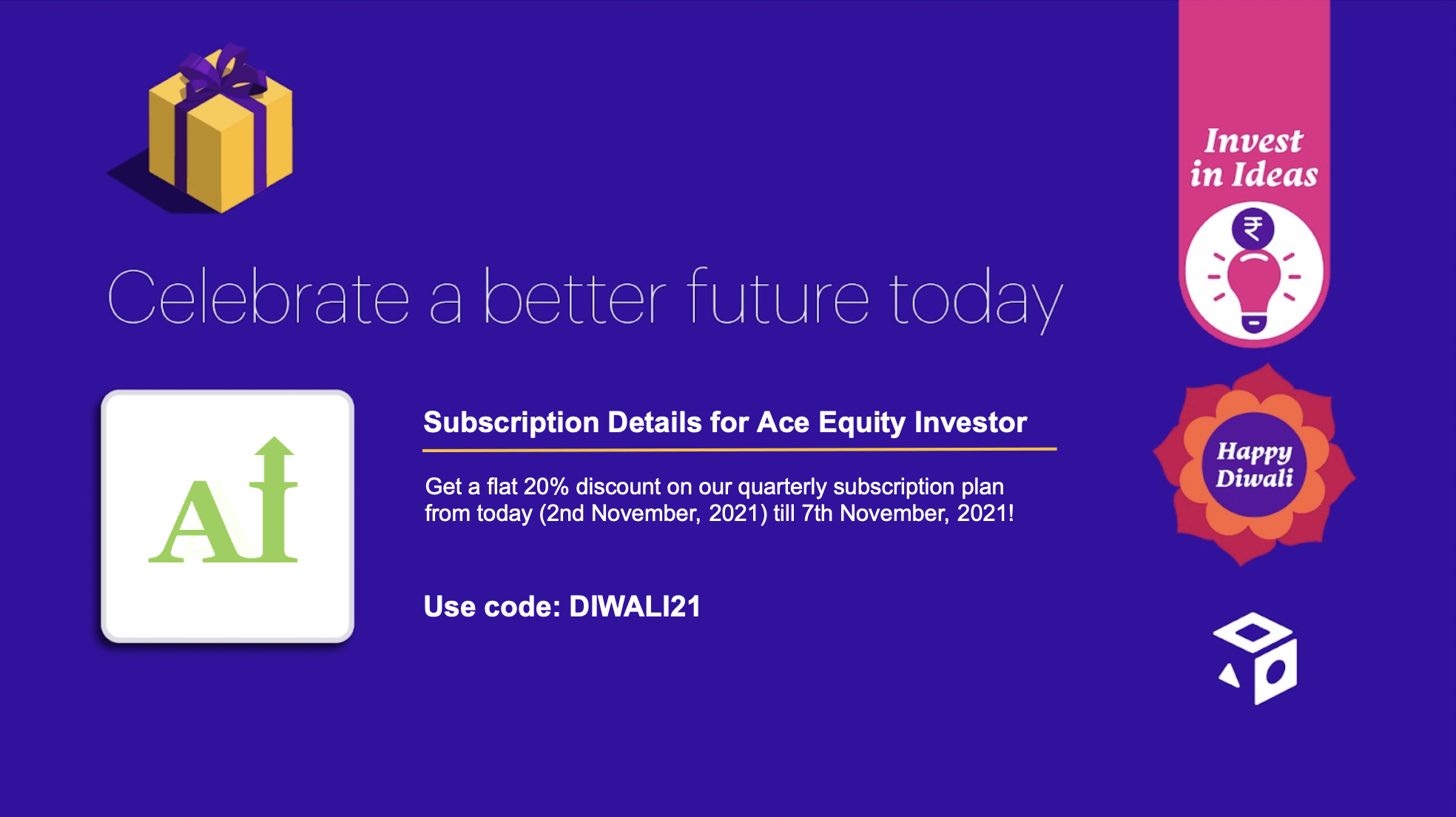 "Diwali is the right time to invest due to market correction. Investment into high-quality stocks which remains bright Diwali after Diwali. A current market correction could give a good opportunity for fresh entry."

– Raghvendra Singh, Founder, Ace Equity Investor
You can check out Ace Equity Investor smallcases here.
LKP Securities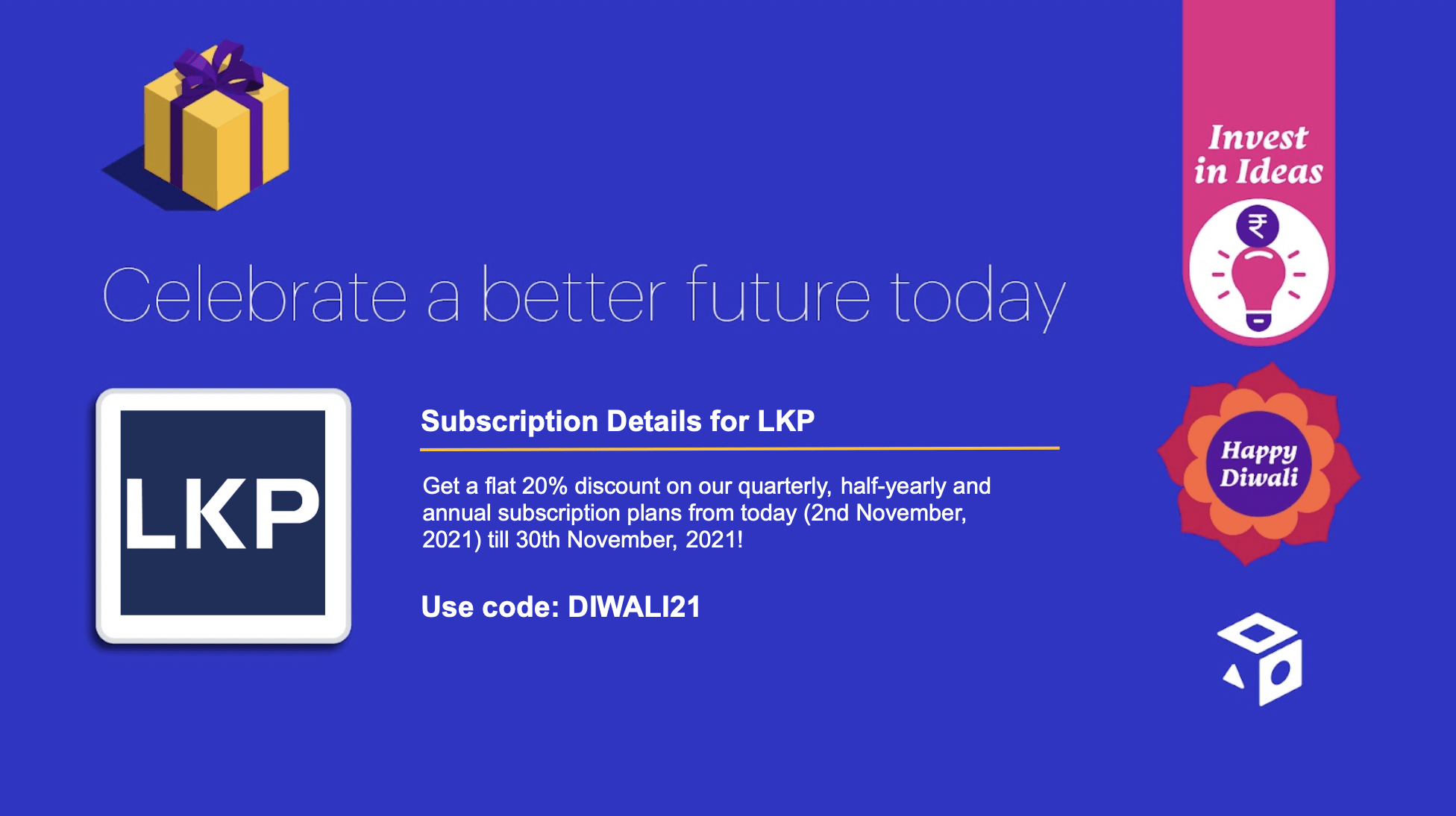 "Stocks recommended under Trilogy have shown positive divergence, momentum, fresh breakouts, and strong volume spike. Also the momentum indicators, RSI and MACD are rising in the positive territory."

– LKP Securities
If momentum investing and divergence is what you're looking for in an investment, then LKP Securities could be a great offering. You can see all their offerings here.
Candor Investing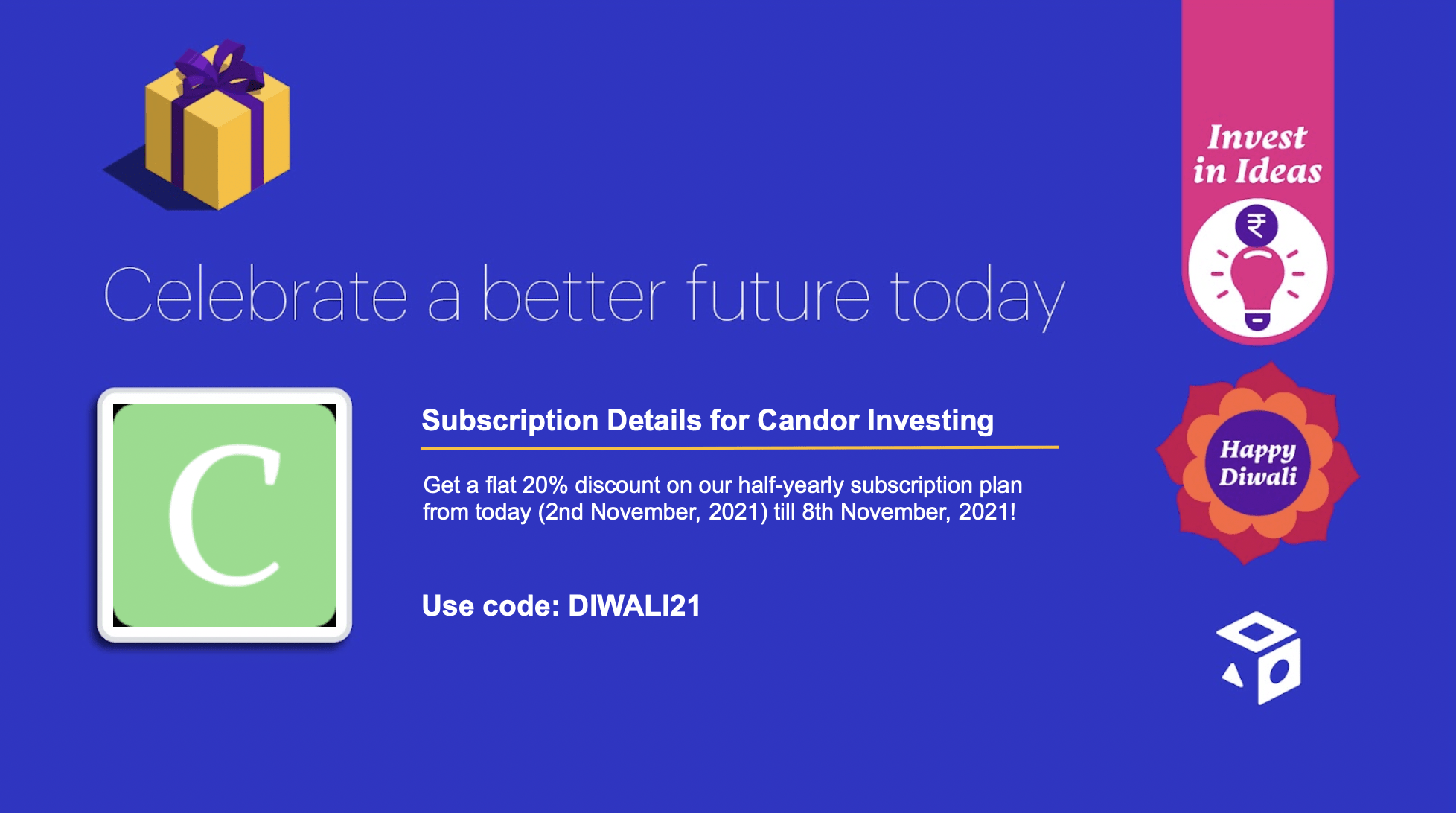 "How money is made in the stock markets? If profits go up, the stock price goes up, if profits go down, the stock price goes down. Interest rates, GDP, elections, Coronavirus, China, US impact the markets in the short term. However, what matters over a 3-5 year period is whether the profits of the company have gone up or not."

Amey Kulkarni, Founder, Candor Investing
Why should you invest in the Candor Investing – Wealth Compounders smallcase?
It is a basket of 8-10 stocks that have the potential to increase their profits by 2X to 5X in the next 5 years. The companies and their competitors are monitored and analysed every quarter to check for any changes that the smallcase constituents might need. Real money is in research, knowledge, conviction and the patience to hold on to good businesses and the team at Candor don't shy away from concentrated bets.
You can find Candor Investing smallcases here.
Rupeeting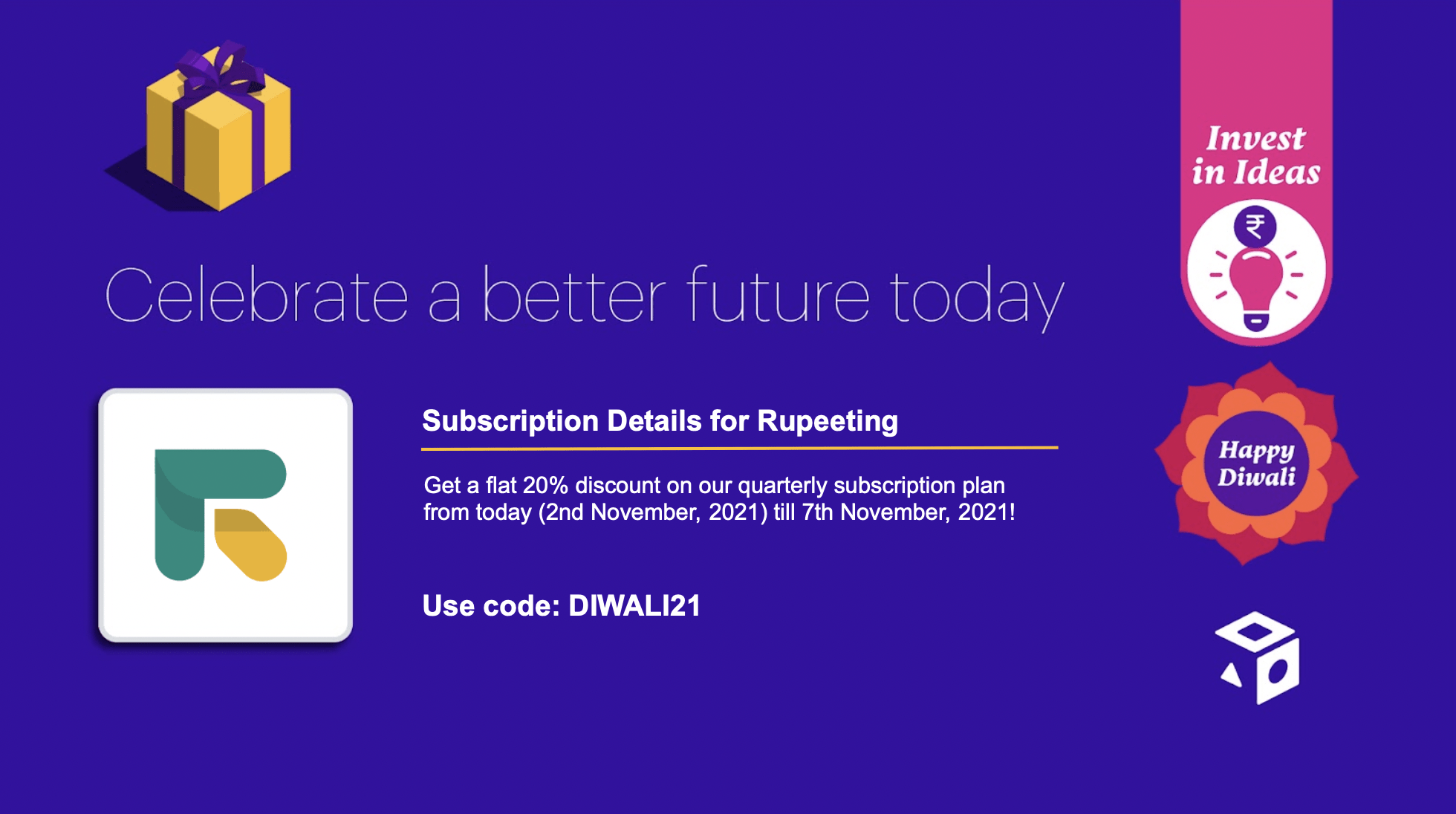 "This Diwali, make your core portfolios stronger by investing in our all-weather smallcases. Add light to your portfolios on top of this by choosing from a range of high-performing equity smallcases. Do money right, invest better, start Rupeeting already!"

– Rupeeting
Are you an investor who would like to see their investments withstand the wrath of time under all circumstances? Rupeeting explains why this Diwali you should consider investing in their All-Weather smallcases if that's what you want. They offer core portfolio solutions and thematic equity smallcases.
You can find more offerings from the team at Rupeeting here.
Nooresh Merani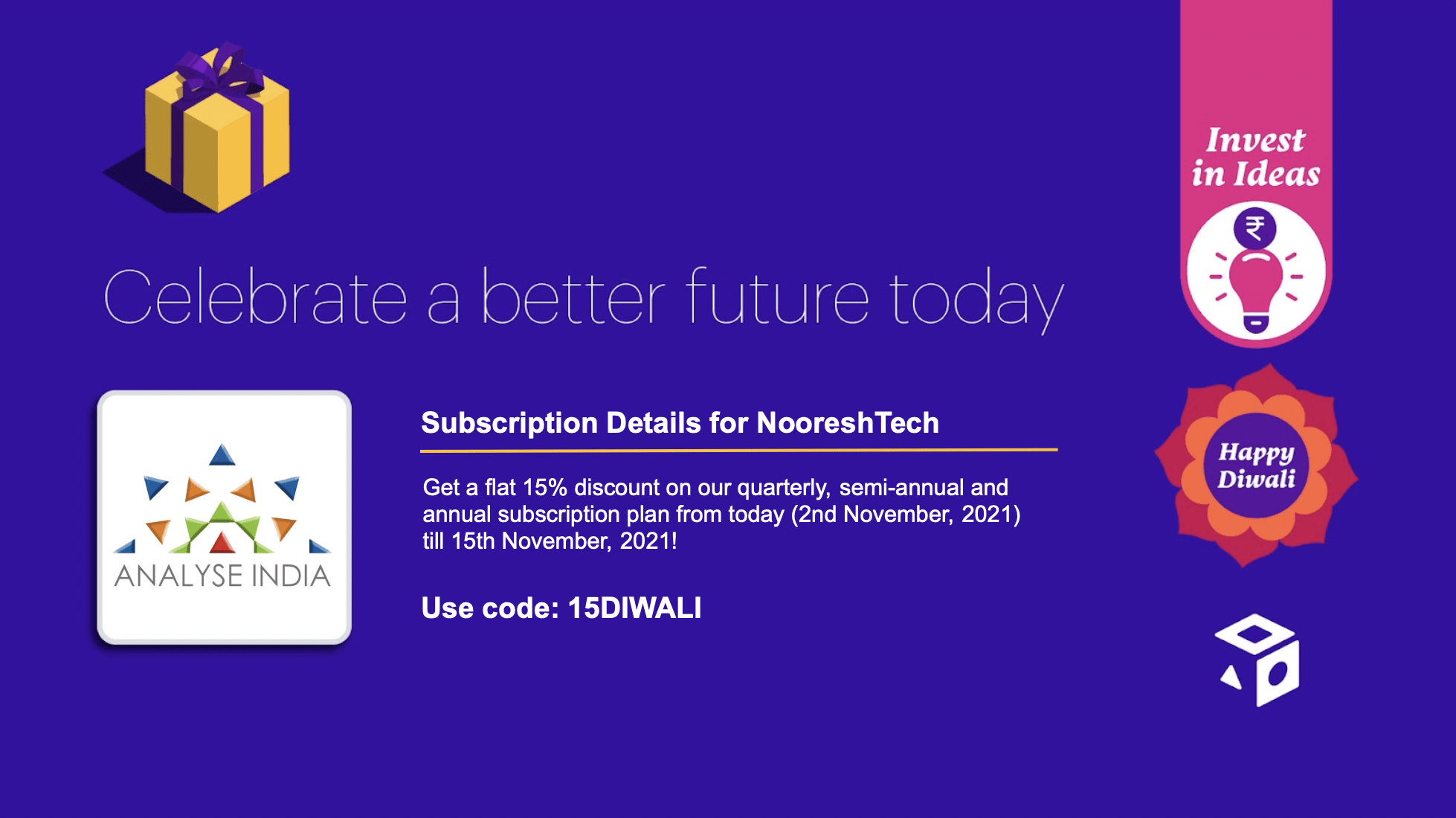 "Love smallcases that combine both technical and fundamental analysis? We could be your choice to invest in this Diwali!"

– Nooresh Merani, Founder, NooreshTech
Here's a list of innovative ideas –
Breakout and Trail Momentum Portfolio
This smallcase purely focuses on breakout trades. As the stock comes out of the consolidation zone and crosses the resistance levels, we get an opportunity with a balanced risk reward to participate in the upwards potential of such a breakout move. The entry point might be on the breakout or at a retest level of earlier breakout. As the move progresses, we keep trailing the stop loss so we get to ride the trend. So, if you are interested to participate in a trending move with a defined stop loss, you could subscribe to our Breakout and Trail Momentum portfolio (rebalanced weekly).
The Spin Basket
It is a collection of textile stocks that stand to benefit from the underlying narrative of the China+1 strategy. With India's share increasing in exports, and cheap labour, we think there is a structural shift and setting up of a trend which we would like to play with this theme. If you are interested to participate in textile as a theme you could consider subscribing to our Spin Basket product.
The Pipe Theme
This smallcase consists of stocks that will benefit from the rising crude prices and increasing government scheme Nal se Jal. Companies from being in heavy debt to going to net cash, we find this sector very interesting with lots of value left to be unlocked.
Ancillary theme
Auto ancillaries are in a consolidation zone for a few years now and are setting up for a breakout. Some of the names in auto ancillary space show good price volume patterns. With the structural shift of the supply chain, Indian auto ancillary companies can benefit from global auto demand revival. Also with disruption on the cusp of the sector, some companies could stand to benefit and some others have been beaten down to valuation where we find a good risk-reward play.
Top 10 Techno Funda
In a debate of Technicals vs Fundamentals, a new set of investing styles is emerging – enter Techno Funda. There are companies that are good fundamentally which can be bought at technical levels which offer a good risk-reward entry and exit. We have come up with the top 10 ideas based on the techno funda strategy.
Top 10 Insider Trading
In this strategy, we come up with a basket of stock ideas where insider buying is taking place from the open market. The smallcase includes stocks that are fundamentally doing well in the underlying business with a good technical structure. The promoters should be buying the shares of the company from the open market giving an additional comfort level. It is rebalanced on a monthly basis with a 10% allocation to the top 10 stocks based on insider trading activities.
Top 10 Value
In a market where a lot of stocks have gone to valuations that are way beyond historical averages, we find certain stocks where there is still value left for the market to discover. The stocks included in this basket have a hidden potential value which the market might discover later but the stock is available at low valuations.
Find all smallcases from Nooresh Tech here.
That's a lot of cool ideas and great deals! Avail of the discount codes and get set with some great futuristic investment ideas. The above options cover a broad spectrum of investors, strategies and approaches. Diwali looks to be a brilliant time for investors to enter into Samvat 2078. So, what are you waiting for?
Happy Diwali and happy investing!
Please note – All above opinions are from the respective smallcase Managers and should not be taken as advisory from smallcase Technologies Pvt. Ltd.