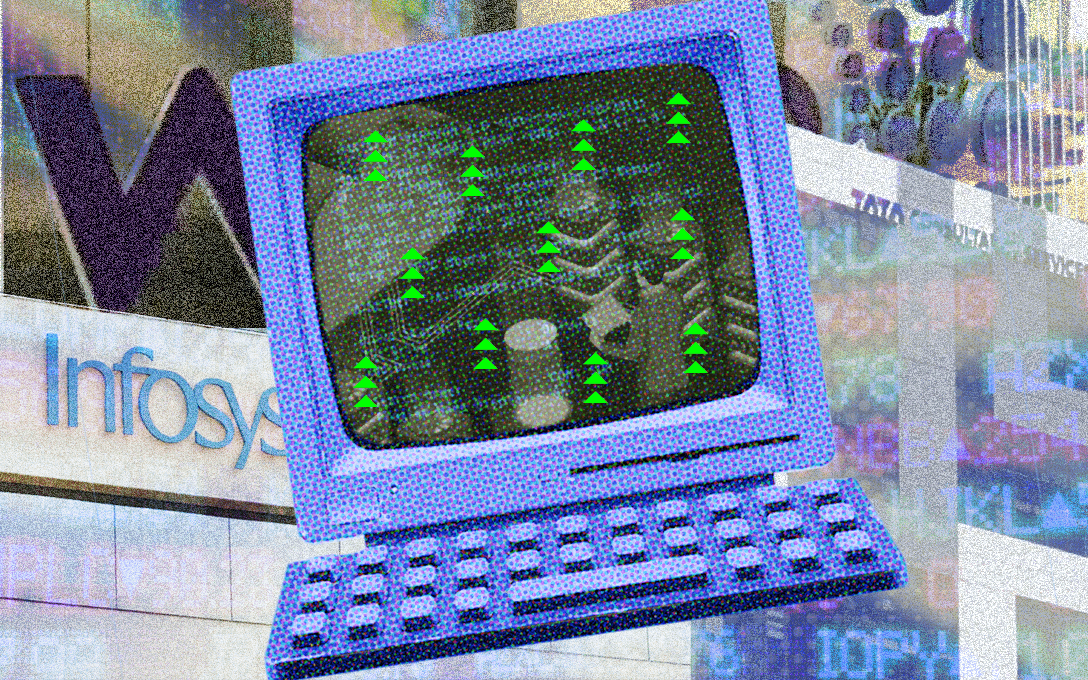 Reading Time: 5 minutes
The Industrial Revolution of the 1900s changed peoples' lives drastically. With new manufacturing processes and increased economic activity, the revolution uplifted the overall standard of life of all those that got the opportunity to be a part of it. What we call the rich world – the US, UK, and much of Western Europe – took the leap to become a developed nation.
Knowing this is very relevant to our current discussion. Because you see, we are in the middle of another revolution – the digital revolution. And this time, it may just be India's chance. To understand why, let's first take a look at what the IT sector is.
What is IT?
To get a fair idea about what the sector is all about, let's look at an example. Picture this – you're living in a small town and you start a bakery – the first of its kind in that town. People flock to check it out and because of the great baker that you are – people absolutely love the place. Sales soon start to skyrocket – more than you expected – and work is now getting overwhelming. Too many accounts to maintain, too many transactions to take care of, you're facing difficulty in forecasting demand due to which you can't make an informed decision regarding the orders to your suppliers. All-in-all, the bakery is a mess – but the good kind of mess. The answer to your problems? Technology! As a business owner, you understand that in order for you to concentrate on the important facets of your business, you have to automate repetitive and mechanical processes. And that's exactly where you require the expertise of an IT company!
So you approach an IT firm that helps build software that makes your life easier. For example, they might build software that automatically updates inventory every time you sell something. And another software that helps you forecast demand for the next few weeks. Or anything which requires the use of tech. Information Technology (IT) means storing/using/managing information with the help of technology. Now look, IT firms these days – the likes of TCS, Infosys, Wipro, etc are giants! They, and many like them, offer a host of other services as well. But the crux of the IT sector is what we just learnt about. IT companies build/maintain software so that businesses run more smoothly.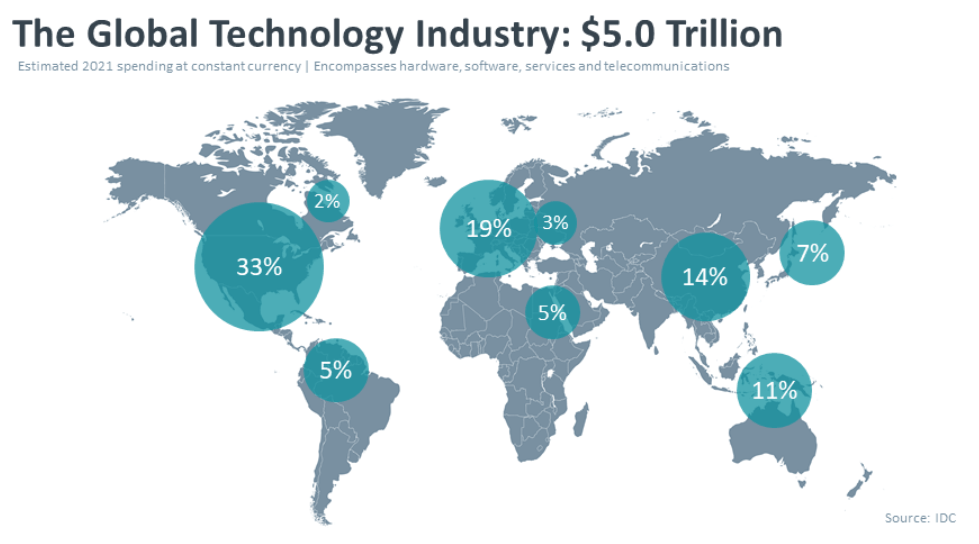 IT in India
So getting back to the analogy of how India may be a part of the digital revolution. China became the manufacturing hub of the world because of cheap labour. Now think about this – India has the highest number of technology graduates in the world. Over 25% of the world's engineers are from here! And plus, we're a populous nation. Now when you combine those 2 – population and skill – it becomes a sweet deal for a westerner. How? I'll explain. You see – countries like the US, UK, and others like it, face business problems ever so often – and hence they require IT expertise quite often as well. And, hiring someone from their home country is expensive. Estimates suggest that it's actually 5-6 times more expensive for a US company to hire an IT company in the US than in India. Thus, these firms look to countries like India for their IT needs.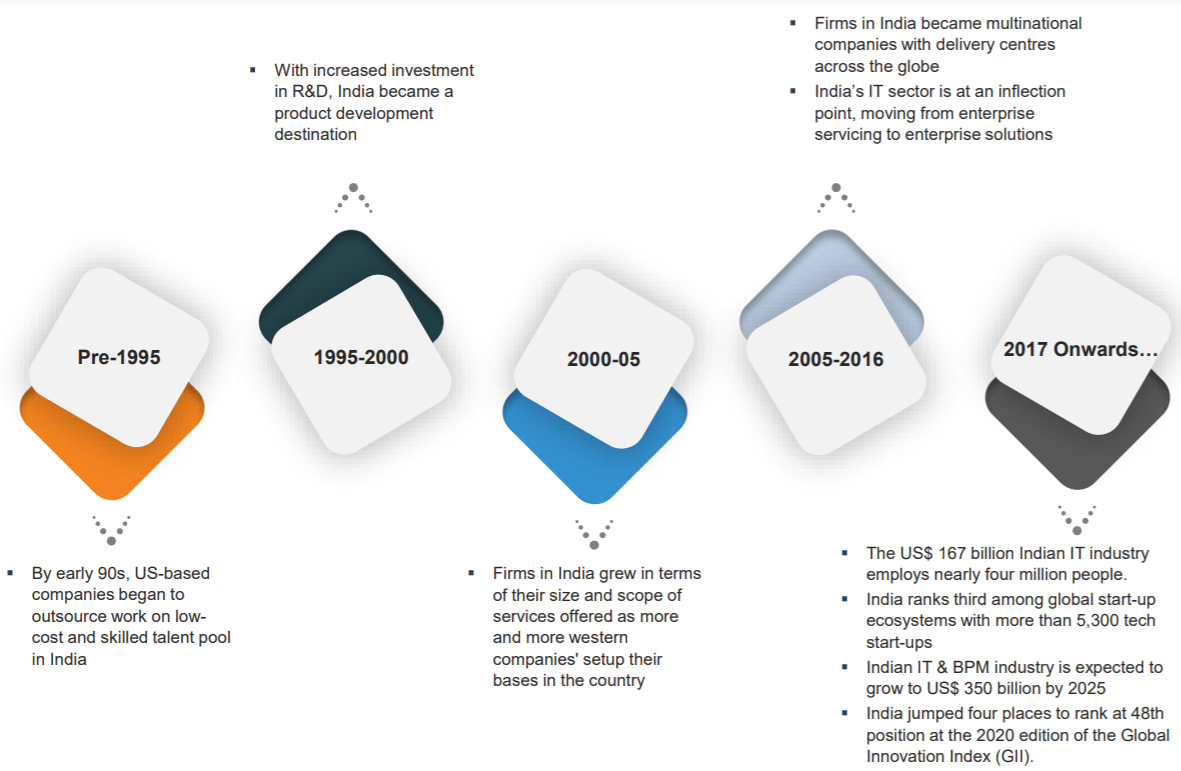 We have capitalised on this opportunity quite well in the last few decades and now we are the IT hub of the world! We are the world leaders in exports of IT and Business Process Management (BPM) services. So much is our might when it comes to IT exports that India is the leading sourcing destination across the world, accounting for approximately 57% market share of the $227 billion global services sourcing business. Indian IT & BPM companies have set up over 1,000 global delivery centers in about 80 countries across the world!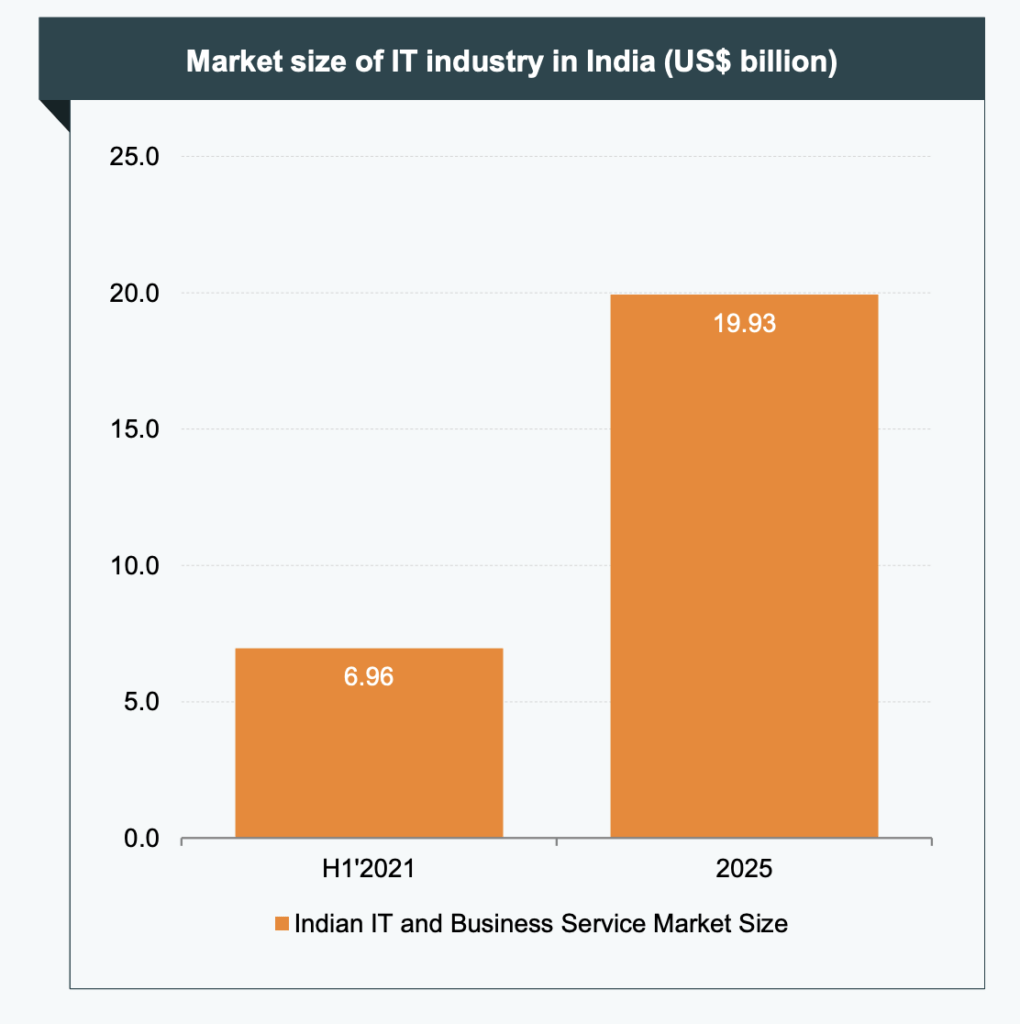 India's IT industry contributed around 7.4% to the country's GDP in FY22 and is expected to contribute 10% to India's GDP by 2025. As of FY21, the IT industry provided direct employment to about 51 lakh people and indirect employment to over 1.3 crore Indians! The IT & BPM industry revenue was estimated at around US$227 billion in FY22 and is expected to at a CAGR of 11.5% from 2022 to 2026, reaching $350 billion by 2026. Moreover, revenue from the digital segment is expected to form 38% of the total industry revenue by 2025. The digital economy is estimated to reach US$ 1 trillion by 2025. The domestic revenue of the IT industry was estimated at US$ 49 billion and export revenue was estimated at US$ 178 billion in FY22.
Artificial Intelligence (AI) is expected to boost India's annual growth rate by 1.3% by 2035, as per NITI Aayog. A substantial increase in AI by Indian firms can result in a 2.5% increase in India's Gross Domestic Product (GDP) in the immediate term.
The government is also taking initiatives to further boost the growth of this important sector. For example, in 2020, the government released "Simplified Other Service Provider" (OSP) guidelines to improve the ease of doing business in the IT Industry, Business Process Outsourcing (BPO) and IT-enabled Services (ITeS). The government is setting up Software Technology Parks of India (STPIs) and Special Economic Zones (SEZs) to encourage IT companies to set up offices in specific regions. These zones offer tax breaks, duty exemptions, and other incentives to attract investment and boost exports.
The road ahead…
India is the topmost offshoring destination for IT companies across the world. Having proven its capabilities in delivering both on-shore and off-shore services to global clients, emerging technologies now offer an entire new gamut of opportunities for top IT firms in India. It's the ideal chance for India to finally make a mark on the global stage by playing to its strengths.
There are a number of listed IT firms in India which will immensely benefit from the growing fortunes of this sector. If you believe in the future of IT, then you might want to check out the IT Tracker smallcase! It consists of companies that can help you efficiently track and invest in the IT sector.

---
Disclaimer: Investment in securities market are subject to market risks. Read all the related documents carefully before investing. Registration granted by SEBI, membership of BASL (in case of IAs) and certification from NISM in no way guarantee performance of the intermediary or provide any assurance of returns to investors. The content in this article is for informational and educational purposes only and should not be construed as professional financial advice nor to be construed as an offer to buy /sell or the solicitation of an offer to buy/sell any security or financial products. Users must make their own investment decisions based on their specific investment objective and financial position and use such independent advisors as they believe necessary. Disclosures: bit.ly/sc-wc