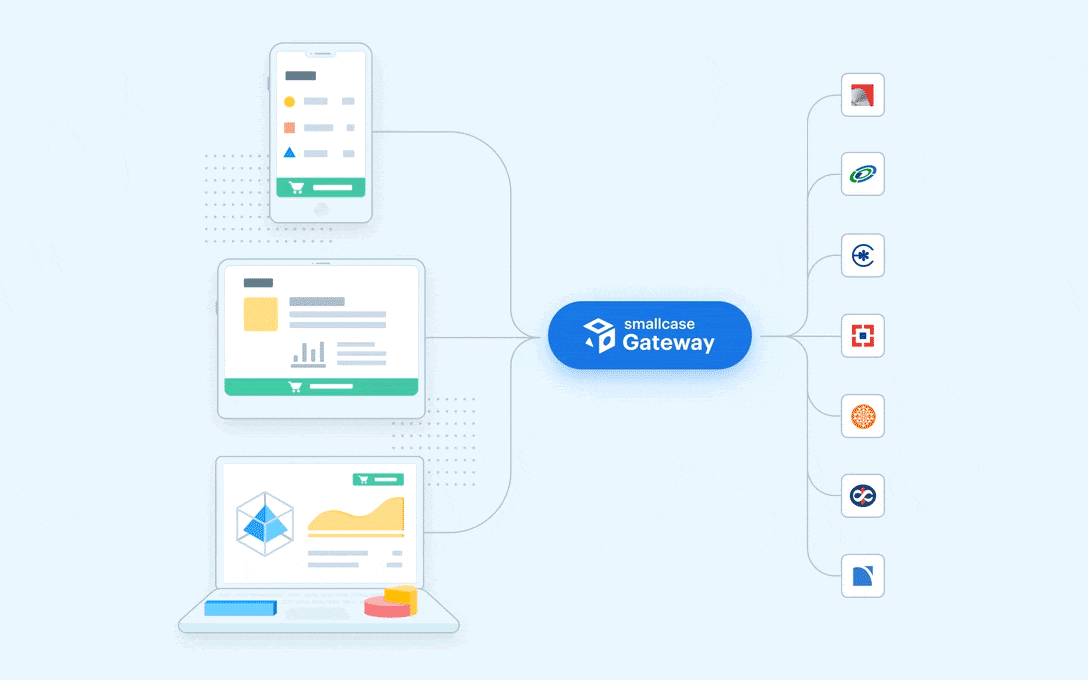 Reading Time: 1 minutes
At smallcase, our mission is to make investing in stocks & ETFs simple and providing better building blocks. smallcases are a way to invest in equities in a low-cost, diversified & transparent manner.
In the last 3 years, we have built a delightful investing experience (see our Twitter love), added the largest brokerage platforms (Zerodha, HDFC Securities, Kotak Securities, AxisDirect, 5Paisa, IIFL & more) and enabled research professionals & portfolio managers to productize their research and offer it seamlessly to their clients with the Publisher Platform.
This has helped scale the smallcases ecosystem to 4.6L investors, 8 brokerages & 30+ manufacturers.
We're adding a new layer to our infrastructure stack — the smallcase Gateway —  gateway.smallcase.com
This allows non-brokerage platforms to offer smallcases to their base in a native manner. Similar to a net-banking payment gateway, web & mobile apps can enable transactions on smallcases as well as single stocks, ETFs in a non-intrusive yet compliant manner.
Some of the use-cases we see for this:
Advisory & Research Platforms
Platforms that offer & advise on mutual funds can now provide advice on single stocks, ETFs & smallcases along with transactions & tracking.
Professionals can also build their own smallcases with the Publisher Platform and use Gateway to enable transactions in their own apps. If you don't have an app — Publisher builds a micro-site for you.
Information, Content & News Apps
Apps that show stock/ETF information can have an Invest button as well as embed transactable smallcase widgets on their articles & stories to make their content actionable & more engaging for their readers.
We are currently in the process of taking the Gateway live on multiple platforms — including use-cases we never envisioned. We are excited to see what applications the ecosystem comes up with. If you want to implement the Gateway in your app or have an interesting idea — please write to us at gateway@smallcase.com.
[cta color="blue" class="hide-on-platform" title="Get started with our gateway" url="https://gateway.smallcase.com/" button_text="Take me there"]Collaborate more with your clients[/cta]