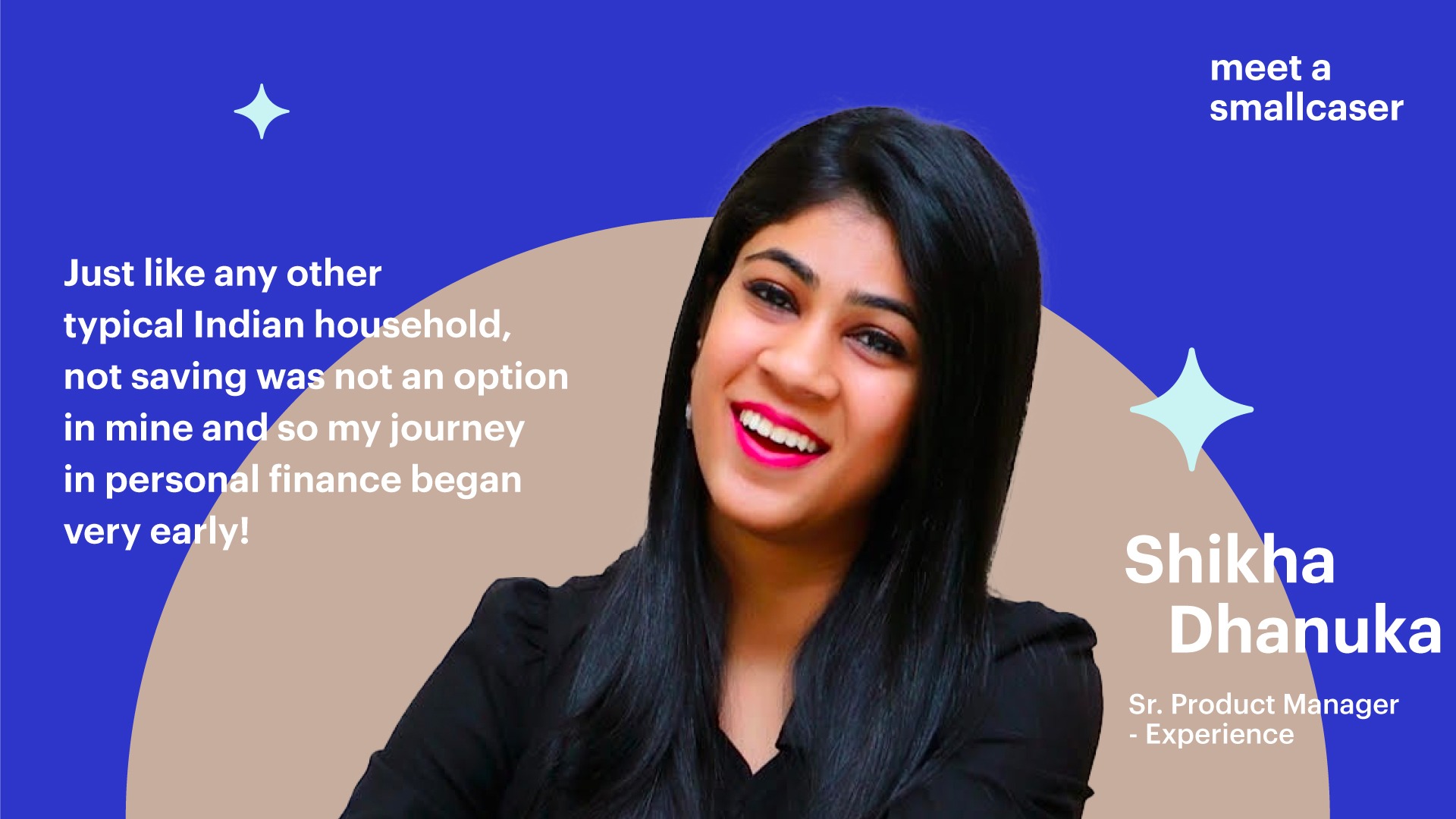 Reading Time: 5 minutes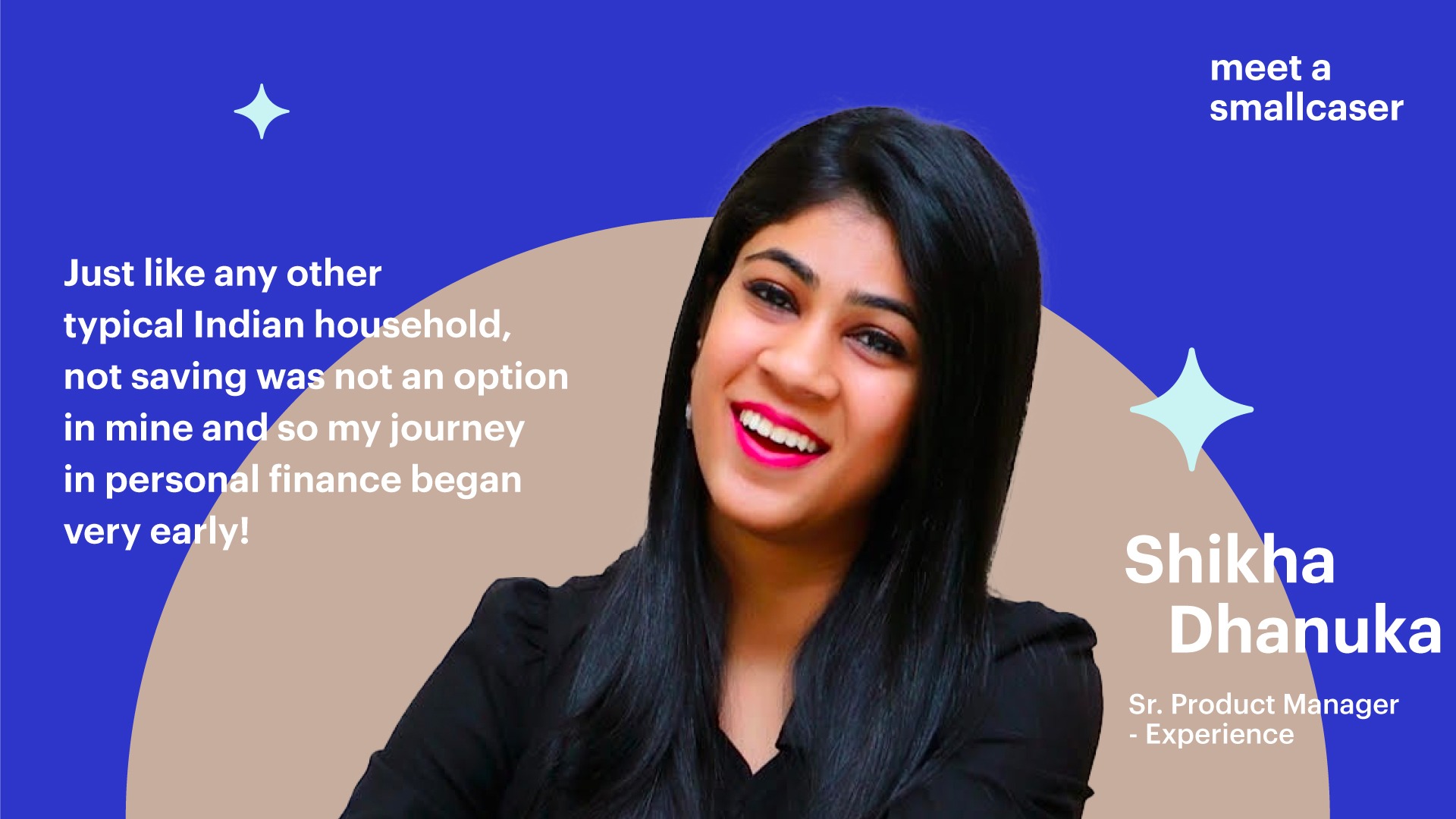 There's a lot more to Shikha than meets the eye. She was born and raised in Mumbai and comes from a progressive, Marwari, joint family where everyone is focused on their individual career paths. She loves interacting with people and spending time with friends and family. Growing up, she enjoyed school, reading classics, running and continues to dance, presently is looking to get better at hula hooping! She finds that what users want sometimes is different from what they say they want and unearthing the underlying need is why product management is most interesting to her. Her experiences have shaped her into an ethical, humble and hard-working individual who believes more in the effectiveness of work over professional titles.
Let's hear more from Shikha about her journey and why she loves smallcase!
How did you come to work in your field? Why did you choose this area?
My journey into the business world began as a software developer with JP Morgan, India. The experience of working with a MNC created a strong foundation in the field of software project management and development. I then worked at Edelweiss developing an internal tool for a small audience within the organisation. After working for about 5 years as a product manager, I wanted to transition into a product role that was more consumer focused.
I decided to take on a bigger challenge developing products for larger audience sizes to create a wider impact. This required me to upskill with modules in agile software development, product development and user research which was new and exciting.
How did you join smallcase?
I am not an active trader myself. I prefer investing in trends, keeping a track of what the government is focused on and am a long term investor. So when I came across smallcase, my experience in the financial services sector and overlapping ideology of 'investing in ideas' and going long excited me to connect with them. When I applied, they didn't have a Product role. I got in touch with my then manager – Arjun Bharadwaj and he offered me an account manager role in Mumbai. I was one of the first people at smallcase to work remotely when I joined in 2018. Although it wasn't the product role I wanted, I got to interact with the end customer, which was the broker in this case, and I had the opportunity to transition to a product role after a year. While I was working in the Account management role, I started to take up side projects at smallcase to do with product, gained on the job skills and took up a course in product management as well which helped me move into a product role I am in today.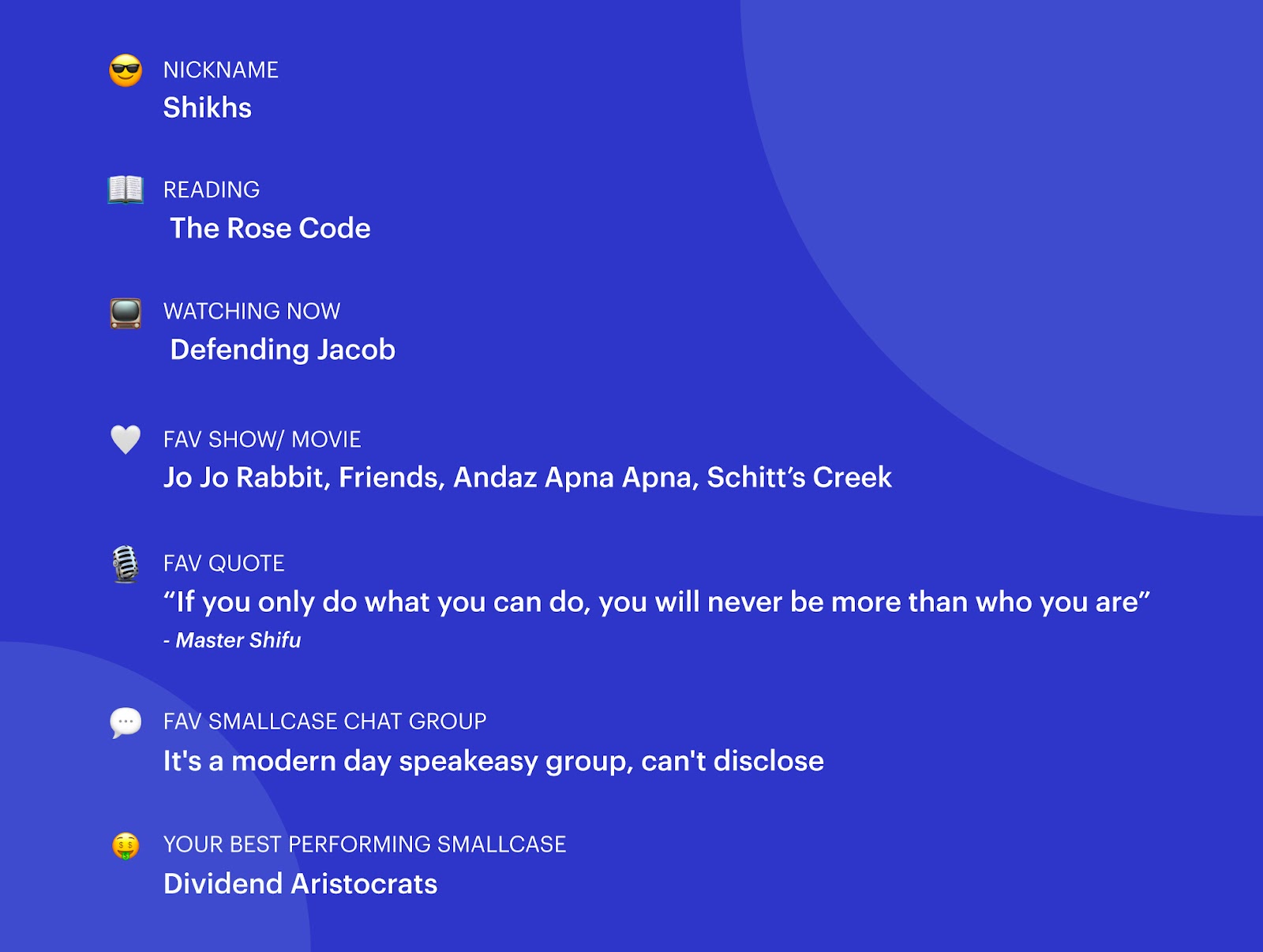 Why do you love smallcase?
The people at smallcase have been the best part of my journey so far. I have learned so much and upskilled consistently over the last four years. I used to be very afraid of public speaking and suddenly I had to conduct webinars for our brokers! I didn't think I could do it. But people showed faith in me and eventually I started to enjoy it. When my friends and family saw it and appreciated me for it, it was a special moment. This is why my favourite quote (from Kung Fu Panda) is that we won't be more than what we can if we keep doing what we do. I have grown professionally but also personally. The culture of openness and the dynamic nature of my role are also reasons I love smallcase.
She has had many firsts at smallcase – published her first blog, conducted her first webinar, saw the product cross 1M active users!
Favourite project so far at smallcase?
When I joined the product team, I had the opportunity to start the User Research practice along with the then product head – Ravi Agarwal. We formalised the User Research practice within smallcase, created the roadmap, surveys, spoke to users and analysed data. The first User Research project we worked on was to understand behaviour of newly signed-up users. It was very exciting to learn from the other side on what users feel when they land on your product for the first time. This research helped us in carving out an onboarding journey, guided help centre and on product nudges. The most satisfying project as a product manager is to see your feature go through a complete cycle from discovery to delivery. The user research process helped me see it end-to-end from problem identification to solution. Lots of new features you see on the app today also came about from these conversations based on what users want or need.
What does a typical day at smallcase look like?
There is no typical day, almost every day is different in a good way! I spend my time on discovery items, features that we want to ship, research, brainstorming with the design team, analysing data, going through user feedback across platforms and collaborating with the engineering team for ongoing projects.
A typical release day would end with a Hallelujah!
What would your team say about why they love to work with you?
I have been told that I have excellent collaboration skills and a good hold on soft skills. I like to get things done quickly and have a good understanding of both the product and business side of smallcase which helps me have a holistic view required for product management. I am patient, highly effective at seeking collaboration to make sure the work gets done correctly and always willing to help out!
What makes your work interesting?
I think the versatility of the role in smallcase is what makes it interesting. There is not a single day that you feel your work is getting mundane or repetitive. There are new and interesting challenges to solve. The projects I work on have a direct impact on numbers and product KPIs which gives me a sense of purpose. There is tremendous scope for experimentation and the freedom to make mistakes has helped me grow confident in my skills.
A little about your life which you are willing to shareI have completed two half marathons while at smallcase, something I am super proud of! Currently, I am based out of Mumbai but try to make the most of smallcase's remote work policy by fitting in small workcations! In the last two years I have had the opportunity to work from different locations briefly – Dharamshala, Manali, Goa, Udaipur, Paris!
Next on my list is Madurai so I can enrol for a yoga course with Sivananda Yoga Vedanta school and practice in the wee hours of the morning and ship beautiful products during the day at smallcase!
Write to us at people@smallcase.com to explore opportunities, tell us why you love our product or any feedback to help us do better!