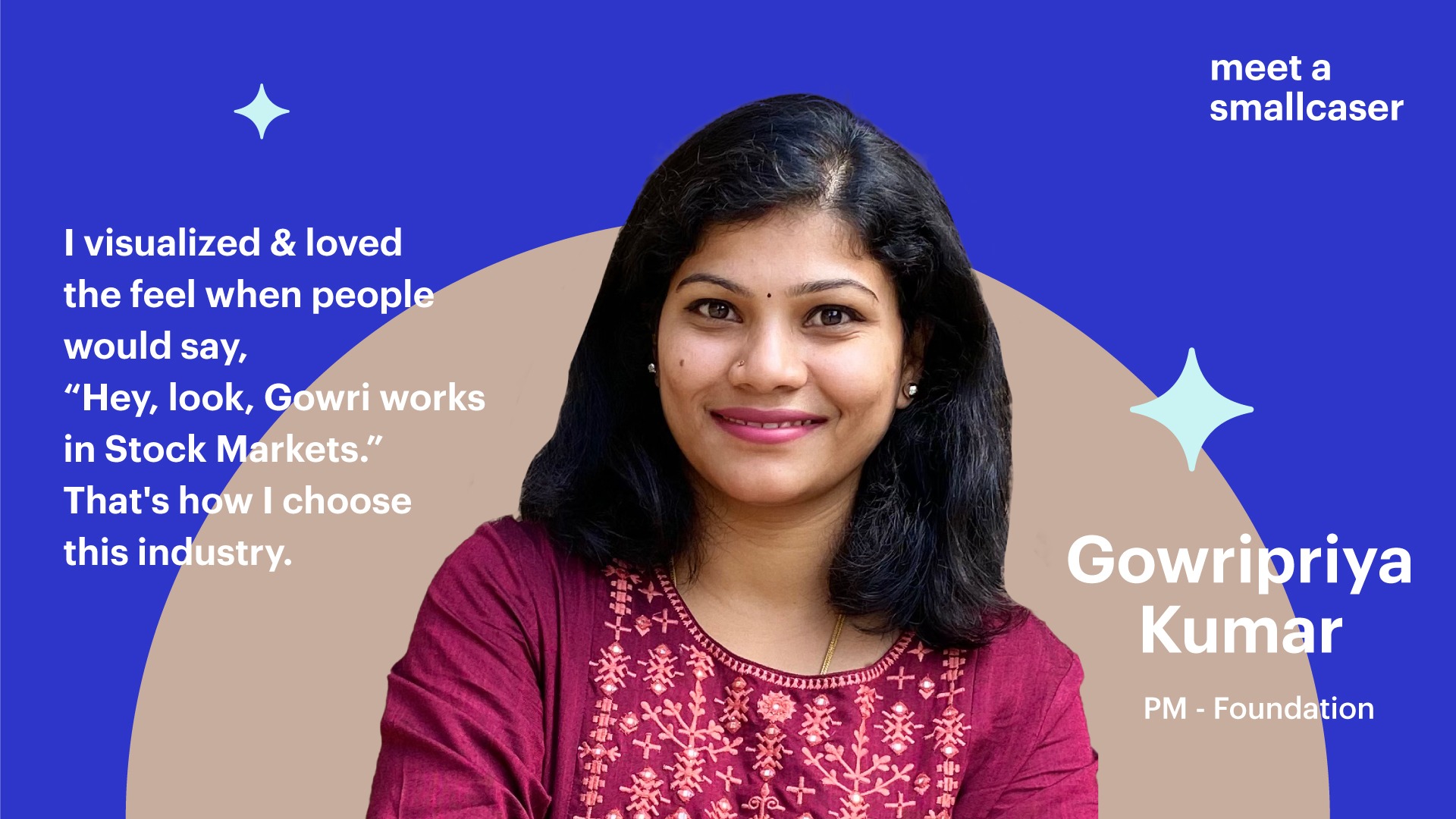 Reading Time: 6 minutes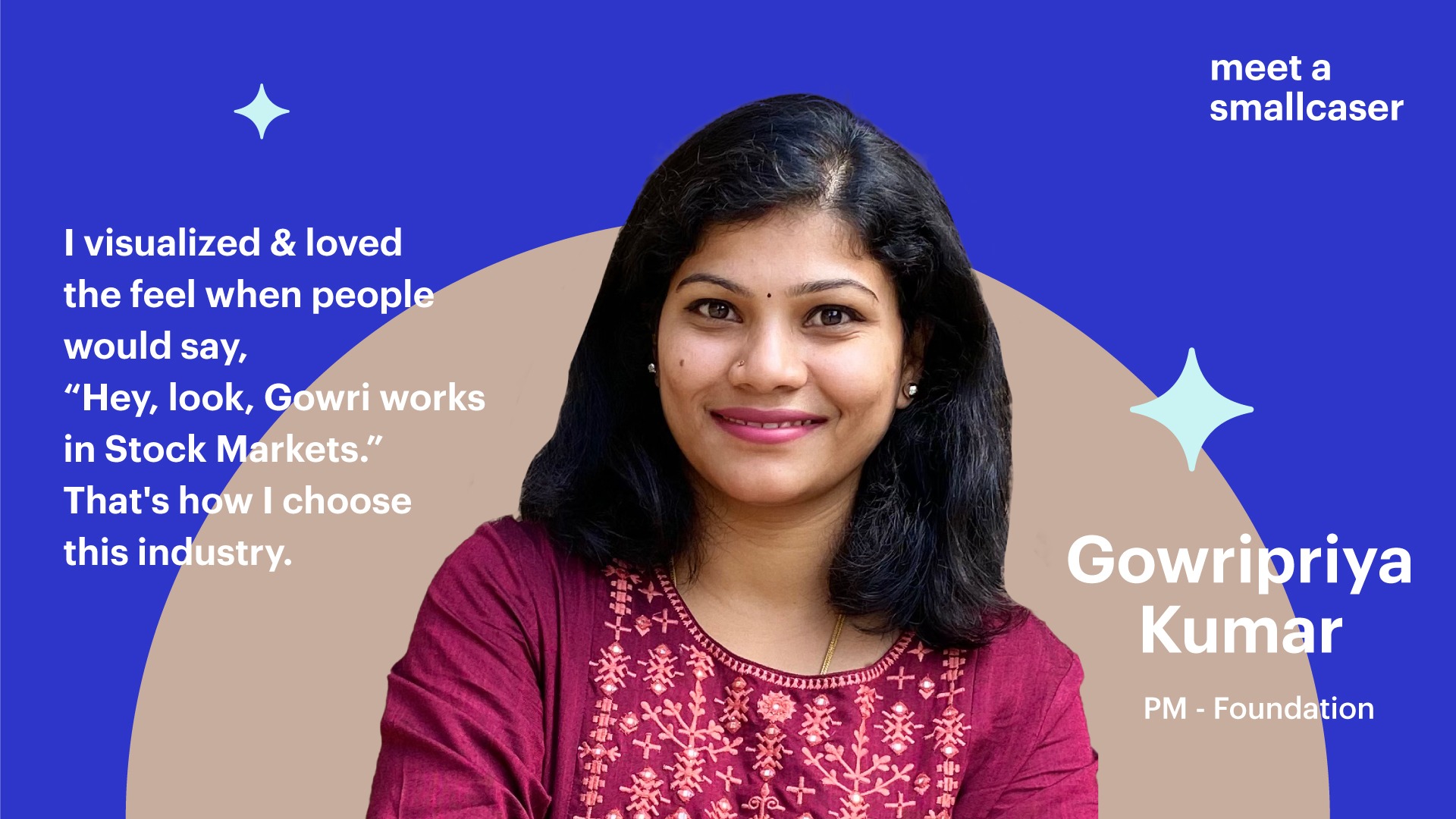 After a year of working in IT, Gowripriya grew interested in the stock markets. She felt IT was not a sector where she could showcase her true talents and live up to her full potential. So she started to learn about the markets. To her surprise, her partner-to-be had experience in the Stock Markets and she learned in full swing post-marriage. He had just discovered smallcase and found that there was an open role. This is how she joined and helped contribute to smallcase's growth over the past 4 years!
Let's hear more from Gowripriya about her journey and why she loves smallcase!
How did you come to work in your field? Why did you choose this area?
After a year of working in IT, I got bored because of the routine work. I am someone who needs excitement in my job. One day, it struck me that I am not satisfied with the contribution I was making to my career or for the public good. I always wanted to do things out of the ordinary.
Stock markets fascinated me. I visualized & loved the feel when people would say, "Hey, look, Gowri works in Stock Markets." That's how I choose this industry. And the next one year was all about learning; the following year, I got into smallcase.
Within the financial services sector, product management did not come to me easily. I earned it with patience and abundant interests. After 3 years of creating the environment, and processes for the entire CX team from scratch, I felt my job was done. So I expressed my desire and I got the opportunity to step into Product. After years of working, I feel like my destination has finally arrived!
How did you join smallcase?
The interview experience is still a surprising one for me. After clearing the e-mail round, I was asked to come to the smallcase office (at Zerodha's office back in 2017). I met the then CX Manager who started to explain all about the tool that I'll be working on. Did I say Explain? I mean she started training me right away! It was nothing like an interview. It was a casual talk where Vasanth (Kamath, Founder & CEO) and Namrata got to know me and I got to know the product.

Within a week, I started to work at smallcase. Since I was already trading with Zerodha, which was the very first broker partner of smallcase, it became easy for me to understand the product.
Why do you love smallcase?
The flexibility. As a mom, I wanted to spend a lot of time with my baby until she turned a year and a half. I thought I wouldn't be able to do justice to work and decided to quit. But to my surprise, smallcase offered me a part-time role and I was able to concentrate on my newborn and on work until she turned old enough.
Also when Thara (my daughter) was born, they celebrated by sharing sweets with the entire team which I came to know much later. That moved me.

smallcase gives space equally to our personal work, holidays, and occasions/passions.
Favourite project at smallcase so far?
The current 'secret' project I am working on is expected to go live in a quarter. I wanted to work on this project from the day I came to know of it. I'm glad to be a small part of the team bringing this to users! The great brains of the Foundation team dedicate numerous hours to building the logic, planning the flow, addressing and rectifying the fallbacks, and integrating with multiple sources to build a seamless product. You'll never find a free slot in the team's calendars to work on anything else outside of it because we are all so immersed in making this a success! It's very challenging and rewarding and I can't wait for you to see it.
Equally, I loved creating Chatbots for all the brokers. Deciding on the plan, structuring it, and accommodating the fallbacks were so interesting to work on. The entire process of creating the bots was a problem-solving challenge. All the plans and mind maps were planned for more than a week, but the creation of the first bot was done in just 2 long days and the rest of the bots were created at ease based on the selected brokers and requirements.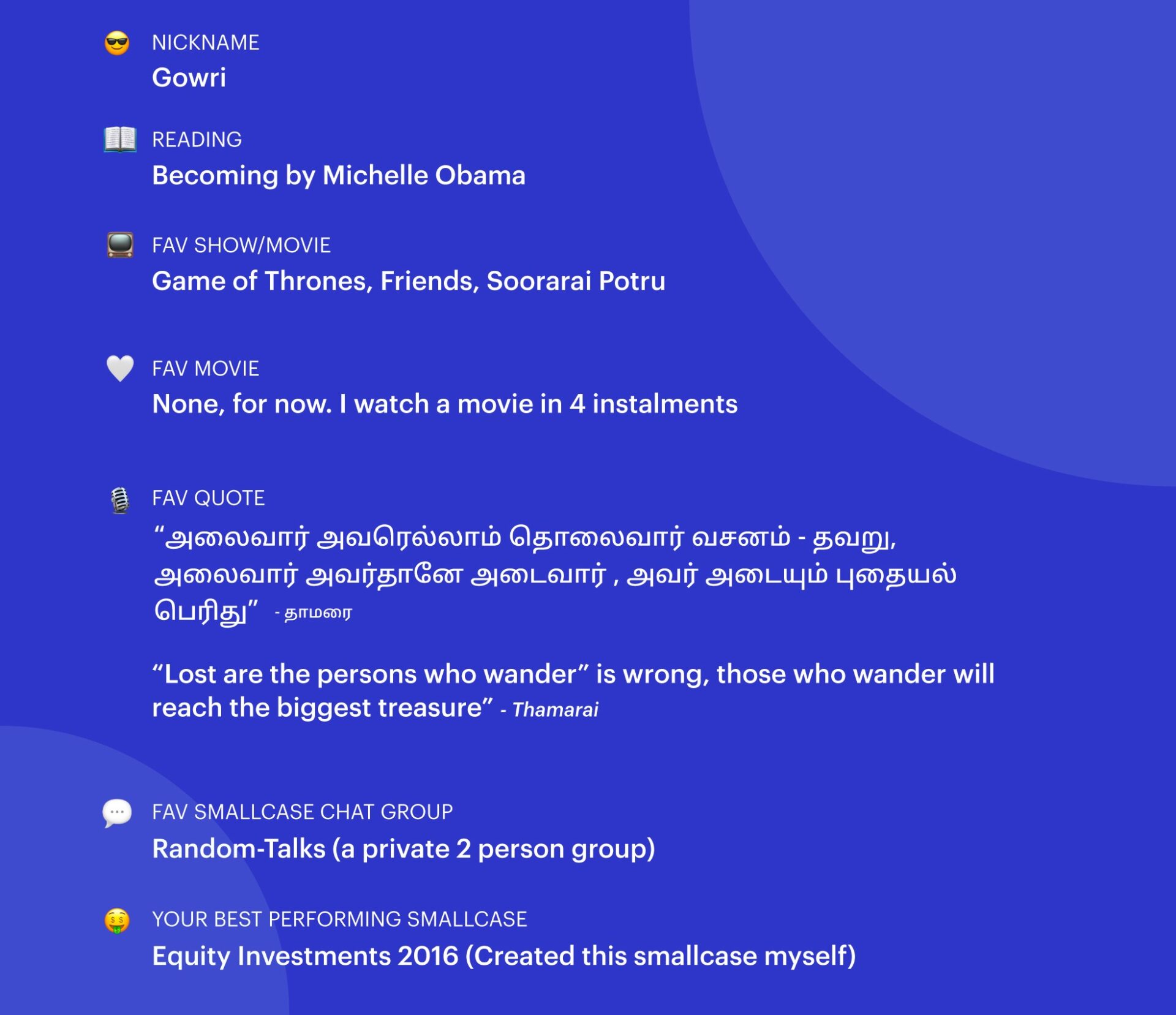 What does a typical day at smallcase look like?
With the Work From Anywhere policy, two-thirds of the day ends up with calls across multiple teams to collaborate. There is no repetitive work that I do daily. A sudden request or an issue might pop up and we'd need to plan and execute on fixing them which is more of organizing work where you'd need to sort down the multiple items on your plate.
What would your team say about why they love to work with you?
I came to know from others that I am doing multiple tasks. And the transition from being a Product Support Specialist in 2017 to a Product Manager in 2022 inspired quite a number of colleagues and I am really glad about that.
What makes your work interesting?
The daily challenges, non-repetitive work, and the freedom to decide and work the way I want to implement in the projects keep work interesting. smallcase hears your view, and opinion and chooses the best for its product.
A little about your life outside of smallcase
A busy Mom and working professional, every hour on the weekdays is utilized by either these job roles. Out of 4 weeks in a month, 2 weekends we are out on the road traveling.
We love to move out of the city very frequently, and as a recent milestone, our car has just hit 10,000 kilometers in just 10 months!
Knowledge about investing and personal finance are very minuscule in tier 2 cities and the middle-class community of my state (Tamil Nadu). The habit of investing or money management is not taught in any college or school. So people think that investing in stock markets is gambling / a millionaire's game. I wanted to change that mindset in the common people. Hence I came up with an initiative to spread awareness on investing, Stock Markets, and personal finance, through reels/posts in my native language.
As the first step, I took online guest lectures in a few colleges on the topic of Introduction to Financial Investments and Stock Markets to tell young students that learning Stock Markets is not rocket science. It is just another subject that gives you the all important financial freedom.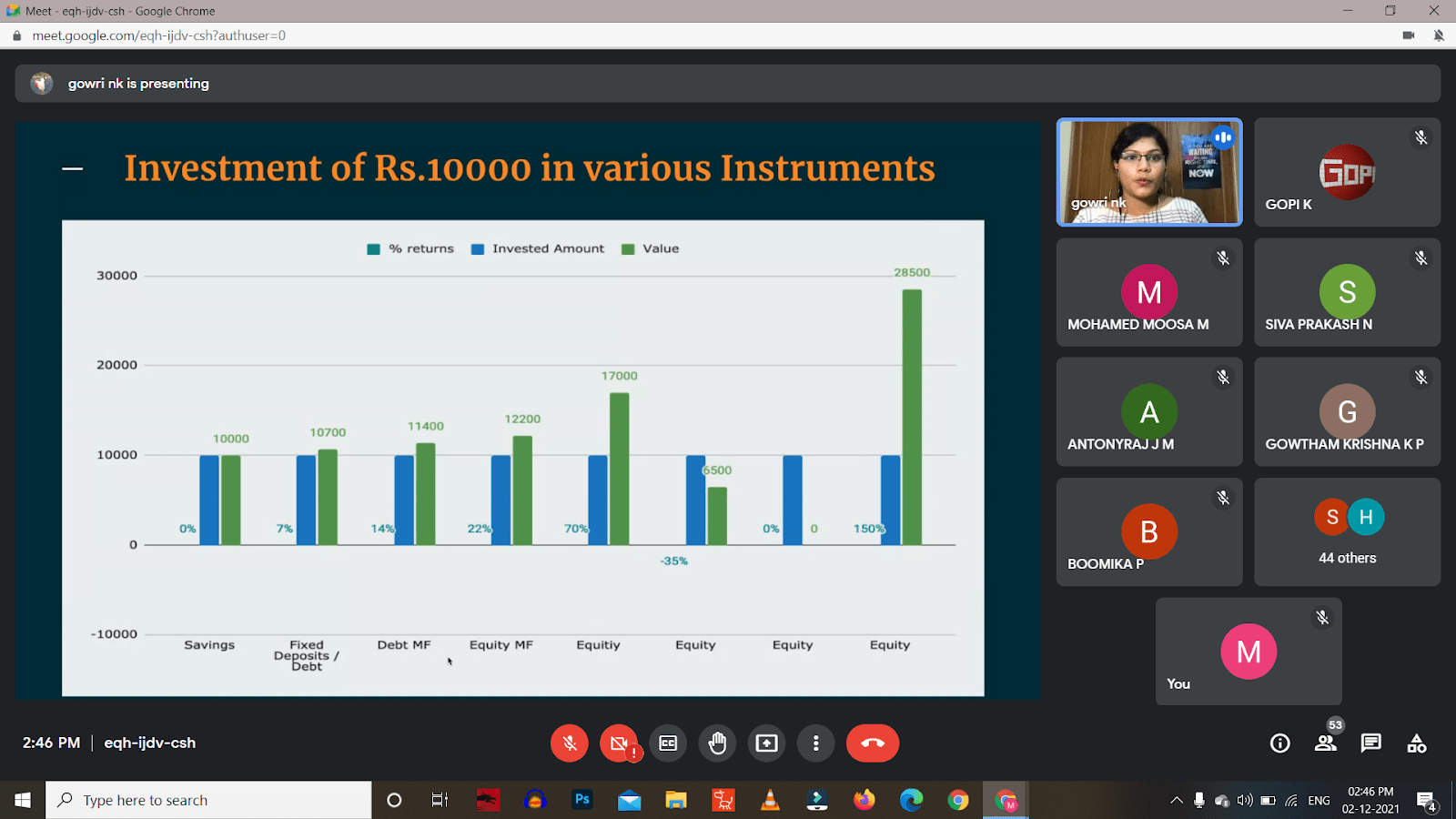 I am taking classes on the same topic in 2 different batches – Basic and Advanced. In the Basic course, I cover personal finance, and different types of investing instruments such as PO schemes, Mutual Funds, Stocks, Bonds, Golds, and Crypto. I provide a detailed understanding of Stock Markets and Mutual funds in a very easy-to-understand manner that every common man can understand without using jargon or fearful examples.
In my Advanced course, I take them through Technical Analysis, Fundamental Analysis, Charts interpretation, and a few basic/famous investing concepts and strategies that include Moving Averages, and Trend lines, Support & Resistance which is nothing but Price Action.
Write to us at people@smallcase.com to explore opportunities, tell us why you love our product or any feedback to help us do better!