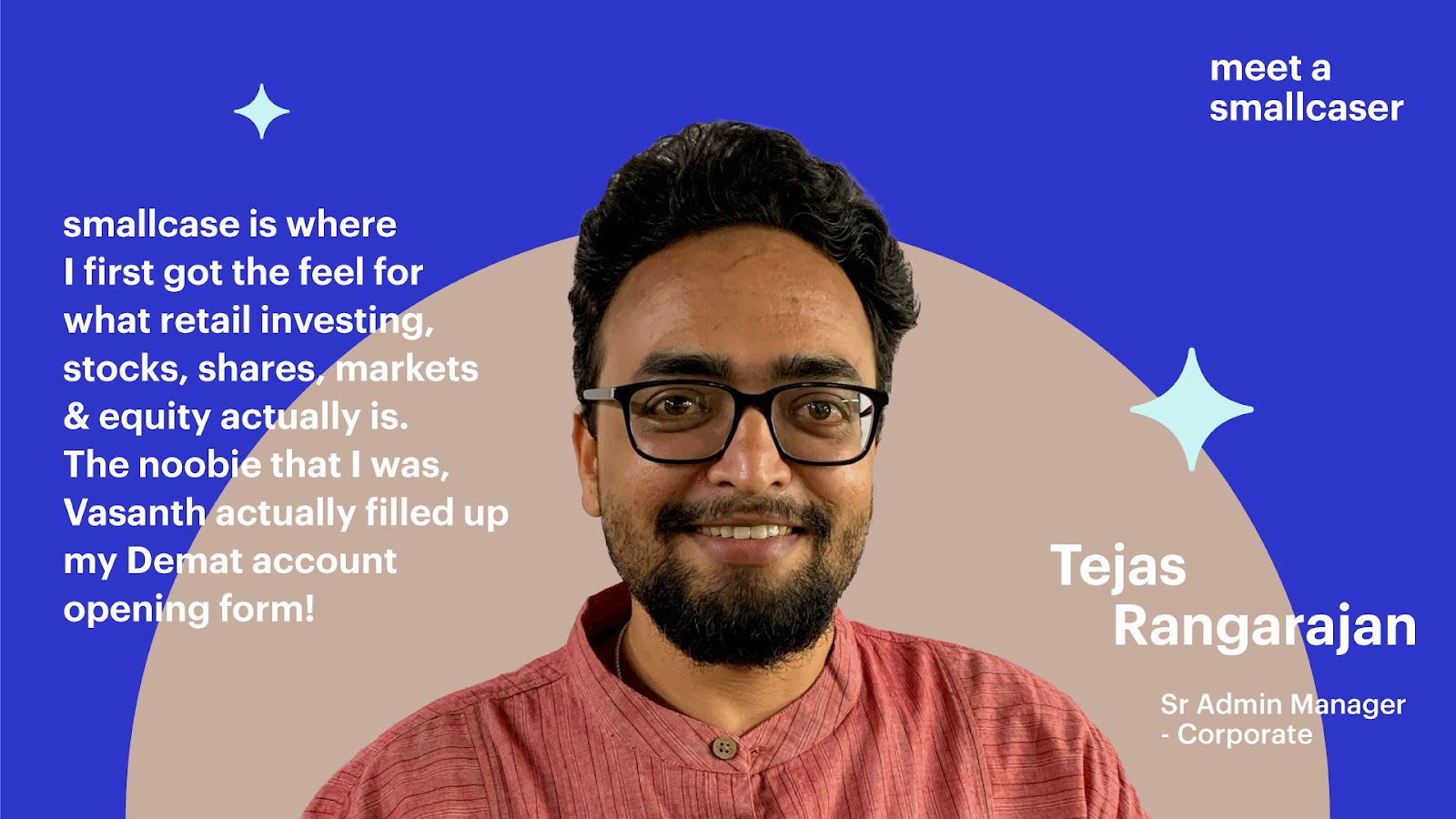 Reading Time: 5 minutes
Born and raised in Bangalore, I went to school with Grammy award winner Ricky Kej!!! With the IT wave at its peak when I finished high school, the default college stream was Computer Science (all my friends were talking about Infosys and Wipro at the time which was considered the ultimate middle-class dream, and then a H1-B visa to move to the US!)I also dabbled a bit with German and French classes. But I just couldn't get a hang of electronics, diodes, circuits et al and switched to Commerce and Business studies.
Let's hear more from Tejas about his journey and why he loves smallcase!
How did you come to work in your field? Why did you choose this area?
My professional life started off at a retail firm which wanted to do something big in the coupons space in India. This was my first exposure to how tech can change consumer behavior and saving patterns. Things didn't really take-off as expected with them and I got a chance to move to an exec role with an embedded systems firm which worked closely with the Indian defence sector. This is where I got hands-on experience working on Ops and HR.
How did you join smallcase?
Cut to Aug 2017, I had the exciting opportunity to meet Vasanth Kamath (Founder & CEO) through a family friend who was working at Zerodha. Initially, I was very apprehensive about the fact that I was going to meet the Founder of a start-up. 'How's he going to be? What should I be prepared with?' Turned out he was the coolest person to have ever interviewed me 🙂
Our first catch-up was at the Zerodha HQ building! I was excited to see these folks building a product which promised to disrupt the investing landscape in India. smallcase is where I first got the feel for what retail investing, stocks, shares, markets & equity actually is. The noobie that I was, Vasanth (Kamath, Founder & CEO) actually filled up my Demat account opening form!
Why do you love smallcase?
I've always believed that "Team smallcase" is the BEST part of working with smallcase. What struck me most was the belief that smallcase is building a platform that would help tens of thousands of users from across the country and as we all saw during the pandemic, digital absorption/penetration was like never before. Being the Admin Manager at employee no.15, there were a lot of verticals that I was entrusted with since we didn't have specific teams looking after People, Finance, Administration and Ops. Multi-tasking, among other skill sets, is what got me going from day 1 and has been the driving force ever since. Interacting with people at smallcase has helped me overcome my fear of public speaking. This reminds me of the first all-hands meet when I choked while introducing myself to the team and Anugrah (Shrivastava, Founder & Chief Product Officer) stepped in and said "Chill, dude!"
I don't really know what people mean when they talk about "start-up culture", because smallcase has always given me space to build my own way of work while still keeping tabs on deadlines. The exciting part is the whole ecosystem that smallcase is building and is constantly innovating.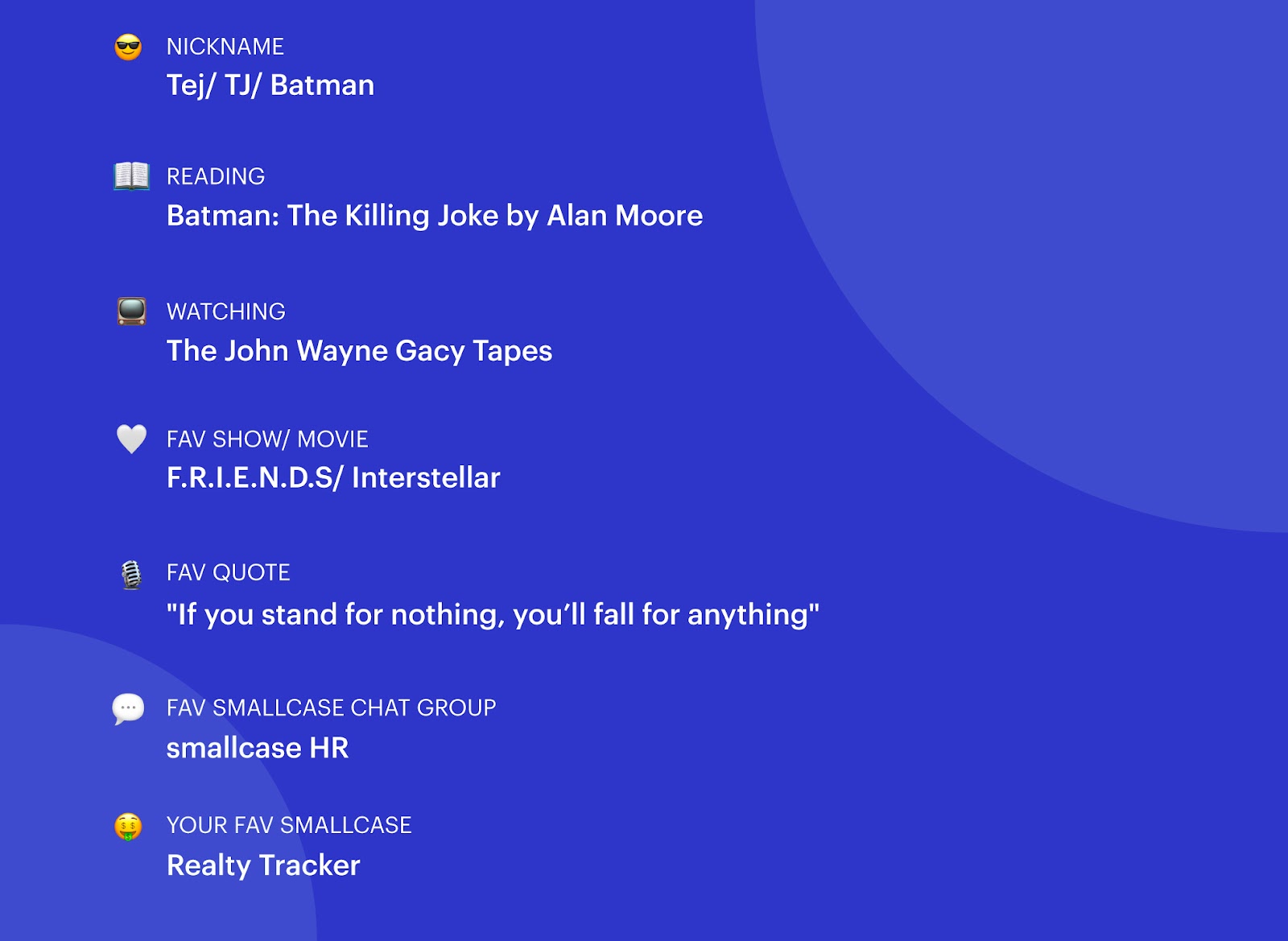 Favourite project at smallcase so far?
My favourite project at smallcase has been my entire 5 year tenure here! Scaling up from 15 people to the current headcount of ~350 has been an amazing experience. Ofcourse, the Covid pandemic and working remotely came with its own challenges. As with any job, we do learn to ride the wave and rise to the occasion. There were a lot of things associated with how the company planned the tremendous growth we've seen – compliance, legal, investor relations, statutory filings, people engagement, both internal and external, vendor management and logistics – that I was lucky enough to be exposed to it all.
What does a typical day at smallcase look like?
No two days are the same at smallcase and everyday is a learning experience. With the work from anywhere policy (with only 30 days in office/year), the office is never a full-house when compared to pre-Covid times but everyday is a new day with new faces. I agree with my fellow smallcasers when they say we have great work/life balance – ample time to upskill/learn new stuff and family time as well, not to forget some "ME" time too! Anyone who's looking for this, look no further, this is where you belong!
What would your team say about why they love to work with you?
I recently clocked 5 years here at smallcase. It seems like I started yesterday. It's been a phenomenal growth both personally and professionally. I was referred to as a "one-man army" all these years, and just started building my team in June this year. I can say this with a sense of pride that smallcasers would know me as that go-to guy for anything (resourceful being the word!). Folks would also know me as someone who always has a smile on my face. At the risk of repeating myself, smallcase is a great place to work at 🙂 There is no ebbing of the learning curve here, everyday comes with a new set of challenges and I always look forward to taking on them head on.
A little about your life outside of smallcase
I am currently based out of Bangalore (a Kannadiga who's never lived anywhere else) and take occasional trips to smallcase HQ to catch up with people in the cafeteria over a cuppa discussing how Metallica lost their touch or how old Tom Cruise is! I listen to all kinds of music from Alan Parsons to Dream Theater to Dr Dre to Daft Punk to AnjunaBeats to Cradle of Filth to Dark Tranquility. I also enjoy watching stand-up gigs by Russel Peters, Ricky Gervais, Dave Chappelle, Aries Spears, Jay Pharoah (bang on celeb impressions!) and Andrew Schulz. I'm also a proud DC comic fan with some amazing collectibles stacked on my shelf. On the bucket list is a safari at Masai Mara and Kruger National Park, camping at Spiti Valley, watching Coldplay and Sepultura live, bungee jumping from a hot air balloon, F1 at Monaco and experiencing snowfall (folks at home talk about that trip we took to Kedarnath when I was a kid and there was heavy snowfall, I have no recollection whatsoever!!).
Write to us at people@smallcase.com to explore opportunities, tell us why you love our product or any feedback to help us do better!