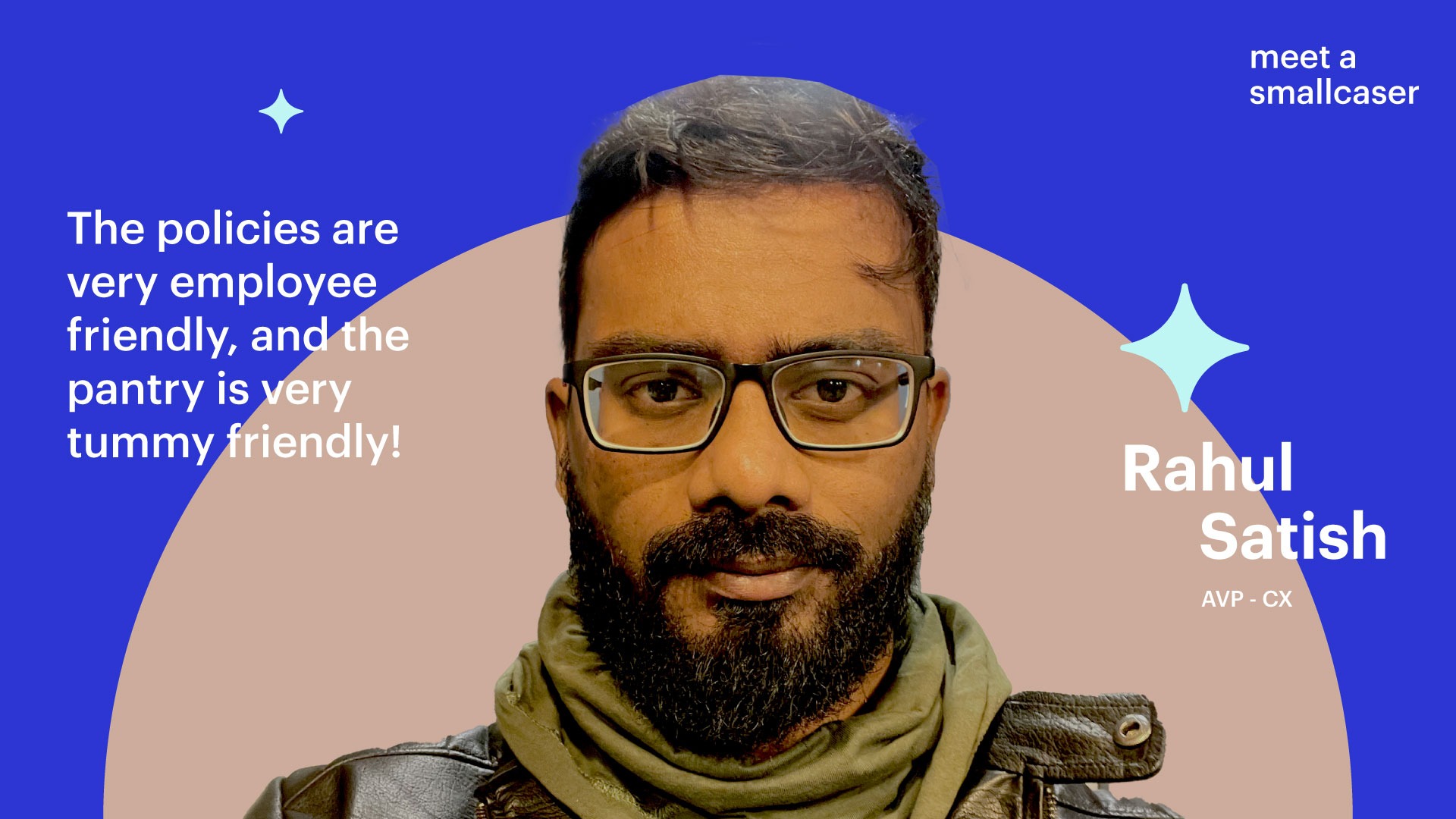 Reading Time: 4 minutes
Rahul began his career in technical roles at IBM and others. Although he did not major in computer science he considers himself pretty decent at coding. He joined smallcase as a Product support specialist four years ago. He enjoys music, be it listening to it, talking about it, or producing it! No genre is off-limits. He also loves to play basketball and hits up a bowling alley or a snooker parlor after work. He is also a digital artist.
Let's hear more from Rahul about his journey and why he loves smallcase!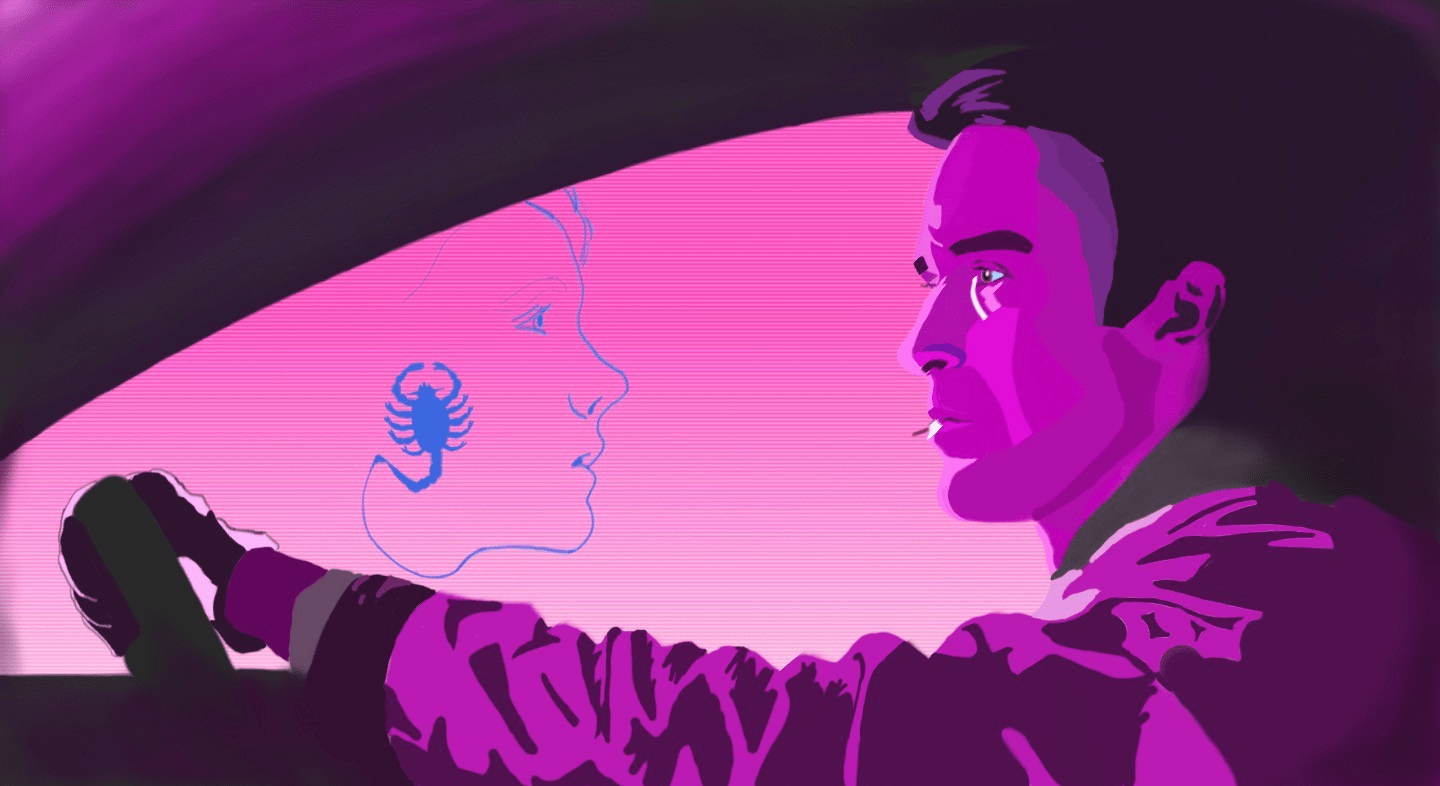 How did you come to work in your field? Why did you choose this area?
I never had a particular career choice in mind. For as long as I can remember, I've wanted to be an archeologist, geologist, astrophysicist, actor, etc. However, at the time of graduating, I ended up choosing customer support and as I always loved to converse with people, it came naturally to me. So, it's more like the field chose me!
How did you get into smallcase?
During my previous stint, towards the last couple of months of my tenure there, the company was in the process of being acquired, and hence, we didn't have much work. Nonetheless, we were being paid. I found this phase very painful as I didn't learn anything new and my personal growth felt stunted as I couldn't solve problems. Notwithstanding being paid to do nothing, I chose to move out and seek a new job. I applied for the role of Product support specialist at smallcase and soon received an email from Namrata (who later became my manager). After exchanging a few emails, questions, etc. she invited me to the office for the final round of the interview and there I met Vasanth and Namrata. The fact that they were so relaxed during the interview and amicable throughout, excited me and I wanted to work there. After the discussion ended, Vasanth walked me to the parking lot to see me off!
Why do you love smallcase?
Of course, the org, culture and people have set the bar so high for me that I don't think I can compare any other workplace to here. People are approachable and warm. Everyone is very helpful and eager to teach you new skills. The policies are very employee friendly, and the pantry is very tummy friendly! With frequent activities, poker games, PS4 duels, etc. work stress is not a problem. Maybe it's the people, maybe it's the culture, maybe it's Maybelline!
Favourite project so far at smallcase.
My favourite project was building the CX team from scratch. This exercise was a huge challenge for me with no prior experience in managing a team let alone building one. This also included revamping the hiring/ interview process and designing a training module for the new members. As soon as a part of the problem was solved, we were hit by the pandemic and now, we had to completely rejig it to scale remotely. Everything we had to work on as a team resulted from trial and error. There was no handbook for us to run a remote team. The team scaled up from 2 to 30. I wouldn't have had this any other way because I learnt what not to do while building a team. I picked up several skills along the way while doing this which came in handy.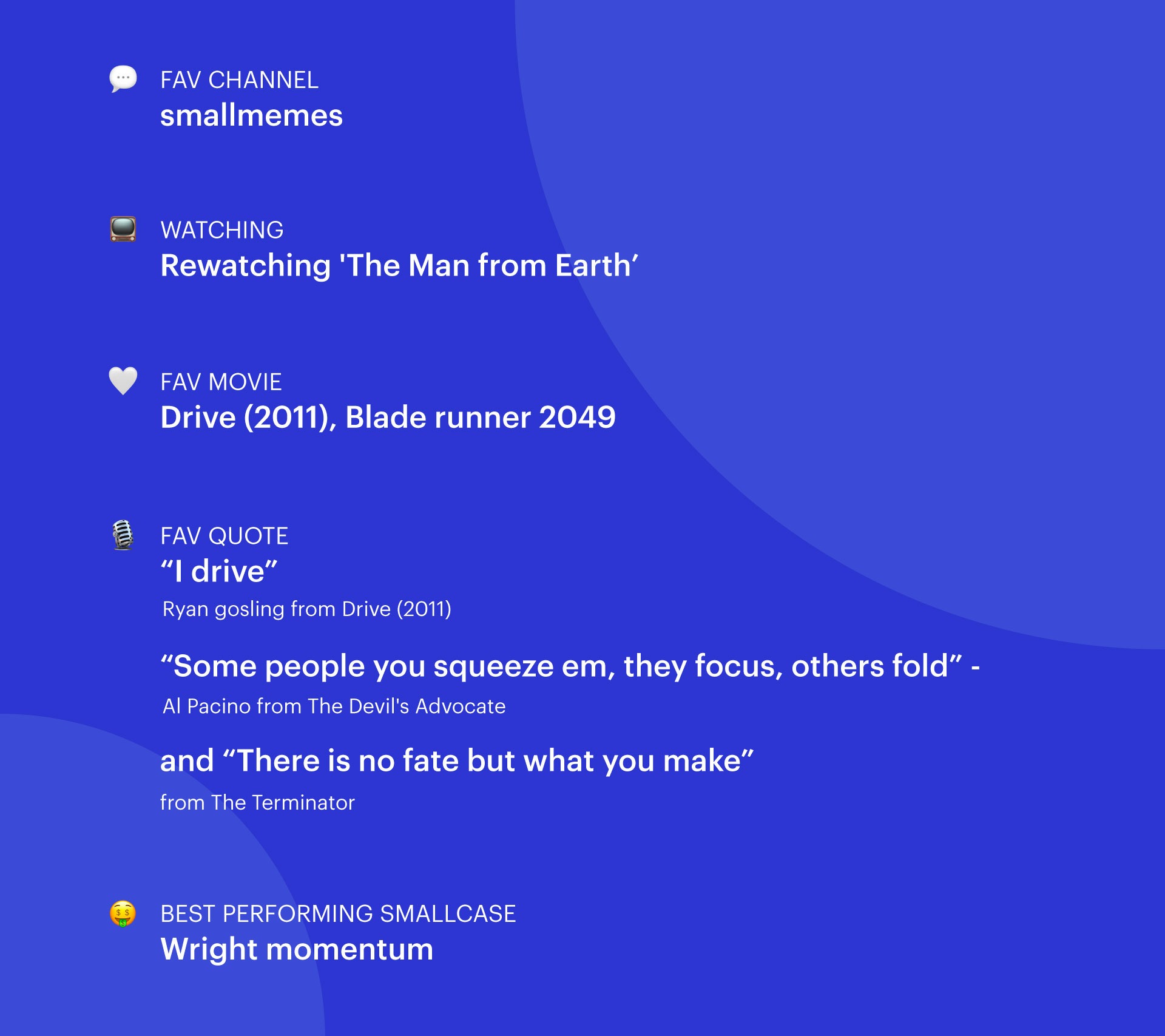 What does a typical day at smallcase look like?
A typical day for me now would start at 9am when I monitor for any issues that may arise for users when the market opens. After a bit, I get on my daily calls & look at what tasks I have for the day. I prefer to work at the office as I find it more productive and I can socialise with people easily. Due to the pandemic, a good part of my work day is occupied with meetings online. However, I make some time for myself to stretch, relax and catch up with everyone at the office and online. Evenings we spend having chai and playing some games – it could be on the PS4, card games or something online. I love to stick around till 7/8PM and then go back home to my family and my pets.
What makes the role/team interesting?
When anyone thinks of customer support, the first thing that comes to mind is answering calls from angry customers. However, this is far from reality. Here, at smallcase, we provide seamless support to the customers end to end. This type of customer experience is something that almost every customer of ours has loved. Not only are you required to have soft skills, you are also expected to have some level of technical knowledge to be able to help customers in record time. To think from a customer's perspective and put yourself in their shoes is a skill in itself. The learning curve in CX is very steep. You form one of the primary pillars that hold up the brand image in the eyes of the customers. You not only learn soft skills, customer handling etiquette, and the product, but you also learn about the market, current trends, and about the gears that run the product behind the curtains.
Write to us at people@smallcase.com to explore opportunities, tell us why you love our product or any feedback to help us do better!