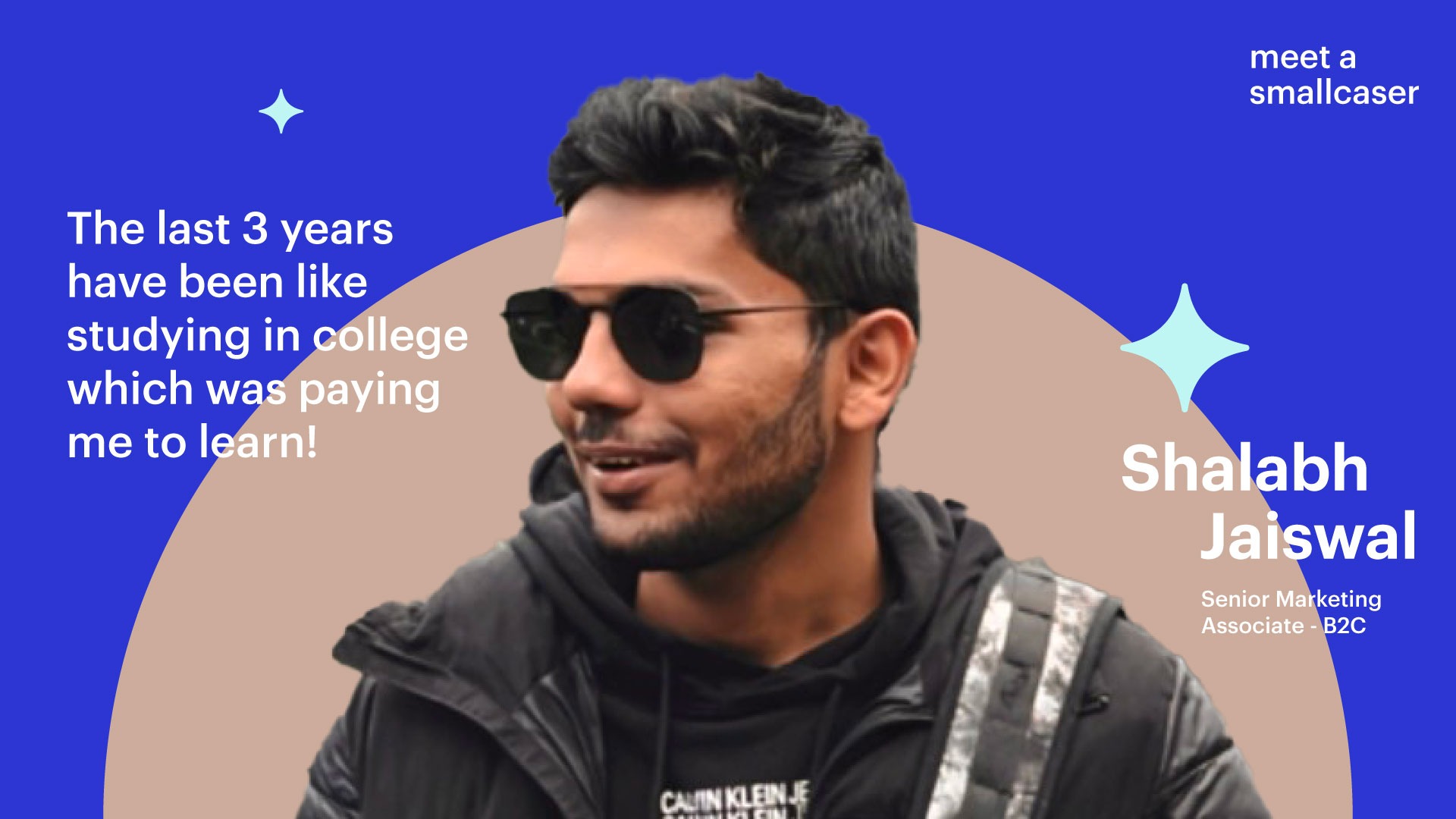 Reading Time: 6 minutes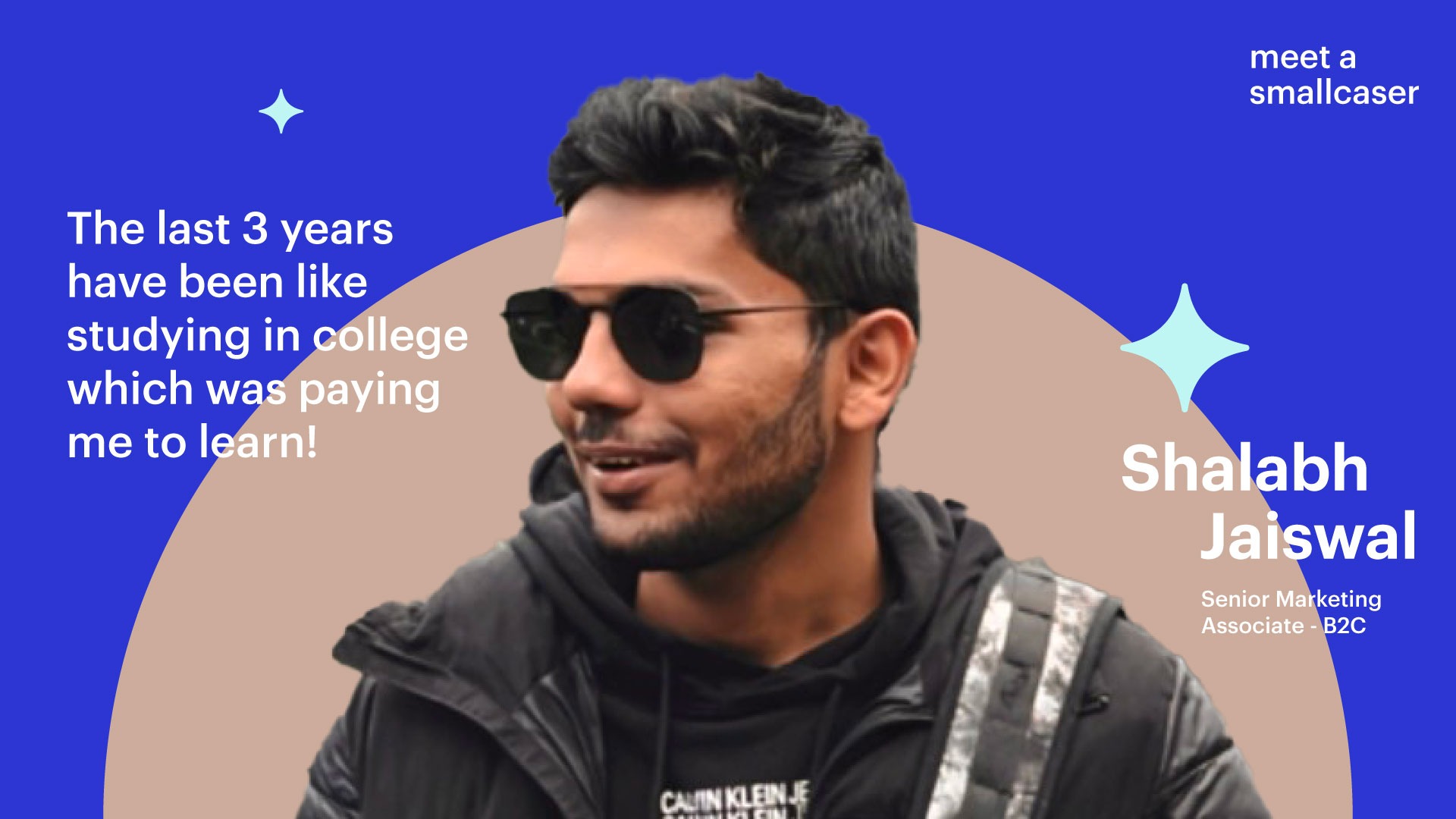 In Shalabh's words, life's been a roller coaster.
He comes from a small and happy town called Jamshedpur. He grew up as a kid who did everything but study! He was on his school's sports teams, took part in competitions, was into theatre and was also the lead drummer of his school band. Always on the last bench and far away from academics, most of the time you would find him punished and asked to stand outside the classroom. Surely many of us relate to him already and want to find out how he ended up doing great things at smallcase!
Let's hear more from Shalabh about his journey and why he loves smallcase!
How did you come to work in your field? Why did you choose this area?
In my 3rd year of college, everything changed. I ended up taking finance as my major and I absolutely fell in love with all the subjects. I went from a last bencher to a teacher's pet in no time. I became a nerd and I loved it! I opted out of job placements because I knew I wanted to work for a small company. A lot of my friends from school were now techies in Bangalore, so with some confidence and now, in hindsight some delusion, I decided to move to Bangalore and look for opportunities.

I loved finance and I wanted to build a career in finance, so I started researching startups built in the finance industry. After 30 days of hopelessly applying for jobs and getting no response, I got really frustrated and one day pinged the CEO of a fintech company on Linkedin.
This is how my story at smallcase started, with a poorly written message to the CEO 🙂
How did you come to work in your field?
I wanted to build a career in finance but life had different plans for me.
I joined smallcase as an intern. In the beginning, I remember I would do the most random things as one does at startups. I started by spending my days reading all of our blogs to understand the product and the concept of portfolio investing. I was updating blog headers and links, I was translating our blogs into different vernacular languages.

When I was hired for a full time role I did not know what exactly I would be doing at smallcase.
Justin, who was heading marketing at smallcase back then, had a hypothesis – to drive performance using Youtube videos. I started to work with him and everything changed very quickly thereafter. Justin and I started experimenting with YouTube creators and got them to talk about smallcase. We set up the in-house Influencer marketing team at smallcase. We went live with Rachana Ranade for the first time in the last week of November 2019, and the video did much better than we expected. So much so that after that, I was asked to stop working for 20 days till our app could handle the traffic coming from these videos!
That's how I ended up getting into marketing.
Why do you love smallcase?
People, culture, growth. In that order.

I have been at smallcase for a little over 3 years now, and my favorite thing is the people here. I was fortunate enough to work at smallcase pre-pandemic. I would get to meet so many folks, all extremely talented, great at their work, and with so many interesting stories. Lunch breaks, smoke breaks or impromptu drinking plans post work, it was great being everywhere because as a 21-year old I would get to learn so much, about smallcase, about the industry and about life in general.
On top of that, the culture, based on my personal experience, has been so good that I feel I can not work for any other company after this! People here care about your work and what you bring to the table. As long as you get the work done and in the right manner nobody cares about things like logging in and logging out, how many hours you are active for, and everyone is accommodating and flexible. Even the leaders are approachable and easy to get along with. Your opinions and views are heard, you are not restricted to just your designation.
Finally, career growth. smallcase has a culture of building leaders. They believe in hiring the right folks, and giving them the tools and freedom to express themselves through their work. The amount of trust I have received, be it with budgets, judgment calls, or even experiments, all of this has helped me become who I am today, not only in terms of subject matter expertise but in building my self-confidence.
My favorite project so far at smallcase
I have had the privilege to work on a lot of exciting projects. Setting up influencer marketing from 0 to 1 was the first project that I fell in love with. The most recent project that I loved was our first brand campaign, "Invest in ideas". This was the first time I was given a shot at going beyond influencer marketing. Vaibhav Jalan, (Now VP – Business) took a chance with me, and let me shadow him throughout the campaign. For me, it was an immense opportunity and a chance to learn how brand campaigns work. Understanding how different elements in a marketing campaign can contribute towards the larger picture of building a brand has been a tremendous learning opportunity.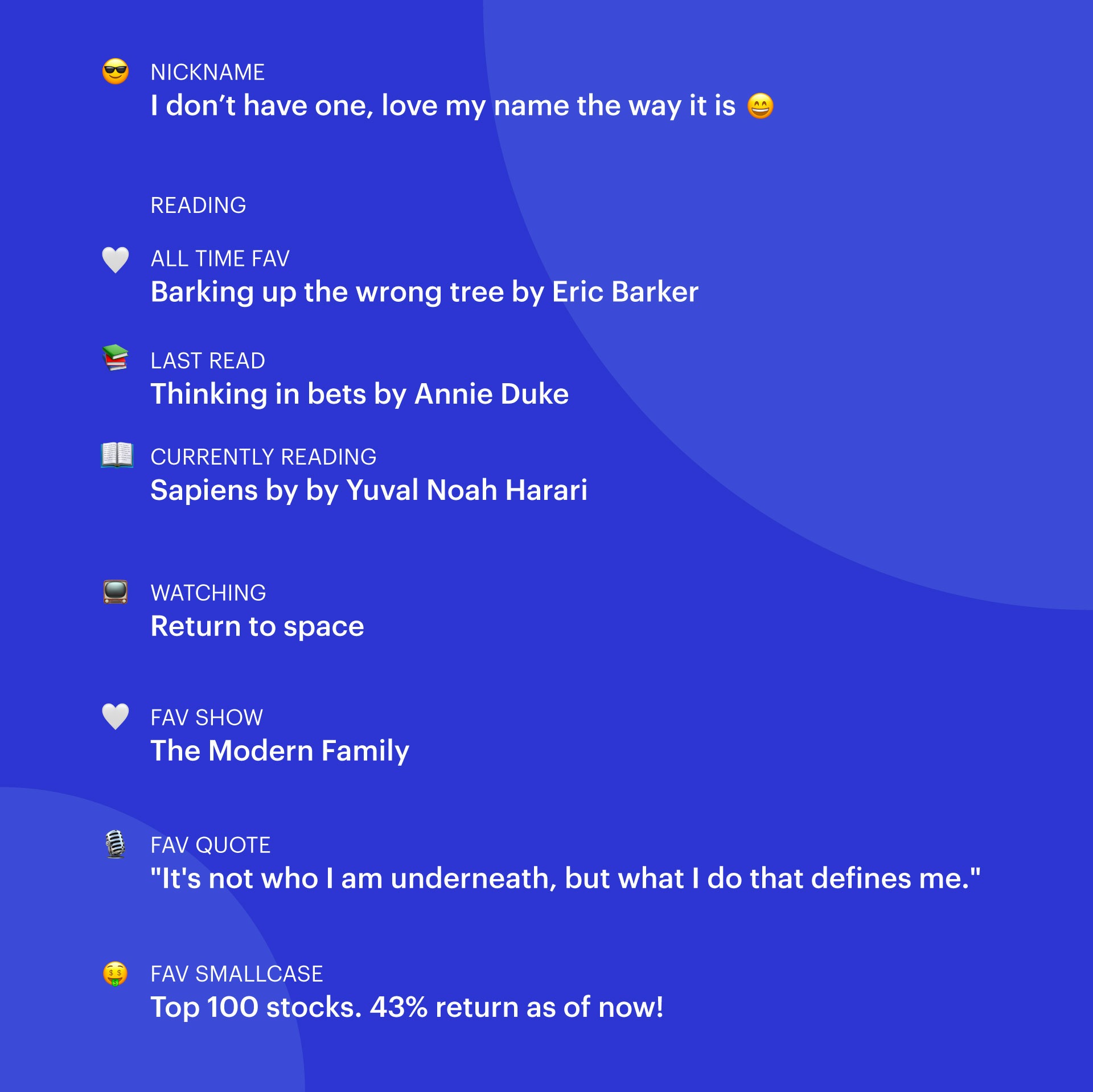 What makes your team interesting?
There are two great parts about working for the current marketing team at smallcase.
First, irrespective of which subset of marketing you start with, be it content, social media, performance marketing, etc. you get a sure-shot chance to understand marketing as a whole. All functions of marketing work very closely with each other. As a result, even if you are a copywriter, you get a chance to learn how performance or influencer marketing works.
Secondly, the person driving marketing at smallcase – Aniket Thakkar.
With the immense amount of experience and subject matter expertise that he comes with, he is like a teacher that any student would love to have. The level of depth at which he understands how and what makes marketing tick is something to be in awe of. In a very short period of 6 months of working with him, I have learned so much about marketing.
Anything you think your future team members should know/ what you want to tell them?
There are so many things I could tell someone who might join smallcase in the future or even to folks who are currently working, but if I had to summarize it, for me, the last 3 years have been like studying in a college which is paying you to learn! So make the most of it.
The next step
All good things must come to an end.
The last 3 years at smallcase, for me, have been like magic. Things I learned, the people I met, the mistakes I made, and the feeling of having a home away from home, all of what I have gotten is way more than what I had imagined as a 21-year-old, looking to start a career.
I have nothing but gratitude for everything and everyone at smallcase.
What's next for me? I recently got an opportunity, which as a 25-year-old is too good for me to pass up. For as long as I can remember, I had always wanted to run a company of my own. I will soon be the chief operating officer of a marketing agency!
The opportunity to run a business, work with multiple brands, and understand the industry better is a challenge I am really looking forward to, and it feels like a natural next step in my career.
More than anything, I will definitely miss the feeling of smallcase, what it meant to me and what I am taking away from here. I am looking forward to seeing smallcase become what it's destined to be. Here onwards, I will be a cheerleader from the outside.

Life's been a rollercoaster, and I intend to keep it that way.
Write to us at people@smallcase.com to explore opportunities, tell us why you love our product or any feedback to help us do better!