Reading Time: 5 minutes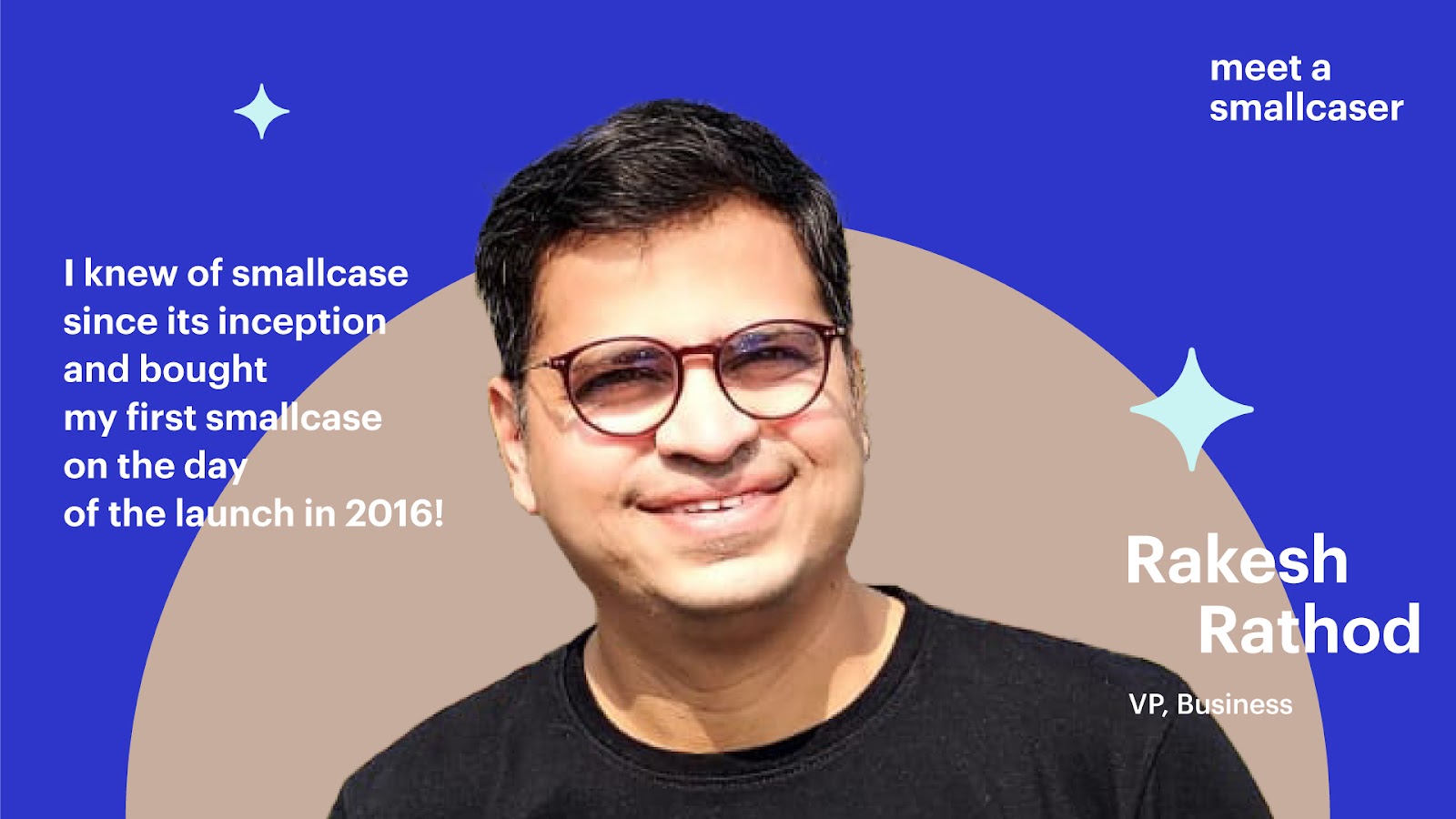 Rakesh 'Ra-case' Rathod is a proud Marwari and Chartered Accountant (though he believes it was a six sigma error that the ICAI made 23 years ago!)
He has worked at some of the most respected financial institutions and made amazing relationships for life at Motilal Oswal & Edelweiss. He feels lucky to have worked closely with some of the brightest professionals and Founders in the financial sector. This helped him gain confidence and the know-how over the last two decades making him a capital market expert.
Stock markets always fascinated him as a student and with the urge to be in the midst of the adrenaline rush of the markets, he landed up at Sharekhan in 2000.
Let's hear more from Rakesh about his journey and why he loves smallcase!
How did you come to work in your field? Why did you choose this area?
I am a 6th generation Mumbaikar, born and brought up on the business floor of our family home where we lived in a structure called Aage Dukan Piche Makaan. I completed my studies till CA sitting at the storefront. We ran a finance business then. I never had to learn formulae and getting real world experience came very early in life.
Dealing with people and building relationships was a 24×7 job growing up. Bachpan Kho Gaya mera!!! I always had this entrepreneurial streak since school and used to sell things like stationery and other stuff at a profit to friends!
I began getting involved in the stock market business by applying for IPOs during Harshad Mehta's days Fun Fact: Filling the IPO forms for others in English was my USP and helped me get my first exposure to the capital markets.
Another Fun Fact: He has seen 4 bear cycles in his lifetime so far!
How did you join smallcase?
I knew of smallcase since its days of inception and bought my first smallcase on the day of the launch in 2016! All thanks to Nithin Kamath, Founder, Zerodha who introduced me to all the founders of smallcase at his office. I never imagined that this introduction and our conversations will make me part of the smallcase family one day! One more reason I joined smallcase was my familiarity with the fund management industry where I worked with most of the fund managers on Dalal street and those relationships coupled with a great product like smallcase Publisher, helped bring the managers on to the smallcase platform.
In fact, my hiring was never via an Apply Now button, but more about interesting conversations, industry insights and supporting the larger cause & vision of smallcase to 'change the way India invests' with the founders regularly.
Why do you love smallcase?
Imagine you love a product and you work for the same company, it can't get better than this! This is what I found at smallcase. The founders are always approachable and open to new ideas and thoughts, making it one of the most inclusive organisations I have worked at in my two decades long career.
I finds myself learning and unlearning many things while working at smallcase. The average age of smallcasers is late 20s and here I was in my mid 40s but there is never a dull moment!
The most interesting thing I learnt here is how you can be a thinker vs doer. At times we are focussed on doing things that we lose sight of and end up doing things which may add incremental value but not exponential. The best part about smallcase is that you own what you do and the entire system is there to support you!
When I talk of smallcase I tell people that if you are someone who loves to work with young, bright folks (including myself of course!) and super passionate, genuinely believe in 'changing the way India invests' then your search ends at smallcase.
The remote-first Work From Anywhere policy was something I was apprehensive about having worked in a traditional office environment for over 20 years, but to my surprise I found that all teams not only managed to work effectively but grow exponentially.
Rakesh still jumps at every opportunity to meet people and team members in person braving Mumbai traffic and rains!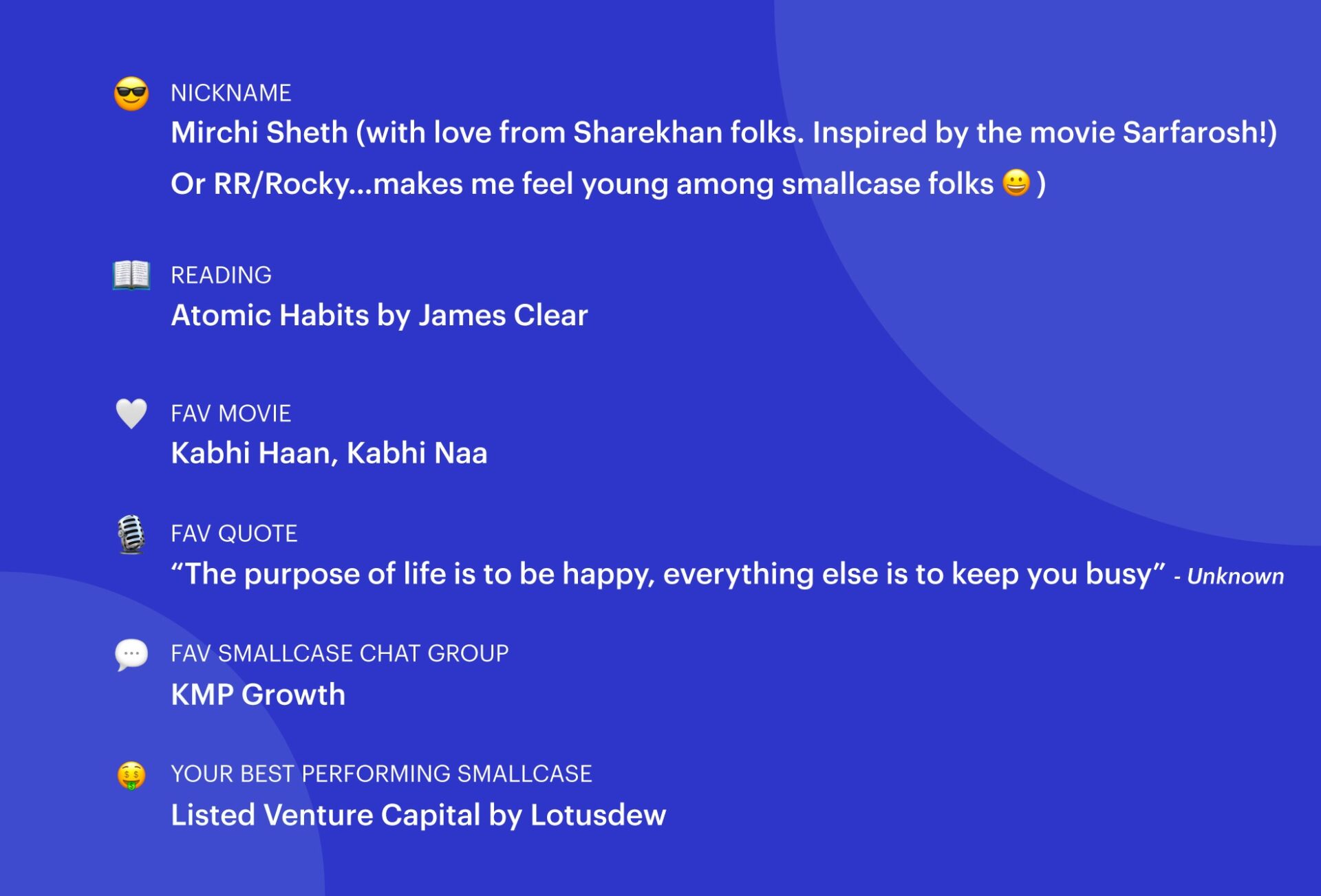 Favourite project at smallcase so far?
My mandate was to grow the smallcase Publisher business. We built the team and the right set of offerings for managers, so much so that today most of the marquee fund managers in India are on the platform. The challenge for me was to create a need for them to engage with us and we got complete freedom and runway to go all out and execute. I am looking forward to more new projects and businesses which smallcase is planning to get into soon.
What does a typical day at smallcase look like?
Being in a WFH setting, a typical day as a Publisher Business head at smallcase involves:
A team catchup where the team discusses day to day work
Discussions with team and cross functional stakeholders on more tactical items
Later during the day I am part of interesting conversations and meetings with partners, brokerages, fund managers & distributors
I spend time thinking about how I can take smallcase places via distribution channels and get closer to investors
And of course, catch ups with leaders across verticals at regular intervals
What would your team say about why they love to work with you?
After working for over two decades with market participants I have realized the importance of having long-term relationships, patience and focus. This has helped me become a better colleague.
I will sincerely advice everyone to take charge of their personal finances as early as possible and happy to support them in their journey as I have done for my smallcase colleagues.
Apart from business, Rakesh has a keen sense of branding and communications which he has developed from a drive to think about a problem statement from different angles and thanks to his curiosity to try new things. He started to use LinkedIn to engage with his network and is now something of an influencer at smallcase! Look out finfluencers!
A little about your current life which you are willing to share
When my elder son saw me working closely, he got inspired to get into capital markets while he was in class 12. He did a specialised course and now is working as an intern in one of the leading fund management houses. This is very satisfying since we have interesting conversations about our work!
I also started investing in start-ups recently and have grown my network of founders and fellow investors with a community of 5k. I share personal finance advice with them regularly using broadcast lists on Whatsapp.

Write to us at people@smallcase.com to explore opportunities, tell us why you love our product or any feedback to help us do better!