Reading Time: 5 minutes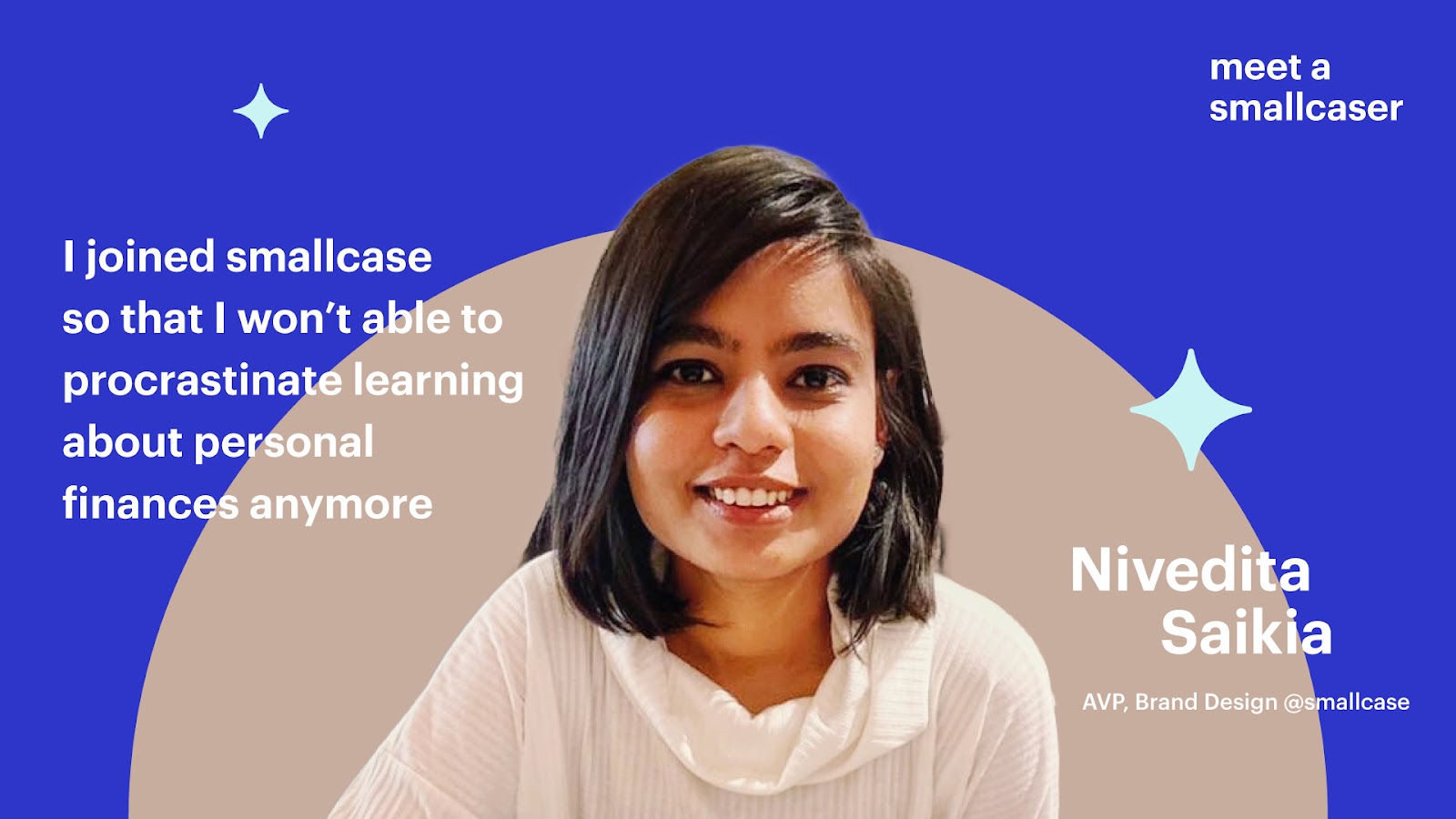 Nivedita is a self taught graphic designer. Her first 'brush' with graphic design was when she was studying Furniture Design at National Institute of Design (NID) Ahmedabad. In the second year of her masters program, she realized design was her calling. She has worked across various industries with stints at Urban Ladder, Swiggy and Ola.
"Then, smallcase happened. I've had a phenomenal experience at smallcase so far. I took a designation drop after Ola because I wanted to join smallcase. I had heard good things about the work culture and I wanted to learn more about the world of investing. Within a few months of my joining, I was asked if I was interested in building a brand design team and I instantly said yes to the opportunity. I started hiring and training new joinees and now we are a team of 8 folks in a year and growing."
Let's hear more from Nivedita about her journey and why she loves smallcase!
How did you come to work in your field? Why did you choose this area?
I am dyslexic. Ever since I was a kid, reading and writing never came naturally to me. I was more comfortable expressing myself through sketching. I always knew I wanted to be in the creative field when I grew up. I couldn't clear the undergrad entrance exam for NID so I took up architecture which was the only creative course that was available in my hometown. After a year of working in an architecture studio, I realized I wanted to study more about the materials, interior design and furniture and applied to NID again for my masters and this time I made it! Some freelance gigs as a graphic designer along with my internship at Urban Ladder eventually landed me a full-time job at Swiggy.
How did you come to join smallcase?
During the pandemic, like most of us, I figured out how little I knew about personal finances and managing my own money. I joined smallcase so that I wouldn't procrastinate learning about personal finances anymore.
Here's a quick lesson: Time in the market > timing the market!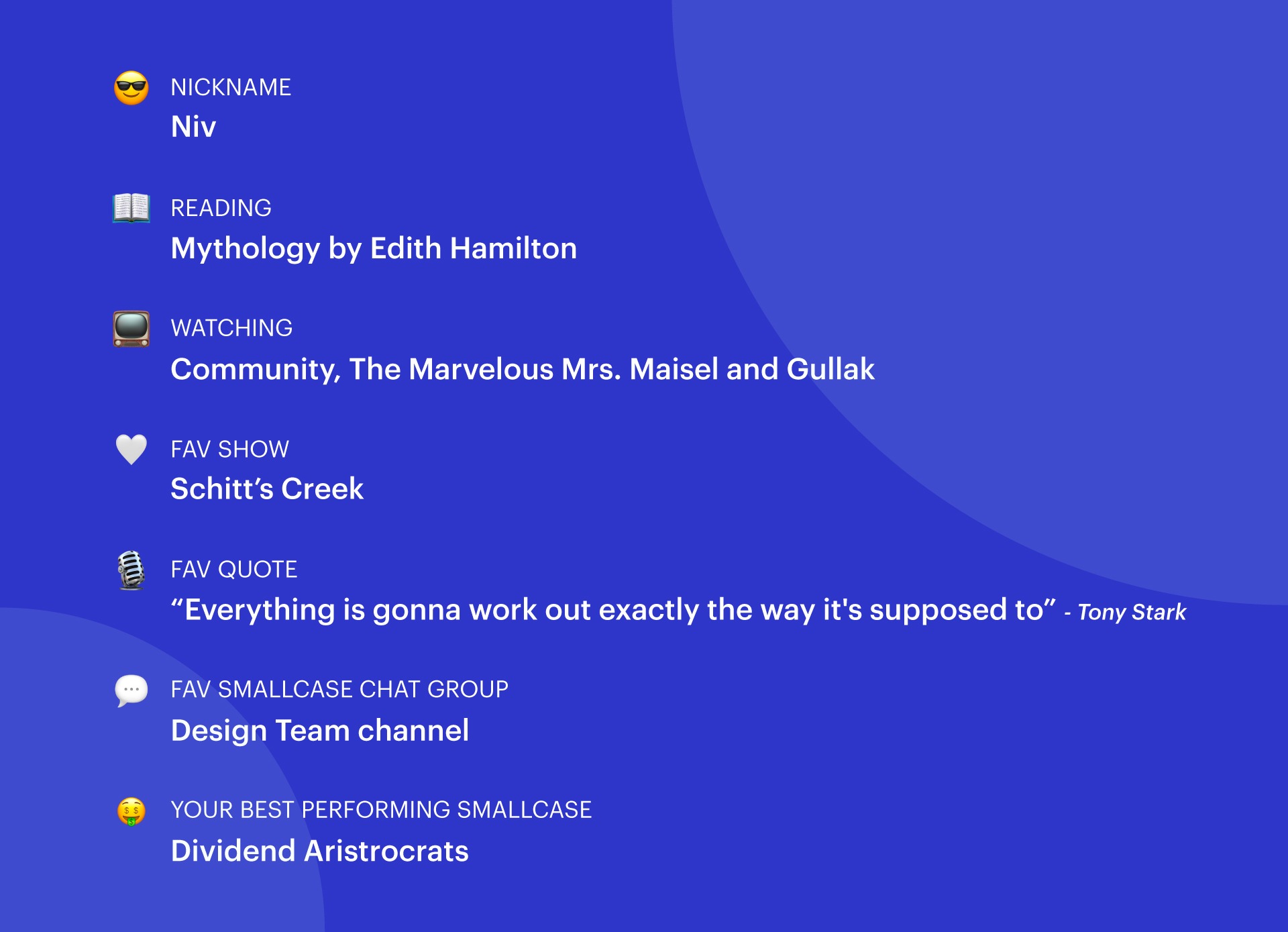 Why do you love smallcase?
Marketing, business and other verticals within smallcase understand the value of design and how it contributes to business and brand building.
Everyone's open to new ideas and experimentation. Folks here are very approachable and helpful right from founders to business folks.
During the Horizon smallcase launch campaign, the design team was given the freedom to experiment, explore and expand the current design style.
All our existing smallcases are based on a certain financial theme, sector or model. But the rationale for Horizon smallcases was very different. These were based on goals of a user in a certain time horizon. The core idea for the campaign was to let the user know that we now also have goal-based investing smallcases available. The pitch was that your investment goals are more important in your life than tracking a marketing index for investing.
The team knew that the pitch for the entire campaign has to feel a lot personal to appeal to the user's emotions for goal-based investing. The team came up with a pitch which was very different from the way other smallcases were pitched. We created some mockups and moodboards and discussed it with PMs and marketing teams. After a few weeks of iterations, revisions and copy changes along with endless conversations and banter over a lot of beer and food, the final landing page, ads and videos were ready! Check out the Horizon smallcases here: https://www.smallcase.com/horizon
Favorite project so far at smallcase?
Undoubtedly, the Invest in Ideas campaign! It was a big effort by the "small" team. smallcase went live with the first DVC campaign earlier this year. It was such a great experience learning and working with the creative powerhouse of Tanmay Bhat, Devaiah Bopanna and team!
This was my first time leading the design for a brand campaign. From ideation to execution, it was all done remotely. Initially, it was extremely challenging to sync up over multiple hour-long zoom calls. As this was our first ever brand campaign and the approach to design and concepts were intentionally very different from what we do for BAU work. It was such a rewarding opportunity for all of us. The team of 6 designers managed to pull off nearly 350+ creatives for the campaign across channels.
In the world of investing, which is viewed as inaccessible by the general public, storytelling becomes key to your brand. To help new users understand the brand, it is imperative that we keep the design simple, relatable and compelling. This is exactly what we managed to pull off successfully!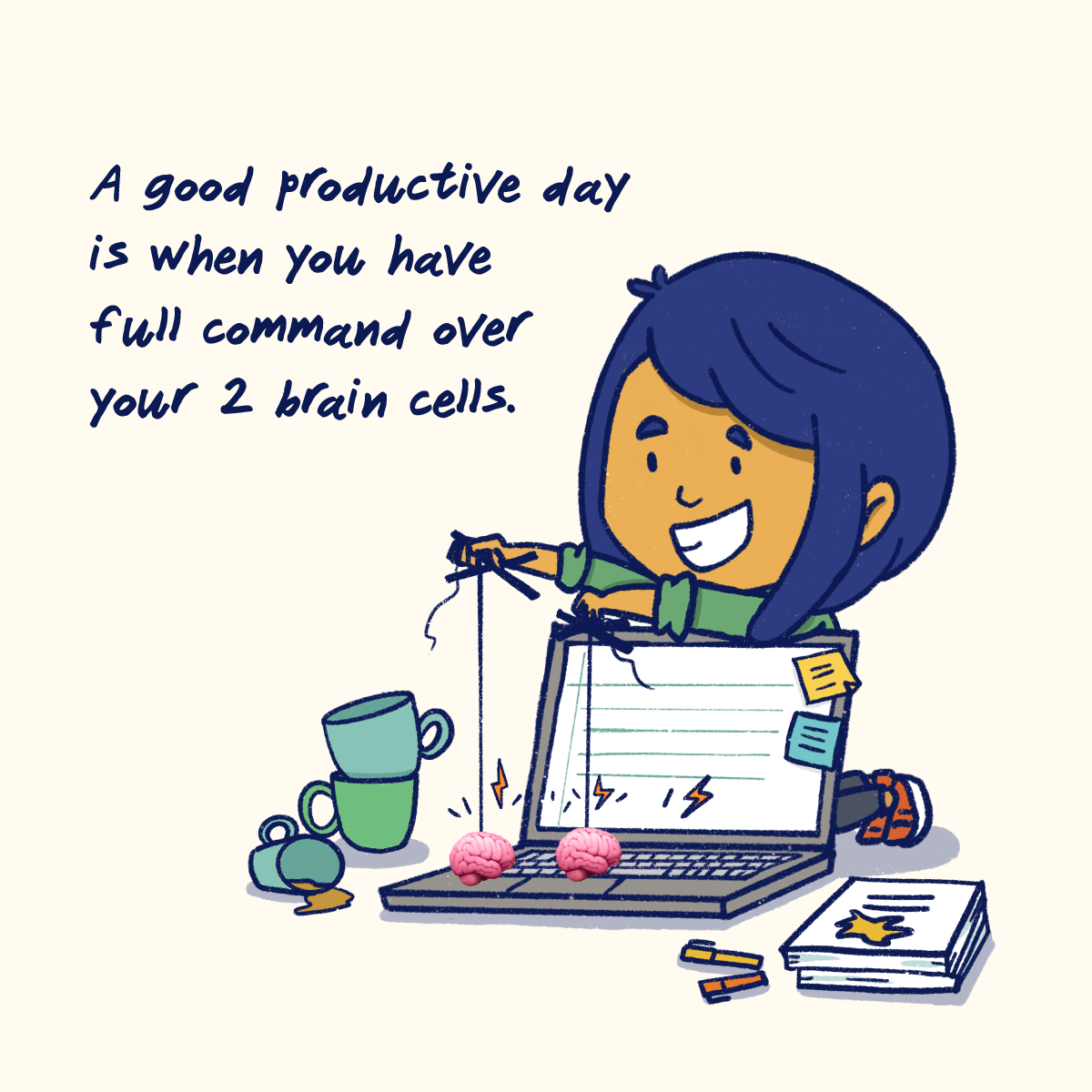 What does a typical day at smallcase look like?
The team has figured out a sync to remote work with each other as well as with other stakeholders. But, the team has recently started coming to the office almost everyday even though we have a flexible work-from-anywhere policy. This has made collaboration and coordination even more seamless. Not to forget all the fun stories and learnings being swapped because of in-person interactions. The fun team outings every now and then make it all the more exciting!
We couldn't agree more with her. The fun stories get lost in a barrage of zoom calls!
What would your team say about why they love to work with you?
I have been very fortunate to experience how design works in various industries – architecture, furniture, retail, technology, advertising, food, transportation and finance. I have a strong growth mindset that helps me solve problems in unique ways and helps me quickly unlearn and learn new ways of working.
Why should someone be excited about working in the Design team?
The most interesting thing about being a part of the team is that you are solving a very unique problem. There are new products being continuously added to the ecosystem that keeps work fun, challenging and interesting. There are always new areas to explore and increase the impact you are making in the ecosystem.
Design is a common function in the organization. Hence, we get to work with various functions of the business which helps us have a holistic experience and understanding. Another thing I find really cool here is that even freshers and junior folks are given ownership to take on challenges right from the start.
Almost everyone in the brand team had very little knowledge of finances and economics when they joined here. But now, a lot of people understand who this side of the world works. They aren't intimidated by the terms and jargon anymore. I am told that they have been making better decisions in their own personal finances too because they understand the space more than they ever did before. For me, that's a big win! It's a lifelong skill everyone has been able to acquire beyond their work skills.
Write to us at people@smallcase.com to explore opportunities, tell us why you love our product or any feedback to help us do better!