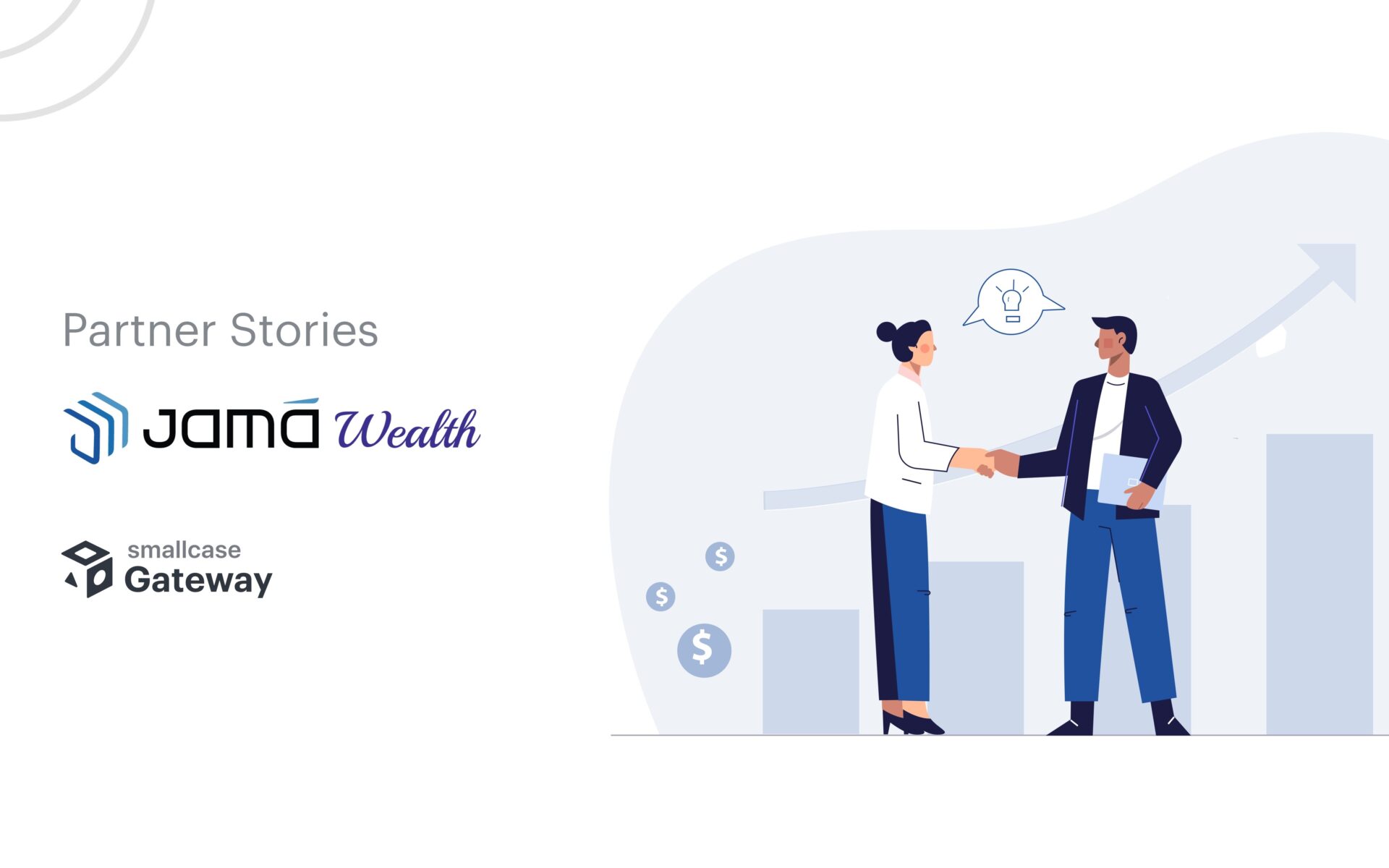 Reading Time: 3 minutes
JamaWealth.com is a Wealth Management and SEBI Registered Investment Advisory company specialising in Equity Growth Strategies. JamaWealth.com's investment experts & proprietary machine learning algorithms help clients in long term wealth generation. It's flagship advisory portfolio (JEWEL) launched about two years ago, has grown rapidly to 350+ subscribed clients with investment value worth hundreds of crores. JamaWealth.com uses smallcase Gateway to enable their clients to invest & rebalance their portfolios natively from the JamaWealth.com platform.

Founded in 2016 by Ram Kalyan Medury & Manoj Trivedi, JamaWealth.com is a SEBI registered Investment Advisor. As Ram puts it, JamaWealth.com's mission is "to be India's most trusted & client centric wealth & equity investment advisory".
JamaWealth.com started with offering clients advice on wealth management, direct equity and direct mutual funds. The technology platform they built ground up, has found takers among other RIAs as well, due to its extensive feature-set.
With an endeavour to make the entire investment process one-click for its clients, JamaWealth.com built extensive integrations with 40+ AMCs via BSE StAR. On the direct equity side, they started with clients executing orders based on JamaWealth.com's recommendations on the broker platform. The clients would share the contract notes to the JamaWealth.com team. But this led to a lot of manual effort for the JamaWealth.com team and their clients, and made the portfolio tracking difficult.
To streamline this, JamaWealth.com integrated with 2 of the top stock brokers in India. However, considerable resources were required for the upkeep of the integrations and maintaining different flows for each broker.
JamaWealth.com wanted a solution where :
Clients could invest natively from the platform.
Clients could rebalance their portfolios natively from the platform.
JamaWealth.com could track users' transactions on their advice to show users their portfolio performance.
A solution which would require minimum maintenance efforts.
This is where JamaWealth.com partnered with smallcase Gateway.
Using smallcase Gateway, JamaWealth.com has been able to :
Enable users to portfolio orders natively from the platform by placing basket stock orders in a single click.
Enable users to rebalance their portfolios natively from the platform in a single click.
Track users gains from the transaction by getting average buy / sell prices as soon as the order is executed.
Enable users to transact from 11 top stock brokers in the country with minimal technical effort
Ram was personally involved in the integration & worked closely with the smallcase team in getting the integration up & running in record time. Since going live, Ram personally guides a sample of the clients through the investment journey using smallcase Gateway & always shares feedback on where he thinks the flow can be optimised.
Within a short timespan of less than 2 months that smallcase Gateway has been enabled on its platform, JamaWealth.com has processed INR 250 Million+ worth of transactions through smallcase Gateway.
With increasing awareness about the advantages of direct equity exposure, more and more people are opening up to consult RA / RIAs for investment advice. With robust stock research algorithms powered by machine learning & an expert team with 75+ person years of experience, JamaWealth.com is well positioned to help users create long term wealth.
About smallcase Gateway
smallcase gateway is a unified set of APIs and SDKs that facilitate any platform or application to offer exchange-traded transactions (stocks, ETFs, REITs, small cases) in a native and compliant manner with India's leading brokerage firms, including Zerodha, Upstox, Angel Broking, HDFC Securities, Axis Direct, 5Paisa, and more. It facilitates seamless in-app order placing capabilities, importing holdings, and account opening. Developers can integrate the smallcase gateway in weeks to make the experience fast, simple, and secure for their users. The smallcase gateway is used by India's most prominent and fastest-growing platforms, including JamaWealth.com, Value Research, Kuvera, Moneycontrol, SBI Mutual Fund.
Learn more at gateway.smallcase.com.