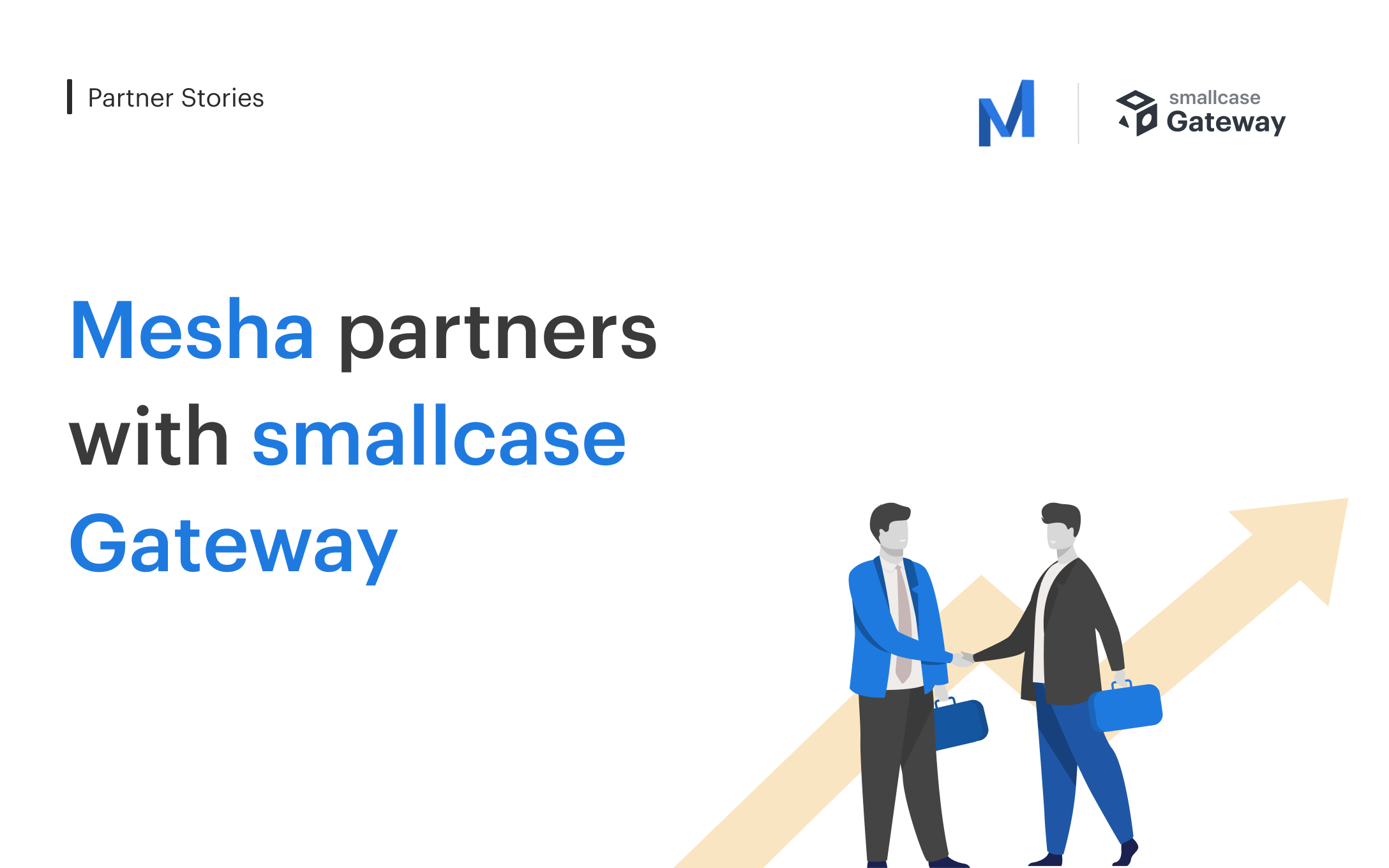 Reading Time: 2 minutes
TLDR :
Mesha is a community of investors, which is governed by its members. It is one of a kind social platform in India to have its own crypto token $MESHA (powered by the Ethereum blockchain). Mesha enables users to create groups and communities to discuss investing ideas, enables users to follow investors and learn from each other. With investing ideas being shared on the platform, Mesha used the smallcase Gateway to enable its members to invest in these ideas natively from their platform and track their holdings using the Holdings Import feature.
---
Community-based investing platforms are taking the investing ecosystem by storm. With a lot of community-based platforms coming up, we decided to publish a case study on one such platform that has integrated Gateway.
Mesha is a part of North Loop Technologies, which has varied offerings from a premium, retail consumer-focused Neobank to a business solutions suite.
Live since July 2021, Mesha currently has 10,000+ users on the platform. The idea behind building Mesha was to create an open community where members can discuss the latest news, share investment opportunities, learn from fellow investors and participate in community events like challenges and quizzes related to investing. Members can also access the stock's financials on the Mesha platform. Mesha currently supports Indian stocks, USA stocks & Crypto on the platform.
With all these ideas and conversations going around the community & members doing their own research on the platform, Mesha wanted to enable members to :
Track their demat holdings on the Mesha app & share it with their followers.
Execute stock orders based on the discussions, natively on the same app.
This is where Mesha partnered with smallcase Gateway.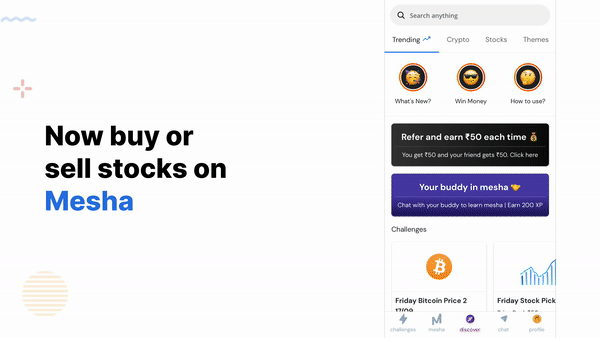 Using smallcase Gateway, Mesha was able to leverage the infrastructure of 13 of the top brokers in the country on their platform in a short period of time with minimal technical effort.
Mesha community members can now :
Buy / Sell Stocks : Based on the conversations & their research on Mesha's stock pages, members can place Buy / Sell orders on stocks through a broker of their choice.
Track and share holdings : Members can import their demat account holdings on the Mesha platform & track their portfolio natively. Members can also share their investment portfolio with their followers on the Mesha platform.
Open an account with a partner broker : Investors can also create a trading & demat account on the platform. The account opening process is 100% online & offers choice from India's top growing brokers.
With increasing awareness about the advantages of diversifying investments across asset classes & retail investors looking to learn from their peers, Mesha is well-positioned to give their users a differentiated experience using the Holdings Import & Stock transactions functionality on their platform.

About smallcase Gateway
smallcase gateway is a unified set of APIs and SDKs that facilitate any platform or application to offer exchange-traded transactions (stocks, ETFs, REITs, small cases) in a native and compliant manner with India's leading brokerage firms, including Zerodha, Upstox, Groww, Angel Broking, HDFC Securities, Axis Direct, 5Paisa, and more. It facilitates seamless in-app order placing capabilities, importing holdings, and account opening. Developers can integrate the smallcase gateway in weeks to make the experience fast, simple, and secure for their users. The smallcase gateway is used by India's most prominent and fastest-growing platforms, including Value Research, William O'Neil India, Kuvera, Moneycontrol, SBI Mutual Fund.
Learn more at gateway.smallcase.com.
If you are developing an investment platform and want to enable transactions on exchange-traded securities, you can reach us at gateway@smallcase.com. We would love to help you.