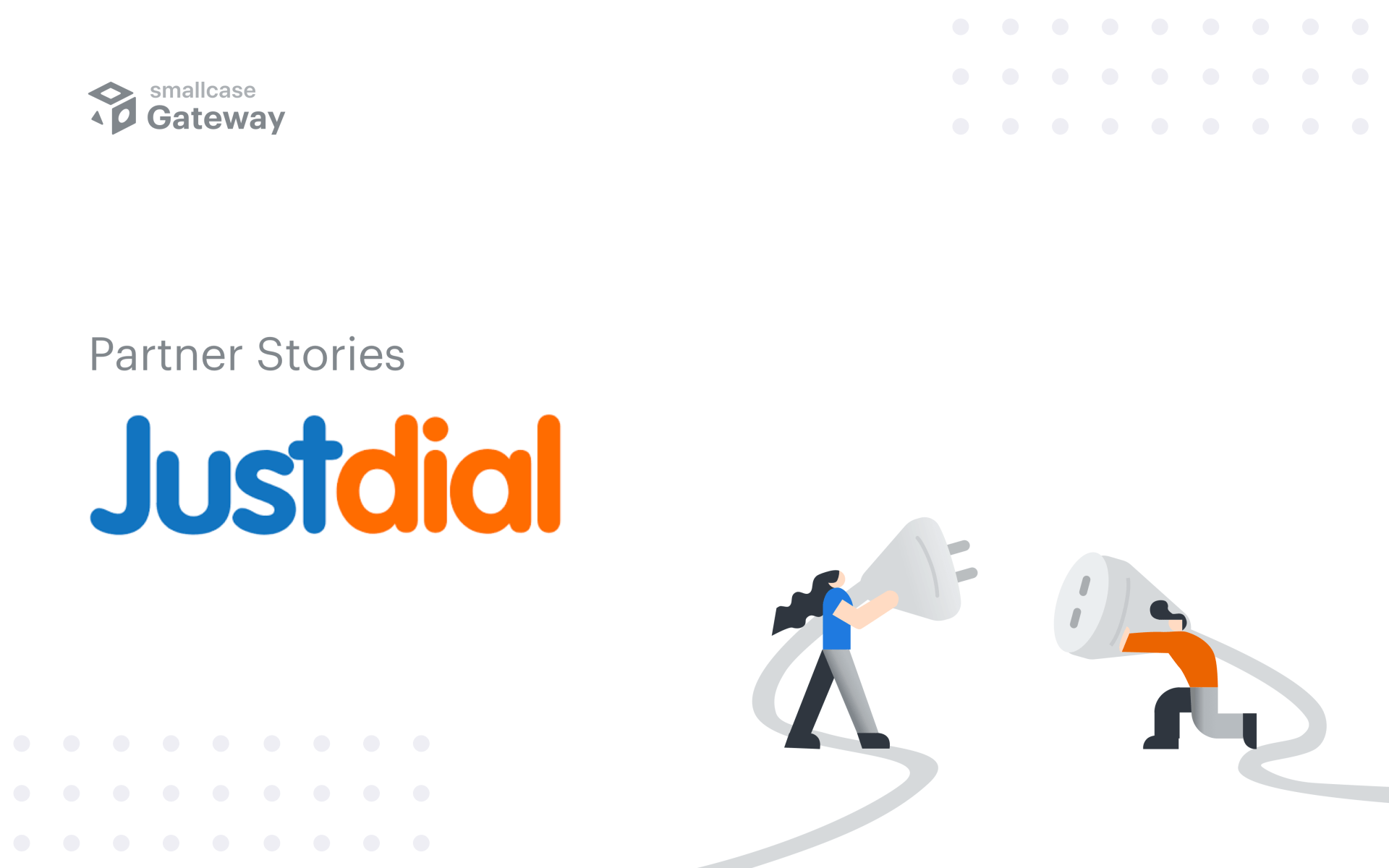 Reading Time: 2 minutes
TLDR:
JustDial is India's largest local search platform on a mission to provide fast, free, reliable, and comprehensive information to its users and to connect buyers and sellers. It has 130 million quarterly unique users across mobile app, website and voice platforms as of December 31, 2020. Along with the listing business, JustDial has built a stocks section where users can easily view & track multiple asset classes for wealth creation. Integration with smallcase Gateway brought transactions into stocks & ETFs natively to the platform
---
Justdial was launched by VSS Mani in 1996, with a mission to replace yellow pages with a database of information that users could call to receive current information about local business listings. The company built its online presence in 2007 & went public soon after in 2013
Recently JustDial added stocks section on their app where users could track equities, commodities & mutual funds, create watchlists and track their investment portfolio. JustDial wanted to enable users to take action on the information gathered from the app. This would simplify a user's investment experience and increase their engagement with the JustDial app.
JustDial was looking to add key value for their users by :
Allowing them to transact natively on JustDial app using their brokerage account
Open a demat account online, incase they didn't have one, to start investing
This is where JustDial partnered with smallcase Gateway.
Using smallcase Gateway's transaction capabilities, JustDial was able to leverage the infrastructure of India's leading brokerages to enable their users to transact on stocks and ETFs, natively from the JustDial app in a seamless and compliant manner.
Users can :
Buy / Sell individual stocks and ETFs: Users can review stocks and process information on the stock page on JustDial -> Click on Buy / Sell buttons on the stock page -> Select their broker -> Execute the trade, natively from the JustDial app.
Buy / Sell a basket of stocks and ETFs: Users can add multiple stocks and ETFs to their basket and transact on all the securities with a single click on the JustDial app.
Open Demat account: Users can open a Demat account with India's leading stockbrokers on the JustDial app to start their investment journey.

The increasing awareness about stock market lately and a 27% increase in the number of demat accounts in 2020, retail investors are looking to diversify their investments into direct equities. With 130M quarterly users across all their properties, Justdial is well-positioned to expand equity market participation to a new segment of the Indian population
About smallcase Gateway
smallcase Gateway is a unified set of APIs & SDKs that enable any platform or app to offer exchange-traded transactions (stocks, ETFs, REITs, smallcases) in a native & compliant manner with India's leading brokerages including Zerodha, Upstox, Angel Broking, HDFCSecurities, AxisDirect, 5Paisa & more. It enables seamless in-app order placing capabilities, importing holdings & account opening. Developers can integrate the smallcase Gateway in a couple of weeks to make the experience fast, simple & secure for their users. The smallcase Gateway is used by India's largest & fastest growing platforms including JustDial, Kuvera, Moneycontrol, Mirae Asset, William O'Neil India. Read more at gateway.smallcase.com
If you are building an investment platform and want to enable transactions on exchange-traded securities, you can reach out to us at gateway@smallcase.com. We'd love to help you.