Reading Time: 3 minutes
Suppose you want to buy a new phone and have a budget set for it in your mind. But, with so many options in the market, you are unsure about which one to choose; what do you do? Promptly go to Amazon or Flipkart (or your favourite e-commerce site), head over to the 'Mobiles' category and look for filters. You choose the budget range, features that you are looking for, select brands, average customer reviews, etc.
When we research so much to buy a phone, investing money should warrant more due diligence, right?
Using filters on the smallcase platform, you can find the investment idea that is right for you, in just a few clicks!
Here's how you do it
In the Discover page of the smallcase website, you have 'In the Spotlight' smallcases, 'Most Popular' smallcases, and 'All Collections'. After these sections, you will find "More filters you can try"

Here, you may narrow your search for smallcases based on filters like "Top gainers in the last year", "Recently rebalanced", "smallcases with low investment amount" or "Newly added smallcases". Each option will lead you to a new page showcasing smallcases based on your selection.
If you are looking for more specific filters to find smallcases that fit within your investment budget or narrowing them based on your risk appetite, then option two is the way to go:
Just go to the Discover page and switch to the "All smallcases" tab. Here, you will see multiple filters. Let's explore each filter below:
"Min. Investment" filter: Every smallcase has a minimum investment amount. The Min.Investment filter will help you choose from smallcases that fit in your budget. Assume that you are willing to invest ₹10,000 or more but your upper limit is ₹20,000. To filter smallcases that match this criterion, just check the "₹10,000 – ₹20,000" option in the Min. Investment filter and et voila! Next, let's explore smallcases based on risk and type under "More Filters".

"More Filters": Let's say you want to look for moderate-risk smallcases. Click on "More Filters" and choose "Moderate" in the "By Risk" filter. That's it, you will be presented with smallcases that match your budget as well as your risk appetite!
The "By Type" filter helps you choose the type of smallcase (thematic, strategies, sector trackers, etc.) that you are looking for. Assume that you are interested in investing in a specific sector. Just choose "Sector Trackers" in the "By Type" filter – you'll see smallcases that track sectors & whose minimum investment amount is between ₹10,000 and ₹20,000 & are moderately risky.
Bonus: If you have Watchlisted a smallcase to see how it performs, you may choose to check the dialog box under the "Other" tab.

Now, you see exactly what you are looking for!
Wait, there's more in filters!
If you want to explore all smallcases, you just have to click on "Clear all" to remove all filters. However, if you would like to explore them all while retaining a certain filter – just hover over the applied filters that are not needed and click on them, the filters will be removed. Easy-peasy!


Sort your filtered results
Let's assume that you want to view smallcases that have a minimum investment amount between 10k-20k and have given the highest returns in the past 1Y. Just retain the ₹10,000 – ₹20,000 filter and then click on the "Latest First" option (next to the "More Filters" option) which is set as default. Once done, choose "High-Low" in the 1Y returns section.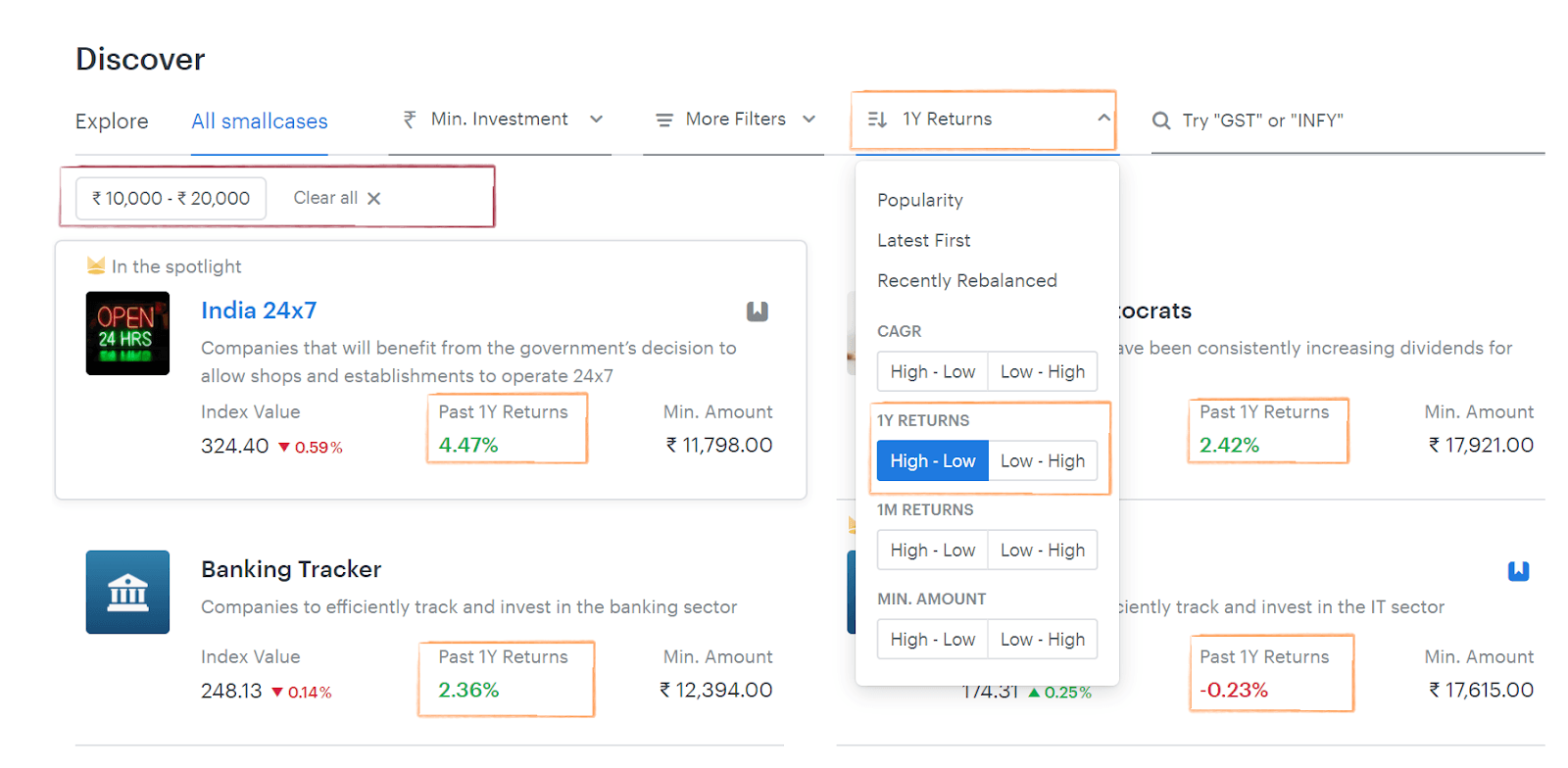 Similarly, you can sort by one-month returns as well as the CAGR value. There is also an option to sort by popularity and even rebalance date to review the most recently updated smallcase.
Hope you are now ready to go filter-happy! Go ahead, try them out now!
When investing, understanding what and where you are investing your money in is the key. The more you understand, the more comfortable you get. smallcase was launched with the very idea of simplifying investing for everyone and we'll keep adding new features to ensure that happens.
Happy Investing!
[cta color="blue" title="Explore Filters" url="https://www.smallcase.com/discover/all?count=11?utm_source=smalltalk&utm_medium=banner&utm_campaign=smalltalk&utm_content=sf-27-may" button_text="Discover smallcases"]Find an investment idea that's right for you! [/cta]