List of Best Green Hydrogen Company Stocks on NSE India 2023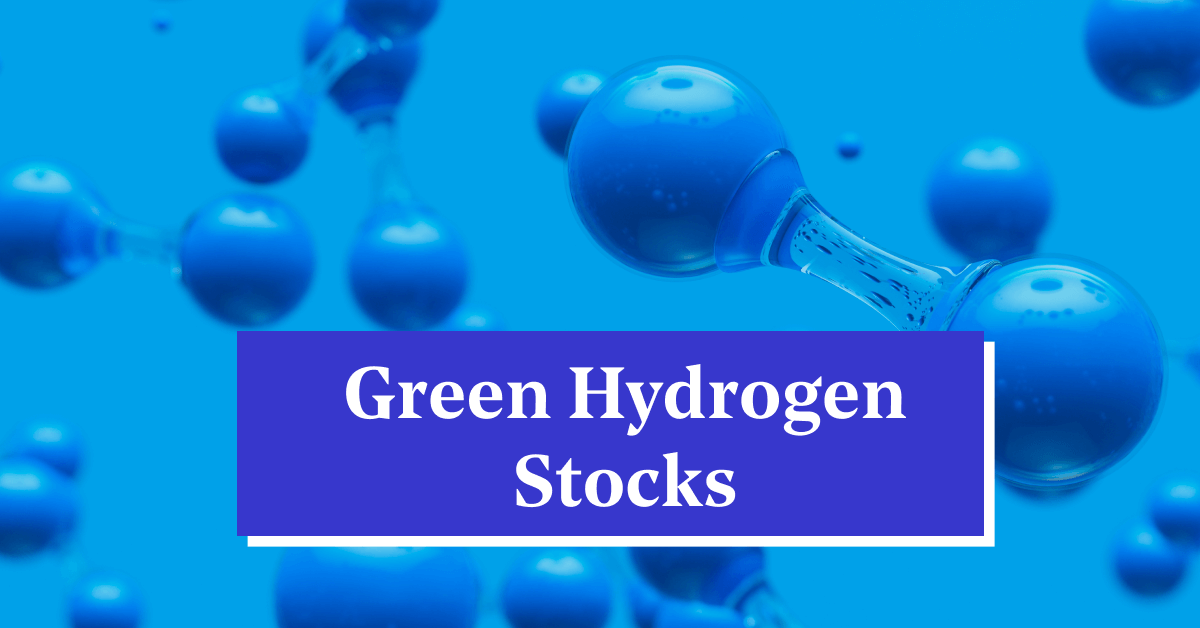 Reading Time: 9 minutes
According to researchers, energy use has doubled in the last 20 years and is likely to grow by at least another 25% by 2030. Yes, you read that right. As a result, many countries are investing rapidly in renewable energy resources, and green hydrogen is one of them. Consequently, green hydrogen stocks, its manufacturers, and green hydrogen energy in India are gaining popularity. Along with stocks of companies involved in producing, storing, and distributing green hydrogen have become increasingly popular among investors.
In this blog, we are discussing popular green hydrogen stocks and how they can be a potential investment. So, read on to learn more about the same.
What are Green Hydrogen Stocks?
A green hydrogen is a form of renewable energy. It is formed when water (H₂O) molecules are split into two chemical components: Hydrogen (H2) and Oxygen (O2). Thus, when we talk about green hydrogen, we mean hydrogen obtained without emitting pollution, i.e. sustainable hydrogen. A fuel already being hailed as the key to global decarbonisation and fulfilling climate change commitments by 2050.
Some of the cleanest energy sources are solar power, wind power, hydropower, geothermal energy, etc.
Now, coming back to the question, green hydrogen energy stocks in the stock market refer to the stock of companies involved in producing, storing, and distributing green hydrogen. These companies use wind or solar power to power the electrolysis process for green hydrogen production. Therefore, the green hydrogen stock price is expected to grow rapidly in the coming years, with the global green hydrogen market projected to reach $11.7 billion by 2026.
Best Green Hydrogen Stocks in India 2023
Thus, let's look at the popular green hydrogen stocks India that have been promising investments for many years.
| Green Hydrogen Companies Stock in India | Sub-Sector | Market Cap | 5-Year Return on Investment |
| --- | --- | --- | --- |
| Reliance Industries Ltd | Oil & Gas – Refining | 15,03,320.74 | 7.29 |
| Oil and Natural Gas Corporation Ltd | Oil & Gas – Exploration | 1,96,000.75 | 8.49 |
| NTPC Ltd | Power Generation | 1,74,249.09 | 6.74 |
| Power Grid Corporation of India (PGRD) | Power Transmission & Distribution | 1,57,714.99 | 9.68 |
| Adani Green Energy Ltd | Renewable Energy | 1,13,543.45 | 5.62 |
| Indian Oil Corporation Ltd | Oil & Gas – Refining | 1,09,863.23 | 9.76 |
| Adani Total Gas Ltd | Gas Distribution | 1,09,656.56 | 19.23 |
| Adani Transmission Ltd | Power Infrastructure | 1,05,932.76 | 9.15 |
| Adani Power Ltd | Power Generation | 82,962.76 | 8.59 |
| GAIL (India) Ltd | Gas Distribution | 72,457.60 | 13.93 |
| Greenko Zeroc Private Limited | Renewable Energy | – | – |
Top 3 Green Hydrogen Plants in India | Top Green Hydrogen Companies in India
The top 3 green hydrogen plant in India are as follows:
1. Reliance Industries: Reliance Industries has committed a substantial $10 billion investment in green hydrogen production over the coming decade. They are in the process of establishing a 1 GW green hydrogen facility in Jamnagar, Gujarat, with plans for it to be operational by 2025. This plant will rely on renewable energy sources to power its electrolyzers, responsible for hydrogen production. Reliance Industries is one of the largest green hydrogen manufacturers in India
2. GAIL (India): GAIL is actively constructing a green hydrogen plant in Hazira, Gujarat, with a targeted production capacity of 4.3 tonnes per day (tpd). This facility is anticipated to commence operations by the close of 2023. The hydrogen generated here will be blended with natural gas, serving applications in transportation and industry.
3. Indian Oil Corporation: Indian Oil Corporation is in the process of establishing a 10 tpd green hydrogen plant in Panipat, Haryana. Their goal is to have this plant operational by 2025. The hydrogen produced will be employed as fuel for hydrogen fuel cell vehicles.
Factors to Consider Before Investing in Green Hydrogen Companies in India
Investing in green hydrogen companies in India or green energy stocks can be a promising opportunity for investors looking to capitalize on the growth potential of the clean energy industry. Here are some of the most important factors to keep in mind:
Government Policies and Regulations: Green hydrogen production and usage in India is still in its early stages. Thus, investors should monitor government policies related to renewable energy, including the National Green Hydrogen Projects. And the potential incentives, and subsidies available to green hydrogen companies.
Market Demand and Growth Potential: The market demand for green hydrogen shares and its growth potential are important factors. Thus, investors should research the potential demand for green hydrogen stocks and evaluate the long-term prospects of green hydrogen companies in India.
Financial Performance: Evaluating the financial performance of green hydrogen companies in India is crucial before investing. Thus, investors should review the company's financial statements, including revenue growth, profit margins, and cash flow to make an informed decision.
A Viable Alternative Energy Source: Investing in green hydrogen companies in India is driven by the desire to impact the environment positively. Hence, investors should evaluate the environmental impact of the green hydrogen companies they are considering.
National Green Hydrogen Mission-2023
As India's growth story unfolds, its demand for energy and resources is set to rise. With a goal to become energy-independent by 2047 and achieve Net Zero emissions by 2070, the National Hydrogen Mission will be acting as a catalyst for new opportunities.
In India, the National Green Hydrogen Mission promotes the development and use of green hydrogen. Furthermore, as a part of the National Budget 2023, India's National Green Hydrogen Mission has received INR 19,700 crore to promote the use of hydrogen as a clean and renewable energy source.
Additionally, the main objective is to increase hydrogen production and reduce dependence on fossil fuels. Therefore, to achieve this, the mission promotes the development of technologies that produce hydrogen, such as hydrolysis, steam methane reforming, and biomass gasification.
Hence, the Mission is expected to facilitate the deployment of the Green Hydrogen ecosystem and renewable energy by creating opportunities for innovation, investments and economic growth.
However, if you're confused about which stocks to pick, you can explore smallcases:
smallcases are readymade portfolio of stocks/ETFs, that are based on a theme idea or strategy.
They're created and managed by SEBI-registered experts,
smallcase.com offers over 200+ stock portfolios, created by 180+ managers.
Some of the popular smallcases among new investors are as follows:
Disclosures for aforementioned smallcases
Disclosures for Green Energy smallcase
What are the Advantages of Adding Green Stocks to Your smallcase Portfolio?
Thus, there are several advantages to adding green hydrogen stocks to your portfolio or you can simply do portfolio investing on smallcase platform. Now, let's have a look at the benefits:
Growth Potential: The demand for clean energy is increasing as more countries and businesses commit to reducing their carbon footprint. As a result, the demand for green hydrogen stocks is expected to grow rapidly in the coming years, which could lead to significant opportunities.
Diversification: Adding green hydrogen stocks to your portfolio can help diversify your investments, which can help reduce risk. This is because green hydrogen investments are likely less correlated with other assets in your portfolio, such as stocks or bonds.
Environmental Benefits: Green hydrogen stocks support transitioning to a more sustainable and environmentally friendly energy system. Thus, by investing in companies that produce or use green hydrogen, you are contributing to the development of a low-carbon economy.
Innovation and Technological Advancements: Investing in green hydrogen stocks can support the development of new technologies and innovations in the energy sector. Hence, this can lead to new investment opportunities as companies develop and commercialize new products and services.
What are the Challenges Ahead?
The adoption of green hydrogen faces several challenges, which can be viewed as opportunities for innovation and growth in the industry.
High Costs
For some, the production of green hydrogen can be viewed as expensive due to the hydrogen technology used in the electrolysis process. However, with increased demand and technological advancements in the industry, there will be cost reductions with increased efficiency.
Limited Infrastructure
The infrastructure for storing, transporting, and distributing green hydrogen is not yet well-developed. However, it is an opportunity for companies to invest in new infrastructure (such as pipelines and storage facilities), creating new jobs, and economic growth.
Competition from Fossil Fuels
Though fossil fuels remain cheaper than green hydrogen, they are harmful in the long run. Thus, increasing awareness about the environmental impacts of fossil fuels presents an opportunity for green hydrogen to become a more competitive option in the long run.
Regulation and Policy
Regulations and policies surrounding the production and use of green hydrogen are still in their early stages. However, this presents an opportunity for policymakers to work collaboratively with industry leaders to incentivize the growth of the green hydrogen industry.
To Wrap It Up…
To conclude, green hydrogen is gaining attention as a clean energy source that can contribute to a sustainable future. Therefore, governments worldwide are prioritizing decarbonization and renewable energy, resulting in the rise of green hydrogen share prices. Thus, by investing in green hydron stocks at smallcase, individuals can benefit from potential financial gains and contribute to a cleaner and more sustainable future.
Go green with smallcase today!
FAQs
1. How can I invest in green hydrogen sector stocks?
You can invest in green hydrogen stocks via:
– Stock Market
– Mutual Funds
– Exchange Traded Funds
– smallcase
2. What is Green Hydrogen used for?
Green hydrogen is used for various purposes. A few of them are; 
– Transportation
– Industrial Processes 
– Energy Storage 
– Hydrogen Fuel Cells
– Chemical Industry
3. How is green hydrogen made?
Green hydrogen is hydrogen gas produced through a process known as electrolysis, where water (H2O) is split into its constituent elements, hydrogen (H2) and oxygen (O2), using electricity.
4. What are the best 3 green hydrogen stocks should I buy?
The best 3 green hydrogen stocks are Reliance Industries Ltd, ONGC, and NTPC Ltd.
5. Is it a good time to invest in green hydrogen stocks?
The timing to invest in green hydrogen stocks depends on various factors, including your financial goals, risk tolerance, and market conditions. Green hydrogen is a promising but evolving sector. It's crucial to conduct thorough research, consider the growth prospects, and assess your own investment strategy before investing.
6. Who should invest in green hydrogen sector stocks?
Investors interested in sustainable energy and long-term growth potential may consider green hydrogen sector stocks. However, it's crucial to diversify and assess personal financial goals and risk tolerance before investing.