Best Indian Rail Stocks in India (2023) for Long Term Investment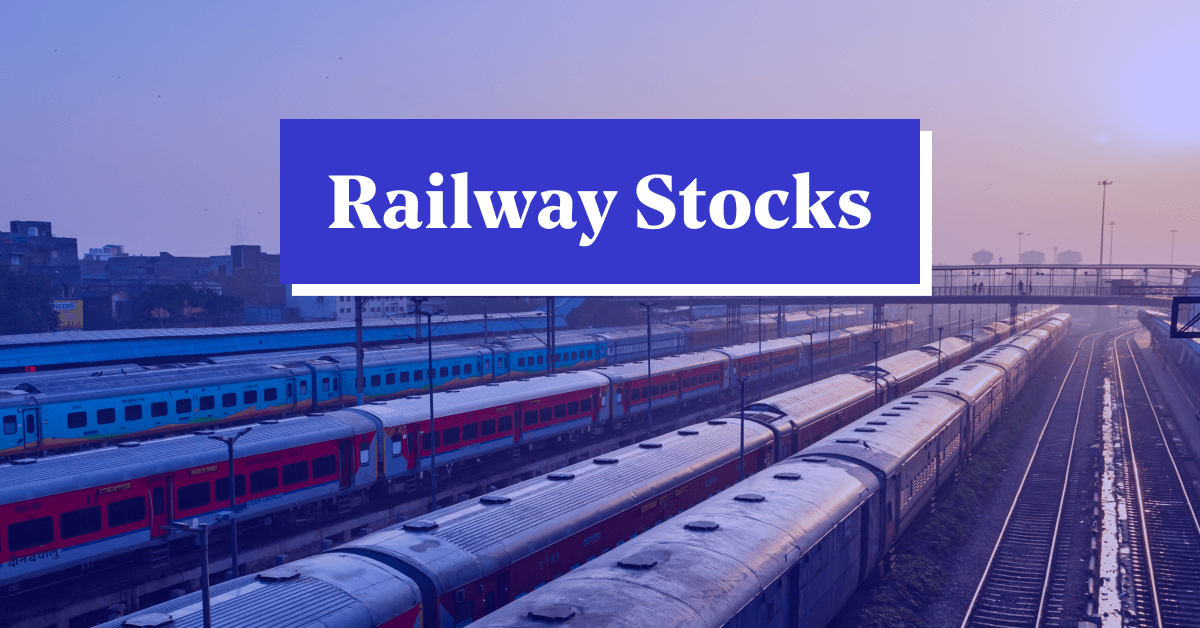 Reading Time: 11 minutes
Welcome to the captivating realm of rail stocks, where the convergence of transportation, infrastructure, and investment opportunities unfolds. The global railway industry is a dynamic and vital sector that serves as the backbone of economies worldwide.
From passenger-focused railway companies whisking commuters on high-speed trains to freight hauliers seamlessly moving goods across vast distances, railways are indispensable for connecting people, goods, and markets. As an astute investor, understanding the importance of railway shares in your investment portfolio can unlock a world of potential, offering both stability and growth opportunities.
Therefore, in this blog, we will dive deep into the world of rail sector stocks, railway share prices, top railway stocks in India, and much more. Let's begin.
Grab Your Ticket: An Overview of the Railway Industry
From bustling metropolises to remote villages, the railways serve as a lifeline for millions of Indians, providing affordable and efficient means of travel.
The railway industry often hailed as the backbone of transportation, encompasses a vast network of railways, trains, and associated infrastructure. With a rich history spanning over 160 years, the Indian Railways has continually evolved and adapted to meet the growing needs of a rapidly developing economy. It won't be wrong to consider Indian railways as a rich industry,
Due to its size, the railway sector is connected to various businesses. Therefore, the need for Indian railway stocks is likely to grow which is good news for Indian railway share prices. In fact, not only the railway share price but this demand has also given a boost to the share price of companies that manufacture railway components.
In recent years, the Indian Railway Industry has witnessed notable transformations and modernization efforts. The introduction of high-speed trains, such as the Gatimaan Express and the Tejas Express, showcases India's ambition to enhance travel experiences and reduce journey times. The implementation of digital platforms and mobile applications has streamlined ticketing processes, making it more convenient for passengers to book tickets and access information.
Thus, if you're looking for a list of railway related stocks then the next section is for you to determine the Best Railway Stocks of 2023.
List of Rail Stocks in NSE – Best Railway Share List
Here we have presented a list of railway stocks in NSE that will provide a chance to participate in the growth and development of the current railway sector stocks. You can also check out the other railway stocks list with prices.
Note: The data is from 29th August, 2023. However, for real-time updates on stock prices and market trends, visit smallcase stocks collection today!
Indian Railway Shares – An Overview of Rail Stocks
Railway stocks India encompass a diverse range of companies operating within the railway industry in India. Thus, let's look at some of the top railway shares list of companies.
1. Indian Railway Catering & Tourism Corporation (IRCTC)
It is a government-owned company that is considered among the best railway companies in India with high market capitalization. Provides catering, tourism, and online ticketing services for Indian Railways. It is one of the largest railway catering companies in the world and has expanded its services to include luxury tourist trains, hotel bookings, and various tourism packages.
2. Indian Railway Finance Corporation (IRFC)
IRFC is a dedicated financing arm of the Indian Railways. It is responsible for raising funds to finance railway projects and infrastructure development. It primarily focuses on leasing rolling stock (locomotives, coaches, wagons) to the Indian Railways. And it plays a critical role in meeting the financial requirements of the Indian Railways' expansion and modernization plans.
3. Container Corporation of India (CONCOR)
CONCOR is a Navratna public sector undertaking under the Indian Ministry of Railways. CONCOR provides end-to-end logistics solutions, including storage, handling, and transportation of containerized cargo. The company plays a significant role in promoting intermodal transportation and easing the movement of goods across the country.
4. Rail Vikas Nigam (RVNL)
RVNL is a government-owned company responsible for executing railway infrastructure projects in India. It focuses on the construction of new railway lines, doubling and gauge conversion of existing tracks, and modernization of railway stations. RVNL works closely with the Indian Railways to enhance the capacity and efficiency of the railway network. The company also undertakes projects related to the electrification of railway lines, signaling systems, and the development of dedicated freight corridors.
5. RITES Ltd
RITES Ltd, formerly known as Rail India Technical and Economic Service, is a government-owned engineering consultancy company. It provides a comprehensive range of services to the transport and infrastructure sectors, including project management, engineering, procurement, and construction management. RITES is involved in the planning and execution of railway projects, urban transport systems, highways, ports, and airports.
6. BEML Ltd
Bharat Earth Movers Limited is a public railway sector stock company engaged in the manufacturing of mining and construction equipment, defense products, and railway rolling stock. BEML manufactures a wide range of rolling stock, including coaches, wagons, and locomotives for the Indian railway stocks. Additionally, it is involved in the defense sector, producing a diverse range of defense and aerospace products.
6. Titagarh Wagons
Titagarh Wagons is a leading private railway sector stocks company engaged in the manufacturing of railway wagons, coaches, and steel castings. The company specializes in freight wagons, including open and covered wagons, flat wagons, and specialized wagons for carrying specific goods. The company serves both domestic and international markets, therefore, you should definitely check for its railway share price.
7. Texmaco Rail & Engineering Ltd
Texmaco Rail & Engineering is a diversified engineering company with a strong presence in the Indian railway stock list. It operates through multiple business segments, including rail and metro systems, steel foundry, and heavy engineering. Texmaco Rail & Engineering manufactures a wide range of railway products. It also undertakes railway infrastructure projects and offers turnkey solutions for metro rail systems.
However, if you're confused about which stocks to pick, you can explore smallcases:
smallcases are readymade portfolio of stocks/ETFs, that are based on a theme idea or strategy.
They're created and managed by SEBI-registered experts,
smallcase.com offers over 200+ stock portfolios, created by 180+ managers.
Some of the popular smallcases among new investors are as follows:
Disclosures for aforementioned smallcases
Factors to Consider Before Investing in Top Indian Rail Stocks
Here are some factors to consider before investing in railway stocks in India:
Government Policy: The Indian government is investing heavily in the railways, which is a positive sign for the railway sector stocks. The government has set a target of doubling the size of the railway stock network by 2030, and this is expected to lead to increased demand for railway services.
Economic Growth: The Indian economy is growing at a rapid pace, which is another positive sign for the railway sector stocks. As the economy grows, more people will be able to afford to travel by train, which will lead to increased demand for railway services.
Competition: The Indian railway stocks sector is facing increasing competition from other modes of transport, such as road and air travel. However, the railways still have several advantages, such as their high capacity and low cost.
Financial Performance: It is important to assess the financial performance of the Indian rail stock companies before investing. Look at factors such as revenue growth, profitability, and debt levels.
Valuation: Railway share prices are currently trading at a relatively low valuation. This could be a good opportunity to buy into the sector, but it is important to remember that valuations can change quickly.
Benefits of Investing in Rail Stocks
There are many advantages to investing in rail stocks. Here are a few of the most important ones:
Diversification: Investing in all railway stocks can help diversify an investor's portfolio, reducing overall risk. Rail stocks are not as correlated with other asset classes, such as stocks and bonds, which can help to reduce the volatility of an investor's portfolio.
Long-Term Investment: All rail stocks are often seen as long-term investments, with the potential for steady growth over time. The railway industry is cyclical but it has a long history of growth. This makes rail stocks a good option for those who are looking for a long-term investment.
Dividends: Many railway companies pay dividends, which can provide investors with a steady stream of income. Companies in the rail sector typically establish themselves well and have a history of paying dividends, making them a favorable option for investors seeking income.
Government Support: The rail stocks of companies are often supported by the government, which can provide a number of benefits. For example, the government may provide subsidies for railway construction or operation, which can help to reduce the cost of doing business for railway companies.
Increasing Demand: The demand for railway services is increasing, due to factors such as population growth, urbanization, and economic growth. This increasing demand is expected to lead to increased revenue, a rise in railway share prices, and more.
Investing in Rail Stocks: Tips and Strategies
It will be easier for you to navigate the railway share market with more confidence and potentially benefit from the growth and stability of this vital industry if you follow these tips:
Do Your Research: Before investing in any rail stocks, it is important to do your research and understand the company's business model, financial performance, and competitive landscape.
Consider the Long Term: Railway shares or rail stocks are often seen as a long-term investment, with the potential for steady growth over time. You should be prepared to hold their investments for the long term.
Diversify Your Portfolio: It is important to diversify your investments and not put all of your eggs in one basket. By investing in a variety of rail stocks, you can reduce your overall risk.
Rebalance Your Portfolio Regularly: As your investments in rail stocks grow, it is important to rebalance your portfolio to ensure that it remains aligned with your risk tolerance and investment goals.
Consider Using Stop-Loss Orders: Stop-loss orders can help you to protect your profits or limit your losses if the railway share price of a company falls sharply.
Be Patient: Investing in rail stocks can be a long-term investment. It is important to be patient and not expect to get rich quickly.
To Wrap It Up…
In conclusion, the evolution of rail stocks and the railway industry presents future growth, innovation, and enduring relevance. Thus, companies mentioned earlier will have a diverse range of opportunities opening up for their rail sector shares. However, by adopting a diversified approach, a long-term mindset, and staying well-informed, investors can position themselves to ride the rails of success in the ever-evolving world of rail stocks.
Are you ready to hop on board and ride the railway wave? By investing in a smallcase portfolio of rail shares, you can not only be part of this transformative journey but also enjoy the potential benefits of a diversified investment approach. So, hop aboard and consider exploring smallcase to invest in a portfolio of rail stocks, and be a part of the fascinating evolution of the railway industry.
FAQs
1. What are the best railway stocks to buy in India? 
The best three railway sector stocks to buy in 2023 are Indian Railway Catering and Tourism Corporation Ltd., Indian Railway Finance Corporation Ltd., and Container Corporation of India Ltd. 
2. How can I invest in railway sector stocks?
To invest in railway stocks, open a brokerage account, research railway companies, fund your account, place buy orders for selected stocks, and monitor your investments. Moreover, you can also invest in railway stocks via smallcase
3. Is it a good time to invest in railway stocks? 
The suitability of investing in railway stocks depends on your financial goals and market conditions. Consider factors like sector growth and consult a financial advisor for personalized advice.
4. Who Should Invest in railway sector Stocks? 
Railway sector stocks can be suitable for long-term investors seeking diversification and believing in the sector's growth potential. Conduct research or seek professional guidance before investing.
5. What is Rail Drishti?
The Indian Railways have introduced a mobile app and internet platform called Rail Drishti. It offers up-to-date data and perceptions about several facets of the Indian railway network.